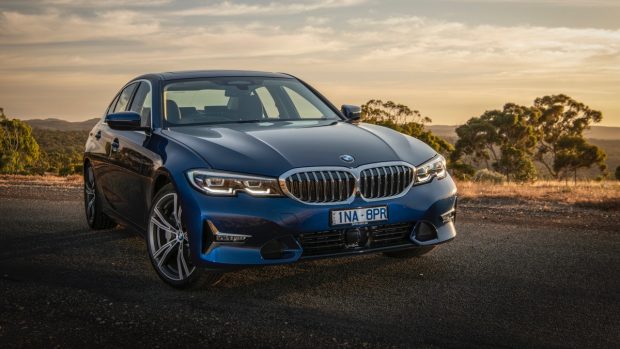 The BMW 3 Series has returned to form, with the new G20 shape sporting a resolved design, improved steering and a smart cabin. The 330i petrol continues to be the pick, blending stellar dynamics with solid value.
Last year, sixty per cent of BMW's sales in Australia were of SUVs. Notwithstanding that fact, there's no doubting that the 3 Series remains BMW's pride and joy. The small sedan and station wagon from Bavaria continue to hold their reputation as the quintessential BMW, even while the 3er's siblings from the 'X' crossover line outsell it by more than four to one.
There's something about this small luxury car segment that makes it punch above its weight. The 3 Series, like the Mercedes-Benz C-Class and Audi A4, carries a flag for its manufacturers. SUVs have clearly established their dominance in Australia, the United States and, increasingly, in Europe – but we expect the German manufacturers to make a really excellent sedan.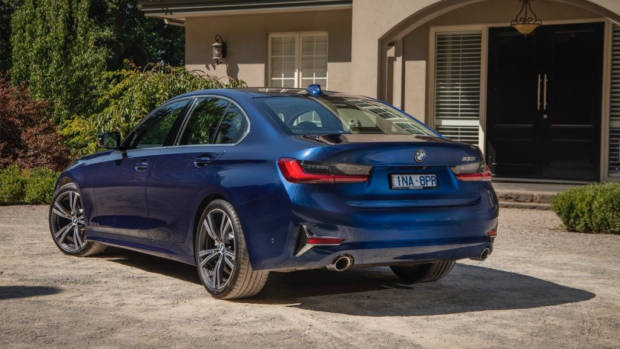 Good thing that the new 3 Series is, indeed, really excellent. The outgoing shape wasn't too shabby, but it was starting feeling its age with a slightly dated cabin that was too small in key places – and BMW had never solved its biggest dynamic flaw: steering devoid of the feel and feedback a Bavarian rack is supposed to offer.
Beyond those two complaints, there was little bad to say about the previous 'F30' 3 Series. It looked handsome, packed a range of spirited engines and, specified correctly, it offered a really nice ride-handling balance. Value was pretty good by the end, too.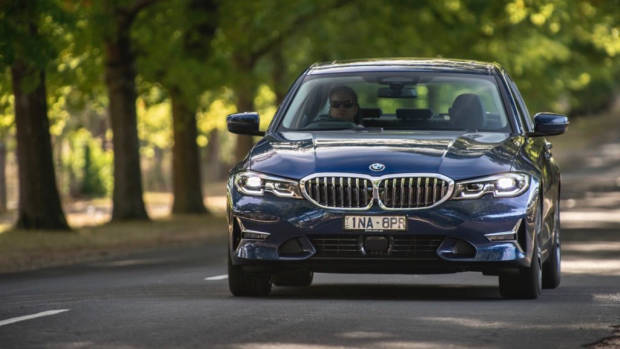 The new car, which carries the code 'G20', retains all of those characteristics. In our eyes, this is the best looking 3 Series in recent memory and we're assured that the forthcoming Touring station wagon shape will be even more pleasing to the eye. Sure, the are a few overwrought elements like the overdone rear reflector assemblies.
On the whole, this is an attractive vehicle, especially in the simpler Luxury Line trim. M Sport is now the default unless you opt out, at no cost.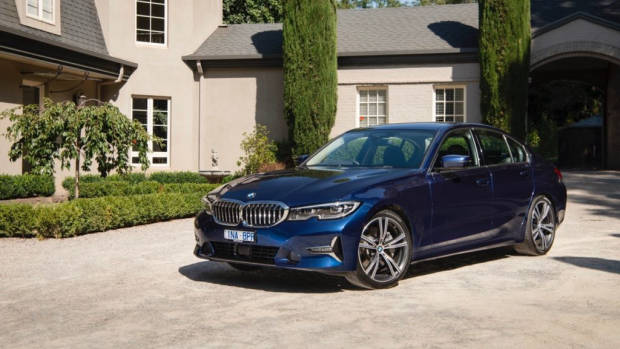 Two engines are available at launch, although the powertrain lineup will swell to five before the year is up. Initially, there are two turbo four-cylinder choices: the 140kW/400Nm 320d diesel, and the 190kW/400Nm 330i petrol. Later, a circa-285kW M40i six-cylinder will join the range, along with a 135kW 320i two-litre and 185kW 330e plug-in hybrid.
There's nothing at all wrong with the $67,900 diesel ($75,173 driveaway), and plenty that's right – like the 4.4L/100km WLTP fuel economy claim. It's pretty refined, quick off the line and will make a good choice for those commuting big motorway distances.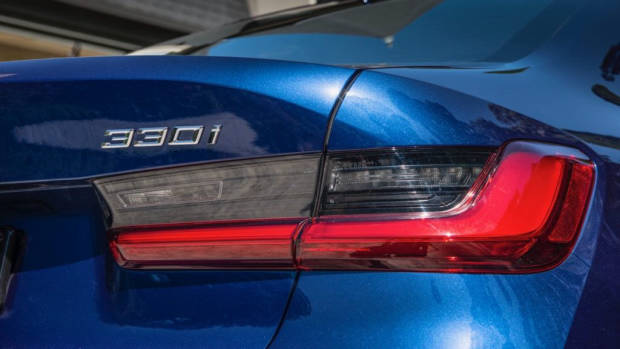 For everybody else, the $70,990 330i petrol is the crystal-clear pick of the 2019 3 Series range ($79,268 driveaway). Equalling the diesel in torque but feeling so much faster in every situation, the 330i blends decent efficiency with very impressive performance. A four-cylinder it may be, but with a 5.8-second 0-100km/h sprint time, the G20 330i trails the E46-gen M3 by just a few tenths of a second.
There is virtually no turbo lag in the 330i; in its place is just superb throttle response. It's downright perky, with a quick stab of the right foot on tight corner exits provoking an immediate wiggle of the tail. Select the lazier dynamic stability control setting and gentle, predictable oversteer is just a prod away.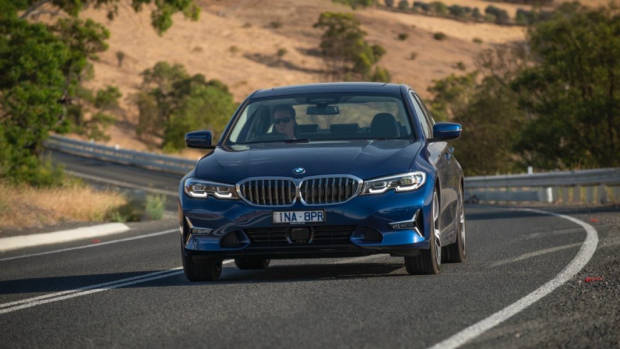 It sounds good, too. Both 330i iterations – M Sport and Luxury Line – share a fruity exhaust that spits out pops on the overrun while generally makes a smile-inducing sound as revs build. The eight-speed automatic shared with the diesel remains very solid, only shifting a little slowly when driving close to ten-tenths.
Thankfully, concerns that 3 Series steering had gone a bit wayward in the F30 have been addressed here. An initial blast at the new 3er's launch in the Victorian High Country revealed a quick and direct rack with a more feelsome character. It's clear the G20 is a better car to punt down a backroad. In isolation, it feels like a Jaguar XE might still have the BMW beat on the sole characteristic of steering engagement but a twin test will clear that up.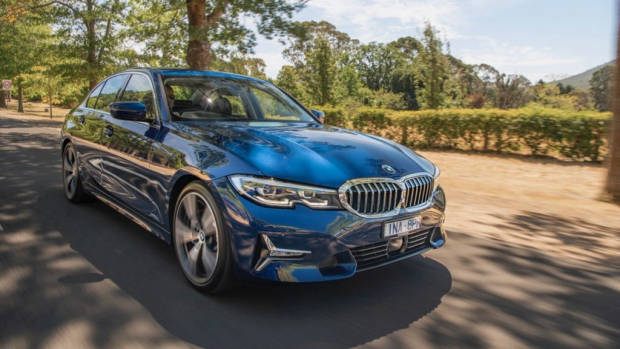 And the ride? Well, on 19-inch wheels and adaptive M Sport suspension, it seems pretty compliant, with the caveat that we spent no time in the city. The entire launch drive programme was high-speed country roads, and in this situation, the adaptive dampers in Sport mode offered a great blend of body control and suppleness. We will reserve our judgment for commuting ride quality until we can do exactly that.
Inside, the new 3 Series is the definition of evolution and the antithesis of revolution. If you own an F30 (or, really, any BMW of the past decade), you will be right at home inside the G20. There are few really substantive changes to the cabin; there are the prerequisite technology upgrades and more storage, plus much more legroom in the back seat, but this is still a conservative, clean BMW cabin.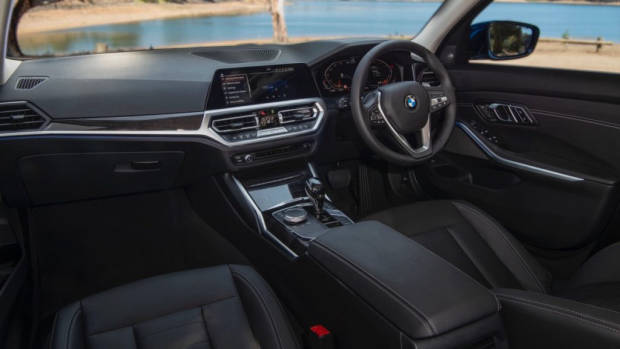 We like the interior's simplicity. BMW have rejected the unnecessary glitz of current-gen Mercedes-Benz dashboards while smartly ignoring Audi's regressive move to low-set dual touchscreens. By contrast, BMW's designers have mostly resisted the temptation to over-technologise the cabin, instead sticking to a functional, practical design.
Buttons and knobs are retained for everything critical – the 10.25-inch central display is a touchscreen, but if you're like us, you'll prefer to interact with the infotainment through the rotary controller. iDrive 7 is new and it's still an industry leader in car software. You'll find easy controls for the volume, the fans, the temperature. It all just works.
We are a little sad that BMW have ditched their classic, clean analogue dials – or even a digital representation of them – in favour of a generic digital driver display that fails to come close to Audi's Virtual Cockpit for functionality. If you can't get to that standard, we don't think a digital driver display is all that necessary.
Comfortable seats slide into an improved driving position, low and totally square with the new steering wheel. The tiller, which now drops a bit lower, is a bit girthy for our liking (although the Luxury Line has a thinner rim). The ergonomics are basically spot-on. Decent audio and features like wireless smartphone interfacing – cord-free Apple CarPlay and charging – are now standard.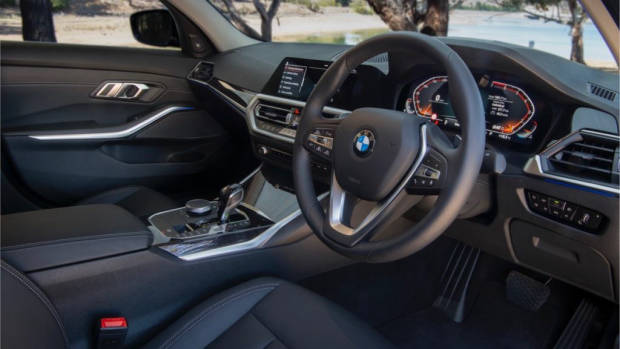 We appreciate that there's a choice of five leather colours, even if all cars on launch wore oppressive black hide interiors. Cognac tan is our pick; various metallic and woodgrain trims are available. We just wish that the 330i Luxury Line's Sensatec artificial leather dashboard liner was standard rangewide: some of the secondary plastics feel quite average in the new 3 Series. It's rock hard where your knee falls against the centre console.
Slip into the back seat and you'll find it considerably more spacious than the outgoing shape. The G20 is 76mm longer than the F30, and plenty of this has translated into rear legroom – which is now generous. Headroom is fine for six-footers and slight width increases make things roomier, too. We'd still cap it at four passengers, but the rear climate zone is appreciated.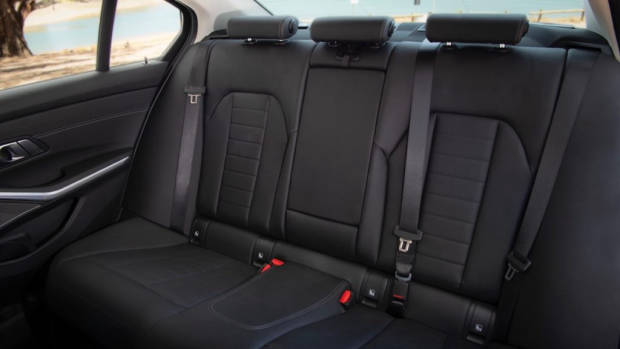 The incoming 3 Series wagon, called the Touring, should make a terrific family car, which will offer considerably more boot space than the sedan's 480 litres, which matched the outgoing shape.
As for specification, the 3 Series is generally pretty good: BMW say they've bolstered value further without shifting prices – the 330i maintains its same sub-$80k driveaway price point – but back to the 330i in a moment.
We have to note that we aren't impressed that the 320d, hardly a cheap car at $75k driveaway, skips out on the full BMW safety suite for an abbreviated 'Driving Assistant' package. This does not have full AEB as standard (instead, it has a level of braking intervention that does not stop the car). However, because ANCAP classifies partial AEB as 'included', the 3 Series won't be ineligible for a five star crash rating. Lane departure warning, blind spot monitoring, rear cross-traffic alert and speed limit recognition are standard rangewide. Upping the safety tech on the diesel costs $2,400.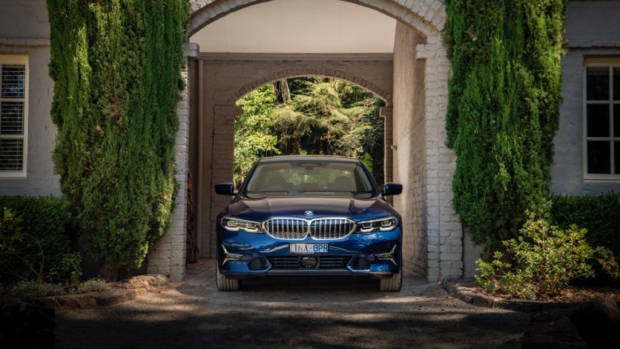 The 320d is otherwise decently equipped; in M Sport form it has cloth/alcantara seats (or leather in the no-cost Luxury Line switch). You get the proper 10.25-inch touchscreen and 12-inch digital driver display, adaptive LED headlights, 18-inch alloys and aluminium trim inside. There's a fixed M Sport suspension, but we can't comment on how this rides as we didn't get to drive that setup.
But for an extra $3,000, the 330i makes so much more sense. First, it fixes the safety nonsense by throwing everything in: the petrol's triple-camera setup means iti gets full AEB that stops the car, full lane keep assist that works for up to 25 seconds, front cross traffic alert, junction cross traffic braking, a 360-degree parking camera, and a host of other clever tech. You also get adaptive dampers, 19-inch wheels, leather on both variants, full keyless access, and beefier M Sport brakes. It's a worthy upgrade.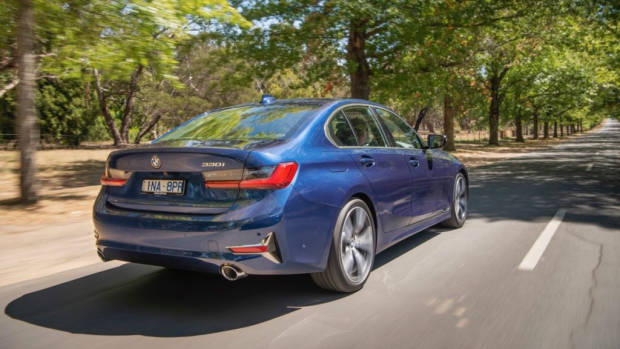 We do wonder where features like seat heating and cooling are; warming your bottom means ticking the $1,820 Comfort Package on the 330i ($2,600 on 320d) at this stage; it'll be a standalone option for ordered cars.
If it were us, we'd go a 330i Luxury Line – the L.L. swaps out aluminium for ash woodgrain, puts artificial leather on the dash, uses a thinner steering wheel, and gains LED fog lights. It even retains decently-bolstered sports seats.
However, for those who prefer a performance aesthetic, the M Sport Plus pack ($2,990 320d, $2,600 330i) takes the default M Sport package, which already looks pretty sporting, and ups the ante with a rear spoiler, M seatbelts, and an M Sport differential (plus the 330i's brakes and 19s on the 320d).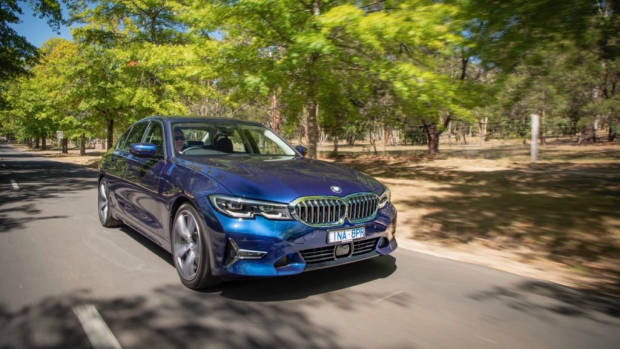 We did briefly drive a 330i fitted with the M Sport diff, and it's quite something. Those who are after an even higher level of dynamic engagement will want it. The $5,070 Visibility Package will appeal to some, bundling a sunroof, trick Laser headlights, extended cabin ambient lighting and metallic paint.
Though we'd like to see BMW lengthen its three year warranty, 3 Series ownership continues to be a relatively simple proposition if you tick up-front servicing which covers five years of scheduled servicing. The $1,565 basic pack covers routine maintenance plus filters and brake fluid. The $4,180 'plus' pack adds in a full set of replacement brakes on top.
Well then: our first impressions of the new 3 Series, formed in a day of very athletic driving, are quite positive indeed. This is a car that takes the right approach to generational change – retaining the many positive characteristics of the outgoing 3 Series, while correcting the limited issues with that car and refining the whole package further. With the exception of one or two specification issues, this is a car we're looking forward to spending much more time in.