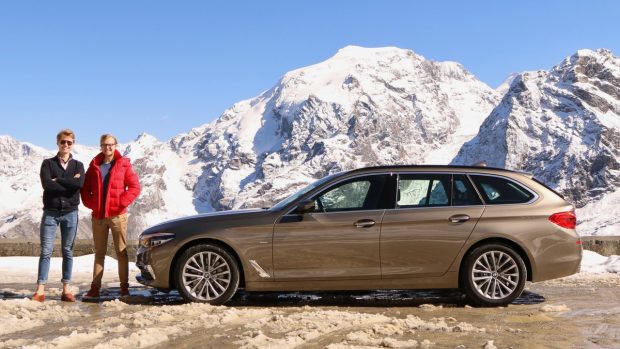 Recently I found myself with two weeks in Western Europe with plenty of ground to cover. With friends to check in on in Germany and Italy, and a big family reunion to get to in France, the easy option would have been to get around on Europe's efficient network of fast trains. However, with incredibly scenic driving routes weaving between Bavaria, northern Italy, and Burgundy – my final destination – shooting along on a commuter ICE train would have been a wasted opportunity. A road trip was the answer. With three thousand kilometres to cover, and the good fortune of Munich as a start and end point, when it came to choosing a partner for the drive a big and comfortable BMW was my first port of call. But definitely not an SUV: when in Europe, do as the Europeans do. That means a station wagon – and wagons don't come much more lush than the new 2018 BMW 5 Series Touring, a model which launches in Australia this month.
Some to-and-fro between BMW's Australian and German representation confirmed that the perfect European-spec 5 Series wagon would, indeed, be available for the continental drive. Reading the specification sheet was like a car journo's dream: in punchy 530i spec (a 185kW/350Nm turbo petrol), MZJ-5733 was to be painted in Atlas Cedar metallic brown, riding on smaller 18-inch wheels, fitted out in super-sumptuous Luxury Line trim, and equipped with desirable features like air suspension, upgraded Comfort seats, and a powerful Harmon-Kardon stereo. Having compared a pair of 530i and 530d sedans in Australia riding on huge 20-inch wheels and on stiffer M Sport suspension, the idea of a BMW wagon in a more comfort-oriented Luxury Line specification was deeply appealing.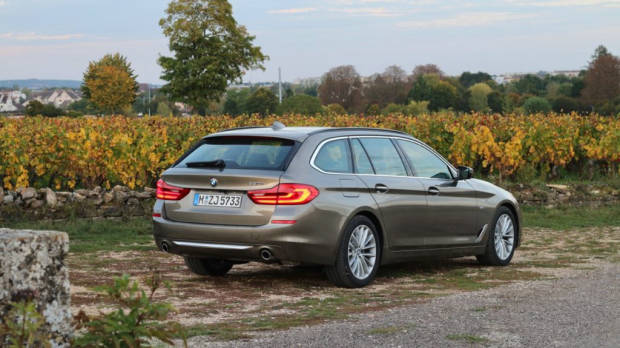 Europeans have been able to pick up a 5 Series Touring – BMW's terminology for a wagon – for some months now, but this more practical body style is only now arriving on the Australian market some eight months after the sedan's March launch. We've enjoyed our experiences in the sedan version, despite the aforementioned foibles about too many Australian examples riding on unnecessarily large wheels, which immediately diminish the ride quality. That aside, the 5 Series has established itself among the Chasing Cars team as the pick of the current crop of medium-sized executive cars, thanks to relative value and higher levels of interior quality than the equivalent Mercedes-Benz E-Class, or Jaguar XF Sportbrake.
So we like the sedan – but as a wagon tragic, I was keen to discover whether the 530i Touring would endear the 5 Series even further. Well, on first encounter, it's a handsome looking rig, even if this new G31 generation lacks the restraint and finesse of the outgoing F11 shape. Like the sedan, the new Touring's lines are fundamentally attractive; the chrome-accented airlet on the side profile works much better on the wagon than on the sedan. However, like the four-door, the Touring's headlights and taillights are overemphasised. The Luxury Line styling is ideal on the wagon; the more conservative chrome-accented design flatting the long, flowing shape better than the M Sport's gloss-black highlights. Atlas Cedar, this grey-brown hue, is very deep and suits this kind of car, although white or Imperial Blue also work well. The 530i's rear end with wide-set twin-exhausts, is very strong; the fact it has a split tailgate, with a dedicated opening glass portion, is awesome.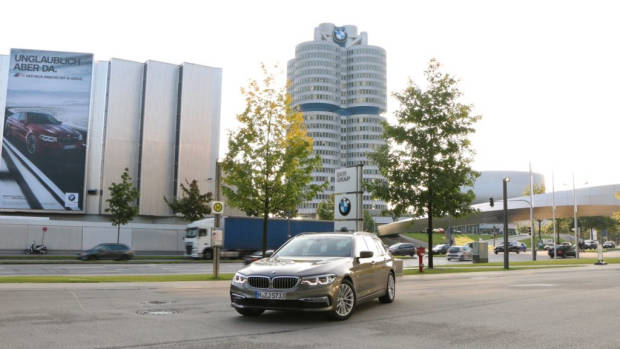 After collecting the 530i from BMW's preparation centre a little outside Munich, our first port of call was to double-back to the brand's distinctive headquarters precinct. Many of you will recognise BMW's 'four-cylinder' building that formed the backdrop of the introduction in the video piece, which is a must watch at the top of this page. It was here that we posed the fundamental question of this piece: whether a station wagon still does (almost) everything better than an SUV. Challenge laid down – and with a fairly tight schedule – it was time to hit the road.
Day one's destination was northern Italy, to drive the passes that straddle the Alps on the border of Italy and Switzerland. Though these roads are barely more than 200 kilometres south of Munich, the rugged terrain means you meander for a few hours through the Tyrol district that flows between Austria and Switzerland: the fields and villages are picture-perfect. However, there is a sweet 60 kilometre stretch of unrestricted autobahn between Munich and the Austrian border. Light traffic meant an opportunity to get the 530i right to its 250km/h limiter; this was an easy and eerily calm feat. The biggest challenge was not stability – the big BMW had no issues there – but instead the amount of information you are processing as a driver. At this speed, the vehicle is covering 70 metres every second; a kilometre is put down every 14 seconds. All this means you need to be looking very far down the road to judge whether that clapped-out Peugeot 206 is about to indicate into the fast lane.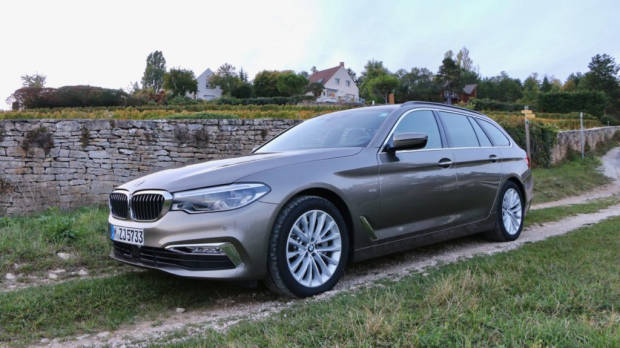 In years gone by, the badge '530i' meant a 5 Series running a three-litre inline six-cylinder petrol engine. The 'i' still indicates petrol power, but '30' has been decoupled from displacement and it no longer means six-cylinder, either. The current 530i is a four-cylinder, but it's a good one. Under the long bonnet sits a 2.0-litre twin-scroll turbocharged unit producing 185kW of power, and 350Nm of torque. The sprint to 100km/h feels relaxed but actually appears in a swift 6.5 seconds. What is most surprising, though, is that the 530i keeps pulling and pulling well after 100km/h, with linear progress only dropping off after about 225km/h, after which air resistance becomes a significant challenge.
In Australia, the SUV addiction means that BMW's sales expectations for the 5 Series Touring are modest, with head of product and market planning Shawn Ticehurst telling Chasing Cars that 10 per month is realistic; in the same time, the brand moves about 300 X5s. However, Chasing Cars is told there is a dedicated set of 5 Series Touring owners who are deeply loyal to the model. That group – and newcomers, hopefully – will be offered a choice of two engines: the 530i ($115,500), or a lower-end 520d ($99,900), which uses a 2.0-litre single turbo diesel four-cylinder making 140kW and 400Nm. It's understandable given the niche status of this car, but it is a shame that the best 5 Series engine – the 190kW/620Nm three-litre inline six twin-turbo diesel – will not be imported to Australia in Touring form. This would make a cool, subtle, fast family car.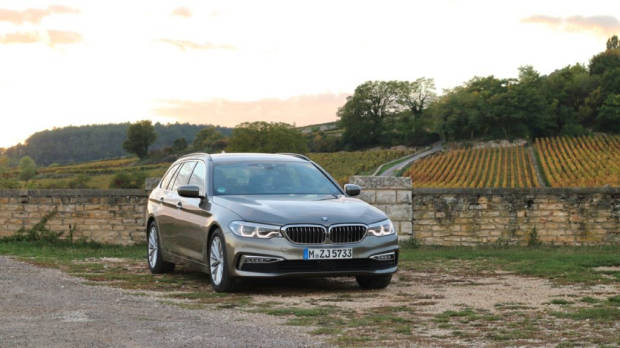 But back to the task at hand. Suddenly we're spat off the 95 Autobahn, and enter Austria with only so much as a road sign to indicate the transition from one EU country to the next – very civilised. You do have to make sure to pick up a 'vignette' – or a toll sticker – for Austria's own (speed-restricted) autobahns, though these are very cheap and available at the petrol stations close to the border; the same goes for Switzerland, which we arrived in after a brief transit down Austrian freeways. Looming on the horizon, the sight of the eastern Alps was breathtaking for a pair of Australians only used to the hills known as mountains back home.
Although the main goal was to drive the Stelvio Pass – possibly the most famous European driving road – a fortunate wrong turn saw us take an incredible back road to the Stelvio. The Umbrail Pass is precarious, with long drop-offs the norm, cursory guardrails lining the worst stretches. Driving this route on a weekday was ideal, as we were totally isolated most of the time, but weekend traffic would see RVs and larger vehicles fighting for space on the tens of hairpins. It was here the agility of the 5 Series Touring came to the fore. There's no getting around that this wagon is a large vehicle, but like any BMW, the 5 Touring knows how to tango and really works with its driver on a technical road. Fast, light steering at low speeds means rotating around tight hairpins was a doddle; the entertaining stability control tune means that even this most conservative iteration of Bavarian motoring is happy to have a safe amount of throttle steer induced.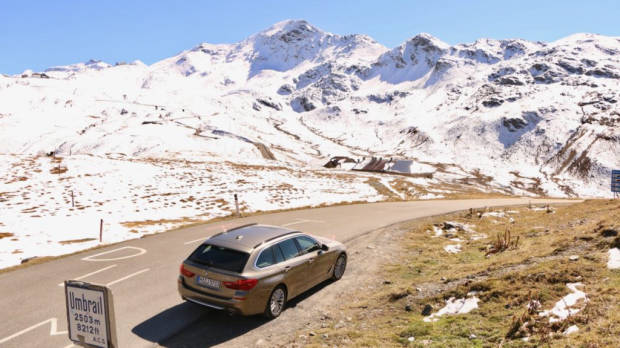 The near-total lack of other cars on the Umbrail Pass, which rapidly ascends through southern Switzerland and meets the Italian border at a snowy 8,200 feet, meant that we had plenty of opportunities to photograph the 5 Series with no visual clutter. Video and Instagrams captured, it was time for the final ascent up to the Passo dello Stelvio. Approaching from the north meant arriving first at the village that straddles the famous road which runs east-west. The village is a mecca for those who enjoy wheeled activities: cyclists, motorcycle riders and drivers converge, all seemingly having respect for the others. Even on a quiet weekday, there are plenty of car guys, driving everything from a Ferrari 360 Challenge Stradale to a passionate Italian dude punting around an great-looking Alfa 156, wooden steering wheel and all.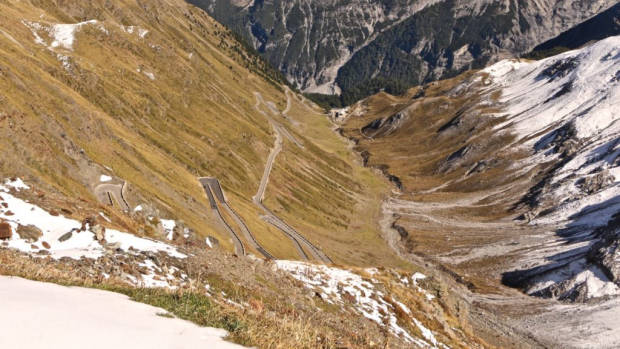 Accessing the most famous part of the pass is a descent east from the village. There are a number of dugouts at the top of the pass where you can park up and stare over the edge at the unbelievably steep, snaking road surface beneath you. Medieval stone walls line the straights and, at points, there is barely room for one vehicle to pass. For me, seeing the Stelvio was a huge moment. Even if a 5 Series wagon wasn't the car that springs to mind immediately when you think of driving a manna from heaven type of road, it actually made for a surprisingly entertaining partner on a few runs up and down for videography – and sheer enjoyment – purposes.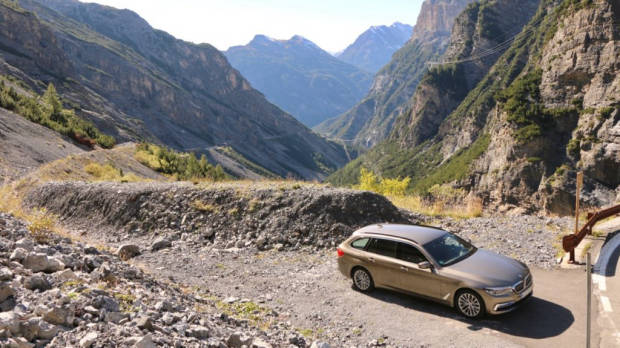 The western side of the Pass is equally beautiful, if not more so, in the afternoon light. The run down to the Italian village of Bormio is relaxing, letting you coast downhill past small herds of cattle, cowbells tinkling softly as you go past with windows open even on a late autumn day. There might be snow around, but if the sun's out, it tends to be pretty warm. The driving is easy and slow, letting you take in the scenery. Don't come up here to rush; you'll encounter a number of larger and slower vehicles on the descent down from the Stelvio, so there's no point in hurrying.
The next day saw us head for the picturesque Lake Como district, where the BMW would be parked up for a couple of days in the late autumn sunshine. Having not visited before, choosing a village on either side of the fifty-kilometre lake is something of a gamble, but our choice of a villa in the town of Laglio, a little north of the more famous Cernobbio, ended up being a great one. Heading to Lake Como in shoulder season is about the only way to do it affordably on a twenty-something budget, but there were few disadvantages to an October stay. The weather was warm, the sun was out the whole time, the launches were on the lake. Good times.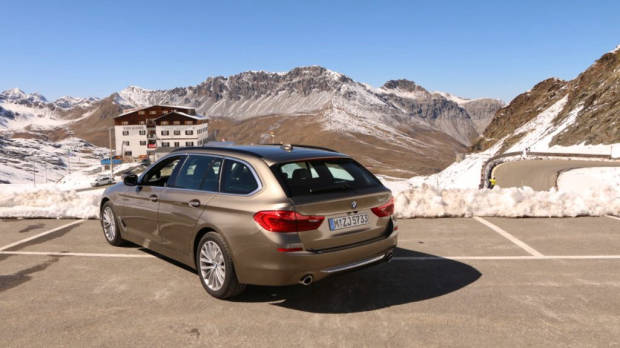 From Como, it was back into the mountains – albeit via much more conventional Italian autostrada and French autoroutes – for a night in the mountain town of Chamonix, in the shadow of Mont Blanc. The three or four hour drive northwest afforded our first real chance to settle into the 530i on slower, straight roads. It's here where the 5 Series really comes into its own. The current-shape 5 is more like a 7 Series than ever, both in terms of the generous cabin space, and also with regard to quality levels. Though the 5 Series' cabin is not as aesthetically-wowing as that in an E-Class Mercedes, the materials used here are better. Nearly every surface is soft and yielding. The nappa leathers are plush and creamy, and the entire dash and centre console is lined in convincing, well-stitched artificial stuff. It's very luxe.
In particular, a 5 Series optioned with the Luxury Line trim is the best way to go. Incoming M5 aside, this new-shape 5 Series is not a sporty car. That surprised us when we first drove the sedan some months ago, but we've come to accept that BMW's mid-sizer is now a big, comfortable cruiser rather than an agile bruiser. By dropping any pretension that it might be sporty (i.e., the M Sport package), the Luxury Line package allows this BMW's strengths to shine through most clearly. A softer suspension, smaller wheels, the more conservative (and suitable) exterior look and an interior filled with rich leathers and woods… now we're talking.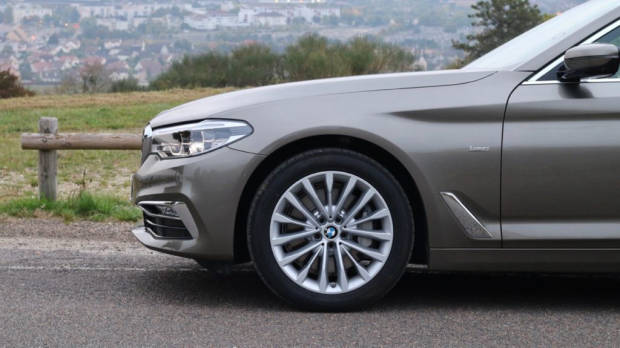 The Australian specification of the 530i Touring Luxury Line is particularly good, as it includes some of the best seats we've ever tested. The comfort nappa seats are optional here in Europe (and they are a $3,500 option in Australia on the entry-level 520d model), and these are absolutely necessary to complete a 5 Series, in our opinion. I counted twenty directions of adjustment and fear I may be missing some. The sheer adjustability of the seat means all body types will find a comfortable driving position; the sumptuousness of the nappa leather conveys a perception of quality that is second-to-none in the medium executive class. We don't think there's presently a vehicle out there in the $100,000–$120,000 range that feels more special than a BMW 5 Series.
A chilly night stop spent in Chamonix saw the 530i lightly iced over in the morning, but with hot chocolates on board it was time for the final outbound leg that would see us re-enter Switzerland for a four-hour haul toward the town of Beaune, the wine-growing hub village of the Burgundy region. We'd settled on a B-road that would take us through the stunning Swiss-French national park of Jura before emerging, conveniently, near Dijon, just twenty kilometres north of Beaune.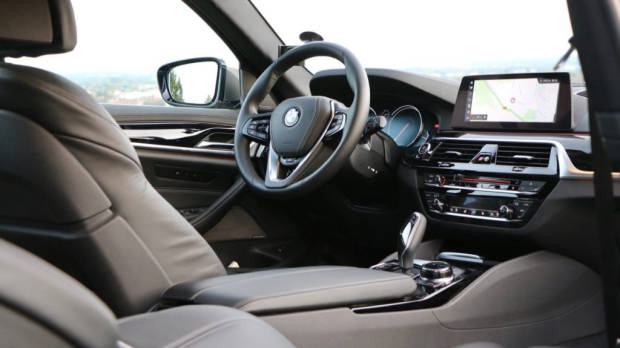 This second long leg saw us concentrate on the BMW's technology proposition, which is expansive. In another sign that the 5 Series has moved well beyond merely concentrating on being the dynamic mid-sizer – ground that BMW, in some ways, has ceded to the Jaguar XF – this executive express arrives with a heavy emphasis on both cabin technology and adaptive safety assistance. A comprehensive safety suite called Driving Assistant Plus is standard – this includes autonomous emergency braking, of course, but also a highly sophisticated active cruise control and lane keep assist function that, on a well-marked highway, will actually allow nearly a minute of calm cruising with zero driver intervention before you are forced to take control – or the lane keep system will disengage.
We found the cruise control to be reliable and very well-tuned over the two weeks with the car. Part of that is Europe's excellent quality roads, which are well-marked – the BMW's technology felt much less glitchy here than in Australia, where poor-quality road paint, double speed signs, and other issues can confuse autonomous tech. The car's 360-degree camera also made parking a doddle, which, given the size of the thing, was useful in hatchback-driving, tight-parking Europe.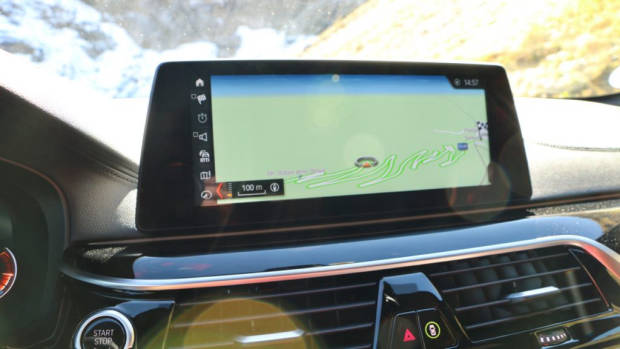 BMW's in-cabin technology remains among the most intuitive in this class. Like virtually any vehicle software, the iDrive system does have a learning curve, despite what some journalists claim, but the 5 Series' sixth-generation iteration is easier than ever thanks to the first integration of a touchscreen in iDrive. Despite the ease of touch, I still found myself reverting to the rotary dial between the two front seats, which feels safer to use while in motion. Sophisticated voice control technology also makes it easy to operate many functions – even saying a phrase like 'tyre pressures' generates the appropriate report on-screen.
It's just a shame that more use is not made of the 5 Series' crisp digital gauge cluster. At the 530i level, there are no longer analogue dials for vehicle and engine speed; instead, it is an all-digital display. While some other makes allow a map or substantial audio controls to be viewed in the driver's line of sight, BMW have not yet developed this capability. Instead, the 5 Series does have a large, easy to read heads-up display, but this is not a substitute for placing a full map in the gauges, Audi-style.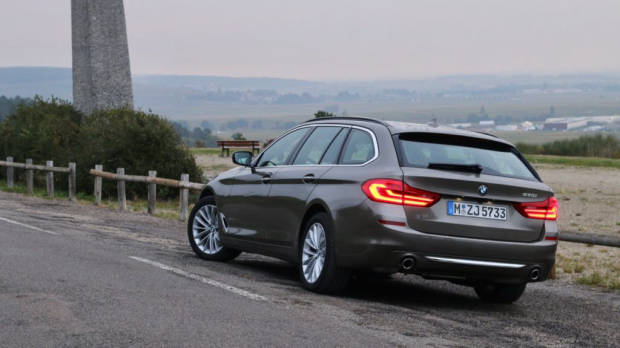 Audio quality on our road trip was well catered-for; the 530i stocks a 600-watt, 16-speaker Harmon Kardon stereo as standard, and it's more than adequate, with clear and punchy notes. However, if money is no object – or if you have a spare $6,400 sitting around, the upgrade stereo – a 1,400-watt, 16-speaker Bowers and Wilkins Diamond stereo is available. While I find that most super-high-end car stereos aren't worth the dosh, the B&W system is an exception to the rule. It blew me away when I evaluated it in a 530d sedan earlier this year.
It was just me and my mate Nick for the long haul from Munich to Beaune, but it was on arrival in France where the 5 Series was really called into the kind of action families will use it for. A milestone birthday and reunion underway, the 530i made trips to the train station to pick up relatives from Paris, filling the 570 litre boot and the (heated) rear seats. We pushed the 5 Series into service as a furniture hauler to Dijon's version of the homemaker centre; and the entire flat load bay – 1,700 litres all up – was used to carry three bicycles with wheels left on – I think it's safe to say the practicality element was thoroughly assessed. The road car ride height also means that sliding heavy items in or out is actually easier than it is from a higher SUV. A kick-to-open tailgate also makes this car easy to load with your hands full.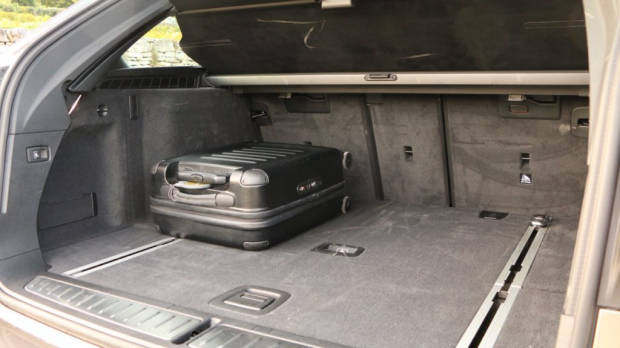 The 570 litre boot was substantially fuller than this, most of the time!
Having fulfilled its brief of being a rapid, refined cruiser across a quarter of a continent, before helping out comprehensively with the needs of a family that rarely meets in one place, the 5 Series made for an impressive Eurotrip partner – and having completed all of this, it returned us safely all the way back to Munich, efficiently by autoroute and autobahn, this time. And with the bug of reaching the 250km/h limiter out of our system, back over the German border we found that the 530i is most comfortable ticking along around the 160km/h mark where the thirst doesn't get too out of control. Contrastingly, at the big 250km/h, the two-litre sucks down fuel at 25L/100km or more.
Which brings us to fuel economy for the trip. The overall average came to just over 8.1L/100km, which shows the inevitable effect of cruising at Europe's higher motorway speeds and the consumption involved in climbing mountain passes. In fact, our best highway average was a high-ish 7.5L/100km: every click past 110km/h-ish starts to increase fuel use. A 520d would be more frugal (a 530d would be, too), but the 530i is much smoother, and it's easy enough to control the thirst at relevant Australian speeds.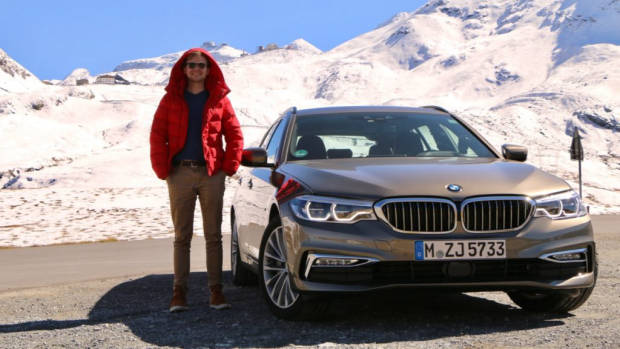 The two key problems the 5 Series Touring faces back home are image and price. The image issue is a tough one: I feel like the smart buyer realises that a wagon is, really, a much better all-rounder than an SUV. A lower centre of gravity means they drive like a car should. They're easy to load heavy stuff into. And they're built more expensively, on a production line in Germany, as opposed to in the US, as the SUVs they share dealership floor space with are. But the lush fitout of a wagon is the factor that creates the second problem of price. It takes a committed fan to spend $115,500 on a 530i Touring in Australia when a similarly-equipped X5 is at least $10,000 cheaper – and that's before you factor in the factors of all-wheel-drive and high ride height that so many Australians believe they need.
However, there is hope. As BMW knows, there is a small but valuable base of wagon buyers who are very loyal to the shape – and 100 to 150 marginal sales per year is enough to keep the model alive. Along with the Jaguar XF Sportbrake, the 5 Series Touring is also quite unique: most large wagons have traded their car-like ride height in for a bump in clearance, cladding and all-wheel-drive (see the Mercedes-Benz E220d All-Terrain, the Audi A6 Allroad, and the Volvo V90 Cross Country). As one of the custodians of the true rear-drive wagon tradition, the BMW 5 Series Touring was already a car we'd be inclined towards recommending. Becoming firmly acquainted over 3,000 kilometres only solidified how endearing this sort of vehicle is, and confirmed the question we set out to answer. BMW wagons still do (almost) everything better.