In recognition of the enduring appeal of station wagons – and their success when pitched as a niche alternative to an SUV, the 2018 BMW 5 Series Touring has been confirmed for Australia. The 5 Series wagon will come to Australia with two engines – it's an exclusively four-cylinder range with one petrol and one diesel, kicking off at under $100,000. The 5 Series Touring will arrive in Australia in October of this year.
Premium wagons are generally more luxurious and plush than the SUVs that sit alongside them in dealerships. The 5 Series Touring, for example, is built alongside the 5 Series sedan in Germany while its high-riding X5 sibling is actually an American-made vehicle. The situation is largely mirrored over at rival Mercedes-Benz.
Though most buyers want the SUV image there remains a subset of customers that appreciate the wagon format – a group BMW Australia CEO Marc Werner says are "dedicated and loyal" to the 5 Series Touring.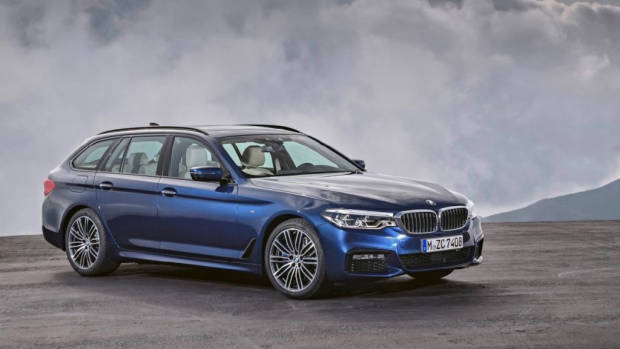 At the local launch of the 5 Series petrol-electric hybrid 530e sedan, BMW Australia's head of product and market planning Shawn Ticehurst confirmed to Chasing Cars that he expects 10-15% of 5 Series volume to be Touring sales once the model arrives. That's likely to be between 5 and 15 Touring sales a month.
The biggest drawcard of the Touring is its expanded cargo area. With the back seats in place the 570 litre capacity is 40 litres more than you get in the sedan, but it is the enormous 1,700 litre volume when the seats are folded that really counts. Plus, the seats can be folded down 40/20/40 to allow longer, narrow items to fit between two back seat passengers.
A 520d diesel and 530i petrol will be offered for the Australian Touring range.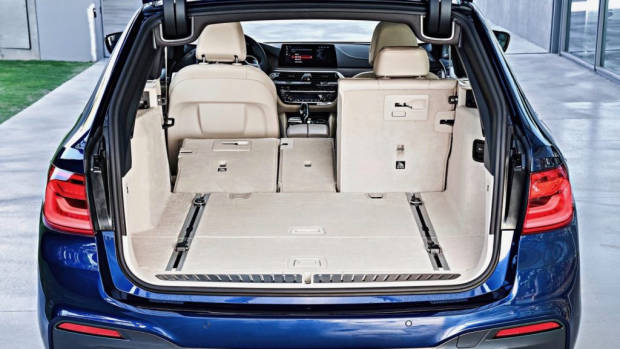 The 520d Touring ($99,900) makes use of a 2.0-litre turbo diesel four producing 140kW of power and 400Nm of torque. That's enough to sprint to 100km/h in 7.8 seconds while using 4.9L/100km of diesel on the combined cycle.
As standard the 520d is fitted with BMW's more conservative styling package, called Luxury Line, which includes 18-inch alloys, and chrome – not black – highlights outside the car. Inside, there is standard Dakota leather and BMW's sports leather steering wheel.
It's a good specification, with the 520d receiving plenty of luxury features including LED headlights, a 12-speaker stereo with DAB+ radio, BMW's latest, touch-powered iDrive 6 navigation package, a heads-up display, automatic parking, an automated tailgate, and silver matte roof rails.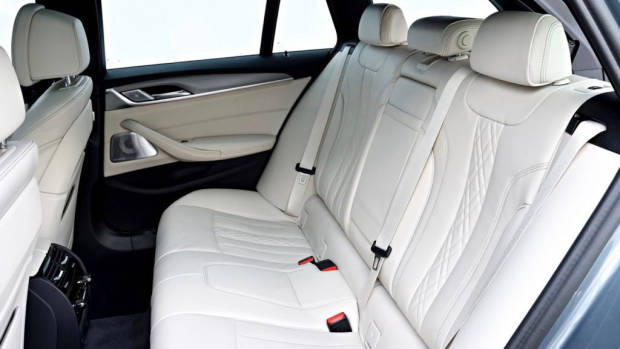 While the sub-$100k 520d is likely to take the lion's share of Touring sales we do wish BMW's larger inline six-cylinder diesel, sold as the 530d in the sedan, was available in the wagon. It's a configuration that has received rave reviews in overseas markets and the 530d engine is a beauty.
Those seeking additional grunt will need to spend $15,600 more on the 530i – a two-litre turbo petrol four that makes 185kW of power and 350Nm of torque. That's good for 0-100km/h runs in 6.5 seconds – pretty quick – while BMW claim the 530i Touring will return 6.5L/100km on the combined cycle.
Unlike the 520d, the 530i is fitted by default with BMW's racier M Sport package, though an upgraded version of the 520d's Luxury Line is available at no additional cost.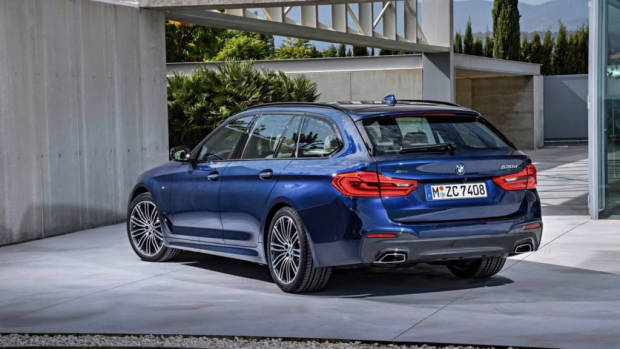 As an M Sport, the 530i is styled with 19-inch M Sport wheels, while it gets beefier brakes, black highlights outside, and variable dampers tuned for a sportier ride.
Over the 520d, the 530i also receives adaptive technology for the LED headlights, heated front seats, and a 16-speaker Harmon Kardon stereo.
But the smart thing to do is to equip the 530i as a Luxury Line because you actually get better bang for buck – for no extra outlay BMW inserts Nappa leather seats with a more comfortable design, four-zone climate control, and seat ventilation for the front seats.
2017 BMW 5 Series Touring Australian prices, plus on road costs
520d Touring: $99,900
530i Touring: $115,500