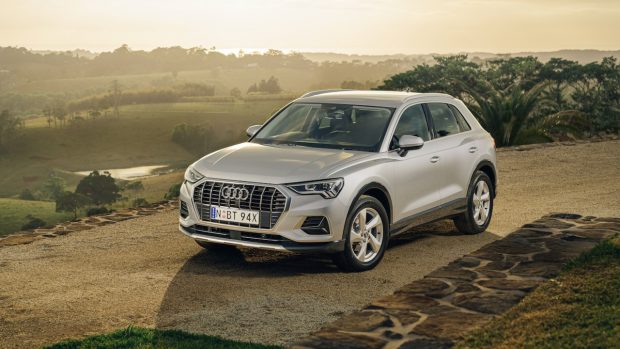 When it launched in Australia in 2012, the Audi Q3 struck a chord with buyers who wanted a city-sized crossover that didn't skimp on the sort of creature comforts commonly associated with premium German brands. Nearly 19,000 were sold in Australia in the intervening seven years. The Q3 did so well that it created a business case for the introduction of the smaller, edgier Audi Q2 SUV that is seeing similar success.
The advent of a Q2 meant two very similarly-sized Audi SUVs sat side-by-side in dealerships for a couple of years and toward the end, the Q3 was feeling pretty dated. However, after a full-scale renewal, the 2020 Audi Q3 is back as an all-new, second generation vehicle. It's longer, it's wider and it sits on a far more modern chassis underneath.
All of that goes into making a small SUV that looks and feels really sensibly sized. Still compact enough to make parking easy, the Q3 now packs a more generous back seat that gives kids and adults alike more room. The 530-litre boot is genuinely commodious now, too – more or less on par with the size-larger Volkswagen Tiguan.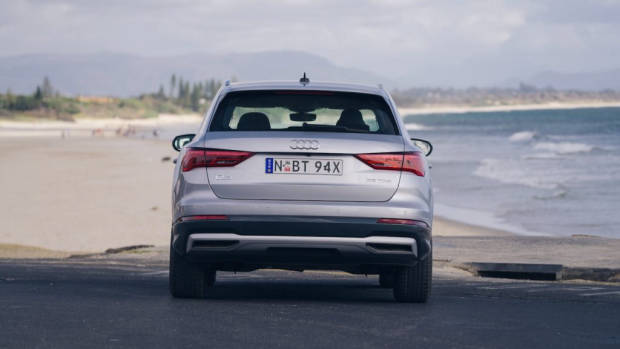 The 2020 Q3 touches down in November 2019, first in entry-level form, badged 35 TFSI, with sportier engines and higher specification levels arriving next year. That said, standard spec is pretty impressive, even from the $46,400 starting point. A Launch Edition also uses the entry engine but for early birds, adds about ten grand of premium equipment for an extra outlay of just $6,350, at $52,750.
Where the outgoing Q3 felt dated inside, a holdover from a previous style of Audi cabin design, the 2020 car is bang up to the minute, packing what we think might be the car industry's best cabin technology setup. There is standard wireless Apple CarPlay, a standard Virtual Cockpit driver's display serving up satellite mapping, and standard wireless smartphone charging. That combination, for iPhone users at least, is something of a triple threat.
Underneath, too, there are big changes. The old Q3 was one of the Volkswagen Group's last cars to sit on the older PQ35 chassis that dated right back to the Audi A3 of 2003! The new Q3 makes an overdue transition to the Group's new-ish MQB platform that has supported the A3 hatch since 2013.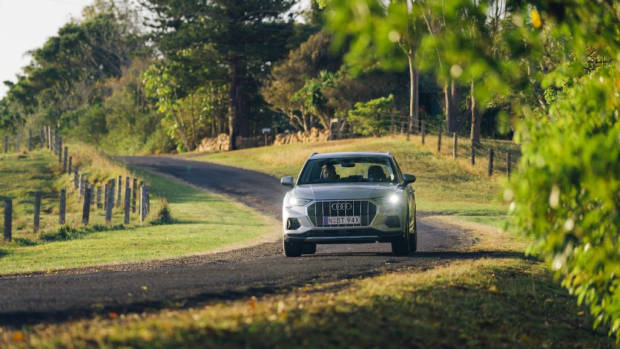 As a result the 2020 Audi Q3 finally joins its A3 hatchback sibling in offering really poised handling, more refined noise and vibration isolation and a balanced ride that blends firmness and road feel with good levels of compliance. The steering isn't especially quick but it is linear and feelsome, and we love the feedback from the chassis that lets you know where the Q3's limits are while driving a backroad hard. Around town, it's maneuverable and easy to see out of.
But not everything is new. Australia's high-sulphur petrol fuel and complicated homologation problems relating to the Australian retention of the dated NEDC emissions standard ruled out a new engine for the 2020 Q3.
Instead of getting Europe's lower-CO2 1.5-litre turbocharged 'TFSI Evo' engine, the Q3 soldiers on with the old car's 1.4-litre TFSI, producing 110kW/250Nm, badged here as a 35 TFSI as per Audi's new engine designation system.
The engine is still a pearler in most situations, offering responsive and perky performance in town and in relaxed country cruising – but it starts to run out of puff in highway overtaking. That said, the engine pairs well with the standard six-speed dual-clutch automatic gearbox. The 35 TFSI drives the front wheels only: Quattro, AWD Q3's will come in 2020.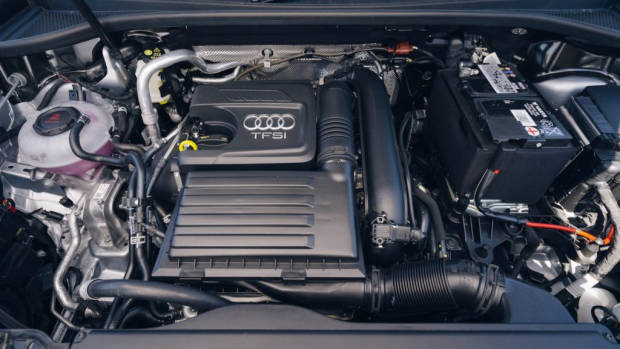 So, why the old engine? Australia has high-sulphur fuel that doesn't play nicely with the CO2-lowering petrol particulate filters fitted to the Volkswagen Group's new-gen petrol engines. So, until Audi and VW develop a suitable filter, the old engines will be sticking around as a stop-gap. On the other side of the ledger, Australia is unlikely to bring forward the current target of 2027 for introducing low-sulphur fuel.
Audi has flagged that an Australian-spec petrol particulate filter is indeed under development, so we may see the lower-CO2, less thirsty 1.5 'TFSI Evo' engine swapped into the Q3 later.
What we will definitely see is a faster Q3 in the second quarter of 2020. Audi Australia is considering one or both of two separate two-litre turbo petrol options. One, badged 40 TFSI, produces 140kW/320Nm, while a higher-powered 45 TFSI making 180kW/380Nm is also a possibility. The previous Q3 was offered as a diesel but drooping buyer take-up meant Audi rejected a two-litre TDI this time around.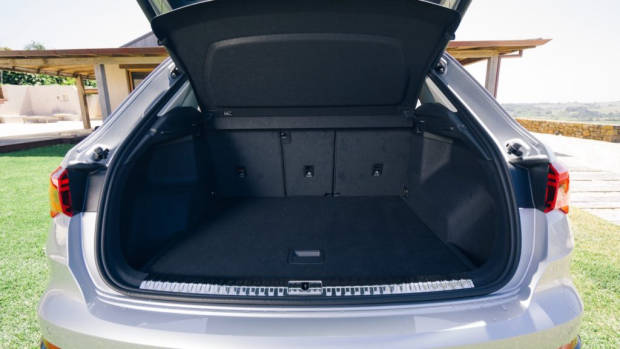 In the latter half of 2020, a rip-snorting RS Q3 will make its return at the pointy end of the range, making use of Audi's signature turbo five-cylinder petrol engine, this time producing 294kW/480Nm.
Next year the Q3 range will also be split with the arrival of a more rakish Q3 Sportback version with a cutaway roofline. The Q3 on test here is a conventional wagon-bodied SUV which maximises back seat and boot space.
Those elements have been maximised by enlarging the Audi Q3 for its second generation. The chrome-lipped cargo area packs a minimum of 530 litres but offers the potential for expansion thanks to a dual-level boot floor and rear seats that slide 15 centimetres fore and aft and offer seven points of recline.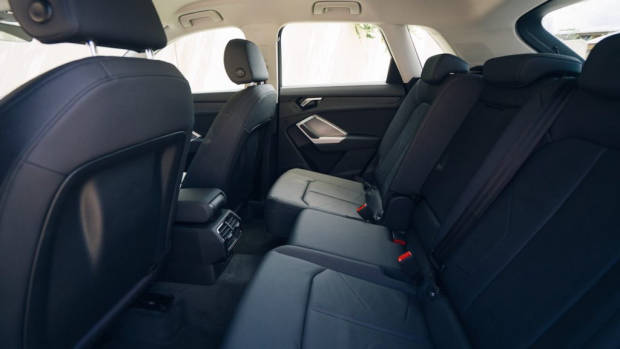 A broad and tall rear seat makes the Q3 now genuinely usable for four adults, though a tall hump in the floor at the middle position makes five people a stretch. But nobody will complain about the standard inclusion of rear air vents, two fast-charging USB-C ports, and soft touch materials in the second row.
The main event is in the first row, though, where Audi has been very successful at integrating technology in a way that is simultaneously impressive but restrained. Unlike more expensive new Audis, whose twin, stacked touchscreens bombard the driver with information, the single-touchscreen Q3 is simpler to interact with, and is all the better for it.
Unlike in the new Q8 SUV, for example, the climate controls are physical dials and buttons. Expensive Audis, including the Q8, bundle these into a low-set touchscreen, which is really overcomplicating things. The Q3's solo touchscreen is dedicated to what you'd expect: navigation, smartphone mirroring, and other audio options. It makes sense.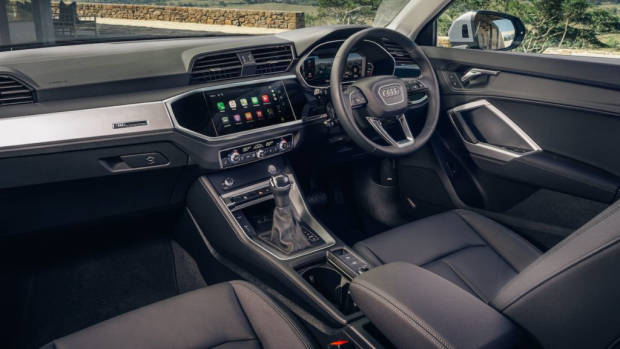 Audi's own 'Connect' infotainment, driven by the 'MMI Touch' screen, is quite easy to use and offers smart, live reports about local fuel prices and even available parking spaces in connected parking lots – plus restaurant reviews, internet radio and satellite mapping. That's all driven by an included 4G data plan that offers Telstra-driven internet to the car for three years, gratis. After that, you'll need to pay to keep using those services.
Or you can simply mirror your smartphone – and wirelessly, if you use an iPhone with Apple CarPlay. We chose that route, placing CarPlay on the central touchscreen and Audi's immersive sat maps on the driver's own Virtual Cockpit screen. This setup works incredibly well. Android users need to plug in via USB.
If only the entry-level 35 TFSI's six-speaker stereo wasn't so muddy. The Launch Edition's 10-speaker hi-fi is considerably better but audiophiles buying the LE will delight in the ability to tick an ultra-crisp Bang & Olufsen 3D stereo for $900 more.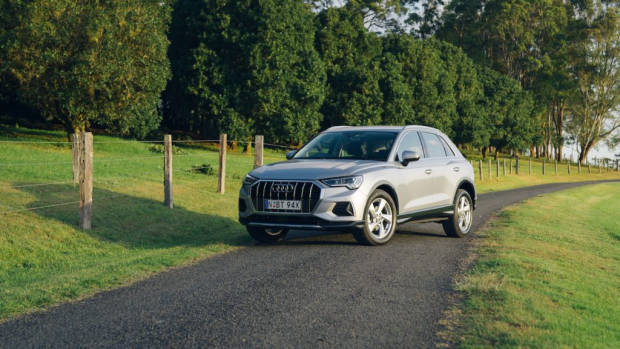 We can't complain about the Q3's interior quality, though. The doors offer a reassuring German thunk. The knobs and switches have an tactile clickiness. Most surfaces are covered in soft-touch materials – including door elements that Audi Australia insisted had to be soft, even though they're hard in Europe.
Plenty of places to stash clutter up front complete the picture; the cupholders are Starbucks Venti-massive; all four door bins can take a 1.5-litre bottle of water, apparently per German preferences; and the wireless phone charging pad was designed to accommodate a big, iPhone Max-sized device.
That brings us to specification. Often, entry-level luxury vehicles skimp on spec, but the new Audi Q3 avoids nickel-diming buyers. In fact, we're impressed with what is on offer given the prestige of the four rings on the grille.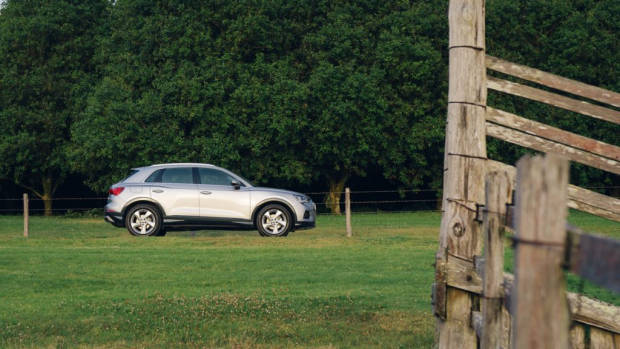 Yes, the Q3's entry price of $46,400 is the fare for a pretty nice Volkswagen Tiguan – but every 2020 Audi Q3 comes with at least 18-inch alloys in grippy Goodyear Eagle F1 rubber; they all have adaptive LED headlights, they all have eye-catching, sweeping rear LED indicators. You get inside with standard all-door keyless entry, and find that standard fare also takes in leather upholstery, aluminium trim, navigation, DAB and internet radio, the aforementioned arrangement of screens and smartphone integration, and four USB ports.
All cars have high-speed AEB with daytime pedestrian and cyclist detection, plus (relatively gentle) lane keep assist, blind spot monitoring and rear cross-traffic alert.
Further equipment can be added to the 35 TFSI grade through two option packs. Comfort ($2,600) adds electric adjustment and heating for both front seats, with electric lumbar, plus folding mirrors and adaptive cruise control. Style ($1,900) includes larger 19-inch alloy wheels with lower-profile rubber, interior inlays in aluminium, and full body paint outside – base cars have grey-painted wheel arches.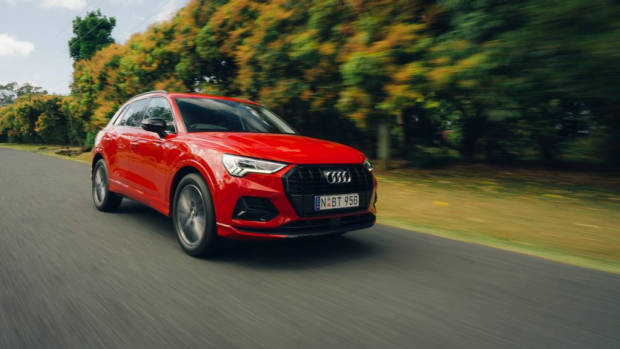 The Launch Edition will be limited to the first few months of production and represents good buying; it adds all the equipment from the Comfort and Style packages plus a bit more, in the form of metallic paint, a black styling pack, privacy glass, interior multi-colour ambient lighting, a 10-speaker Audi Hi-Fi stereo, and a 360-degree parking camera.
On the ownership front, the Audi Q3 is fairly typical of a luxury car in Australia: you're covered for three years with unlimited kilometres. We do wish Audi – or any of the German luxury brands – would be brave and be the first to adopt a four- or five-year warranty. The going coverage of three years in this part of the market looks a bit short in light of the rapid recent adoption of five-year warranties among mainstream brands.
That being said, there is a lot to like about the 2020 Audi Q3. This is a compact SUV that justifies its premium over a mainstream crossover through the use of premium appointments, well-integrated cabin technology and refined dynamics. We think the Q3 compares very well indeed.