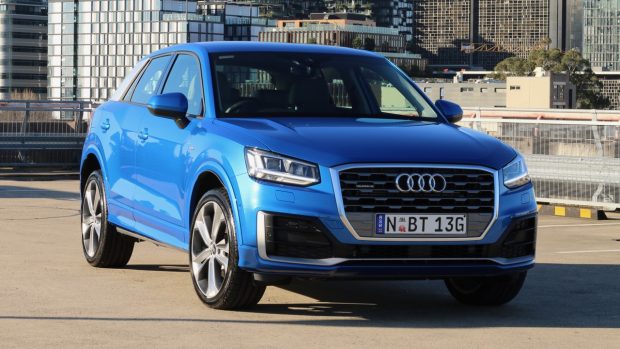 We often talk about range proliferation here at Chasing Cars – a practice typified by the German carmakers, who have developed cost-effective ways to build a significant number of variants off just a single platform. For an example, just look at BMW's three coupe-SUVs. Audi, on the other hand – being the most bauhaus and rational of the big three German luxury brands – have traditionally shied away from splitting their range too much. However, even at Ingolstadt the winds are changing. Newer, funkier shapes and sizes are on the way from Audi, and they've been led into the Australian market by the Q2 small SUV. Based on the MQB platform engineered by Audi's owner, Volkswagen, the smartly-packaged, city-sized Q2 sits not far off the Q3 within Audi's own SUV range, though it sports a radically different persona. We've admired it from afar, but what's it like to drive? We spent a week with the 2018 Audi Q2 sport 2.0 TFSI to find out.
(Note from Tom: thanks to all our commenters and YouTube subscribers for helping us to secure our first-ever Audi review – it makes a difference!)
The Q2, which was launched locally about a year ago, is a member of a relatively young set of small luxury SUVs – of the fastest-growing segments on the Australian market. It isn't hard to see why these vehicles appeal: sporting luxurious badges but approachably priced, higher-riding than a hatchback and generally more daringly styled, these small, premo-SUVs are pitched as upmarket runabouts with the potential for adventure. That's evidently a heady mix with buyers: the segment is up over 23% on 2017. Audi were an early entrant to this segment with the now ageing Q3 – the next generation of which will be bigger, to help give the Q2 breathing room as Audi's entry-level crossover.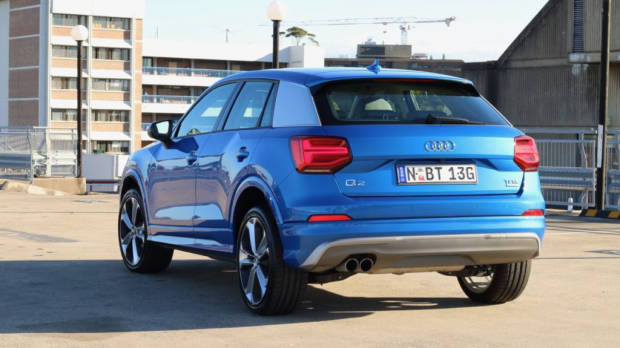 Like the MINI Countryman and the new Volvo XC40, this Audi is pitched at the more affordable end of this emerging segment. The three-strong Q2 range starts at just over $41,000 and tops out at under $50,000 – our test car's $48,500 price point looks good on paper, especially compared with the pricier BMW X2 and Jaguar E-Pace, which are about ten grand more expensive. Standard equipment on the Q2 2.0 TFSI, with its 140kW/320Nm 2.0-litre turbo petrol engine and quattro all-wheel-drive system, is acceptable if not generous. You get 18-inch wheels, a 7-inch screen with navigation, CarPlay and Android Auto, an 8-speaker stereo, part-leather sports seats, an electric tailgate, LED lights all-around, AEB and blind spot monitoring.
You'll want to add a few options to fill out the Q2, though you can still get away for under sixty grand, which is impossible in the Jaguar E-Pace and difficult in most other rivals. You'll want the Comfort pack ($1,900) for its keyless entry and start and heated seats with lumbar and the Technik pack ($2,500) for the immersive, 12-inch 'Virtual Cockpit' digital driver's screen plus an upgraded 8.3-inch central screen, plus voice control and Google search services. Plus, we'd add DAB digital radio ($500), wireless phone charging ($250), extended interior leather ($350) and a panoramic sunroof ($1,950). Our total? $56,000 before on-road costs – not cheap, but decent for this class. That said, if you can live without a luxury badge, a similarly-equipped Volkswagen Tiguan 162TSI is faster, larger, and it's almost $5,000 cheaper.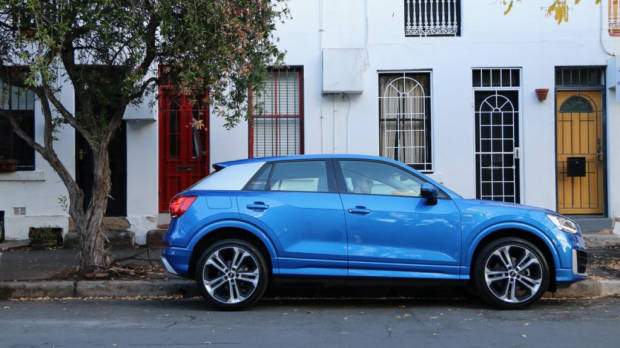 But few people who are considering a Q2 will consider a Tiguan – and probably vice versa. You're here because you specifically want a premium car, from a premium badge. So, despite its decently-low cost of entry, does the Q2 pass muster as baby luxury transport? Mostly, yes. Inside and out on the road, the Audi looks, feels and drives like a miniaturised premium car, rather than a gussied-up Volkswagen.
For starters, the interior looks – and mainly feels – upmarket. The Q2 sports Audi's outgoing hyper-minimal cabin design language – clean lines, some tasteful decoration and a lack of superfluous detailing. The fixed infotainment screen is delightfully thin, while the rotary air vents, with their knurled finishing, are visually appealing. The leather on the flat-bottomed steering wheel and ball-head gear shifter is creamy and soft. Go for the Technik pack and not only does the main screen get crisper, but you also get Audi's still-wow-inducing 12-inch Virtual Cockpit driver display that displays immersive mapping – as well as media and trip information – directly in front of you.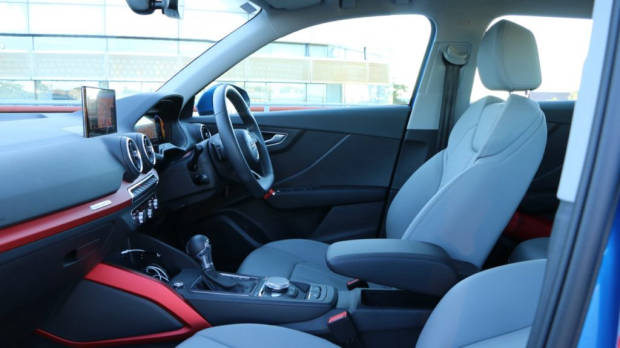 So, second impressions inside – after taking in the funky design language outside – are positive. But the cabin isn't perfect. Cost-cutting is evident in the overuse of hard plastic surfacing in here. While the upper dash surface is appealingly yielding, the doors and lower centre console are mainly covered in harder materials – some of this can be solved with the extended man-made leather pack ($350). Coloured blades of trim are standard in the Q2, which lifts the personality of the cabin. Red and yellow are no-cost; brushed aluminium, which looks best, is $250.
At least the standard seats at this level, which are leather-appointed (full leather is a further option) are soft, supple and highly supportive, even with the stock fixed lumbar. Interestingly, apart from electric lumbar support ($450), further electric adjustment – and therefore seat memory – isn't offered on the Q2's seats. You're stuck having to configure these seats manually. The pews look good, at least, especially in the soft grey hue found in our test car.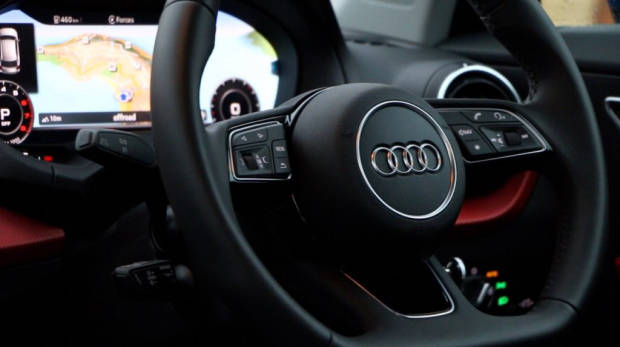 Roominess is also good, both for people and for stuff. There are enough cubbies to stash clutter in the Q2, up front at least. The back seat is tighter. Six-footers will find the headroom is plentiful back there, but legroom is compromised. If you've got younger kids, though, the Q2 should have plenty of room. We're not impressed, though, that this Audi skips air vents and a flip-down armrest – if a sub-$30,000 Volkswagen Golf can offer both of these, a $48,500 Audi needs to.
Likewise, behind a standard electric tailgate, the Audi's 355-litre boot is acceptable when you factor in how much shorter the Q2 is than its rivals. At under 4.2 metres, the Audi is that much easier to fit into tight city parking spaces than the 4.36m-long BMW X2 or 4.43m-long Volvo XC40. In Surry Hills or South Yarra, every extra centimetre counts, and we think the Q2 strikes a decent balance of passenger and cargo roominess to physical dimensions.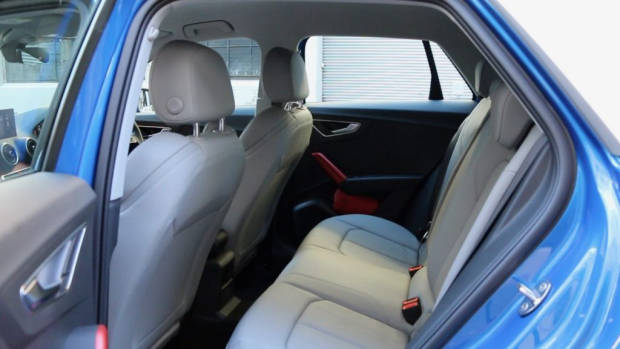 So, that's the static stuff taken care of. What's the Q2 like to drive?
In a few words, the Audi is accomplished and mature from behind the wheel. Like most cars based on the Audi-Volkswagen-Skoda MQB platform, the Q2 manages to mix nimble agility with refined, upmarket dynamic characteristics. The driving experience feels premium – but that's true for every car based on this platform, from the Volkswagen Polo at the small end to the Skoda Kodiaq at the big end. That said, it's no blight on the Audi – the Q2 does feel like a $50,000 car from its solid driving position behind a small, supple leather steering wheel.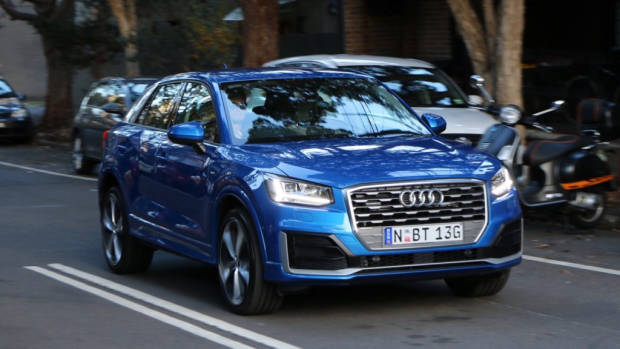 All three of the available engines are good, though the high-end 2.0-litre petrol – the 2.0 TFSI – is where the real action is at. With 140kW of power and 320Nm of torque at its disposal, plus Audi's quattro all-wheel-drive system, this Q2 can move. The 0-100km/h sprint time of 6.5 seconds equals that of a Volkswagen Golf GTI and, indeed, the Q2 2.0 TFSI feels like a slightly taller, firmer, grippier GTI most of the time. We like that when the windscreen wipers are on, quattro automatically sends torque to the rear wheels, meaning you make swift progress, no matter the weather.
Fuel consumption was a bit average with this engine – about 9L/100km, mostly in town – but if economy is a substantial factor, the frugal 2.0 TDI diesel option with 110kW/340Nm is $600 more, but promises to beat that consumption figure by at least a third. If you do a lot of miles, the diesel will pay for itself.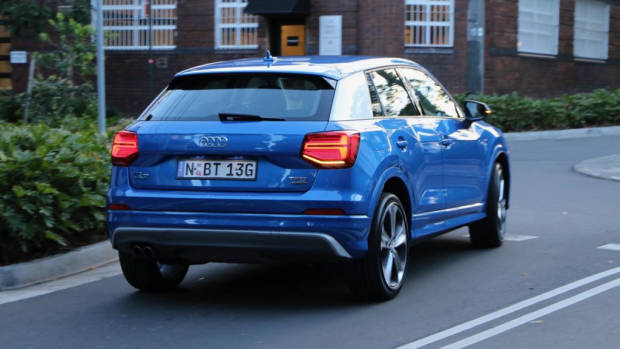 We recommend avoiding the basic, $41,800 Q2 'design' model. Its 1.4-litre, 110kW/250Nm turbo petrol engine is an absolute pearler, but oddly, the cheapest Q2 is saddled with a rudimentary torsion beam rear suspension setup that does not ride comfortably. Both quattro models – the diesel, and the higher-end petrol – use a multi-link independent rear that rides far better and delivers better cornering performance.
And, with the better rear suspension at least, the Q2 rides well – it soaks up big bumps nicely and absorbs urban imperfections well. You'll want to avoid the big, optional 19-inch wheels seen on our Ara Blue test vehicle, though, which sharpen potholes a bit too much. The standard 18-inch wheels better balance aesthetics and comfort.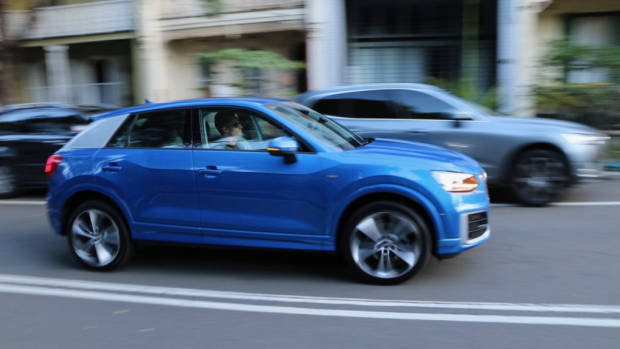 The Q2's steering is good, though it could be a little crisper. The weighting is heavier than you might initially expect, though for me, that is a welcome thing. Unless you option adaptive damping with drive mode selection ($1,500), there is just this one steering setting available. In town, you sometimes want a lighter tiller – but go for the adjustable drive profiles, and this becomes an option. The handling overall is stable, with little roll, and predictable characteristics at the limit with a slow push into oversteer when you really lean on the Q2.
This is a sophisticated chassis with safe, easy to understand dynamics. The technological safety net is decent, as well. Every Q2 has autonomous emergency braking as standard, and quattro models also pick up standard blind spot monitoring with rear cross-traffic alert – helpful, because of that big side blade. For most, this is the bare minimum of safety tech we'd recommend. If you want more, the optional Assistance Package ($990) adds adaptive cruise control, lane keep assist, and auto high beam. It's worth remembering that the entire suite of these technologies is quickly becoming standard-fit on non-premium SUVs. Audi should step up here.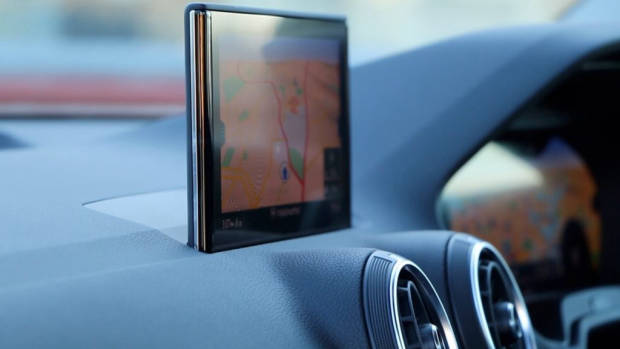 Put all the pieces together, though, and it's hard to avoid a conclusion that Audi comes close to nailing the small luxury SUV brief with the Q2. It looks good, inside and out – that's important in any luxury good. It drives with the authority and refinement that a premium car should. Its small size, compared to the class, works in its favour in town, and you'll still squeeze at least four adults into it, plus a reasonable amount of stuff in the boot. And the price is attractive, at least compared to the BMW and the Jaguar.
We do think the Audi lets in a few own goals – too many hard plastics, skimping on amenities like rear air vents, and no standard keyless entry and start unless you tick a pricey package of convenience options. But these are, at the end of the day, fairly minor compared to the many boxes the Q2 ticks. This Audi sits at the top of this segment, alongside the newer, larger Volvo XC40, so we recommend test driving both, along with at least one vehicle from the price class below – make that the Volkswagen Tiguan. But should you select the Audi Q2 from that trio, you've chosen an impressively well-thought out little SUV.