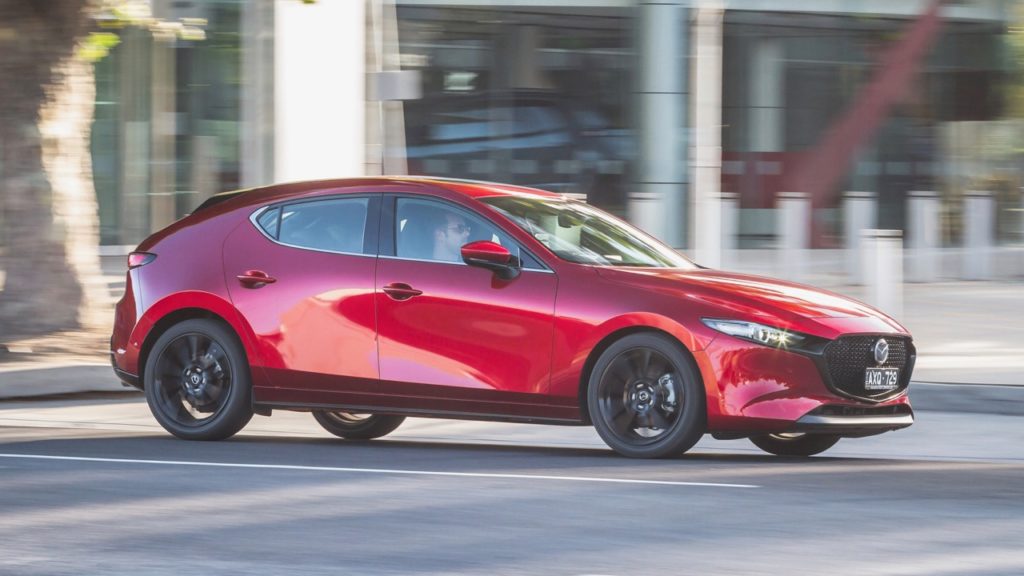 Few car manufacturers feel as focussed as Mazda does in 2019. With eyes firmly fixed on the prize – offering a premium driving experience at a mainstream price point – the Hiroshima-based marque knows precisely what it wants to be, and what it needs to offer. We've praised the brand's recent efforts in the SUV space, and now, they're offering up a slam-dunk in the small car segment. Enter the 2019 Mazda 3 G25 Astina.
Launched to Australian buyers this week, the fourth-generation Mazda 3 continues to be offered with a broad range of models that offers extensive choice. Much like the outgoing shape, which remained popular throughout its six-year lifespan, the 2019 Mazda 3 range is substantial, with hatchback and sedan form factors and a choice of both engine size and gearbox, with manual and automatics on offer.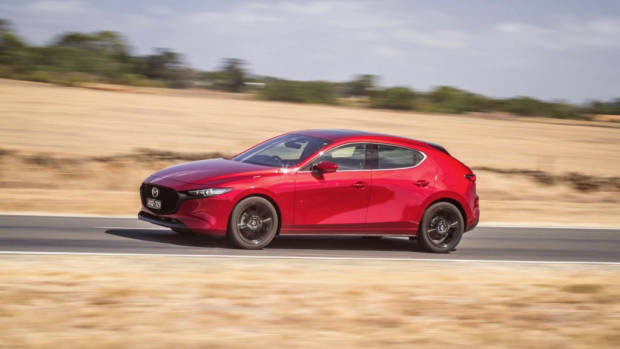 We took the opportunity to take detailed looks at two of the available models in the hatchback form – the sedan isn't quite ready yet. Here, we're examining the flagship G25 Astina automatic ($37,990 before on-road costs), while Iain took the magnifying glass to the second-tier G20 Evolve auto ($27,690 before on-road costs). We recommend checking out both looks at the extremes of the 3 range.
Radical new styling will polarise fans, but we can't help but praise Mazda's commitment to differentiating their exterior designs from the rest of the pack. To our eyes, the incoming sedan works best visually, but the hatchback's lines pop and the punchy C-pillar treatment ensures it will not be mistaken for any other small car.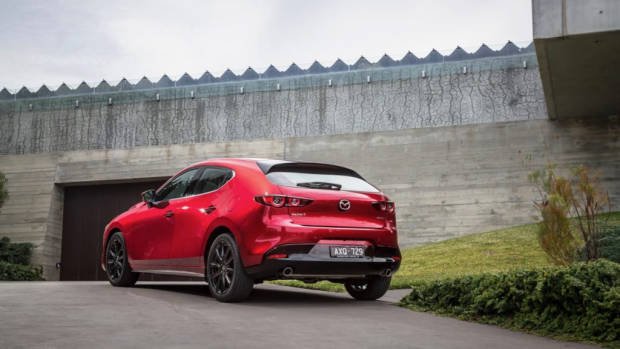 Around ten per cent of Mazda 3 buyers opt for the most expensive grade, despite the fact that the Astina bravely steps into forty-grand territory after driveaway costs are factored in. This is the sort of money that can buy a base-model Audi A3 or BMW 1 Series – proper German premium hatchbacks – so the Mazda has to be good.
The old model made most sense towards the entry point of the range, with value becoming more questionable as you spent more.
That's no longer the case here. The new generation is particularly enchanting at lower price points, as Iain discovered, but the new 3 is good enough even to support its highest price point.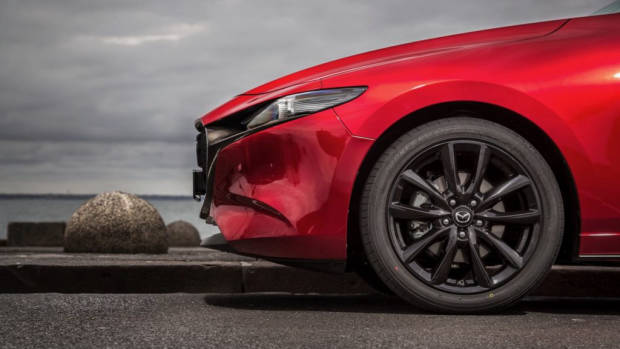 Specification is pretty generous in the G25 Astina, which adds a 360-degree camera, full adaptive cruise control and lane keep assist, front cross traffic alert, a sunroof, adaptive LED headlights and driver condition monitoring. Many of those safety features can be added to lower models.
The Astina hatch can be differentiated by its black 18-inch alloy wheels and the optional burgundy leather, though our tester was finished in the fetching Soul Red Crystal exterior paint with black leather inside.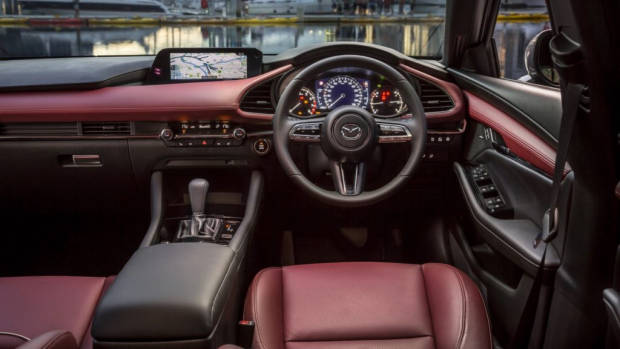 The flagship 3 grade shares much of its equipment with more affordable models, including heated leather seats, a heated steering wheel, full keyless entry and start, 10-way power adjustment for the driver's seat with two-position memory, and paddle shifters for the automatic gearbox.
Impressively, every 3 includes staple features like navigation and DAB radio, Apple CarPlay and Android Auto, a seven-inch digital driver display, auto LED lights and wipers, forwards and reversing AEB, blind spot monitoring, rear cross traffic alert, and tyre pressure monitoring.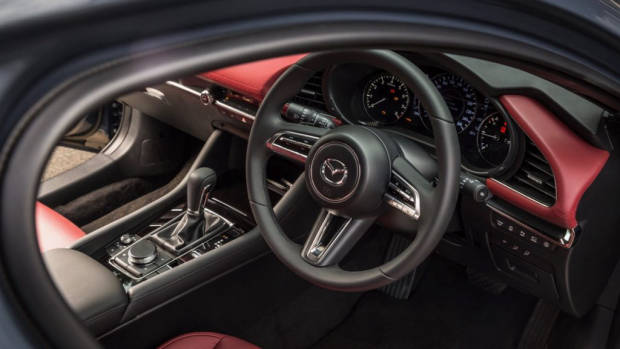 It's the fabulous interior that drives the perceived quality of the new shape higher than any Mazda 3 before it. Utterly premium in both design and material choice, this cabin sets a new benchmark for small cars.
In the Astina model, you certainly don't feel short-changed. Sumptuously soft materials cover virtually every surface you interact with, with sheer plushness evident in the dashboard, door tops, and knee rests. Creamy leather covers the steering wheel and gear shifter.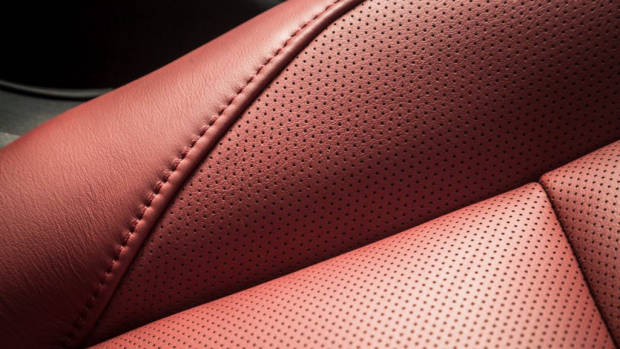 Comfortable seats are also finished in a choice of black or burgundy leather in the hatch, while the forthcoming sedan will offer black or a stone beige colour. The driver benefits from ten-way electric adjustment; the passenger makes do with manual configuration, sadly. Heated pews are standard-fit in the first row.
Where the Toyota Corolla, Hyundai i30 and even the Volkswagen Golf soldier on with fairly basic touchscreens, the Mazda 3 elevates infotainment well beyond small car norms. With clear learnings from Audi and BMW, Mazda have expanded their standard screen offering to a wide-aspect 8.8 inches, eschewing touch control in favour of a large, tactile rotary controller between the seats.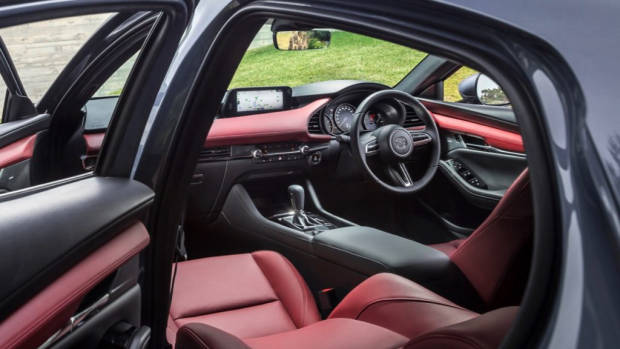 The infotainment arrangment of the outgoing shape badly needed an overhaul, and the new 3 introduces this. Mature graphics join standard Apple CarPlay and Android Auto. The little Mazda leapfrogs to the top of the class for infotainment – and the Bose audio fitted to premium variants sounds punchy.
Practicality up front is good, too, with a deep central bin, two fast-charging USB ports, and generous cupholders.
Space in the back is improved on the outgoing car but this is still not the most capacious small car in the segment – it's skewed towards compact exterior dimensions. Still, two six-footers will fit in the back row without complaint, and we appreciate that air vents have been added to most new 3 variants. No USB charging is offered in the back, though.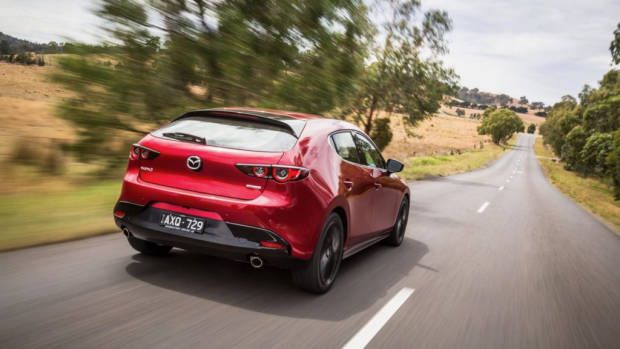 The 295-litre boot falls well short of class benchmarks: a Golf has 380 litres on offer, and the tight cargo space ultimately limits the 3's appeal as a do-anything small car.
Under the bonnet of the G25 Astina is a familiar donk: it's a 2.5-litre naturally aspirated four-cylinder petrol producing 139kW/252Nm. Those outputs are certainly competitive for the class, and the displacement is positively massive for a small hatch – but the reason is that the Mazda 3 runs without forced induction at this point.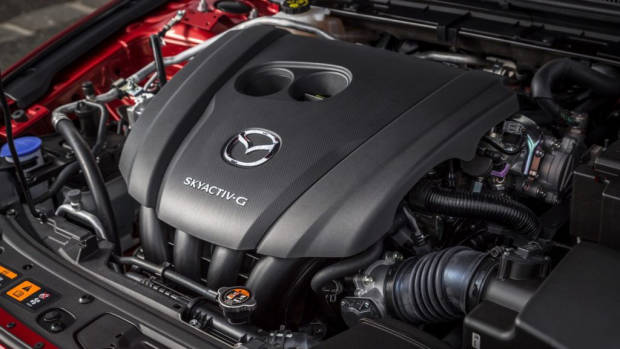 Like the base G20 engine, which is a 2.0-litre running 114kW/200Nm, natural aspiration is the name of the game in Mazda 3 land. That means you do need to give the G25 a rev to extract the best out of it: peak power arrives at a sky-high 6,000rpm while peak torque is made at a mid-range 4,000rpm. You certainly hear the engine at those points.
For now, Mazda do not have an engine that can rival the best in the class. Smaller-displacement engines with forced induction generally work better in this type of car, making their torque barely above idle. Mazda have chosen not to expand their turbocharged petrol engine offering beyond the 6, CX-5 and CX-9.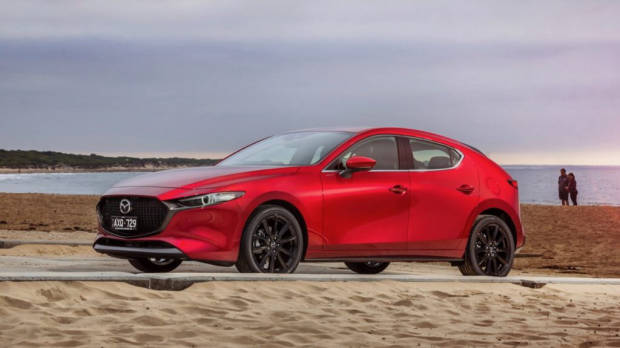 However, a new engine will indeed be added to the 3 lineup later this year in the form of the Skyactiv-X supercharged petrol. The displacement, power and torque are all currently unknown but we believe the outputs will be around 135kW/230Nm, with peak torque made very low in the rev range. We think that'll be worth waiting for.
We applaud the fact that Mazda continue to offer a six-speed manual gearbox on every grade in the range, including this G25 Astina. Selecting the stick-shift also saves $1,000 – we'd do it. That said, the six-speed automatic is fine; in its Sport setting it is moderately engaging on a fast backroad.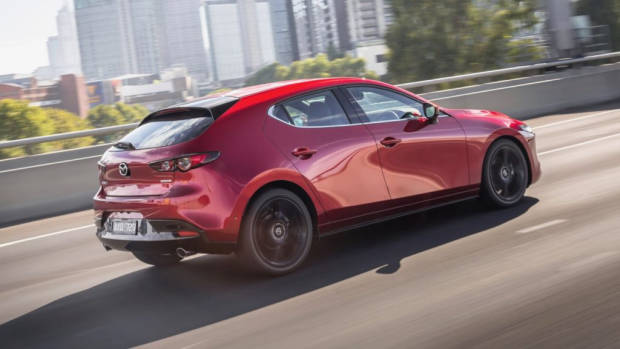 There are no complaints about the new 3's ride-handling balance, however. Mazda continue to nail this important aspect of vehicle dynamics, striking the right blend between suspension compliance and enthusiasm in sportier driving.
Riding on 18-inch wheels, there is some initial sharpness to the way the G25 Astina hits potholes and speed bumps, but after that point, expert damping prevents road imperfections from causing more than a momentary disruption to the sense of calm in the cabin.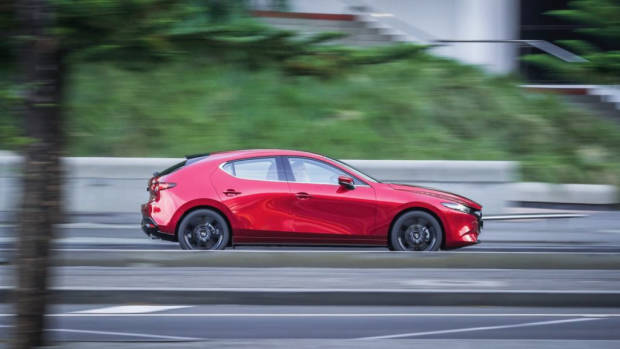 Meanwhile, the relatively quick and highly direct steering of the outgoing 3 has been retained here with little change in character. This Mazda still wants to attack corners with true verve, showcasing its sublime chassis and a willingness to engage skilled drivers with a spirited front end and keen rear, despite a quiet switch to torsion beam rear suspension which replaces IRS. In reality, this change does not result in any downgrade in ride quality or driver engagement.
Noise, vibration and harshness levels, already pretty impressive in the facelifted version of the outgoing Mazda 3, have been further improved. This is a quiet, relaxing car to ride in, with good suppression of road and environmental noises. Only the clunky auto engine start-stop system causes too much disruption.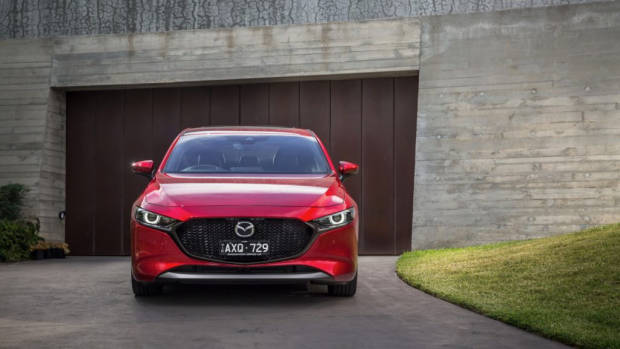 A five-year warranty was introduced for new Mazdas last year and, as such, it applies to the 2019 3 range, matching many rivals.
Impressive to drive, plush to sit in and well-equipped, the new Mazda 3 continues to earn its place on our list of recommended small cars. For those who are particularly interested in dynamics, the forthcoming supercharged engine may be worth waiting for – but if the performance on tap from the 2.5-litre petrol is sufficient for you, we see no reason to delay. This is a thoroughly accomplished vehicle.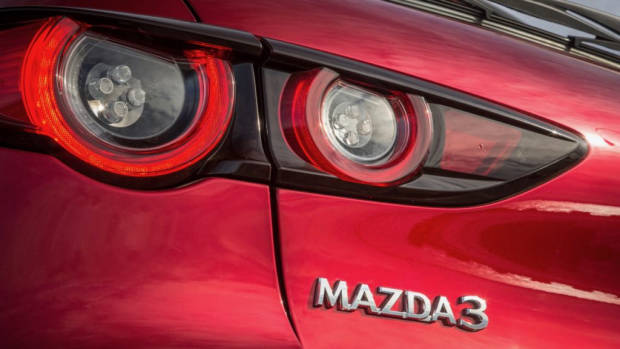 Correction: a previous version of this story inaccurately listed the price of the Mazda 3 G25 Astina as $38,990 before on-road costs. The correct pricing is $37,990 before on-road costs. This is now reflected in the text.