No firm decision has yet been made on whether the 2022 Mazda 3 Turbo will come to Australia, because at present, the turbocharged 3 is only built in left-hand-drive. But why should the Yanks get all the fun stuff?
The Australian market loves a performance edition – just ask Mercedes-AMG – and any sort of hot hatch – just ask Renault Sport – while Mazda Australia say they've been asking for a hot version of the latest generation 3 since its late 2018 launch.
Here's why we want it. The 2022 Mazda 3 Turbo uses the boosted 2.5-litre four-cylinder Skyactiv-G motor found in the Mazda 6, CX-5 and CX-9 sold on our shores. While those cars make 170kW/420Nm, the version used in America's 3 Turbo boasts a venerable 186kW of power and 434Nm torque: solid numbers.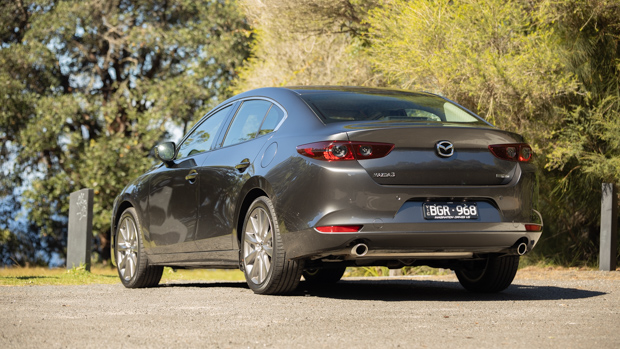 US publication Motor Trend says the force-fed 3 managed a 5.9 second dash from 0-60mph in an all-wheel-drive Mazda3 Turbo, meaning it'd probably do 100km/h in six seconds flat.
The new Mk8 Volkswagen Golf GTI claims a 6.3 second time here, offering lesser 180kW and 370Nm numbers from its turbocharged 2.0-litre.
Mazda 3 Turbo: Australian release may happen
"We've said we're keen," Mazda Australia's marketing and product director Alastair Doak said of the Mazda 3 Turbo.
"The programme manager for Mazda3 is a good guy, he knows our keenness, and he continues to study the opportunity for us and we continue to ask. So it's still a 'watch this space'."
Surely other right-hand drive markets are pressing too. The UK, as we know, doesn't mind a decent hot hatch either, so it's hard to not find a business case.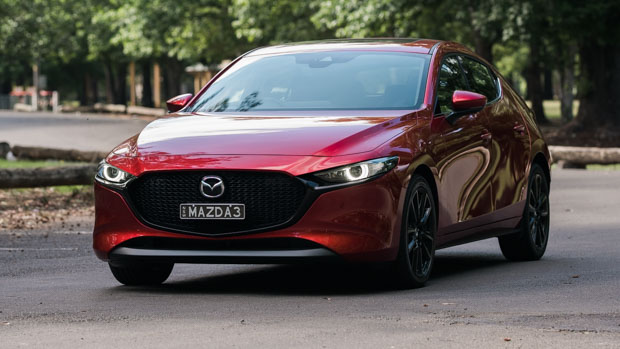 How much would one cost? In the US the Turbo costs from US$31,050 (currently $41,500 AUD) while the entry-level Mazda 3 S is US$22,650 (currently equivalent to $30,500 AUD). By contrast, our Australian base model G20 Pure specification costs $29,440 locally.
Australians demand a higher level of standard specification than their American counterparts, so it's likely a local-spec Mazda 3 Turbo would pitch a little higher – not to mention that the new Golf GTI is priced at $53,100 before on-road costs. In the States, a lower-spec GTI costs around AUD $40,000.
Skyactiv-X engine is less than 2 per cent of sales
But it's not as though the development cost of slinging a 2.5-litre turbo in a right-hooker Mazda3 would be a huge leap. After all, Mazda must have spent a frightening amount in comparison developing and marketing its revolutionary Skyactiv-X engine, which is found in Australia's current flagship Mazda 3 X20 Astina.
While this engineering marvel gets some all frothy with excitement, many would prefer the binary aspect of More Power equals More Good.
The innovative Skyactiv-X brings 132kW and 224Nm, but at $45,000 for this top-shelf Mazda 3,, you'd be entitled to expect more zing.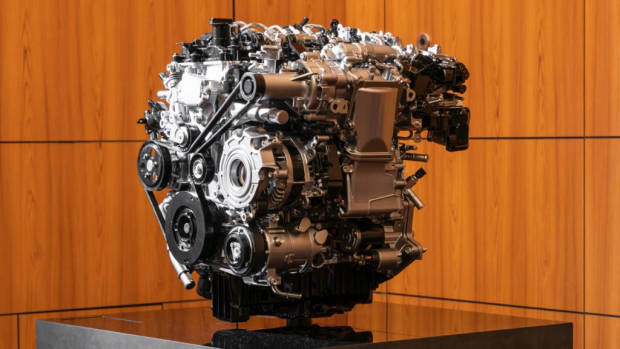 Without having a downer on what is a very impressive if unthrilling engine, the Aussie market hasn't responded to the Skyactiv-X in the same way it would a grunty turbo 2.5-litre.
Latest figures show Mazda 3 sales for 2021 thus far totals 6,554. Of that amount, exactly 100 feature the Skyactiv-X engine.
Mr Doak told Chasing Cars that sales are "a little above the target where we said it would be, so we're pretty happy with [Skyactiv-x]."
Even so, surely Mazda Australia knows it could shift more hot hatch Mazda3 Turbos should one be made available, hence its continued lobbying for a right-hand drive variant.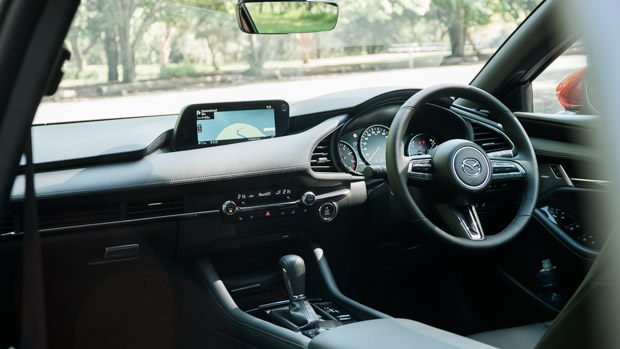 If you gaze back through time, the second-gen Mazda 3 MPS offered a striking 190kW and 380Nm from its turbo 2.3-litre four-pot, and the current Three could use a good hero halo model to stick it into the same conversation as the Golf GTI, Hyundai i30N, Ford Focus ST et al.
Having all-paw traction as well would give the Mazda 3 Turbo a point of difference too, and could even justify a higher price versus the aforementioned. As we've seen of late, Mazda doesn't mind slinging a higher price on its models to align with its "Mazda Premium" journey.
Mazda 3 manual gearbox at risk for Australia
Even though purists may protest, they don't even have to offer a manual version, either. In the USA the Turbo is solely six-speed auto, and judging by Mazda Australia's manual 'box sales for all Mazda 3s, this shouldn't dissuade too many.
Just 4.9 percent of Mazda 3 buyers have ticked the self-shift box. "That's less than we predicted," Mr Doak told us. "We'll keep them (manuals) as long as we can, but we always said ultimately customers will decide. If they're not interested, ultimately we won't have them."
Mazda say themselves: customers will decide. Let's hope, after nearly three years on sale, Australians will soon get to choose a turbo version of the impressive Mazda3.
Mazda 3 2021: prices in Australia
All prices listed are before on-road costs.
G20 Pure manual: $25,990
G20 Pure auto: $26,990
G20 Evolve manual: $27,590
G20 Evolve auto: $28,590
G20 Touring manual: $30,090
G20 Touring auto: $31,090
G25 Evolve manual: $30,490
G25 Evolve auto: $31,490
G25 GT manual: $34,590
G25 GT auto: $35,590
G25 Astina manual: $38,090
G25 Astina auto: $39,090
G25 Astina 100th Anniversary auto: $40,090
X20 Astina manual hatch: $40,590
X20 Astina manual sedan: $1,090
X20 Astina auto hatch: $41,590
X20 Astina auto sedan: $42,090