The fourth-generation Mazda 3 launched in Australia in 2019 into a market enamoured with small SUVs, not low-riding hatchbacks. Nobody is really surprised that today's Mazda 3 hasn't matched the market-leading sales of its first-gen ancestor, but Mazda's small car is a great drive that represents terrific value when compared against crossovers.
Offered in a very broad range of five trim grades – including the sporty new Evolve SP variant ($32,290 before on-road costs) tested here – plus four powertrains, six-speed auto and manual transmissions, and sedan and hatchback body styles, there is a Mazda 3 for just about everyone who doesn't need a third row or a tonne of boot space.
In expressively-rounded hatchback form, the Mazda 3 is a little smaller (though arguably more chic) than rivals like the Volkswagen Golf Mk8, Hyundai i30 and Kia Cerato, but in the real world, it is roomy enough for carting four adults around … if they pack light.
Partially blighted by its small boot that must make some turn towards a more ubiquitous CX-30 or CX-5 SUV in a Mazda showroom, the Mazda 3 attracts drivers who value handling, efficiency and style more than the utilitarian pragmatism of an SUV.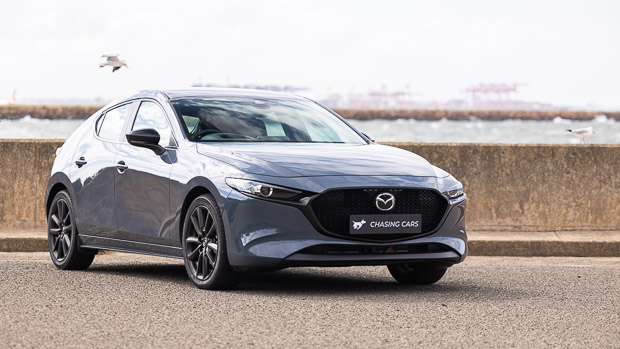 We count ourselves among the former group – so we grabbed the keys to the 2022 Mazda 3 G25 Evolve SP auto hatch to take a mid-life refresher course with this model.
How does the Mazda3 G25 Evolve SP drive?
Hatchbacks are becoming a more niche offer than their SUV counterparts, so these cars no longer have to be all things to all people. The Mazda 3 and its rival hatches may get "family car" billing in the UK, but here in Australia they are more likely to be owned by young people, downsizers or families as a fun and agile second car.
That's great news for the Mazda 3 as it frees this model from the need to ever be bland – and the latest BP-chassis '3' ain't that. Every variant of the curvy hatchback feels as though it's been set up with warm-hatch suspension tuning, and pulling out on a test drive you'll probably reflect that the ride is firmer than you were expecting.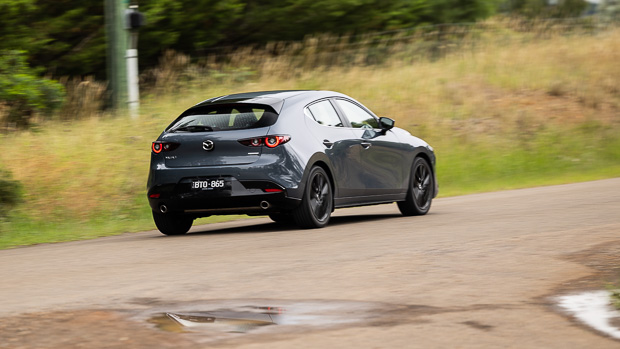 The front suspension is indeed stiff – and could probably be dialled-down 10 percent – but you quickly get used to the focused front end that loves to dart into corners and is connected to some of the sweetest steering in the segment.
Stiff it may be, but the damping is there and in our 600km road test of the Evolve SP, which rides on 18-inch wheels (as does every spec bar the Pure on 16-inch chubs), we never managed to slam uncomfortably into the suspension's bump-stops – even on an inadvertent 10km gravel stretch!
On the flipside, Mazda's engineers have taken great care to make the 3 hatchback entertaining from behind the wheel, with a chatty chassis that doesn't mind involving its rear end … which is now suspended by a torsion beam, though this cheaper arrangement than the old independent rear is more Peugeot 308 lightness than Skoda Scala crashiness.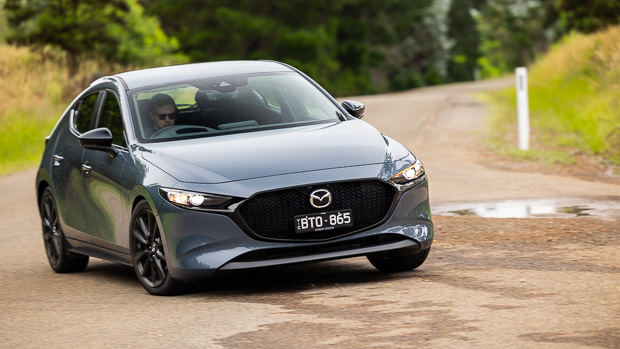 Body control is superb, especially at high speed: like other Mazda products, the 3 isn't afraid of a touch of body roll but uses this to alleviate the Toyo Proxes tyres, which have a level of leeway in the dry but noticeably deteriorate in the wet, where grip is so-so at best – we'd swap our Mazda onto superior Michelin or Continental rubber if we bought one.
Four powertrains can be slotted under the bonnet of the Mazda 3 in Australia but sadly not the one every fan seemingly wants.
Those on the table for Australian buyers are all naturally-aspirated units: a 2.0-litre G20 making 114kW of power and 200Nm of torque; a very mild 24V hybrid version of that engine called G20e (with the same outputs); a low-volume and experimental spark-controlled compression-ignition X20 reviewed here that makes 132kW/224Nm … and the G25 in our test car.
Straightforward and muscular when you rev it past 3000rpm, the 2.5-litre G25 is the right choice for most buyers, producing a respectable 139kW/252Nm and pairing delightfully with a slick six-speed manual gearbox you should buy – or a smart six-speed torque-converter automatic that downshifts intelligently under braking.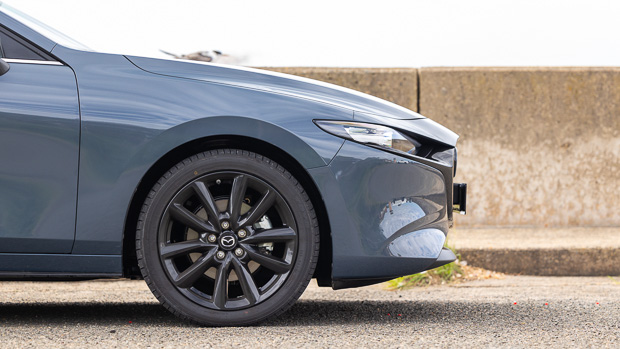 The Americans can opt tantalisingly for a turbocharged version of this engine – as in, the CX-9 powertrain – that makes 186kW of power and 434Nm of torque on great-quality US fuel.
That much torque would be hilariously conducive of wheelspin if paired to FWD (especially with these tyres) so the Mazda 3 turbo also picks up AWD while ditching the option of a manual.
Still, while we'd never mind the option of selecting a turbo in such a small car, the G25 is a more-than-adequate powertrain that also keeps the front end nice and light. We independently weighed the G25 Evolve SP auto hatch at 1293kg with a full tank – way under the quoted kerb weight of 1372kg.
Like many other Mazda models of the current moment, the 3 has benefitted from the brand's laser-focus on refinement improvements: it's hushed and relaxing on the motorway and quieter than many rivals (particularly the rowdy i30, Cerato and Scala) on coarse-chip surfaces.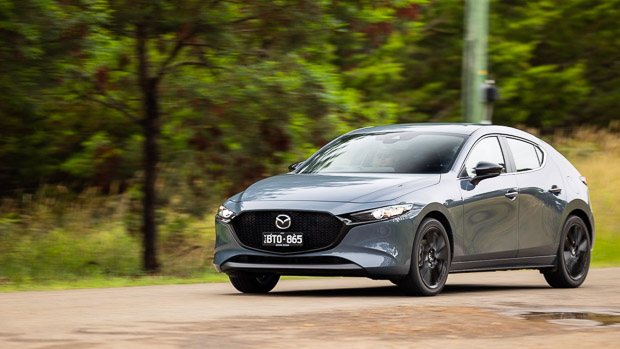 As standard, the Mazda 3 includes forwards AEB that can detect cars, pedestrians and cyclists, plus adaptive cruise control, blind spot monitoring, rear cross-traffic alert, traffic-sign recognition, tyre-pressure monitoring and a reversing camera.
This suite can be upgraded on automatic variants with a Vision package ($1500) that adds a 360-degree parking camera, upgraded lane-centring and semi-autonomous low-speed driving, front cross-traffic alert, and driver fatigue detection. Vision tech is standard on the Astina grade.
How is the Mazda3 G25 Evolve SP's interior?
The Mazda 3 has the best interior presentation in the mainstream small car segment, and it's not an especially close-run thing.
Vaguely reminiscent of an Audi A3 inside without lifting any IP too directly, the Mazda 3 manages to match that car for quality, while easily outpunching the perceived lushness of a Mercedes-Benz A-Class and the new Mk8 Golf.
Climb down into the driver-oriented cabin and you're surrounded by a visually arresting cabin that looks really expensive. It's a relief when you touch the various deeply-padded surfaces and realise that the Mazda 3 interior isn't just skin-deep, either.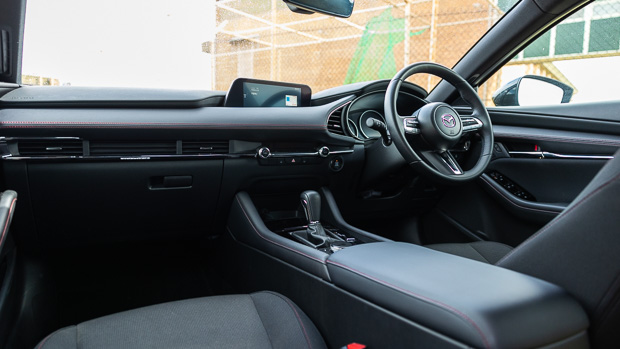 From the vast soft-touch dashboard to the elegant, thin-rimmed leather steering wheel to the yielding knee-pads to the new-for-2022 soft-touch rear door skins, it's clear that Mazda put its best efforts into this interior.
That makes sense as the Mazda 3 (and its CX-30 SUV twin) are the only launched products so far from the company's "Mazda Premium" line of models designed to catapult the Japanese manufacturer into near-luxury territory. This pair will soon be joined by a range of larger crossovers with six-cylinder engines and rear-wheel drive.
Where the Mazda 3 is most obviously not an Audi, BMW or Mercedes-Benz is in the functionality of some of the technology. While the operating system behind the 8.8-inch central display looks far more mature than the previous Mazda 3's dated screen, there is a slick intuition lacking in the menu structures.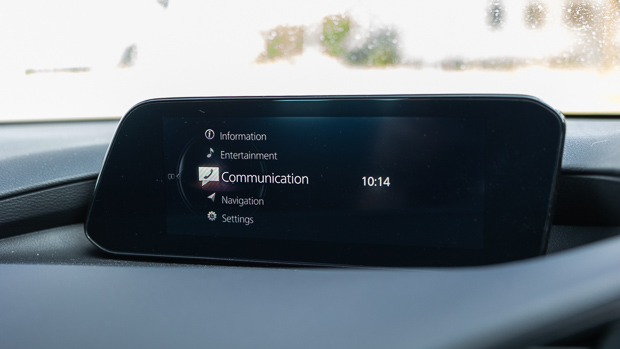 We don't mind Mazda's decision to eliminate touchscreens in favour of the very console-mounted rotary dials the German trio have just finished ditching – on rough Australian roads, dial-control feels safe and precise.
But if Mazda was going to borrow some inspiration from the Audi way, they could have at least aped the A3's fabulous digital driver display: the 3 does have a bright screen between handsome analogue dials but it's redundant, offering up either a digitised analogue speedo or a very basic trip computer.
Apple CarPlay and Android Auto are fitted to all Mazda 3 models but it's only available by a wired connection to old, slow USB-A ports. Where is the fast-charging USB-C to match a Golf – or better yet, wireless smartphone connectivity and wireless charging? Neither are available.
Exclusive to the range-topping Astina – which brings leather pews with heating in the front, plus a sunroof and adaptive full-LED headlights – is a 12-speaker Bose stereo that lifts bass performance and clarity, though the standard eight-speaker audio system is acceptable.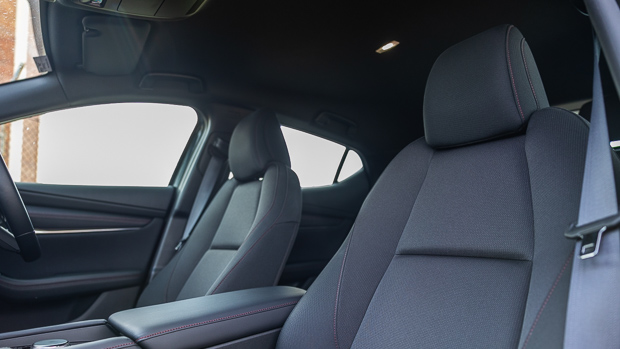 You easily get by with the Mazda 3's technology, which we'd take any day of the week over the latest Volkswagen's unacceptably laggy touchscreen. Mazda beats its rivals in showing how to elegantly incorporate dual-zone climate control with knurled metal switchgear that takes up very little space but is a joy to use.
We also adore the seating situation in the lower-mid spec Evolve SP, which at just $31K for a manual picks up 10-way power adjustment blended with a smartly upholstered cloth seat for the ultimate in fine driving position adjustability and temperate, made-for-Australia realism. Cloth beats out the equivalent i30 or Cerato's not-so-luxurious vinyl, no question.
The front passenger makes do with manual adjustment and loses lumbar adjustment, but the seat is still shapely and decently bolstered, and spacious enough.
Move to the second row and while the steeply-rising windowline partially obscures visibility out for children, the space on offer is very acceptable. Sitting behind my six-foot driving position I found legroom, headroom and even toe room to be generous enough for a drive of a couple of hours.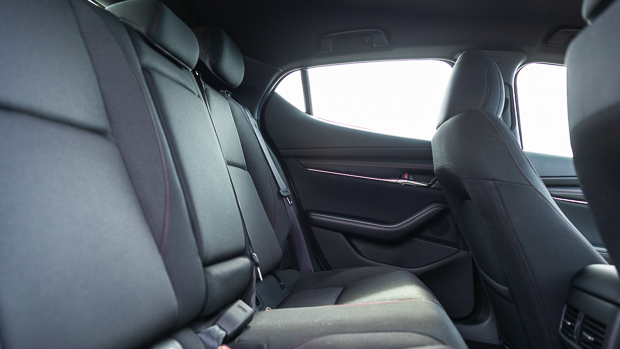 Add in rear-seat air conditioning vents, a centre armrest, a map pocket and those new soft-touch door cards and this hatchback feels well stocked.
Behind a manual tailgate (with proper keyless entry, just like the front doors) sits a very compact 295-litre boot. This is where the Mazda distantly trails a 381-litre Golf cargo area, and it's essentially just a deep hole without netting or hooks – though we were able to stash a decent 30 Chasing Cars soccer balls in there without issue.
You do get a sturdy cargo blind and there is a temporary space-saver spare under the boot floor – plus there is a convenient 'lock' button on the lip of the tailgate allowing you to press this, swing the manual 'gate shut and simply walk away.
What are the Mazda3 G25 Evolve SP's running costs?
Mazda gives and takes away when it comes to running costs: this car has a good five-year/unlimited-kilometre warranty, but it demands more frequent scheduled servicing than many rivals while providing middling fuel economy.
You'll be swinging in for a service every 12 months/10,000km in any Mazda 3. The first five services (equating to 50,000km) total $1874 – averaging $375 per year, which sounds reasonable until you discover a Corolla hybrid costs just $1025 to service for five years/75,000km.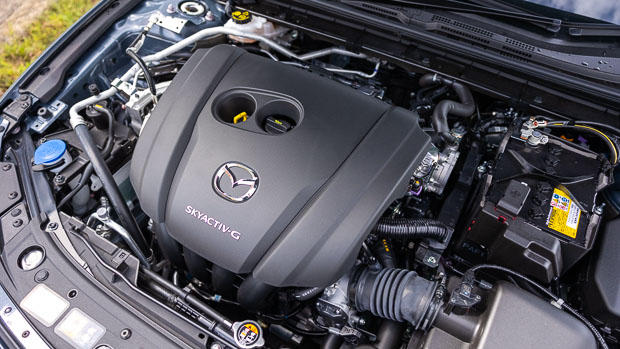 A Corolla hybrid isn't nearly as plush as a Mazda 3, but the petrol-electric Toyota uses far less fuel. We have been running-in this G25 Evolve GT, which has joined the Chasing Cars long term testing program fleet, but we couldn't beat 8.0L/100km – compared to 4.7L/100km in John Law's recent Toyota Corolla hybrid hatch road test.
We will be keeping a very close eye on the fuel consumption of this Polymetal Grey hatch over the next six months and 10,000km – will it get closer to the 6.6L/100km ADR81/02 claim?
The final verdict
There are so many great things about the Mazda 3, from the chic styling, to the best-in-segment interior, to the polished and engaging dynamics. If you can tolerate the urban ride, which is stiffer than the cushy Golf, there is much to like here.
It's a big range, but it is hard to go wrong with the new G25 Evolve SP, which is fabulously complete and certainly powerful enough at just over $31K as a manual (or $32K with the automatic transmission most will want) – though a full-fat G25 Astina hatch is also desirable, what with its burgundy heated-leather cabin, sunroof and Bose stereo.
There aren't many great-value new cars on the market in 2022, but the Mazda 3 is one of them. Caught between the now too-expensive Mazda 2 light car, which is far less sophisticated, and the $3K-dearer (yet slower) CX-30 SUV – the Mazda 3 shows that a semi-premium experience needn't break the bank.