The new generation Mazda3 should rightly be lauded for raising the bar in many engineering and quality departments, the shapely Japanese lighting something of a firecracker under the affordable small hatchback segment.
So the new car may be a delight to behold and pilot, but these alone don't guarantee continued success for what is currently the best-selling vehicle sold to private Australian buyers. Mazda has, of course, conducted exhaustive market research, but the fact remains that the entry-level Mazda3 as we know it – that being the outgoing $20,490 Neo Sport – has been axed and the start price is now $24,990 before on-roads for a 2019 Mazda3 G20 Pure.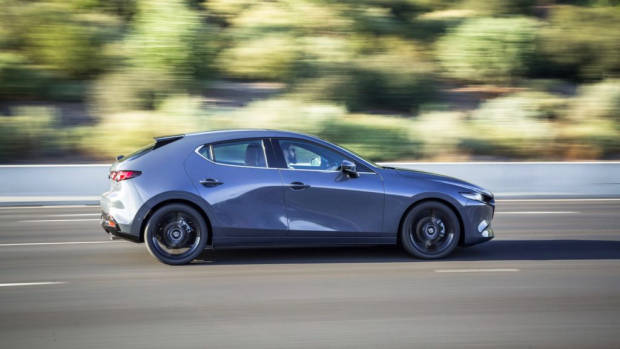 Illustrating that the Mazda3 is dabbling in rarefied prestige air, the range-topping G25 Astina with auto gearbox is $37,990 before on-roads: BMW 1 Series and Audi A3 territory. Mazda openly eschews fleet and rental sales, favouring quality (feature-loving private buyers) over quantity (fleets after stripped out cheapies), but even so, not having the magic $20k sticker price to get 'em in the showroom door, and try to upsell from there, must be of some concern?
Apparently not, according to Vinesh Bhindi, MD of Mazda Australia, when asked about the absence of a basic Mazda3 Neo grade – as still found on the Mazda2 ($15,320) and CX-3 small SUV ($22,260). "It's of no interest to them (private buyers)," he said. "The majority of our sales are above the entry level, across all Mazdas. We're focusing on where 90% of our buyers are already at. Dealers fully understand the strategy, as (our buyers) are looking at features and value."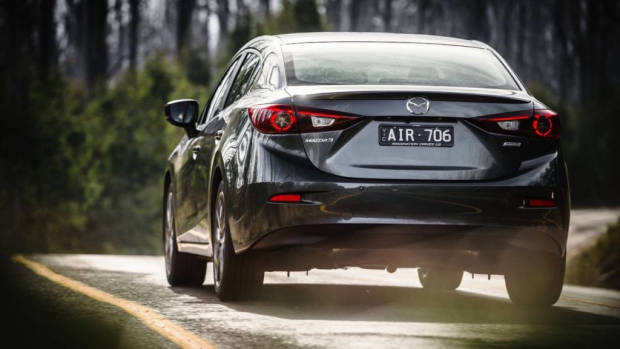 Bhindi has taken a realistic approach to the way the market has moved. He believes small passenger car sales will continue to decrease as buyers move ever increasingly towards SUVs, and the CX-3 is now a cheaper entry into a Mazda vehicle than the 3.
Mazda's higher specification, higher price strategy for its small hatchback (and sedan which lands mid-year) mirrors that of recently launched generations of the Toyota Corolla and Ford Focus – key rival vehicles for the Mazda 3.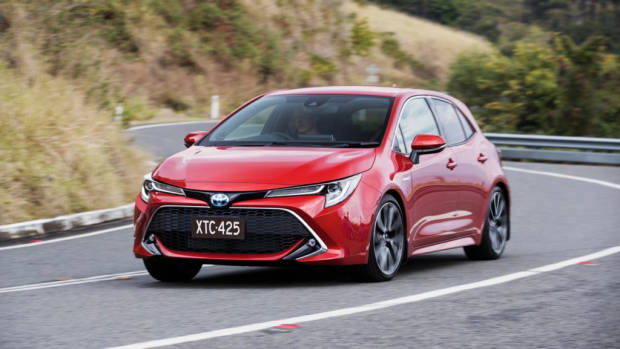 Sales figures of the new Corolla have been troubling. In 2019 so far the small Toyota's sales are down 24.6% over the previous year. The small car market under $40k as a whole is down 19.5% over the same period, but that will be cold comfort to Toyota.
A cheaper small car, the Hyundai i30, is down 7.8%, and the bargain Kia Cerato bucks the trend to be up 6.2%. The current Mazda3 has fallen 8.8% over the same period, markedly better than the VW Golf (down 23.3%) and Honda Civic, which has lost a mighty 29.7% of sales.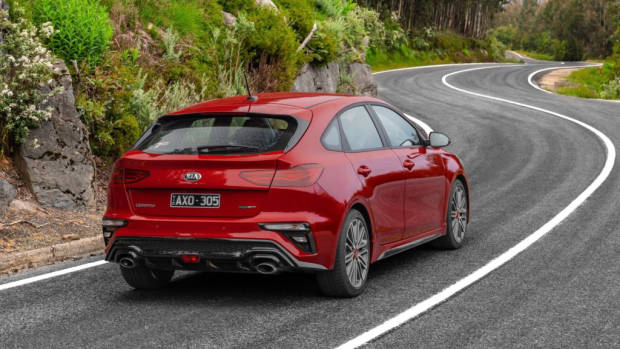 Mazda Australia marketing director Alastair Doak echoes the apparent lack of concern about the new grade and pricing structure for Mazda3. "We're pitching the new generation car where the demand was anyway," he said.
"We've always enjoyed a rich model mix, and always targeted private buyers, and they traditionally look at different things to a fleet or rental company. Private buyers look at the value equation, and we've added more than $4000 of equipment value (in the new car)."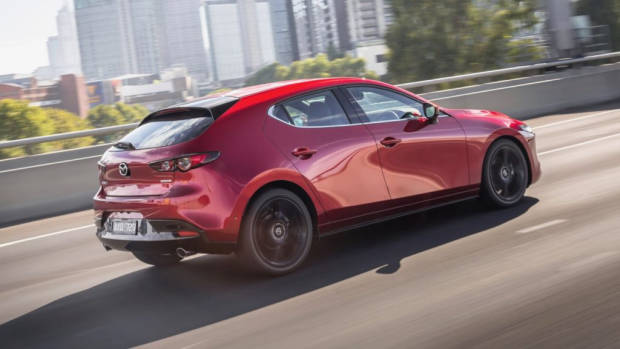 Should sales disappoint, or Australia's appetite for buying new cars continue to drop away, could a cheaper Mazda3 be offered? "It's not in our thinking," Doak said. "It is possible to do, and we could do it without losing the five star safety rating, as we've gone above and beyond with specification. But I'd say it won't happen."
Doak made it clear the rising quality across the board in the new Mazda3 would serve to enhance the already strong reputation of the model. "Everyone knows somebody who owns a Mazda3," he said. "It has a reputation as a car that delivers, is well made, drives well, has great quality and great resale value. That's incredibly powerful when you have friends and family telling you that, and it puts the car on a huge number of shopping lists."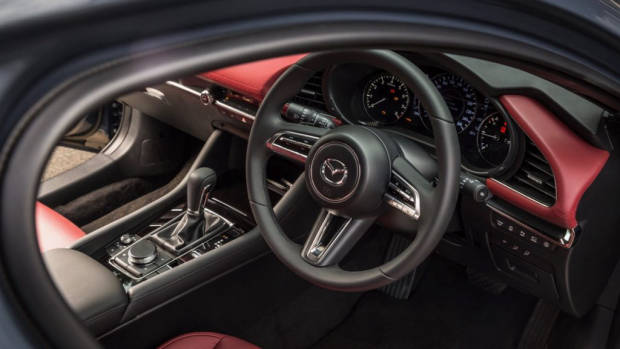 While such buyers will appreciate the new car's features, connectivity and safety, how much does the Mazda3's engine play a part in the purchase? After all, the 114kW 2.0-litre and 139kW 2.5-litre naturally-aspirated four-cylinder engines in the new cars have only minor updates over the previous generation. There's no turbo or hybrid engines on the horizon, and the interesting supercharged SkyActiv-X will only find its way into pricier flagship models when it's introduced late in 2019.
"Different people have different priorities," said Doak. "If fuel prices go through the roof, we have hybrid technology available to us, and we do have an electric story coming as well which we've started telling. At some point we'll jump into that space, but we're not particularly hearing from Mazda customers wanting electric.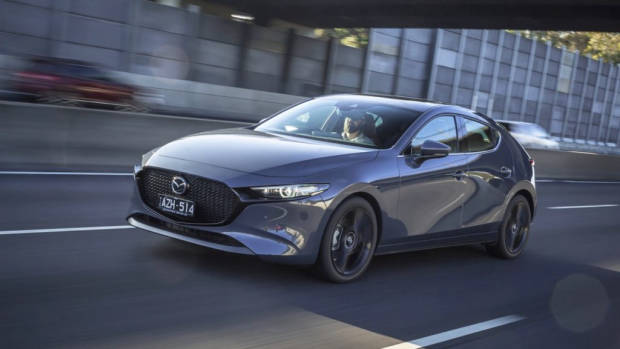 "Our focus is on improving the efficiency of the internal combustion engine first and foremost. We're always evolving and updating, and our real world fuel economy is very strong."
Away from the eco stuff, what about a powerplant for the 3 with a bit more mongrel? More "Zoom Zoom"? There's certainly an obvious answer to hand with the 2.5-litre turbo seen in the CX-9, Mazda6 and CX-5, and that 170kW and 420Nm would create a fine warm-to-hot hatch version of Mazda's best-seller.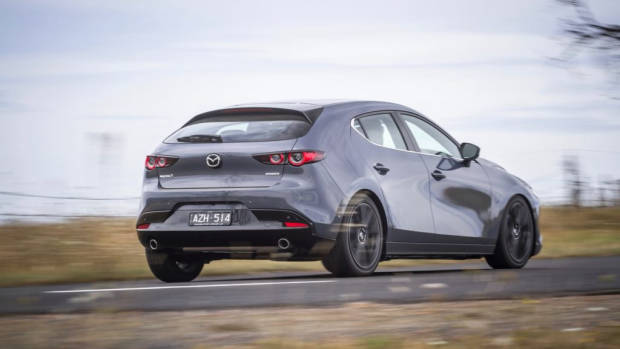 A lack of hotted up 3 has always been a sad omission from the Mazda lineup, not least because the model's long boasted a talented chassis to handle such a bump in power. Certainly, hot hatch versions of rival VW Golf, Honda Civic, Hyundai i30, Ford Focus, Peugeot 308 and Renault Megane all help boost the image of a model amongst certain buyer types.
"There are no plans for a hot hatch Mazda3," Doak said, "but we understand there is a small percentage of buyers who'd like that. We continue to give that feedback to Mazda Corporation. Is it something we'd like? Sure. If a higher performance model was available of course we'd jump on it."
How the next chapter of the Mazda3 story unfolds should prove as interesting as the new car itself.