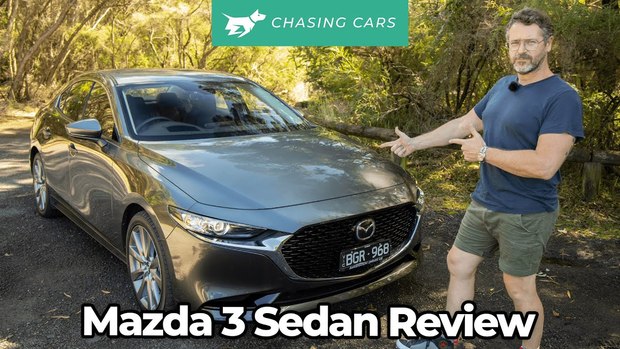 Sedan sales are in a downward spiral across the globe (with a few exceptions), yet the four-door Mazda 3 remains an important part of the Japanese brand's small-car arsenal.
Alongside the coupe-like Mazda 3 hatch and seductively styled CX-30 SUV, the 3 sedan offers an interesting point of difference to its DNA buddies, and still accounts for over 30 percent of total Mazda 3 sales in Australia.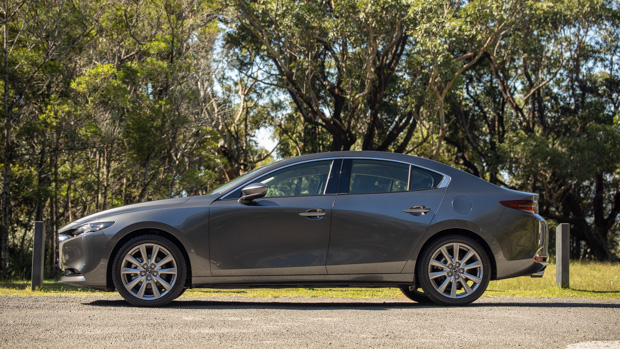 While the Mazda 3 hatch's striking shape is unashamedly sexy, the sedan's visual flavour is all about restrained elegance – at which it succeeds extremely well. Only the sedan's windscreen and front door glass are shared with the hatch, though its headlight and grille shape appear almost identical. The rest, however, is entirely the sedan's own, to handsome effect.
While the fourth-generation 3 hatch has a broader, more muscular presence than its predecessor, the sedan stretches that expanse into original Mazda 6 territory. Today's Mazda 3 sedan is so grown up that it's almost a dead ringer for its 2002-08 bigger brother in terms of size.
The 3 sedan is 10mm shorter than the original 6 sedan and has marginally less boot volume but its wheelbase is 50mm longer for generous cabin space, and it's slightly wider (by 14mm) and taller (by 5mm).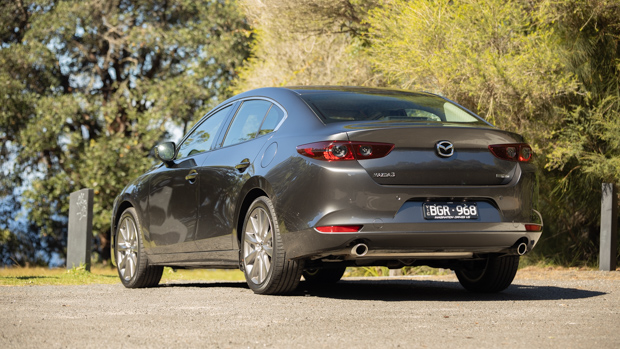 In fact, the Mazda 3 sedan's cavernous 444-litre boot is only 30 litres smaller than that of a current Mazda6 sedan, though because it has so much depth and near fold-flat rear backrests, the 3 is more practical when being loaded with luggage. It's also far more versatile for holiday duties than the 3 hatch, putting its extra 200mm of overall length to good use.
Our test Mazda 3 G25 sedan is the second-from-top GT model, discounting the fact that the Astina above it is also available in SkyActiv-X form (called X20, with an efficiency- and driveability-honed 132kW/224Nm mild-hybrid 2.0-litre).
While the X20 uses less fuel (5.5L/100km on the combined cycle versus 6.5) than the G25, the 2.5-litre auto has more grunt (139kW/252Nm), drinks 91-octane unleaded (instead of 95), and weighs 63kg less, model for model.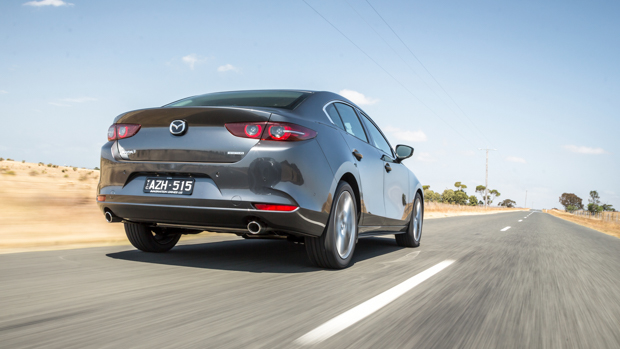 On the road, despite its more conservative appearance, the G25 GT sedan produces a mirror-image driving experience to the G25 GT hatch. That means promptly progressive steering response, focused and nuanced handling, delightful chassis balance and a feeling of dynamic involvement.
Indeed, the harder you push it, the better the Mazda 3 sedan gets, even in terms of ride quality, though at lower speeds there's no escaping the overly firm nature of the GT's ride on its standard 18-inch wheels. While there's underlying absorbency when you really need it, for much of the time the 3 GT sedan tends to trace the road topography rather than iron it out.
If you want a genuinely supple ride from a Mazda 3, your only option is a base G20 Pure wearing higher-profile 205/60R16 tyres (not the sportier 215/45R18s worn by every other model). Or a CX-30 Pure, also wearing 16-inch alloys with even taller 215/65R16 tyres. As all-rounders, both 'Pure' models live up to their names by being arguably the sweet spot in terms of overall driving purity, and you can even get the CX-30 Pure as a manual!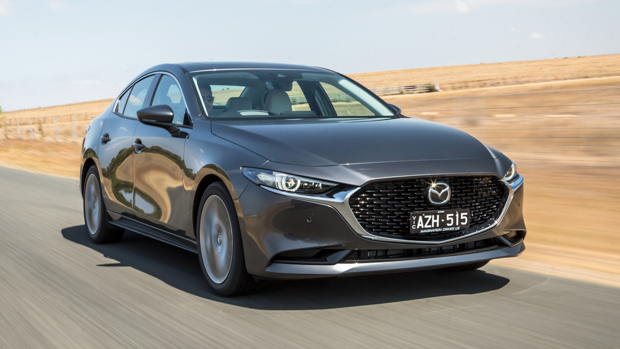 Of course, with the Mazda 3 you can combine any engine or trim level with a manual transmission, which is a rare joy in 2021. But the six-speed automatic alternative is a good one. It channels engine torque much better than it used to, and it's now highly intuitive in selecting the right gear at the right time.
The Sport mode (accessed via a rather clumsy toggle switch rather than a simple lever flick) has also become smarter and no longer seems hell-bent on revving the crap out of the engine – even though the G25 GT's 2.5-litre petrol four enjoys a thrashing to its 6600rpm rev limit. The greatest benefit of choosing the 2.5-litre over the 2.0-litre is its abundance of torque so you may as well relax and enjoy it!
Aside from 50 percent more boot space, the other major advantage for Mazda 3 sedan buyers is rear-seat comfort. The seat itself feels near-identical to the hatchback's, meaning comfortably supportive and garnished with rear air vents, but thanks to a much lower side window line, there's greater all-round vision which is particularly important for little kiddies. In fact, the latest Mazda 3 is so roomy inside it could easily be considered a one-stop-shop family car.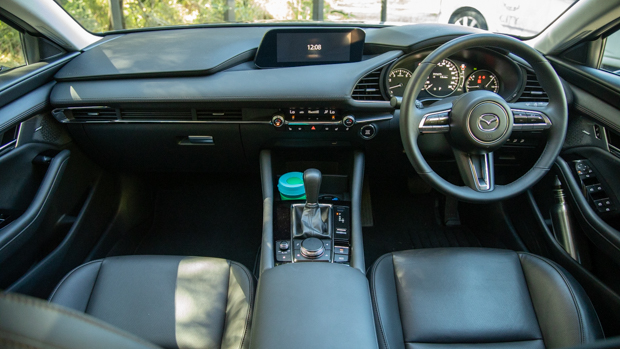 Yet it could also be considered a premium car because its interior quality is a stand-out. From the sophisticated dashboard and door furnishings to the clarity of its controls (apart from hard-to-read steering-wheel buttons) and the excellence of its driving position, the Mazda 3 sets a high standard among its small-car competitors, and it's at least as good (or better) than many premium-brand small car interiors.
Thing is, the list price of this Mazda 3 G25 GT auto sedan is just $35,290 (and a grand less for the manual), or roughly $38.5K drive-away. For that you score heated auto-folding exterior mirrors, heated front seats and steering wheel, a powerful 12-speaker Bose sound system and perforated leather trim over the G25 Evolve ($31,190) positioned below, though both share a five-year/unlimited-kilometre warranty with five years' roadside assistance, and an excellent reliability reputation.
About the only area where you do pay a little more than normal is servicing cost, with the G25 GT auto requiring a service every 12 months or 10,000km (compared to 15,000km for many competitors). Across the first three years, the G25 GT auto's fixed servicing cost is a reasonable $1011, though you'll only have travelled up to 30,000km, not the 45,000km permissible in some rivals.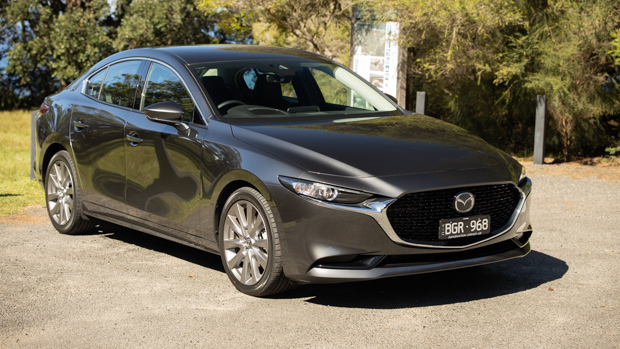 But the best thing about the Mazda 3 sedan is that it retains all the excellence of its hatchback sibling and builds on that with greater practicality and all-round family friendliness, without sacrificing style.
Indeed, it has a style all its own, which is probably why it continues to fight the sedan trend towards obscurity.