Japanese brand Mazda aren't afraid of slogans: you'll undoubtedly have heard of "jinba ittai", which Mazda use to express the connection between the horse (or car) and rider (or driver, you choose). There have now been many years of discussing "Kodo" design language, which is the current Mazda aesthetic, blending smooth surfacing with organic shapes.
It's now time for a third: "Mazda Premium" is now the order of the day at the Hiroshima-based manufacturer, with global executives promoting the phrase en masse at the recent Los Angeles Auto Show, where the new Mazda 3 received its global debut. Fast forward three months and we're on the cusp of the fourth-generation Mazda 3's local launch, and the brand's Australian executives are keen to talk up how "Mazda Premium" is the right fit for our market.
But what, precisely, does this mean? Is Mazda turning premium automaker? Or, is there a 'premium' to the cars above and beyond the norm? At a preview event for the 2019 Mazda 3 in Melbourne this week, we sat down with Mazda Australia general manager Vinesh Bhindi, and marketing director Alastair Doak, to unpack "Mazda Premium", and what's making Mazda tick.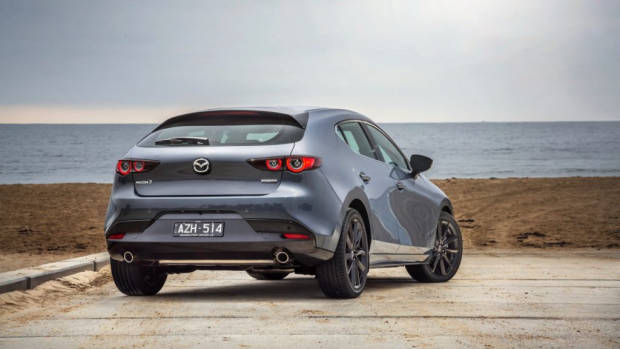 The new Mazda 3 is the first vehicle to launch in the Mazda Premium era.
"I guess it's a bit of a confusing phrase," Mr Doak concedes early on. "When you use the world premium, you think of luxury brands, in any segment," he says, before outlining how luxifying the Mazda brand isn't the overarching plan.
The conversation over "Mazda Premium" happened in light of the announcement of pricing for the new Mazda 3, which takes a significant step up over the outgoing third-generation shape. The cost of entry rises by $3,500 before on-road costs, as the new model arrives without a traditional base model. In real terms, a new Mazda 3 will see you outlaying another five grand to get it onto the road.
So, does that mean Mazda is moving up a price class – onto the same turf occupied by Volkswagen? The German brand's saying is "premium for the people", which they use to justify prices that are generally 20-30% over Japanese or Korean mainstream brands. "Mazda Premium", combined with the 3's ambitious new pricing, has a familiar feel to it.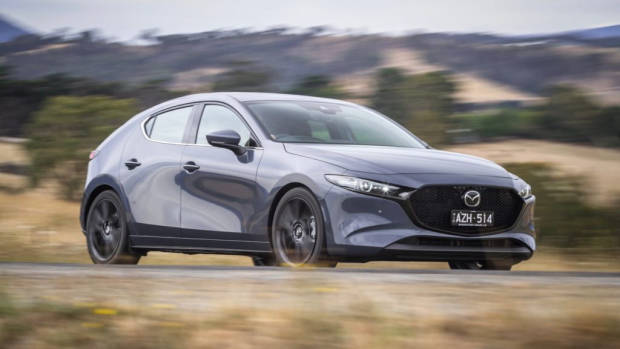 Both Mr Bhindi and Mr Doak played down the effect of "Mazda Premium" on pricing, with both men emphasising their view that Mazda is not a discount carmaker. "We've never been a price-driven brand," says general manager Bhindi. "Our position has always been the value proposition."
Marketing boss Doak was keen to remind us that while the third-gen Mazda 3 is currently deeply discounted in its runout phase, the brand rarely turns to long-term fixed retail price points as in normal periods, demand is so buoyant. "When we launched the first-generation [Mazda 3 in 2004], that car didn't have a retail discount until the last eight months of its life. With the next one, it didn't have a retail price until well into the back half of its life. With the current shape, same deal."
The price shift in the incoming car is exacerbated by the departure of the well-known "Neo" nameplate from the range. A new naming structure will be adopted for the 2019 car, with the new entry car, named "Pure", specified more like a second-tier variant – akin to the current Maxx Sport.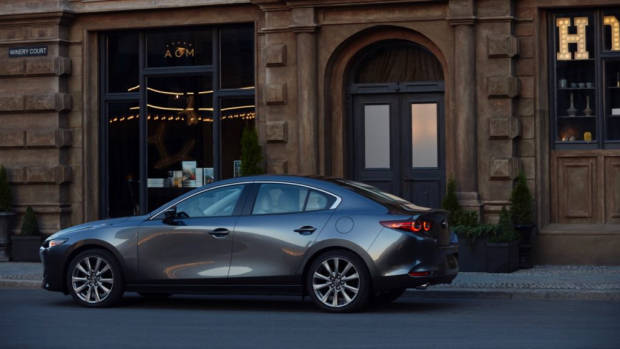 Such a move echoes similar culling in the Toyota Corolla and Volkswagen Golf ranges – both of those Mazda 3 rivals have eliminated their first-tier, or entry-level, variants in the past twelve months, with their manufacturers claiming that small car buyers simply are not buying circa-$20,000 low-end grades.
Eliminating the cheapest Mazda 3 grade in its entirety isn't causing Mr Bhindi to lose any sleep. "When it comes to the entry price point, our current generation entry customers only represent about ten per cent of the mix. They're the only ones we won't be able to engage, if their only motivation is affordability. However, what we have on offer for them is potentially a CX-3 or a Mazda 2, which may or may not suit their needs."
Mr Doak pointed out that price increases were not so much a factor of "Mazda Premium", but instead reflected the rising costs of complying with emissions and safety regulations. In Australia, crash avoidance is now an integral pillar of new car crash assessment, and in order for a vehicle to qualify for an unreserved five-star rating, all variants must be equipped with certain adaptive safety technologies. Mazda have targeted a five-star rating for the new 3, so all cars are equipped with forward and reverse autonomous emergency braking, blind spot monitoring, driver fatigue detection, lane keep assist, adaptive cruise control, rear cross traffic alert, a reversing camera and traffic sign recognition.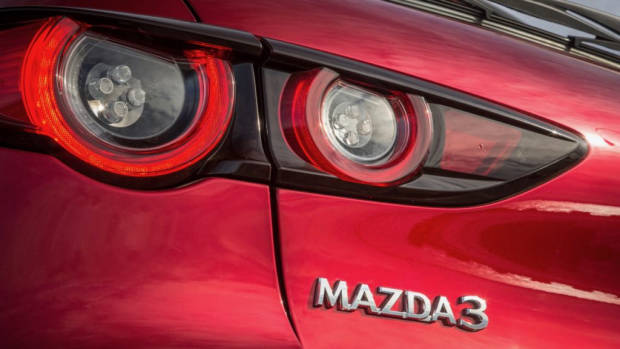 All the additional safety technology comes at a significant cost, which is integrated into the price of the car. "There is a cost to these things. Our philosophy is zero deaths or injuries in our cars. It means we will put as many cutting-edge safety features into the car as possible. Beyond that, you have the layers of ANCAP. If you want to do a five-star car…that brings levels of investment, equipment, and cost into the car," Mr Doak said.
"I think it will become an industry thing… I suspect price points will go up a little bit," Doak added. "At the same time, the affordability index of cars has been coming down for years. Compared to what you used to get…I think we demonstrate that the value equation for Mazda is just getting stronger. The actual price point may be a little bit higher, but customers get a huge amount of additional benefit."
Similar price increases have been seen with the introduction of the latest generation of Toyota Corolla, which, like the 3, needed to include rangewide adaptive safety technologies to qualify for a five-star crash rating. In the Corolla camp, prices jumped as much as $4,000 from one generation to the next.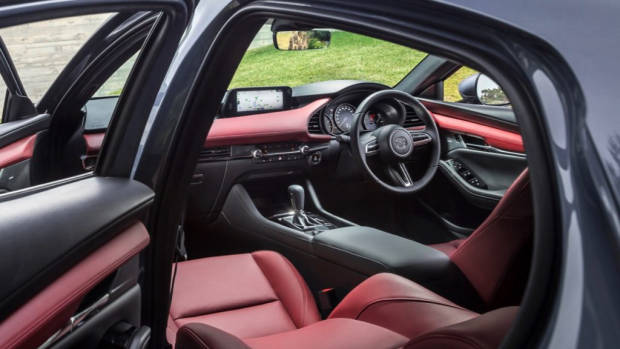 But while higher safety spend is influential, there are tenets to "Mazda Premium" that involves higher-grade materials, more comfortable cabins, and even better driving dynamics – not that the outgoing car is lacking in that department.
Mr Bhindi said that the new-generation 3, which is the first "Mazda Premium" vehicle, represents a "redefining step change" for Mazda. "It is comprehensive –  not just in features, but the dynamics, the ride, the NVH, the quality of the interior, and driver and passenger comfort. They are all elements our engineers have really dialled up."
"What we are bringing into the market [with the new 3] isn't a matter of comparing to those other offerings [the Toyota Corolla or Volkswagen Golf]. We are saying that we are going to design our own space."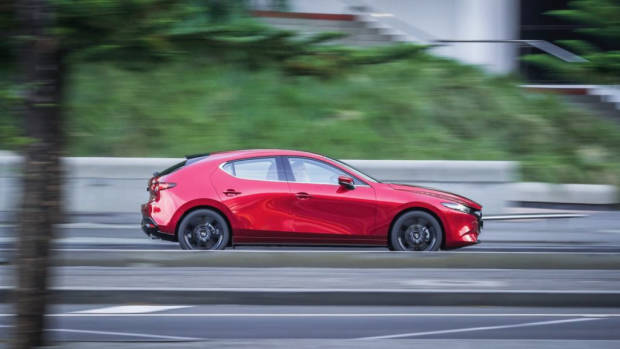 We were able to sit in the new car at length in Melbourne this week, and we took a short drive – experiences that, on first impressions, bear out Mr Bhindi's characterisation of the car as being a benchmark for the small car class. When asked whether Mazda's customers – half of whom return to buy another Mazda – are happy to come on Mazda's journey, even if that means spending more with them in future, Bhindi is positive they will see the added value.
Mr Doak says "Mazda Premium" is a convenient way to express long-established brand values. "Are we going more premium? We are going more to the essence of the Mazda brand. Any brand that has a laser focus on who they are, and where they want to go, are the ones that are successful. [We] don't get distracted by clutter or noise from competitors, or by the latest and greatest, or by trends."
So, is "Mazda Premium" the current station on a long journey, far away from the days of the 121 Bubble Car?
Not really, according to Doak. "I would argue that even when the Bubble Car came out…everybody wanted a Bubble. It told a similar story to what we have been telling recently. It stood out from the crowd…people had a desire to own that car. They thought it looked so fantastic. We're not a million miles away from one of our core brand tenets today, which is Kodo design language. Yes, [Mazda] has changed and there is more depth to the story, and more engineering – but we can legitimately look to our past, and see that [Mazda Premium], the story we are telling today, is an evolution of where we have come from."