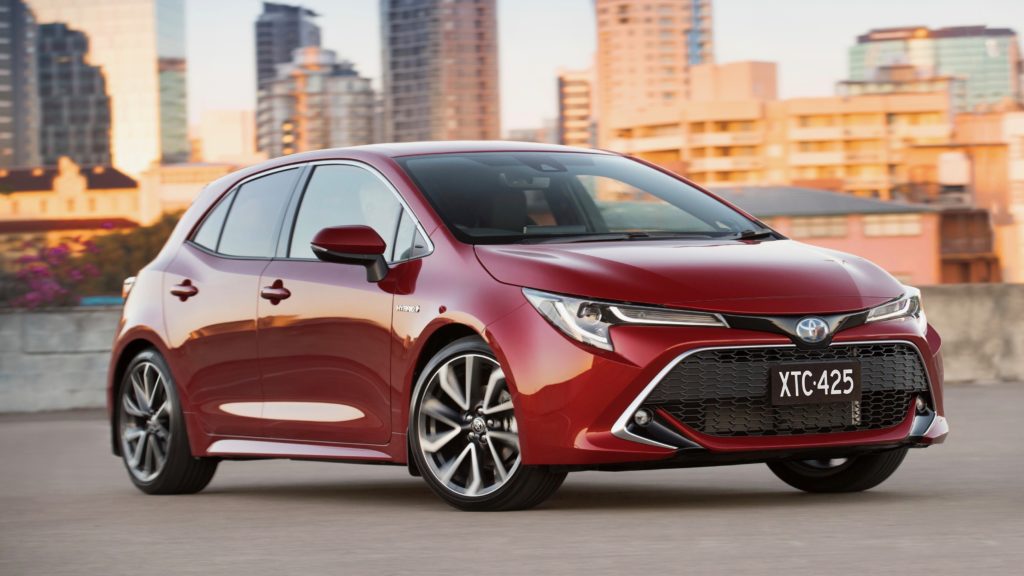 As one of Australia's best-selling cars, the arrival of any new-generation Toyota Corolla is a very big deal. But that's particularly so when the new Corolla's arrival coincides with a revolutionary shift in attitudes at Toyota more generally: about five years ago, this Japanese brand decided to give up being boring, and ever since, they've been developing more interesting, more premium, more dynamic cars. We've seen results in the C-HR SUV and new Camry, and Toyota promise the new Corolla 'leapfrogs everything else in the small car segment'. That's a big call – so can a Corolla be more than a whitegood? We spent two days fanging the 2019 Toyota Corolla hatch range in order to find out.
The first thing you'll notice about the new Corolla are its far sexier looks – this may be the best-looking small car on the market: it's low, broad and has creases in all the right places. The second point you'll see will be the higher price – there's no avoiding the fact that the 2019 Corolla is as much as $4,000 more expensive than the six-year-old vehicle it replaces. From a consolidated range of three grades – Ascent Sport, SX, and ZR – a base Corolla auto will be almost $27,000 drive-away. It's a psychological leap to associate Corolla with this kind of premium pricing; Toyota isn't fazed. 'The huge amount of expressions of interest confirm the public understand this,' Toyota's vice-president of sales, Sean Hanley, told Chasing Cars.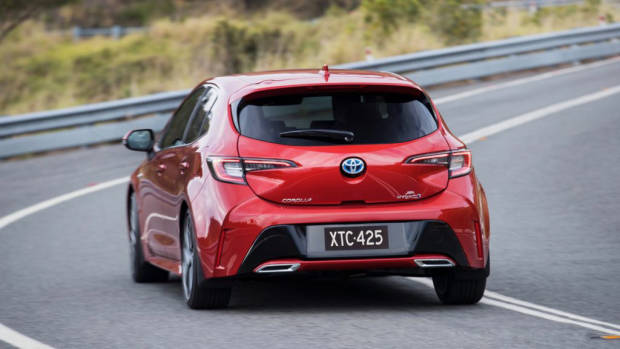 A key question is whether this higher pricing is justified. The new Corolla recipe starts from the same origin point as the new Prius, C-HR and Camry: like those models, this new hatch sits on Toyota's New Global Architecture – or TNGA – platform. Lighter and substantially stiffer, TNGA produces cars that are low and with a broad track – and so it is for the Corolla, which looks and feels low-set and wide. But the TNGA chassis hasn't just changed the dimensions and appearance: it has gifted the new Corolla a truly sophisticated chassis. This car rapidly changes your assumptions of how a Corolla can go around corners and handle bumpy road surfaces.
In fact, after two days traversing the curving, imperfect roads of Queensland's Sunshine Coast, we'd go as far as to say that the Corolla sits in the top three hatches in this class for roadholding and cornering prowess – right up there with the Mazda 3 and the Volkswagen Golf. The ride quality is plush, on both 16- and 18-inch wheels, the damping soaks up big hits without fuss, and the Corolla uses its newly range-wide multi-link independent rear suspension to great effect, happily pivoting its backside around a darty, light front end. Even the steering is sweet, linear and mid-weighted.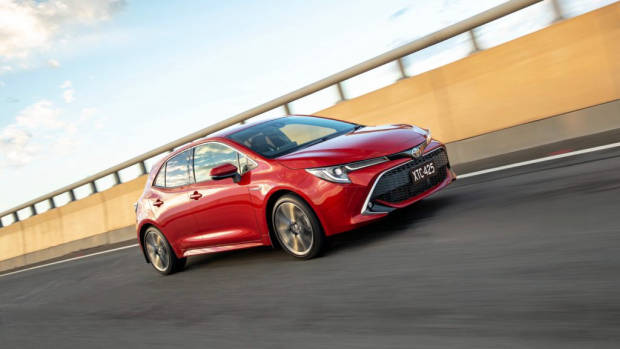 It's clear that Toyota have devoted substantial energy into transforming the way the Corolla engages dynamically, and this is very clear in the sophisticated way this hatch rides, steers and handles.
So the new Corolla has ride and handling in the bag – a remarkable feat, especially when you consider that this turnaround has been achieved in just one generation. Having acknowledged that, the Corolla isn't perfect to drive. It's a shame that the newfound interest in dynamic excellence hasn't extended to the available engines. Globally, the new Corolla product features four engines – two are particularly impressive, and two are a little mediocre. Only the lesser pair will come to Australia, at least for now.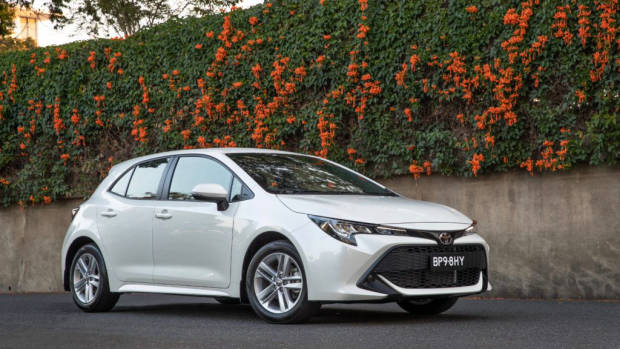 Instead of the dream-team engines – a sweet 85kW/185Nm 1.2-litre turbocharged four-cylinder petrol and a gutsy 132kW 2.0-litre lithium-ion petrol-electric hybrid, Australians get a choice of a 125kW/200Nm 2.0-litre naturally-aspirated four-cylinder petrol, or a 90kW 1.8-litre nickel-metal hydride hybrid. Hybrid power is offered on every grade as a $1,500 option beyond the standard petrol engine; the outgoing Corolla had one standalone Hybrid grade priced at $27,530.
Let's start with the petrol. It's adequate in every way: there is good power and relatively strong torque on offer, but because the 2.0-litre engine is naturally aspirated and not turbocharged, it makes progress in an old-fashioned way: you have to rev hard to make swift progress, and this engine is loud, raucous and harsh at the top of the rev range. Economy is acceptable, recording around 8L/100km on our test loop.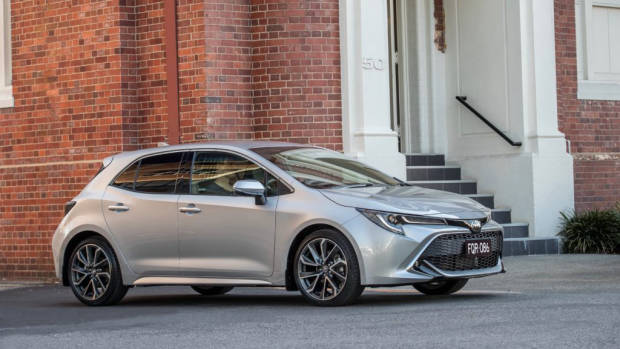 A six-speed manual is standard on the base Ascent Sport ($22,870), but most buyers will opt for the CVT automatic, which is inoffensive and has a mechanical launch gear to prevent weird throttle flaring from a standstill. This works well, but we can't help but wonder if implementing a torque converter and 'real' first gear is something of a concession that conventional gearing is smoother and more refined than CVTs. We think a six-speed auto would be a better fit here.
If you're mostly going to drive in town, the hybrid is $1,500 well spent. There is a nice boost of electric torque at low speed, and urban fuel economy is about twice as good compared to the petrol – plus, even under full load, the 1.8-litre hybrid is much quieter and more refined than the 2.0-litre petrol. The only problem is that the hybrid is slow, and not well suited to highway overtaking or country touring.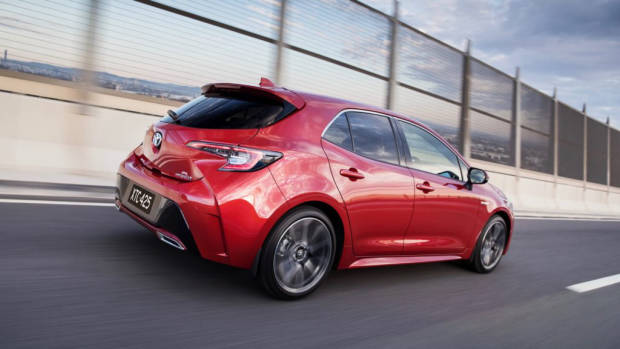 But the 132kW 2.0-litre hybrid offered in Europe would have been better again, given its 50% greater power and the benefits of a modern lithium-ion battery over the ancient nickel-metal hydride setup in the 1.8-litre. And instead of the naturally-aspirated petrol, the 1.2-litre turbo should have been brought to Australia. Yes, the 1.2T is slightly down on torque, but all that torque is made barely above idle where it is usable in town. The 1.2T is refined and sweet.
Inside, the Corolla quickly earns back points with a total interior rethink along the same lines as the C-HR SUV that surprised with its liberal use of soft, upmarket materials and organic shapes. The outgoing Corolla had a hard, uninviting interior – the new model is much better in this regard. All models feature a big, crisp, 8-inch touchscreen and all feature a colour screen alongside, or replacing, the driver's gauges. The seats in all grades are comfortable and made of quality materials, and the surprisingly low driving position is excellent. A few little details have received attention; there are standard auto up-down windows and the driver's stalks have nice weight and damping.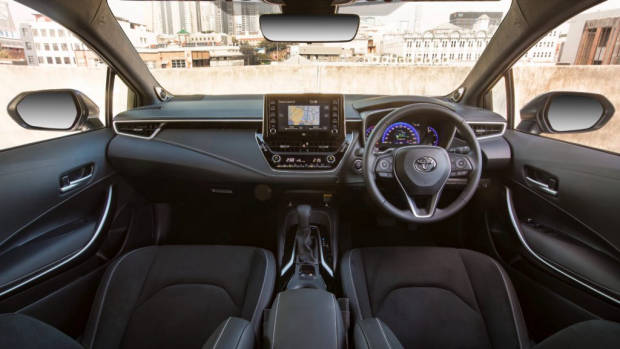 We particularly like the interior of the flagship ZR model, which has heavily-bolstered leather and alcantara sports seats, offered in black with or without red inserts – they're heated, but there is no electric adjustment here (nor is a sunroof available). The ZR has contrast stitching on the dash, a head-up display and a crisp seven-inch screen where the speedometer usually goes. It's a cabin worthy of the stylish new exterior, which is carried particularly well by the ZR with its racier 18-inch wheels. While the cabins of the SX and Ascent Sport are more plain, and it looks a little more pedestrian on 16-inch wheels, the new Corolla is a good looking car.
But while the new Corolla's cabin blitzes the old model, quality in here does take a step back from the C-HR's lofty heights. Though the Corolla's dash is covered in a vast swathe of soft, inviting surfaces, only the flagship ZR grade ($30,370) sees soft surfaces applied to the doors. Even the SX – hardly a cheap car at $26,870 – has brittle, hard door surfaces. Adding insult to injury is the decision to equip the base Ascent Sport with a poxy plastic steering wheel and gear shifter, even in $25,870 hybrid form – all while marketing the Ascent Sport as more impressive than a traditional base model. Meanwhile, rear air vents are exclusive to the pricey ZR; the others miss out. A Volkswagen Golf undercuts the Ascent Sport on price but packs a creamy leather wheel, shifter and rear air on every grade. And the unexplained lack of Apple CarPlay – offered in America with this car – or Android Auto grows more tiresome as time goes on.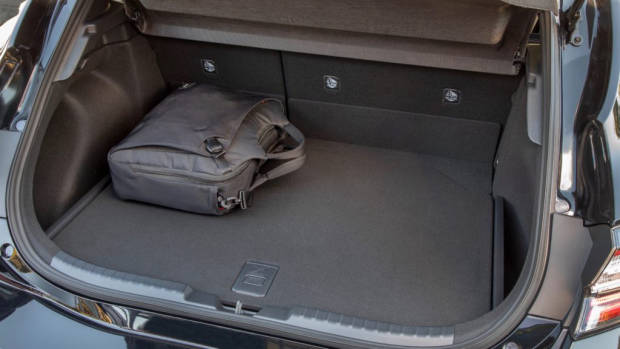 The back seat is a little tighter than expected, especially on the ZR, which has pretty bulky front seats. Six-footers in the second row will find there is generous headroom but limited leg and toe room, and the bench is too flat with inadequate support for long-legged people. Shorter adults or children will be fine back here, but if they are susceptible to car sickness, they will appreciate you purchasing the ZR for its back-seat air vents.
But the Corolla's big practicality problem is its very small boot. In a class where the Volkswagen Golf's boot volume of 380 litres is normal, the new Corolla's 217 litre boot is poky. The reason for this limited space is twofold: first is the shallow rake on the hatch glass, which looks great but cuts luggage room. The second is that the boot floor is high to accommodate a full-size spare on the Ascent Sport and space-saver spare on the SX. Only the ZR hybrid, which sacrifices any kind of spare tyre for a goo-based repair kit, sees the floor lowered and the capacity upped to 333 litres. But then you have to consider that the Corolla does not have roadside assist provided; I wouldn't want to be working out repair goo, late at night, by the side of the road.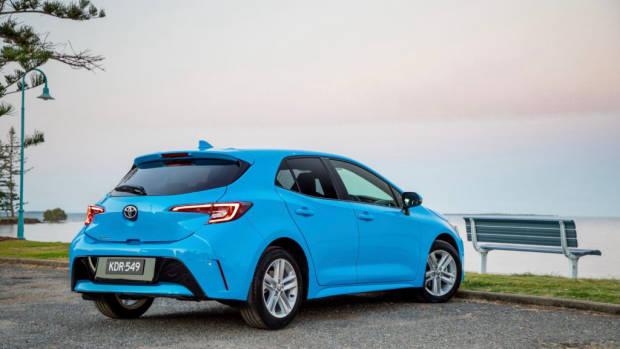 While pricing takes a step up for the new Corolla, specification across the range is quite decent. Safety, in particular, has taken a great leap to assist the 2019 Corolla in meeting ANCAP's strict new adaptive safety technology requirements. Every grade features autonomous emergency braking with pedestrian detection (and daytime cyclist detection), adaptive cruise control, lane keep assist, and a reversing camera. The SX steps up to blind spot monitoring and rear cross-traffic alert.
On top of the safety suite, the Ascent Sport ($22,870 petrol manual, $24,370 petrol CVT, $25,870 hybrid CVT) picks up an eight-inch touchscreen and 4.2-inch driver display, a six-speaker stereo, LED headlights and taillights, and 16-inch alloys. The hybrid also includes keyless entry and start, and climate control – plus a plastic steering wheel, gear shifter, and just one USB port. Navigation is a $1,000 option on Ascent Sport.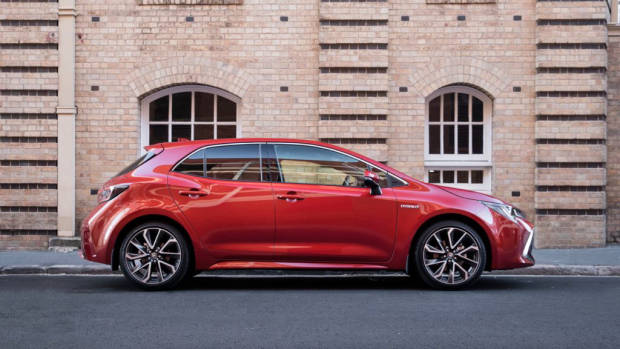 The $2,500 step from Ascent Sport to SX ($26,870 petrol CVT, $28,370 hybrid CVT) represents good value. We'd do it. The SX adds a leather steering wheel and gear shifter, wireless phone charging, keyless entry and start, climate control, a second USB port for the rear passengers, DAB digital radio and satellite navigation, plus varied 16-inch wheels and blind spot monitoring. We only take issue with the SX's hard door plastics and lack of rear air vents.
From the SX, the ZR ($30,370 petrol CVT, $31,870 hybrid CVT) costs an additional $3,500, and adds more luxurious features like leather/ultrasuede sports seats with lumbar support, soft touch door plastics, rear air vents, digital driver gauges, a head-up display, ambient cabin lighting, and a premium 8-speaker JBL stereo.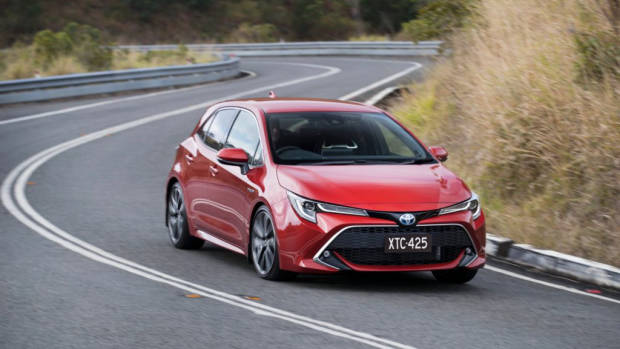 Our thoughts are that the SX petrol CVT ($26,870) represents the best buying in the 2019 Corolla range. It's a shame the SX isn't available with the slick-shifting manual gearbox, but the CVT is fine, and you'll appreciate the palpable step up in interior quality. The petrol engine is mediocre, but we simply can't recommend the decently-priced Ascent Sport hybrid ($25,870) as long as it has a cheap and nasty plastic steering wheel – a thing you touch constantly in any vehicle. It needs to be leather.
When Toyota's C-HR small SUV came out – the first mass-market vehicle (aside from the Prius) to implement the TNGA platform, plus a very refined interior and a sweet turbo drivetrain – it set our hopes very high for the next Corolla. In many ways, this critical new vehicle for Toyota meets those lofty expectations: the ride and handling of the new Toyota Corolla is very sophisticated, and at least in ZR form, the interior is very plush.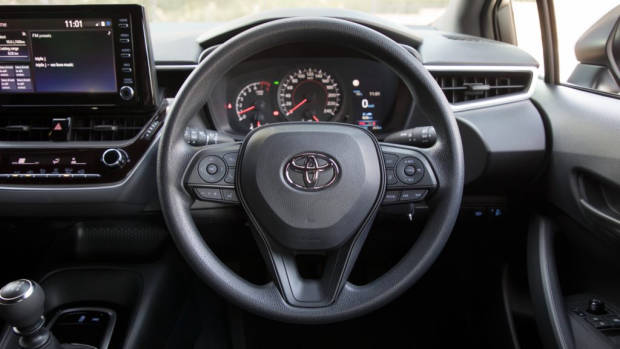 But other aspects of the new Corolla make it feel like the bean counters have reined in a bit of the excess of Toyota's newly-exuberant culture. That's a shame. Equipped with a real pearler of an engine – perhaps a 1.4-litre turbo petrol – the Corolla would go from good to great, especially if the ZR's more premium interior surfaces were applied democratically and range-wide, as they ought to be.
The 'TNGA Corolla' is a giant leap for this badge within the Toyota stable: this is a sophisticated, accomplished car held back a little by what we see as disappointing engines and an inconsistent cabin fit-out. Does it leapfrog everything else in the small car segment? We don't think so; the Volkswagen Golf remains top dog, but the Corolla joins the Hyundai i30 and Holden Astra, promoting Toyota to the upper third of this class: a nice place to be. With more careful powertrain and specification planning, though, there's any chance the Toyota Corolla could soar even higher.