Toyota has unveiled a two-seat version of the highly anticipated GR Corolla hot hatch which ditches the rear bench in favour of a comprehensive suite of performance upgrades.
Arriving in 2023 – likely in the first half of year – the two-seater will become the second GR Corolla product offered in Australia, with the five-seat version set to arrive between October and December of 2022.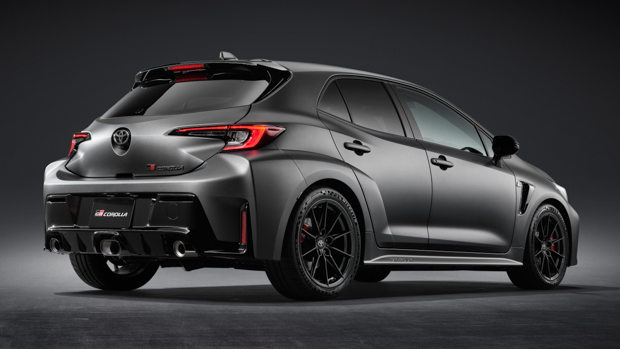 While more affordable, lower-trim variants are offered overseas, all GR Corollas coming to Australia will be fully-specified models better suited to Aussie buying habits.
Much like wild Renault Sport products of the past – such as the Megane R26.R and latter Trophy R models – the two-seat GR Corolla's 30kg weight loss and 30Nm torque bump are all about making this car faster… and cooler. 
What has changed?
In short, a surprisingly large amount. In fact, the engine, chassis, gear ratios, suspension and (obviously) the interior have been fettled to create a harder and more track-focused hot hatch.
The GR Corolla two-seater makes use of the same 1.6-litre turbo-triple with power holding steady at 224kW at 6500rpm, while torque has been increased by 30Nm to 400Nm; though this peak is offered over a shorter 3250-4600rpm band, compared with the five-seat's 370Nm peak across 3000-5550rpm.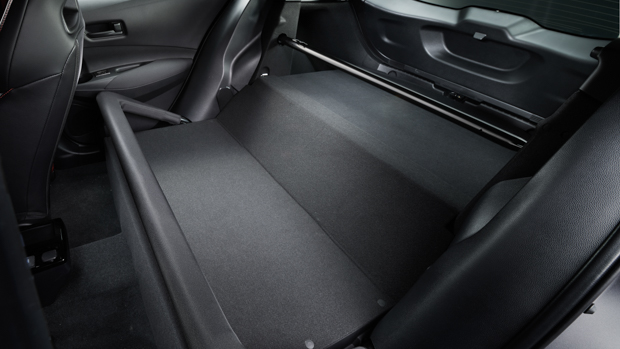 Engineers have pulled apart the six-speed manual and replaced the first, second and third gears with lower-ratio cogs to provide better driver engagement and potentially trim acceleration times.
Track-focused setup
Toyota has also given two-seat GR Corolla a suspension a makeover, adding inverted monotube shocks at the front, while the rear double wishbones make use of conventional implementation.
Ultra-sticky Michelin Pilot Sport Cup 2 tyres have been fitted and stretch 245mm wide – 10mm more than the five-seater GR Corolla – but wrap around the same BBS forged alloy wheels.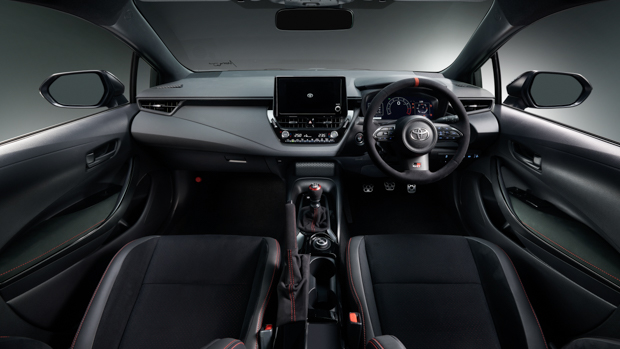 Designers have swapped in heavily bolstered bucket seats and wrapped the steering wheel and centre console in Ultrasuede because, well, that's just cool.
With the rear seats binned, engineers have fitted over 3.3 metres of additional bracing to increase the body rigidity. Overall, the GR Corolla's kerb weight has been trimmed by 30kg to 1440kg.
Further performance highlights such as front and rear limited-slip differentials and the all-wheel-drive system carry over unchanged.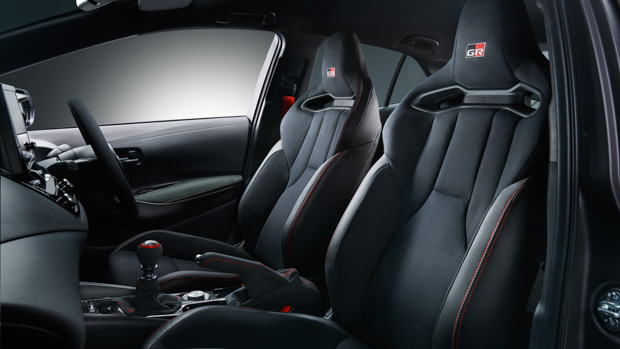 Toyota has not specified how many two-seat GR Corollas it will build but they will likely be more expensive and fewer in number, as seen previously with hot hatches such as the Honda Civic Type R Limited Edition. 
Orders for the two-seater GR Corolla open in the fourth quarter of this year, but buyers will need to get in line quickly as numbers will be limited for the first year of production.