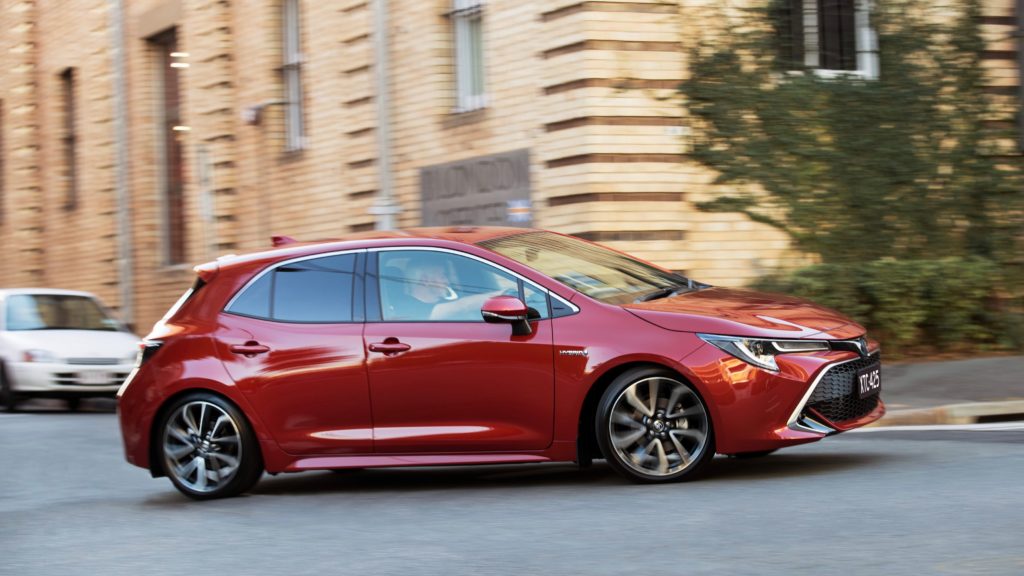 Only those born in the nineties and earlier will have a shot at remembering the first hybrid Toyota – the technology has been around for that long now. The year was 2001 – seventeen years ago – and the car was the Prius, which used a revolutionary drivetrain pairing a 1.5-litre petrol engine to an electric motor. Stellar fuel economy, especially in town, has meant Toyota hybrid tech has caught on and the Japanese brand were ready to declare it mainstream enough to offer a petrol-electric option in each variant of the new Toyota Corolla hatch, which launched in August this year. So, how far have hybrids really come – and is it a good pair for the well-regarded new Corolla? We samped the top-shelf 2019 Toyota Corolla ZR hybrid to find out.
Making use of either an unassisted petrol engine or a petrol-electric hybrid, the latest Corolla debuted to rave reviews – and after a full week with the car, it's no surprise why. Here is a humble Toyota hatchback that combines the reliability and low running costs expected from this brand, with some more surprising attributes: genuinely excellent driving dynamics, a high-quality and modern cabin, and, for the first time on any Corolla I can think of, wildly handsome styling. Aesthetics are not usually subject matter we comment on, due to its subjectivity, but in this critic's eyes, the new Corolla is best-in-class for looks.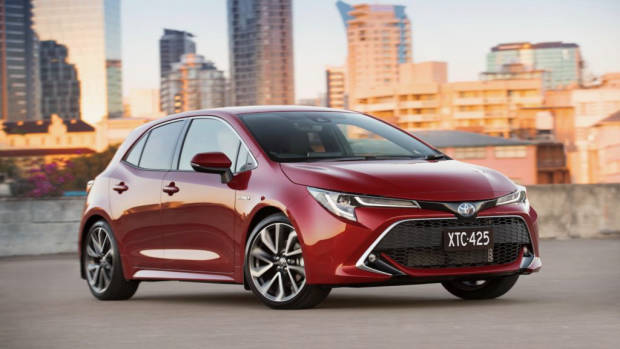 The 2019 Corolla hatchback range starts at $22,870 (currently $26,602 driveaway in NSW) for an entry-level Ascent Sport. Skipping the middle-tier SX, the ZR hybrid on test here is the current range-topper, priced at $31,870 (currently $35,872 driveaway in NSW). That isn't cheap, but you get a long list of equipment on the ZR: standard fare includes 18-inch wheels, full keyless entry and start, all-LED lighting, leather/suede upholstery, heated fromt seats, an eight-inch touchscreen with navigation, digital radio and an eight-speaker stereo, and wireless phone charging. The ZR also adds rear air vents and soft-touch door trims, which disappointingly, are exclusive to the pricey flagship variant.
The ZR has plenty of kit but there are a few strange omissions. No automatic wipers, even at over $30,000? Odd. Plus, the black contrast roof colouring, panoramic sunroof and electric driver seat adjustment offered in foreign markets don't make it to Australia. Glaringly, Toyota Australia have no stated plan for Apple CarPlay integration, even though this feature is standard in the North American Corolla, which is built on the same production line. As for Android Auto – Toyota don't do that anywhere, citing user privacy concerns.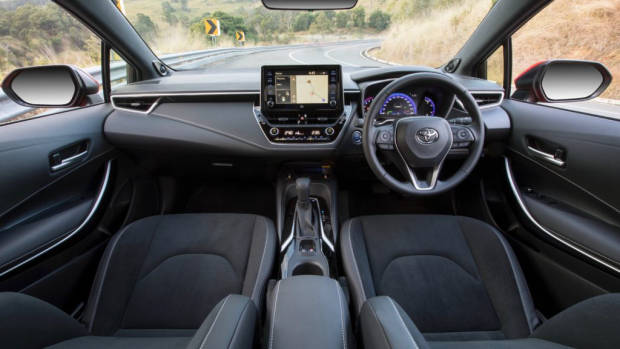 What is commendable is the suite of standard safety tech that you'll find on any new Corolla hatch, regardless of price point. Every grade scores AEB with pedestrian and cyclist detection, forward collision warning, lane keep assist, adaptive cruise control, traffic sign recognition, and auto high beam. The mid-spec SX grade then adds in blind spot monitoring with rear cross-traffic alert, while an auto-dimming rear view mirror and head-up display are ZR exclusives.
Safety tech is never 'done', though, and in future we would like to see the Corolla add AEB that works in reverse gear to the kit list – and we think it's unusual that parking sensors are not included on any Corolla hatch. A reversing camera is standard, though.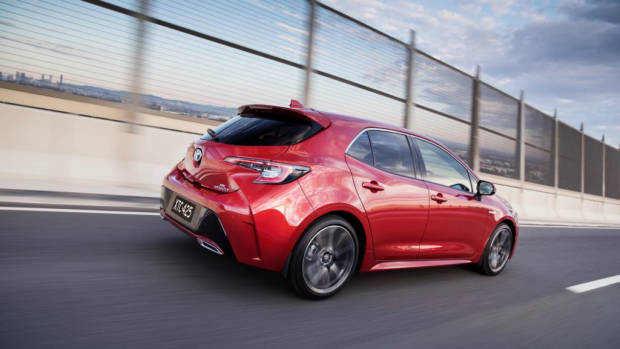 The new Corolla is built on Toyota's TNGA platform, which also underpins good-to-drive Toyotas like the newest Prius and Camry. The 2019 Corolla takes those cars' enthusiasm and maturity and adds further depth of talent, with a quick steering rack, excellent ride quality and nimbleness that only the Honda Civic can match in the small car class. The Corolla actually beats the Civic's dynamic ability, though, thanks to a plusher ride quality even on the ZR's big 18-inch wheels, and the Toyota has superior body control. All of this adds up to cracking handling: it all bodes well for a probable future Corolla hot hatch adaptation built by Toyota's in-house performance division, Gazoo Racing.
Before we get to how the hybrid engine actually powers this Corolla along, we'll touch on one final complaint: road noise. This is a very loud car in the cabin and while the hybrid is quieter than the raucous 2.0-litre petrol, conversations with back seat passengers are pretty much drowned out by coarse-chip roads. Thankfully, the ZR's punchy JBL stereo helps to keep you sane.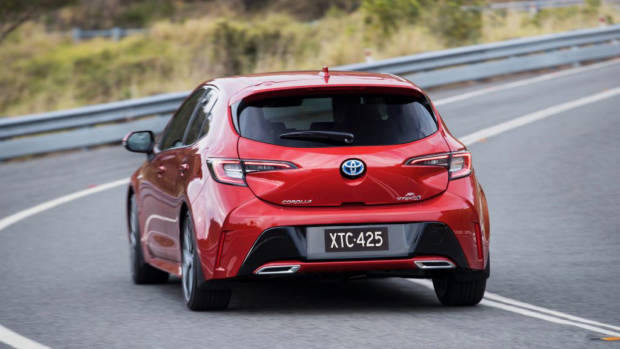 Under the bonnet of the Corolla hybrid is a 1.8-litre petrol engine that produces 82kW of power and 142Nm of torque. The combustion engine is matched to a 53kW/163Nm electric motor that draws power from a nickel-metal hydride battery pack mounted underneath the rear seat. Considering that's the same hybrid system that was used in the old Corolla hybrid, there's nothing revolutionary here. Combined power is listed at 90kW, so you won't be winning any drag races either – we wish the 134kW 2.0-litre hybrid in Europe (which uses more efficient lithium-ion batteries) was offered here. But around town is where the Corolla hybrid does its best work as the electric motor kicks in at lower revs to provide a good slug of torque and it is capable of driving up to around one kilometre on electricity alone.
Toyota lists fuel consumption at just 4.2L/100km for the Corolla hybrid, and our town-focussed test found this to be fairly accurate. We scored 5.4L/100km in our week with the car, making the $1,500 premium for the hybrid a potentially worthwhile upcharge for urbanites, given the petrol-only Corolla uses around 8L/100km in town. At 2018 petrol prices, you'd recoup your spend in just under three years.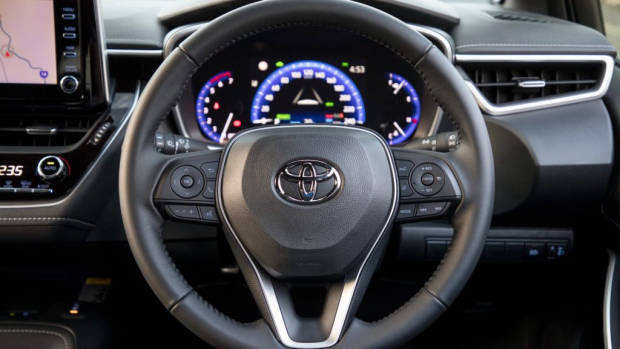 A relatively small fuel tank – 43 litres in size – means your range is limited to about 800km, though if you drive more frugally than us, over 1,000km is possible. Naturally, hybrid drivers will want to primarily stick to city roads: out on fast and flowing open roads, the low-speed torque advantages of the hybrid evaporate and the electrified Corolla is pretty slow at pinned throttle: if you live in the country, the much faster 2.0-litre petrol Corolla will be the better bet.
The cabin of the new Corolla rates well among the small car establishment. Light years away from the plain and slabby interior of the previous model, this dashboard is modern, classy and sporting relatively nice materials. The leather steering wheel on SX and ZR models is a real quality item, and the plastics used are generally soft and yielding to touch – the upgraded soft touch front door trims are a big improvement on the over the hard trims of the Ascent Sport and SX, and the ZR's piano black trim on the centre console and door pulls adds further class. The ZR's half-leather/suede sports seats are excellent, supremely comfortable and supportive.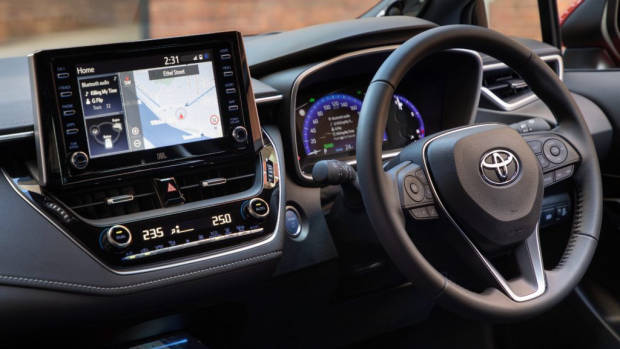 An eight-inch touchscreen mounted high on the dash is standard, and once again, this component is like night and day compared to old and crappy Toyota touchscreens still used in some models from this brand. Even the Toyota C-HR – one of our favourite small SUVs – has a small 6.5-inch inferior screen. The Corolla's unit has modern graphics, quick responses and foolproof ease of use, though integration of smartphone mirroring would make it even better again. The satellite navigation that is standard on SX and ZR, and optional on Ascent Sport, incorporates live traffic and the voice control understands the Australian accent.
Yet while the Corolla is impressive for front-seat occupants, things aren't so rosy in the back. Relatively small windows meet a pinched roofline, making the Corolla's second row feel claustrophobic. Legroom and headroom are just okay for a six-footer, though shoulder room feels narrow. At least the ZR gets rear air vents, unlike more affordable grades, and you will find a centre armrest and additional bottle holders in the doors.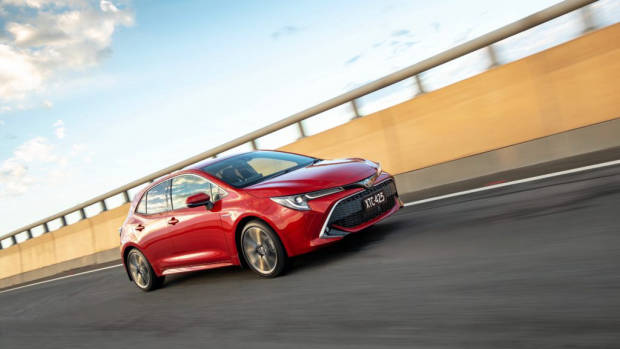 Something of a major packaging fail has occurred in the Corolla's boot on most models, though the ZR hybrid isn't so bad … until you realise this flagship variant actually ditches a spare wheel entirely in exchange for more space. In the ordinary Corolla models, there is just 217 litres of space thanks to a spare under the boot floor – tiny, compared to a Volkswagen Golf with its 380 litres (and a spare wheel). The ZR hybrid has 333 litres but only a canister of goo to help you out if you get a puncture. Adding insult to injury, Toyota does not include any form of roadside assistance with this car.
We're happy to say that at any level, the Toyota Corolla hybrid is a unique offer in the small car segment. The fundamentals here are sound: the new Corolla drives very well, it's generally well equipped and there is a level of sophistication and modernity here, unlike any Corolla before it. Some buyers will be turned off by the limited rear seat and boot space, but for others, it'll be just fine. Overall, the 2019 Corolla is easy to like, and if you're generally somebody that drives in town and not in the country, the hybrid is a great way to save money at the bowser and enjoy a little bit of electric torque to dart around traffic. Ultimately in Australia, hybrid hasn't come all that far – a lack of incentivisation means that we don't get the lithium-ion batteries of European markets – but it's still a remarkably effective, interesting alternative to a thirstier, louder petrol-only power plant.