2017 Honda Civic RS Sedan Review
RS Sedan
| $31,790
| Ancap : 5/5
Pros
Peppy 1.5-litre turbo engine
Funky exterior and interior design
Interior quality and practicality
cons
Active safety only on top model
Needs a manual!
Lacks boot hooks
Thanks to my brother, Hondas have been a large part of my life. From what I can remember, he had at least five different Honda Civics in his life, and my life as well. In the 1990's, the Civic was the small car to have. Fast forward to this decade, and Honda Civics have been decidedly not the small car to have - they've been bloated, plain and under engineered former caricatures of themselves. That's why, this week we're testing the all-new tenth-generation 2017 Honda Civic RS to see if it's up to standard.

Honda admits that the last generation Civic wasn't up to scratch, and pulled out all the stops - including half of its global development budget - to create the all-new tenth-generation Civic that we are reviewing today. It features bold yet mature styling, an aggressive front end with a futuristic headlight array and a new interior that is one of the most stylish in the small car class. The all-new Civic has grown up in size as well, using dimensions that are very nearly as large as the outgoing Accord Euro.

Having tested the base Civic VTi and high-end Civic VTi-LX in the past, we borrowed a second-from-top 2017 Honda Civic RS sedan (from $31,790 plus on-road costs) for a week to see how it fares in the ever-competitive small car field. It features an all-new 1.5-litre turbocharged four-cylinder engine that Honda will use in most of its products, with the new CR-V due to receive it next. It features a comprehensive feature list, including all-LED headlights, a seven-inch touchscreen infotainment system, Honda's innovative LaneWatch side camera system, as well as a plush leather interior and fantastic build quality. There are definitely echos of 90's Honda with this car, so the question remains, has Honda been able to get its mojo back?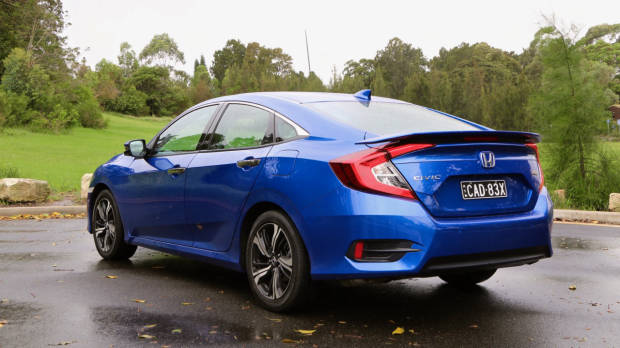 DRIVE
The Civic RS tested here uses Honda's brand new 1.5-litre turbocharged four-cylinder petrol engine from its new family of 'EarthDreams' technology. At its best, the new donk produces a healthy 127kW of power and 220Nm of torque, more than enough for everyday use. Every Civic in Australia is teamed with a CVT automatic transmission, and in models with the 1.5-litre turbo, paddle shifters to activate a pseudo-manual mode.
Honda claims that the Civic RS is capable of the 0-100km/h sprint in just under seven seconds, and onto a top speed of 220km/h. Those are impressive figures, especially from 1.5-litre car, but it simply doesn't feel that quick - something that the CVT automatic is responsible for with its lethargic responses to throttle inputs.
Unfortunately, that's a CVT trait, and its trade off is encouraging a more relaxed driving style, aiding fuel economy. This CVT is quite a good example of the breed as well - it's quiet and subtle in ordinary driving.
You notice the CVT's rubbery dynamics most when the throttle is floored, and the peace inside the car is disturbed. The CVT and turbo lag combo produce a gap between when your foot hits the floor and you actually move. But when you lift off the throttle, the turbo boost remains for a split second and you keep moving forward. Putting the transmission into its S mode encourages the transmission to allow some braking, ups the revs and therefore reduces the lag, but it's not completely eliminated.
Unfortunately the Civic isn't available with a manual transmission from the Thai factory Australia sources its Civics from, which is a crying shame because the car would be so much more engaging and encouraging with a manual. In terms of automatics, a better combination for the 1.5-liter turbo would be the eight-speed dual-clutch automatic used in the North American Acura (Honda's version of Lexus) range.
Honda claims that the 1.5-litre turbo variants of the Civic range use an average of just 6.0L/100km on a combined cycle, and we got pretty close to that figure using just ten percent more, at 6.6L/100km. The 1.5-litre turbo engine is definitely the engine to choose in the Civic range, and makes the 1.8-litre in the entry models seem a bit average and old - and it is old, having been used for more than a decade.
Dynamically, the Civic RS isn't at the top of the game like the Hyundai Elantra SR, but it does have a different mission in mind. The Civic's electric steering isn't as direct as the Elantra's, but is nice and light at low speeds and weights up nicely as you travel faster. Whereas the Elantra SR is an all-out bruiser capable of taking a fight to hotter products like the Ford Focus ST, the Civic RS is more of a luxo-cruiser that will play ball when you want it to, but for not as long, nor as hard. That's no bad thing, but those wanting a performance Civic will have to wait until the Type R arrives at the end of 2017.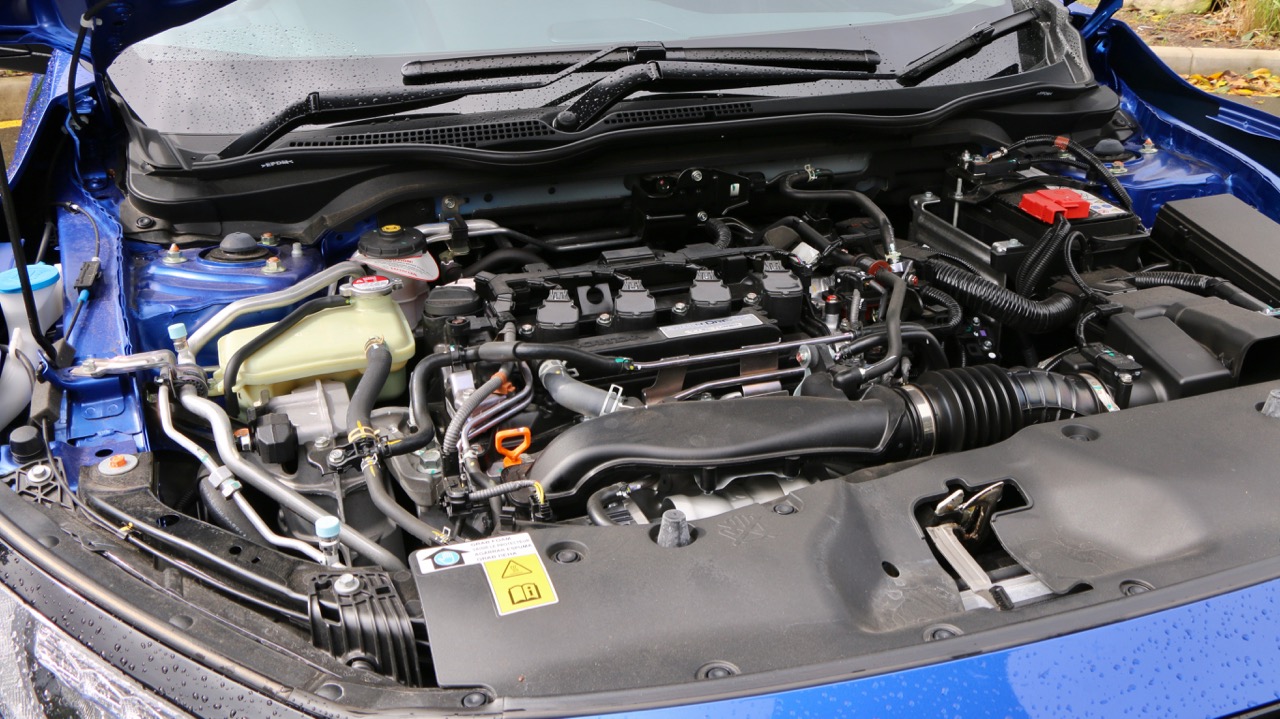 The chassis itself is well-tuned but ultimately a little bit soft compared to something like the Elantra SR. It shows slightly sloppy body control and changes direction reasonably well, but again, it's not as sharp as the Elantra SR. Up to 7/10ths it copes fine and feels composed, but push further than that, understeer is quite obvious and it all feels a bit pushed. It doesn't encourage the driver the way an Elantra SR would either, and would prefer to remain in around-town duty. Having said that, for a luxo sports variant it is right up there with the Mazda3 SP25 GT for overall dynamic ability.
The Civic RS' slightly soft chassis produces a winner however, and that is the car's ride quality. It took Sydney's rubbish roads in its stride. You rarely feel changes in the road, such as potholes or speed bumps, due to good compression ratios and rebound control. Up the speed to highway levels and the Civic's planted feeling remains with a balanced and settled feeling tune. This car has clearly been tuned well for Australian roads.
The Civic range features strong ventilated front and solid rear disc brakes that give you good confidence in case you need to brake suddenly. The Civic's solid stability also ensures that the car remains straight and true when hard braking, unlike some in the small car class.
The whole Civic range comes with six airbags (2x front, front side and curtain), as well as ABS anti-lock brakes, ESP stability control, EBD brakeforce distribution, ESS activation of the hazard lights under hard braking, HSA rollback prevention on hills, 5x headrests with whiplash minimising front seats, 5x seatbelt reminders and tyre pressure monitoring.
From the mid-range VTi-L and upwards, Honda's LaneWatch camera system is standard equipment - it uses a camera mounted in the left-hand mirror to project an image onto the centre screen and depict what can be seen from that mirror, for example cars in blind spots. It's not a full blind-spot monitoring system and unfortunately you have to step up to the most expensive model in the range, the Civic VTi-LX, to get it. The Civic VTi-LX is also equipped with adaptive radar cruise control, automatic emergency braking, lane departure warning, lane keep assist and forward collision warning.
At lower speeds, the Civic is incredibly quiet - there's very little road or wind noise and as long as you don't pin the throttle, very little engine noise either. On highways, the Civic RS loses some of its cabin ambience - road noise creeps in and disturbs the peace. The CVT remains quiet at highway cruising speed however, and due to the Civic's aerodynamic shape, wind noise is remarkably low as well and the cabin ambience is still much quieter than the Mazda3 at all ends of the speed spectrum.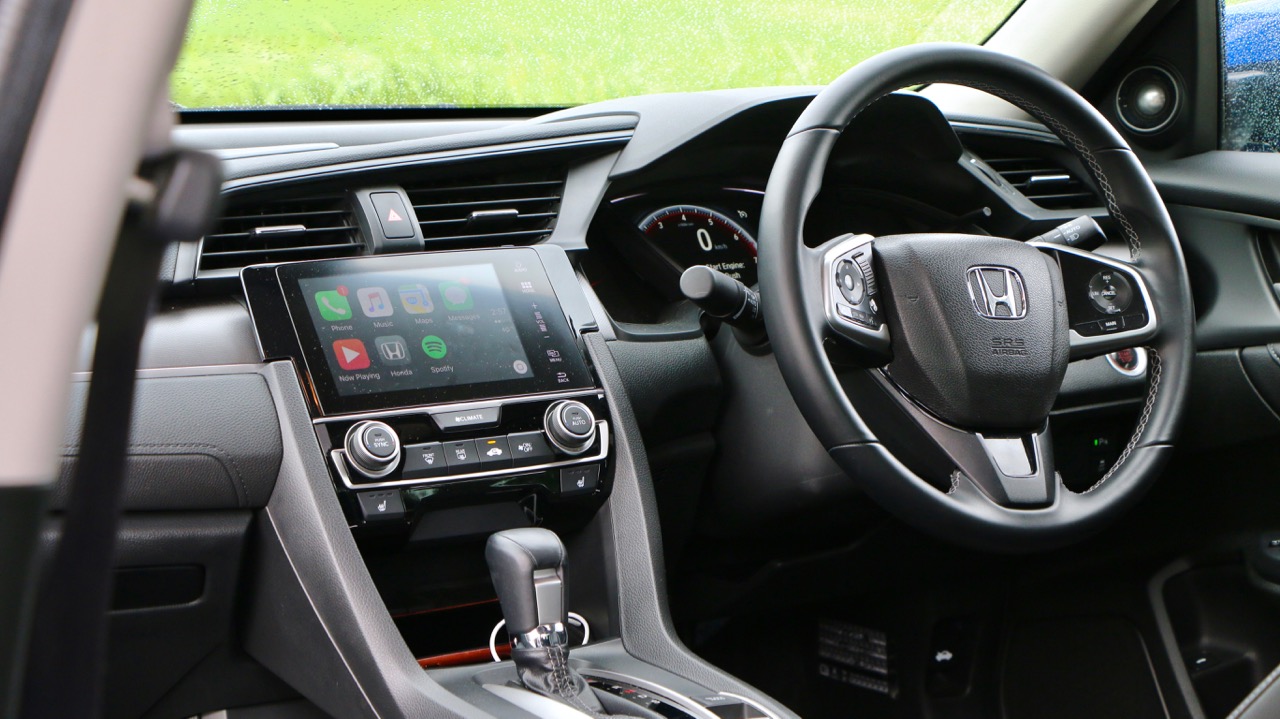 COMFORT
Where the latest Civic no doubt wins over many buyers is in the cabin, and that's no surprise as Honda is very well known for producing high-quality cabins. The tenth-generation Civic manages to be both high quality and practical, and unlike some Hondas in the range, quite modern and stylish as well.
The dashboard is almost like a spaceship in layout - the centre console is quite raised and sits at perfect elbow height. It flows easily into the centre stack, which is dominated by the seven-inch touchscreen infotainment system. Instead of traditional dials, the Civic features LCD digital dials with a digital tachometer and speedometer.
In a speed enforcement-obsessed society, being digital allows you to instantly tell your speed, unlike some rivals with analogue dials. It also allows the Civic to have a more comprehensive trip computer, which displays more than the usual fuel economy and range functions - you can control what song is playing, what source of audio is being used and even see when the turbo is spooling.
The heated leather seats used in the RS are quite comfortable, even on long journeys. Good side bolstering, under-thigh support and a supportive backrest mean that the lack of lumbar adjustment and under-thigh angle adjustment is no issue here. The seats are also quite supportive during enthusiastic driving - you always feel held in and never like you're sitting just on top of the seats, you're always sitting in them.
The Civic's rear seat is also quite roomy, the car's large size coming into play with acres of room for even the tallest of folk. The seat itself is a bit flat, however three people will fit across it at a squeeze.
The Civic's cabin is very well presented, with liberal use of soft-touch plastics in the front covering the dashboard and the tops of the front doors. While there are harder plastics below, they are nicely grained and are still high quality. The steering wheel is thick-rimmed and uses quality leather, and the steering wheel controls are easy to fathom initially. Visibility in the Civic is also great, with large windows and a good rear view, only the thick A-pillar spoils things. Cars and people can be obstructed by them.
The whole Civic range uses a seven-inch touchscreen infotainment system with Bluetooth, Apple CarPlay and Android Auto integration - only the top-spec VTi-LX features in-built satellite navigation. The graphics used are slightly low rent, especially compared to the new Subaru Impreza, but are no worse than the ones used in the Mazda MZD Connect system.
The system itself is reasonably easy to use, though with small screen icons it can be painful to use on the move. A better option is to use the smartphone mirroring systems provided, both of which are superbly integrated into the car. The Civic RS also features a 452-watt, ten-speaker sound system that has reasonable quality though cannot match the nine-speaker Bose system in the Mazda3.
All Civics from the second-tier VTi-L feature dual-zone climate control, and despite a lack of rear air vents and expanses of glass, the system is effective in keeping the cabin icy cold on hot summer days. The majority of the climate control is only controlled when accessed through the screen however, so functions like changing the fan speed take longer than they ought to.
The Civic's cabin is also remarkably hushed at low speeds. Around town, the engine is barely audible and only at higher speeds does any road or engine noise creep into the cabin. When it does, its nothing like a Mazda3's noise levels, and the ten-speaker sound system is more than capable of drowning it out.
PRACTICALITY
The fact that the Civic is one of the largest 'small' cars hasn't just resulted in a large cabin – it also means the Civic sedan has one of the biggest boots in its class. Although the roofline might have you thinking it's a liftback, the Civic has a regular sedan boot. Despite a relatively shallow opening, the space on offer is vast.
With the back seats in place, the Civic RS has 517 litres of boot space. That places the Honda well ahead of the Civic's sedan rivals like the Mazda3, which has 408 litres, and even the large-ish Hyundai Elantra, which packs 458 litres.
There are handy pull tabs in the boot to drop the rear seats easily, creating a long but once again shallow space for flat-pack items. However, if you regularly drop the seats to carry large items, wait for the incoming Civic hatch which will be more versatile.
Those pull tabs are about the only special feature in the Civic's boot, though – there aren't any of the usual nets or shopping bag hooks that we look for to prevent delicate items from rolling around.
It's inside the cabin where the Civic picks up additional practicality points, with a number of clever Honda touches to be found. There may not be the vertically-folding 'magic seats' like in the Jazz, or HR-V, but there are plenty of places to stash everyday clutter.
The central bin is adjustable and very deep; the door bins can handle a big bottle in the front and a small bottle in the rear, and there are two layers of storage ahead of the gear shifter, including hidden storage to keep phones away from prying eyes.
In the back, the Civic is practical on account of all the room – both headroom and legroom are plentiful. And while there is a fold-down armrest with two cupholders, there are no air vents in the rear.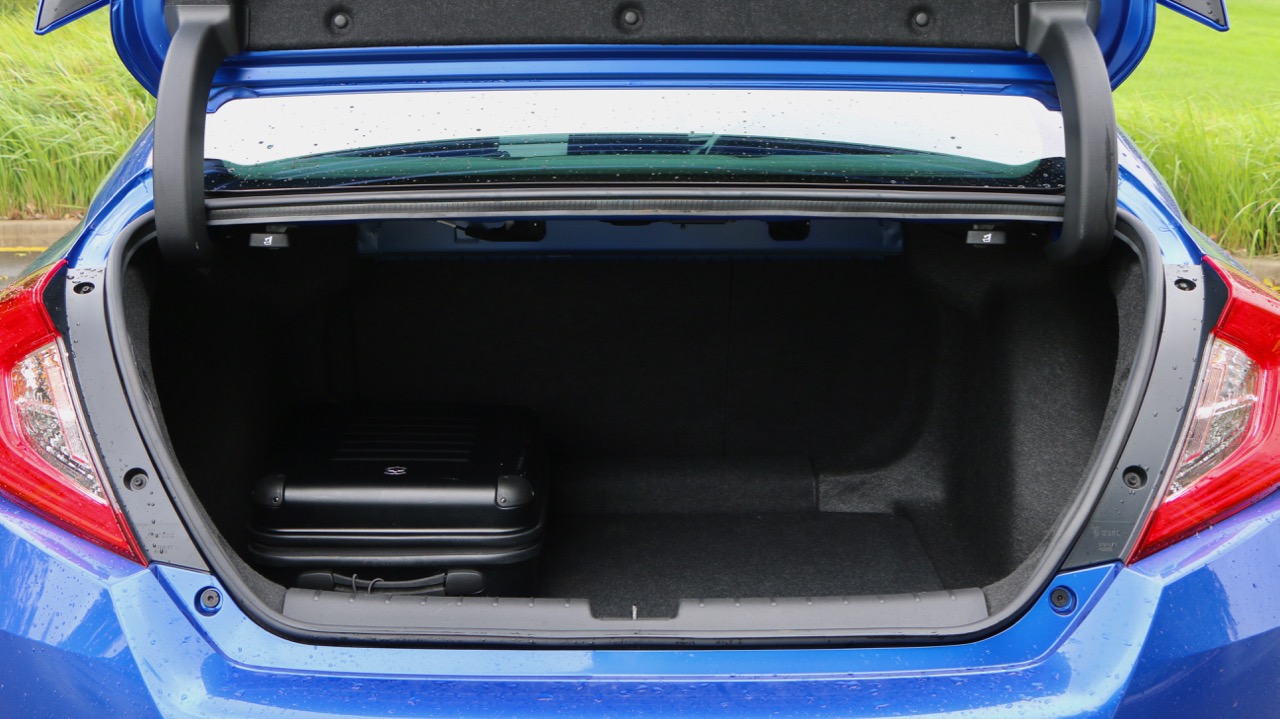 RELIABILITY & RUNNING COSTS
There are four major running costs to every vehicle – fuel, insurance, maintenance and depreciation. Our calculations are based on the 2017 Honda Civic RS sedan.
The Honda Civic RS has reasonable running costs
Despite having the highest insurance cost and higher servicing costs if you travel more than 10,000km per annum, the Civic RS is still reasonably cost effective to run with class-leading depreciation figures of over 60% retained value after three years, as well as class leading fuel real world consumption of just 6.6L/100km.
Honda Civic RS fuel economy
Honda claims that the Civic RS uses just 6.0L/100km on a combined average cycle, and we found that to be almost correct. Our combined average over the week that we had the Civic RS was just 6.6L/100km, or just 10% more than the claim. We saw low 5L/100km on the motorway, and just over 7L/100km around town. This compares favourably to the Mazda3 SP25 GT, which can easily use above 8L/100km on a combined cycle.
Based on fuel useage of 6.6L/100km, a distance of almost 700km is achievable with the Civic's 47-litre fuel tank. A combination of a low-pressure turbo and small-displacement engine, plus the Civic's CVT transmission, its real-world fuel consumption is at the top of the class.
Honda Civic RS insurance costs
We seek insurance quotes from mainstream insurers for a 30 year old living in Chatswood, NSW, with a good driving history, and parking in the driveway.
The Civic RS is more expensive to insure than its competitors at an average of $1,132 per annum. This is over $100 more expensive per year compared to the next expensive competitor, the Skoda Octavia 110TSI Style, at $1,005. The Volkswagen Jetta 118TSI Highline leads the class at just $911, followed by the Hyundai Elantra SR at $960 and Mazda3 SP25 GT at $983.
Honda Civic RS servicing costs
The Civic RS falls under Honda's Tailored Servicing arrangement, where the first ten services are capped in price. The Honda range have 10,000km or yearly servicing intervals due, whichever comes first. Prices range from $281 for the majority of the car's services, including the first 20,000km, to $489 for the 100,000km service.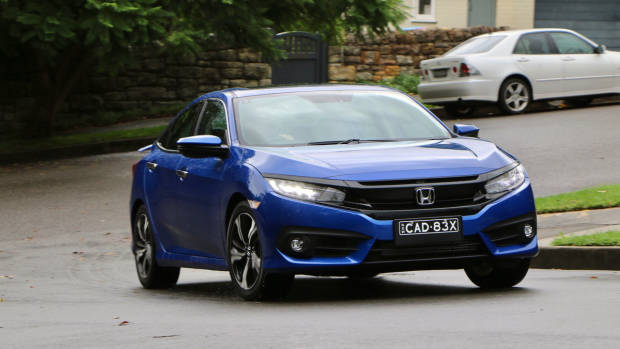 A number of items such as brake fluid (every 24 months or 30,000km - $54), cabin air filter (every 24 months or 30,000km - $45), fuel filter (every 72 months or 90,000km - $204) and spark plugs (every 100,000km - $208) are not included.
Like the Mazda3 SP25 GT and Hyundai Elantra SR, the Civic RS features servicing intervals of 10,000km, below the Australian average travelled distance of 15,000km. Owners need to keep in mind that running costs will increase if their yearly average exceeds the 10,000km mark. The Civic RS' three-year servicing average based on 30,000km is just $314 per annum, however if an owner exceeds 15,000km, the average creeps up to $407 per annum.
This is about ballpark with the Mazda3 SP25 GT ($311 per annum based on 30,000km travelled over three years or $465 per annum based on 45,000), but is more than the Hyundai Elantra SR ($259 per annum based on 30,000km or $358 based on 45,000km per annum). The Skoda Octavia Style (an average of $361 per annum) and Volkswagen Jetta 118TSI Highline ($492 per annum on average) both feature 15,000km or yearly service intervals, which are more convenient for owners who plan to travel greater distances.
Honda Civic RS depreciation
If you keep a new Civic RS for three years and 40,000 kilometres, Glass's Guide data indicates that it should retain about 60.08% of its value, returning you about $19,100. This result places the Civic RS at the top of the class for resale value, ahead of the Mazda3 SP25 (55.9%), Hyundai Elantra SR (52%), Volkswagen Jetta 118TSI Highline (51%) and Skoda Octavia 110TSI Style (50%).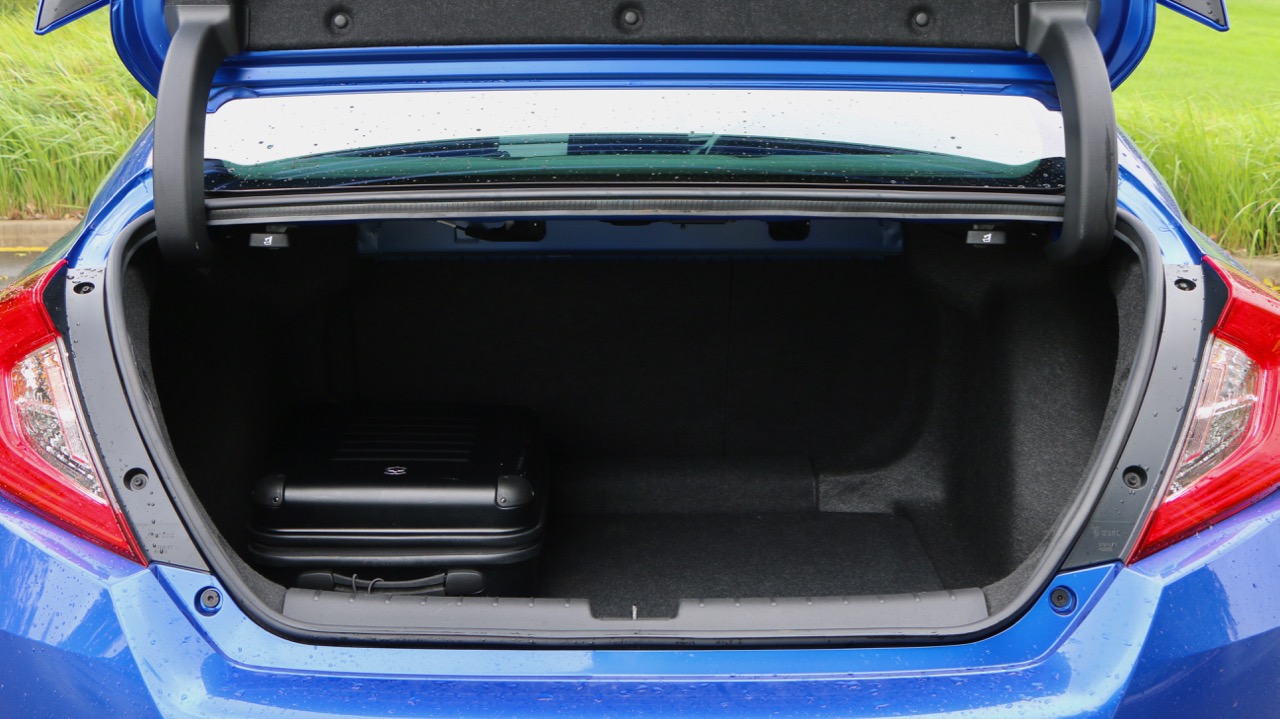 VALUE FOR MONEY
For now, the 2017 Honda Civic range features five different specification levels with two engine choices and just one bodystyle, a four-door sedan, and one transmission, a CVT automatic. In May, the Civic hatchback arrives and mirrors the sedan's five-tiered range. Before the end of the year, the high-performance 228kW Civic Type R arrives in hatchback-only form. It will also be the only manual transmission available in the range.
The Civic starts from $22,390 for the entry level VTi, and arrives with a 1.8-litre four-cylinder petrol engine producing 104kW of power and 172Nm of torque. It's well-equipped for its asking price, with six airbags, ESP stability control, an electric parking brake, a rear centre armrest with cupholders, a digital tachometer and speedometer, single-zone climate control, cruise control, LED tailights and LED daytime running lights, a seven-inch touchscreen infotainment system with a rear view camera, Apple CarPlay and Android Auto integration, eight speakers, auto-off headlights, Bluetooth, USB and HDMI inputs around the front cabin and 16-inch steel wheels.
Step up to the VTi-S grade ($24,490) and you get a leather-wrapped steering wheel, front and rear parking sensors, Honda's LaneWatch left-hand blind spot camera system, 16-inch alloy wheels, front foglamps and keyless entry with push-button start. The Civic VTi-L ($27,790) earns Honda's 1.5-litre turbocharged four-cylinder petrol engine, as well as automatic headlights and wipers, manual control for the CVT transmission via paddle shifters on the steering wheel, four auto up/down windows, electric-folding mirrors, dual-zone climate control and DAB+ digital radio.
The Civic RS tested here is so far the best-selling Civic in the Australian range and comes with a much longer equipment list than the models below it. For your $31,790 you get leather seats which are heated in the front, an electric driver's seat, a 452-watt 10-speaker sound system, drilled alloy pedals, 'premium' exterior styling including piano black grille, B and C-pillar treatments and chrome door handles, a rear spoiler, auto-levelling LED headlights, with LED front indicators and LED foglamps and an electric sunroof.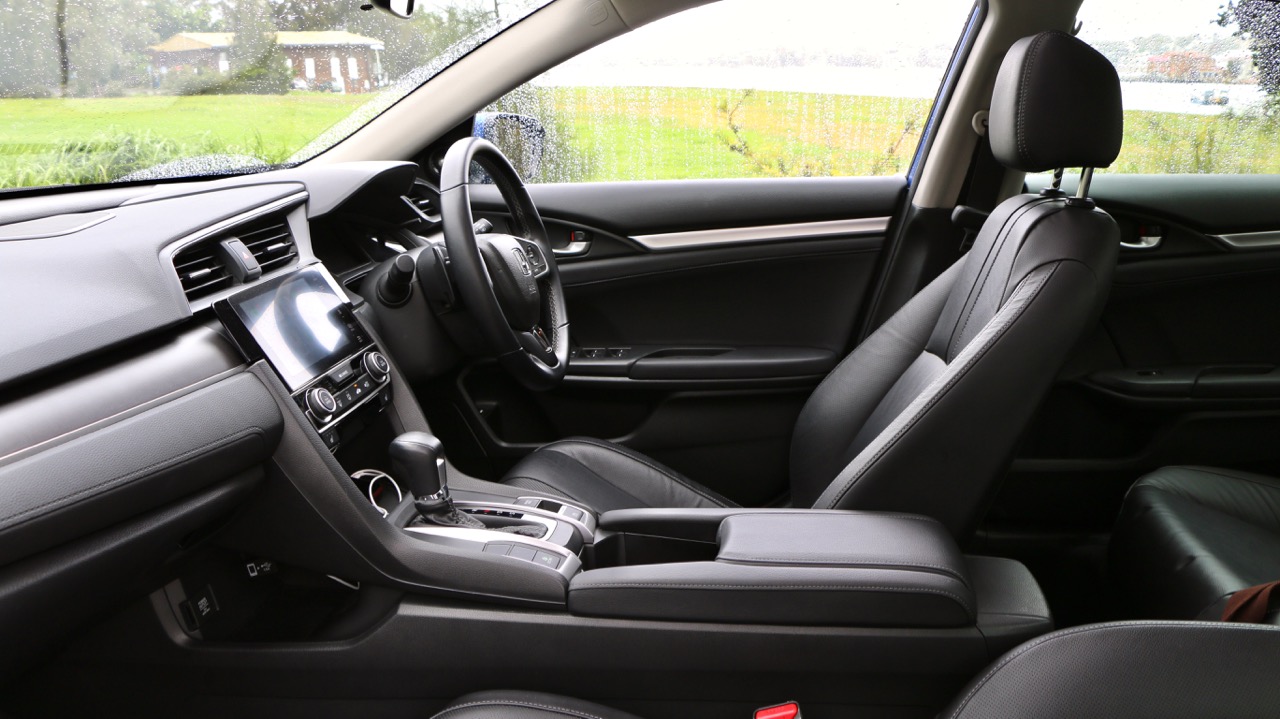 The absolute top of the lineup is the Civic VTi-LX ($33,950), which comes with in-built satellite navigation with live traffic updates, an auto-dimming rear-view mirror, and the Honda Sensing suite of active safety equipment, including adaptive radar cruise control with low-speed following ability, automatic emergency braking, forward collision warning, lane departure warning, lane keep assist.
The only option across the range is metallic paint, for a further $500. Any colour that isn't Rally Red is counted as a metallic colour, and colour choices include the Brilliant Sporty Blue of our test car, Crystal Black, Lunar Silver, Modern Steel grey, Cosmic Blue navy and White Orchid pearlescent.
Some Civic variants arrive with equipment that costs or simply isn't available on competitors, such as the entry-level VTi featuring both an alarm and rear centre armrest as standard equipment. The whole range also features a seven-inch touchscreen infotainment system with both Apple CarPlay and Android Auto integration, as well as rear-view camera, something that cannot be said of the Mazda3.
One disappointing aspect of the Civic range is that you have to spend almost $40,000 on the road to get active safety equipment like automatic emergency braking - something that even an entry-level $20,490 Mazda3 Neo is equipped with. The second-tier Civic VTi-L is equipped with the LaneWatch camera system, but the Mazda3 Maxx counters this with full blind-spot monitoring, rear-traffic alert, an auto-dimming rear-view mirror and automatic city-braking that works in reverse as well as forward. Against the Mazda3's active safety equipment, the Civic looks like poor value for money.
COMPETITORS
Mazda3 SP25 GT ($31,990) Mazda's evergreen 3 SP25 GT is overall equipped better than the Civic RS, with adaptive LED headlights, a heads-up display, a larger 2.5-litre engine and a six-speed automatic. The Civic RS has less road noise however, and is both roomier and more practical than its opponent. The Civic RS does uses less fuel in both claimed and real-world testing though.
Hyundai Elantra SR ($31,290) The Korean entrant into this segment offers a lot more punch than its competitors, with a 151kW 1.6-litre turbo four-cylinder and a seven-speed dual-clutch automatic providing significantly more thrust than the Civic or Mazda3 SP25 GT. The Elantra SR is also very well-equipped, and as usual for Hyundai, provides very solid ownership credentials and a low cost of ownership.
Skoda Octavia Style 110TSI ($33,590) The Czech entrant is more expensive than its Japanese or Korean rivals, but is much larger in both interior space and huge 560-litre boot space. It also features a higher-quality (but less characterful) interior and reasonable servicing costs.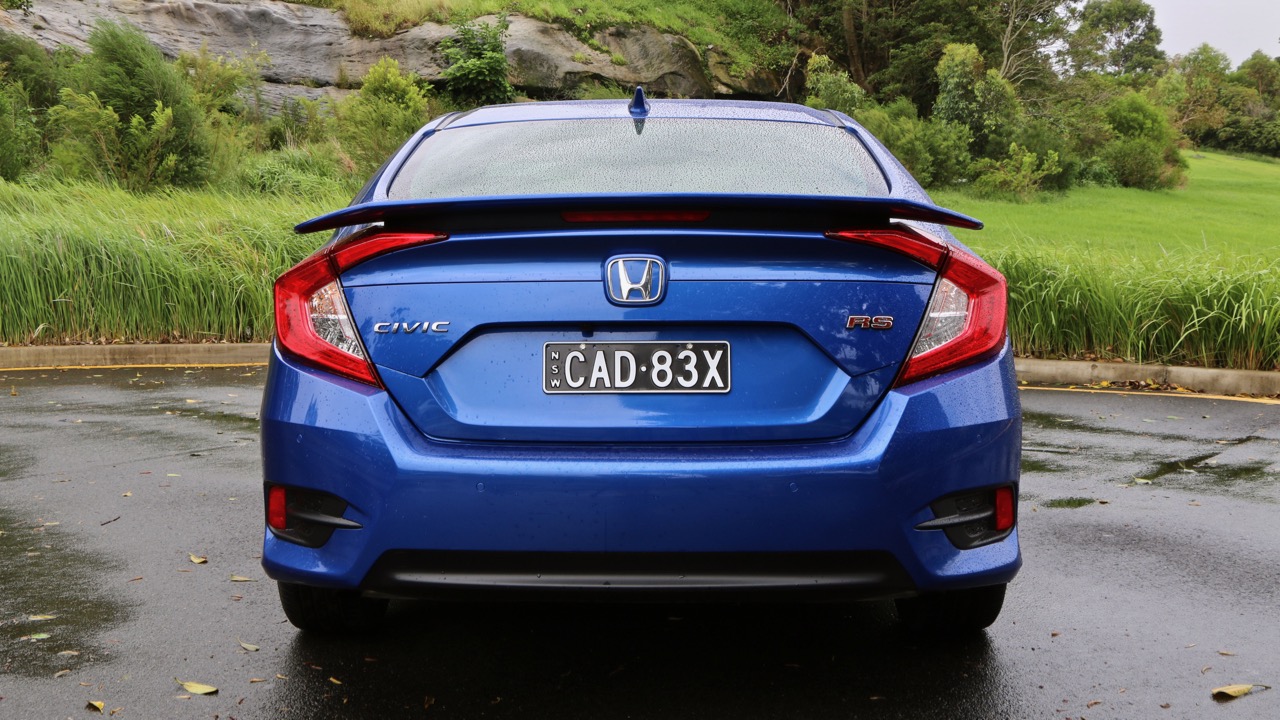 Engine
| | |
| --- | --- |
| Capacity | 1,498cc |
| Fueltype | 91RON unleaded |
| Cylinders | 4 |
| Configuration | Inline four-cylinder |
| Induction | Turbocharged |
| Power | 127kW |
| Torque | 220Nm |
| Power to weight ratio | 95.4W/kg |
| Fuel consumption (combined) | 6.0L/100km |
| Fuel capacity | 47 litres |
| Average range | 783km |
Transmission and Drivetrain
| | |
| --- | --- |
| Transmission | Automatic |
| Configuration | CVT |
| Gears | 1 |
| Drivetrain | Front-wheel drive |
Dimensions and Weights
| | |
| --- | --- |
| Length | 4,644mm |
| Width | 1,799mm |
| Height | 1,416mm |
| Unoccupied weight | 1,331kg |
| Cargo space (seats up) | 517 |
| Cargo space (seats down) | Not listed |