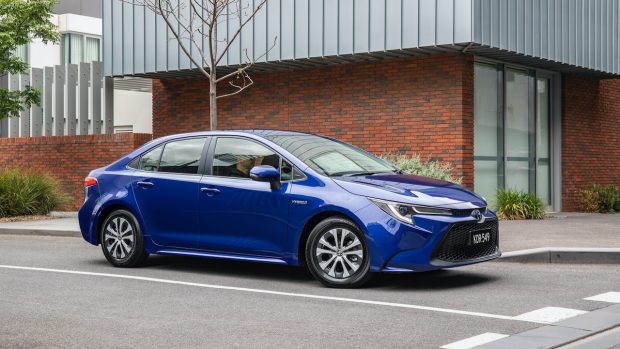 By including a petrol-electric drivetrain option to the new 2020 Toyota Corolla sedan, introduced as a fellow Japanese-built partner to the funky Corolla hatch, Toyota now offer eight hybrids to Australian buyers. That's quite an achievement, given just 17 years ago, the company barely sold a hundred first-gen Prius buyers to a then-cynical buying public.
In the intervening years since 2001, Australians have thrown off their cynicism toward hybrid vehicles as petrol prices have steadily climbed, and awareness of our CO2 footprint has grown. While the Prius continues as its own vehicle, the availability of an affordable hybrid variant across many of Toyota's key badges has made it easy to jump into a truly economical vehicle.
As we found in our long-term ownership of a new RAV4 hybrid, you really can come close to Toyota's amazing fuel economy claims in these vehicles. On the 2020 Corolla sedan, the claimed consumption for the 90kW 1.8-litre four-cylinder hybrid is just 3.5L/100km, and on the car's launch in the Yarra Valley, we were able to score 4L/100km without trying hard.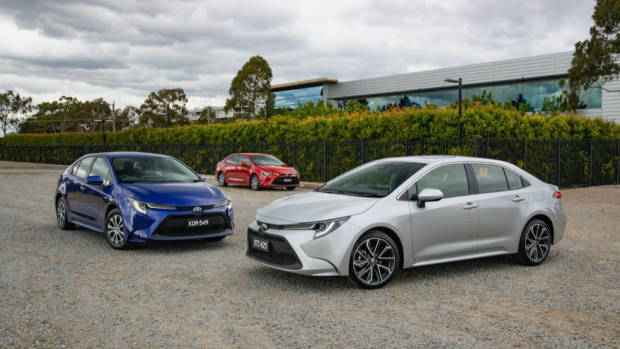 Like its hatchback peer, the new Corolla sedan's 'default' engine is a two-litre direct injected petrol four-cylinder without turbocharging. That engine makes 125kW/200Nm and is a decent, revvy unit – it's a bit noisy at high revs but it makes good progress. The penalty, though, is its 6L/100km fuel economy which blows out to about 8L/100km in the real world.
While the petrol-only cars start at $23,335 for a base Ascent Sport manual – a sweet driving thing – or $24,835 with a continuously variable automatic gearbox, you only need to pay $1,500 more to jump into the hybrid and halve your real-world fuel consumption. That'd pay for itself in under two years, by our calculation.
Three grades are available and in an unusual step these days for Toyota, the hybrid is available only on the lower pair – the Ascent Sport and the SX. The top-shelf ZR is petrol only.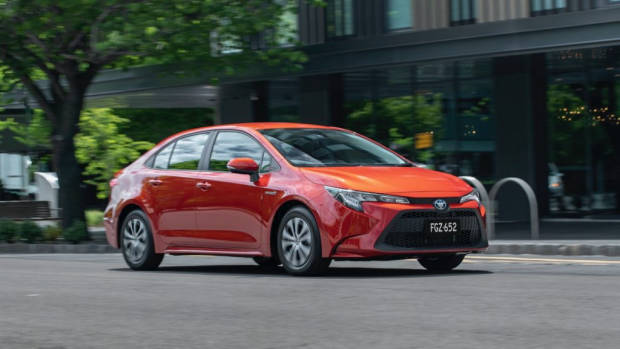 All cars score an eight-inch touchscreen with wired Apple CarPlay and Android Auto, plus a generous safety package with AEB (with day+night pedestrian and daytime cyclist detection), adaptive cruise control, lane keeping assistance, speed sign recognition, and auto high beam. The SX (a $3,400 impost) adds a leather steering wheel and gear shifter, blind spot monitoring, climate control, wireless device charging and front-door keyless entry and start – plus a digital radio and sat nav. Finally, the ZR ($5,400 more) gains a sunroof, part-leather sports seats with driver's power adjustment, a head-up display and a JBL stereo.
While the 1.8-litre hybrid isn't as fast as the petrol two-litre, in town you benefit from its instant low-end, low-speed torque that makes darting in and out of lanes a breeze. It pulls away from lights silently before engaging its modest petrol engine, which is a quiet unit. In the country overtaking is slow – you need to consider your opportunities – but the fact is that the vast majority of these cars will be used in the 'burbs, where their fuel economy benefits can be extracted.
The same engines are used on the hatch, but in Europe, the funky five-door is available with a 2.0-litre hybrid making about 130kW of power. That engine is not currently built in the Japanese factory that supplies Australian-delivered Corollas – the sedan is no longer Thai-made – so at present, Australians are denied the best Corolla hybrid set-up. Given our rural distances, a two-litre hybrid could be the true best of both worlds engine. Come on, Toyota.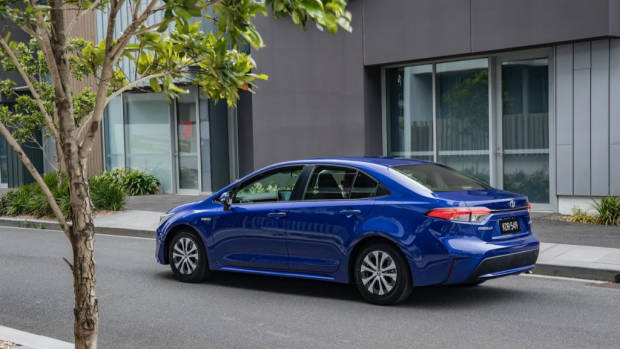 The new Corolla sedan shares its cool front-end styling with the hatch but the tail is far more bland – like there were two design teams who didn't talk. However, don't let the pedestrian rear-end lines put you off. Just like the hatch, the new Corolla sedan shocks with how great to drive it is.
In a rare combination in this segment, truly vivacious handling is paired with a properly compliant suspension that breathes very well with Australian roads. Bravo, Toyota – this is a brand kicking goals with driving dynamics, just as they set out to do under president Akio Toyoda's leadership.
The Corolla sedan exhibits fast, light steering that is matched with keen turn-in from the light front end. Keep steering into a tightening-radius corner and the Corolla just keeps on tracking your line. Dab the brakes and the well-judged stability control tune will allow a delicate touch of lift-off oversteer. In a Corolla sedan! What a world.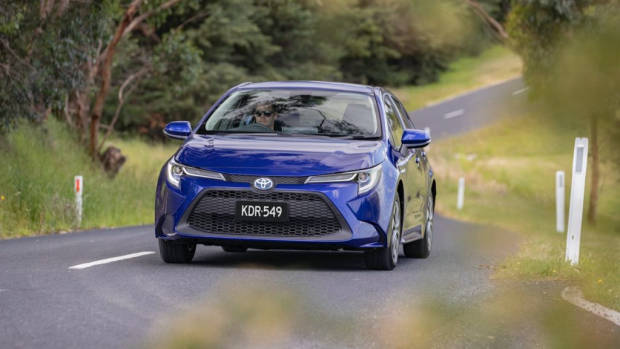 Driving more sensibly, the Corolla's light steering makes parking a doddle – and it's easy to see out of this car, too, thanks to a generous glass house and big mirrors. The compliant but controlled suspension that makes it relaxing to drive in the country also works a treat in the city, where potholes and speed bumps trouble the Corolla less than a new Mazda 3.
While the sedan borrows most of the hatchback's minimal but attractive interior – replete with its crisp touchscreen with smartphone mirroring, plus comfortable seats – this four-door corrects the biggest sins of the hatch.
When the hatch was revealed we were taken aback with a huge practicality fail represented by its tiny back seat and paltry 217-litre boot – most hatches offer 300-400 litres of cargo room. The sedan, by contrast, has a much roomier rear seat with space for two six-footers – and a third at a pinch. Plus, the 470-litre boot makes clear just how much more can be packed into the back.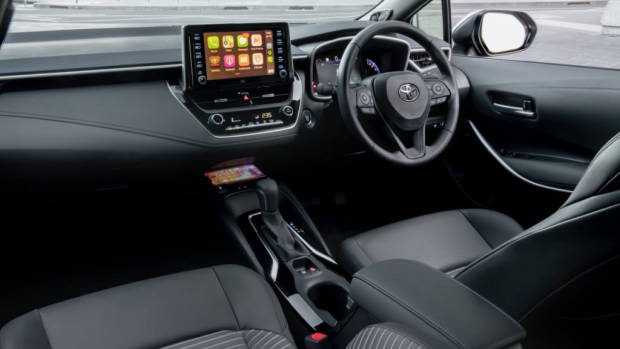 The Corolla sedan is covered by Toyota's five-year warranty – with a kilometre limit that differs between private (unlimited) and corporate (160,000km) buyers. Servicing is priced identically for the petrol and the hybrid. The first four annual or 15,000km services cost $175 for a four-year scheduled maintenance bill of just $700, which is low for this segment.
This new sedan rounds out the new Corolla range, joining the hatchback, and offering buyers a variant that is clearly more practical but preserves the dynamic goodness of the prettier five-door. If you can't find a Corolla you like now, you're likely not trying hard enough. Unless you're looking for a hot hatch, which we hear they're working on … stay tuned.