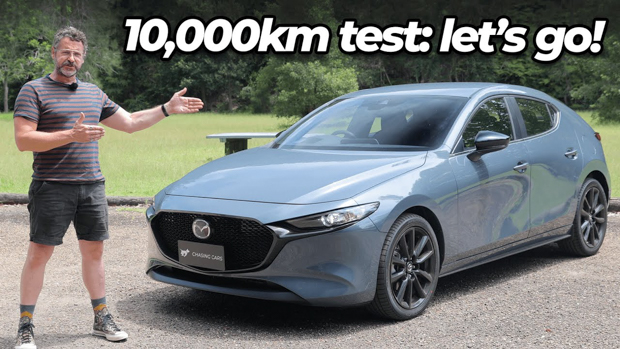 If you've had time between Covid headlines and political scandals to study Australia's automotive sales figures, then you're probably well aware that small-car popularity in this country is shrinking.
The segment nudged nearly 250,000 annual sales in Australia a decade ago, but in 2021, we bought just 109,064 small cars – down 10 percent on 2020 and some way behind the booming small SUV category that was up almost 25 percent to 144,270 sales.
The people have spoken and they largely want 4WD dual-cab utes and SUVs of all sizes rather than nicely-packaged hatchbacks.
That said, this former superstar segment is still clearly the biggest player in traditional passenger cars, with the fourth-generation Mazda 3 contributing a consistent, if comparatively modest annual total of around 14,000 cars. Gone are the days of Australians buying 40,000 Mazda 3s in a calendar year – instead, they've turned to the CX-30 (which jumped 48 percent in 2021 to 13,309 sales).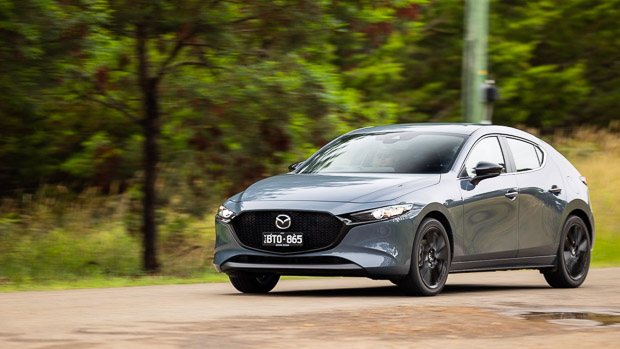 But popularity is rarely an indicator of excellence, as today's Mazda 3 proves. Without the constraints of having to be Mazda's sole small-car flag-waver, the fourth-gen Mazda 3 hatchback now has the freedom to become sexier, sportier and less of a slave to practicality. Yet for all its coupe-ish looks and warm-hatch personality, the current Mazda 3 remains as practical as it's ever been – hence why we're keen to spend six months in this latest-and-greatest variant, the new-for-2022 Mazda 3 G25 Evolve SP.
Is a small hatch a better all-rounder than a small SUV? And does the fourth-gen Mazda 3 deliver on the promise of its slinky sheetmetal?
Navigate this long-term Mazda3 review
We'll update this review with new entries over time as Nathan Ponchard details his experiences in the Mazda3 G25 Evolve SP hatch, which we're running for six months and 10,000km.
Month 2: Showers of power
As Sydney cops a record deluge of rain spanning weeks, the Mazda 3's dry-road savvy turns slightly pear-shaped as its tyres, ventilation and electronic safety systems attempt to cope
| | |
| --- | --- |
| Kilometres this month: | 512km |
| Fuel economy this month: | 8.8L/100km |
| Running costs this month: | $81 (fuel) |
"Here Comes the Rain Again" is a flipping great 1983 track by UK duo Eurythmics, yet even its timeless brilliance isn't enough to drown out the monotony of its title – persistent drumming of downpours on rooftops, the flooding of pavements and the ruinous effects of Australia's eastern climate crisis on people's lives and mental health.
In that context, being inside the dry confines of my Mazda 3 Evolve SP long-termer on a bleak Sydney Friday night is about as close to a first-world problem as you can get, yet the torrential conditions provide a condensed snapshot of what turns out to be this car's kryptonite – extreme wet weather.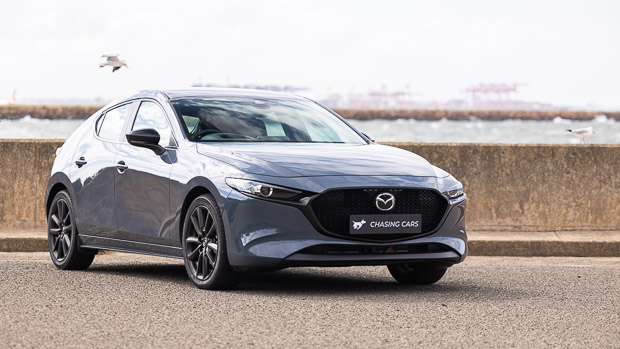 Issue one is its footwear. Mazda has remained faithful to Toyo tyres for generations now and currently fits the Japanese tyre maker's products right across its line-up, however it's ironic that they're not well-suited to moisture.
Perhaps speeds are considerably lower on Japanese roads in the wet than here in Sydney, because the 215/45R18 Toyo Proxes R51 A tyres worn by the Evolve SP don't have the wet grip to match its dynamic talent, nor the breakaway progression to inspire confidence as they lose purchase.
Sure, you can temper your enthusiasm in corners to keep things in check, but it's those moments when the auto transmission decides that first gear might be smarter than second, and the subsequent rush of power to the front tyres instantly overwhelms their traction that makes me wonder how good this car could be wearing decent rubber – something Tom also noted in his full review of the car.
Still, at least the Mazda 3's stability control kicks in with appropriate speed to prevent the car from attempting to swap lanes.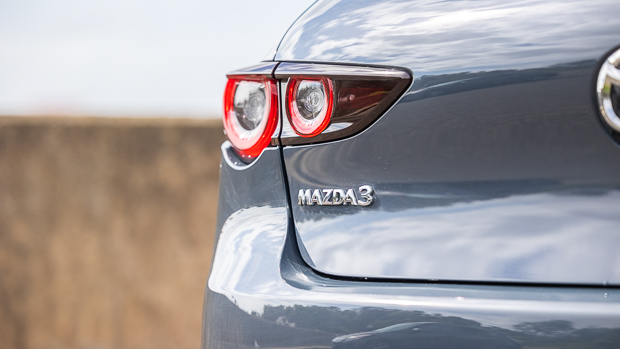 Where the calibration of the Mazda 3's safety electronics comes into question is the voracity of the front and rear AEB systems – even with 'Smart Brake Support' alert timing set to 'Normal'. Driving home, still in daylight hours, I began to accelerate past a cab that was completing a left-hand turn at a major intersection and the Evolve SP decided to slam on its brakes, and then leave them jammed on – even though there was nothing in front.
Thankfully, no one was right up my rear end (despite this being Sydney!) because it would've looked like a deliberate brake test on my behalf – prompting a potential road-rage scenario. And it reminded me of a similar moment in a Mazda 3 Astina with 'Cruising Traffic Support' (part of its 'Vision Technology Package' safety suite) – a feature that is designed to "assist with driver fatigue by automatically operating the accelerator and brake pedals to maintain a proper trailing distance between you and the vehicle ahead".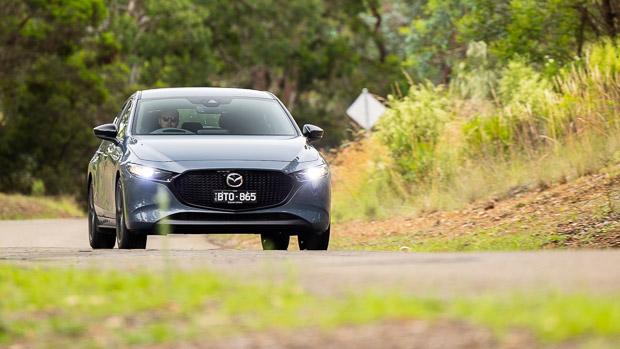 In other words, if it thinks you're driving too close to the car in front it'll slam on the brakes … which it did while I was trying to make it through a green right-turn arrow off the Pacific Highway, sending the poor bugger in the old Subaru Outback behind me up onto the median strip to avoid a collision.
According to the owner's manual, you can switch the 'i-ActivSense' system off via a button on the lower-right dash (an image of a car with a circle around it) which disables the lane-departure warning, blind-spot monitoring, distance and speed alert, front and rear cross-traffic alert, and lane-keep assist – but you can also personalise which systems you'd prefer not to be cramping your driving style. (I've now altered the AEB alert timing to 'Late' so we'll see how that goes!).
I personally wouldn't be turning off rear cross-traffic alert – not with such limited rear vision in the Mazda 3 hatch – however during the same wet Friday evening, BTO-865 slammed on its rear AEB so hard when I was parking in the dark that I actually thought I'd hit something. I jumped out, looked around and … nothing, apart from someone who had crossed the street at least 15 metres away and was still yet to walk past on the footpath as I stood there looking bewildered.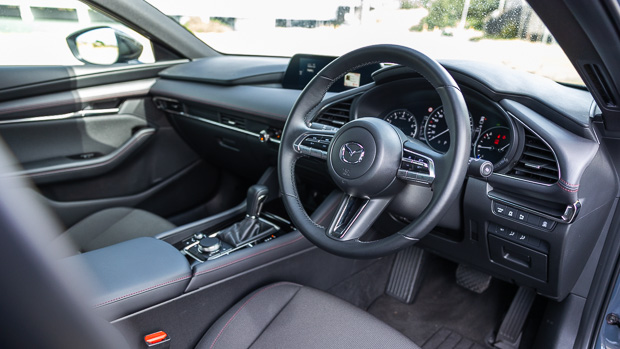 My final bone of contention concerns the front window demisting. While the windscreen itself is fine, the fourth-gen Mazda 3's auxiliary venting for the side windows is concealed in the A-pillars, which is a neat piece of design integration but doesn't seem to work well in practice. The front door windows mist up from air-con residue after about 20 minutes and on this particular wet Friday night, I had to lower them in the rain several times to make sure I could see properly.
Admittedly, having the electric exterior mirrors automatically lower themselves (if the left-hand mirror is selected, it will adjust when reversing, and same for the right-hand side) is perfect in the narrow one-way street I live in, but the Mazda's lighting isn't strong enough to adequately light the way without the help of street lighting.
Ditto its LED headlamps, which are fine on freeways with fresh cat's eyes marking your path but simply not bright enough in dimly lit back streets. Combine that with foggy front windows, slightly lazy auto-wiper response, some knee-jerk safety electronics and restricted rear vision and … you can probably understand why I was secretly wishing I was in an SUV on a dark and stormy Friday.
Month 1: Painting it black
With some sinister black-outs and a hint of SP flavour, the freshest 2022 Mazda 3 variant signs up for six months and 10,000km with Ponch as its tester, mentor and keeper
| | |
| --- | --- |
| Kilometres this month: | 1038km |
| Fuel economy this month: | 8.5L/100km |
| Running costs this month: | $149 (fuel) |
If anyone asked me what sort of car I'd spend my own money on, there's a very strong chance I'd be nominating a small hatch. With space to rival medium sedans of the '90s, combined with the polished agility and refinement we expect in 2022, the value-for-money in a good mainstream small hatch is so persuasive it makes my wallet tingle – especially this Mazda 3 G25 Evolve SP.
Replacing the previous 2.5-litre Evolve trim level, this '22 Evolve SP automatic in Polymetal Grey with carpeted floor mats costs less than $33,000 before on-road costs, yet is so deeply enticing in its styling and build quality that it makes almost any premium European small hatch seem eye-wateringly overpriced. Well, that's my first impression of the Evolve SP.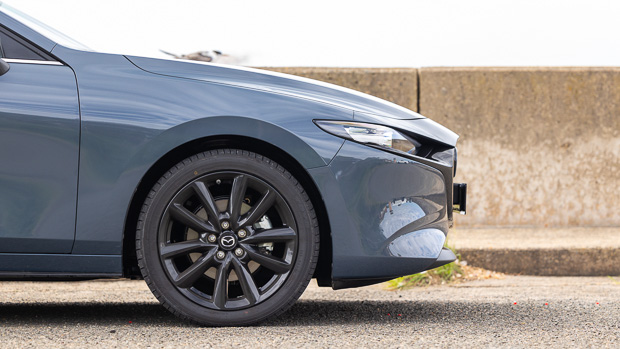 I wasn't expecting a fully electric driver's seat with two-position memory, and nor was I thinking it would look so damn good parked out the front of my inner-city cottage, adding a delightful touch of egalitarian chic to Sydney's Inner West … like the multitude of grey fourth-gen Mazda 3s I've spotted since being handed the keyfob to BTO-865, which arrived with just 11km on its odometer and the freshest cabin smell I've experienced in years.
With such low mileage and an average-consumption read-out somewhere north of 20.0L/100km, I decided to 'break in' my Mazda 3 but blasting to my parents' place about 125km north of Sydney on Australia's busiest freeway – the love-it-or-hate-it M1.
These days it's a three-lane-each-way expanse of mostly excellent tarmac, threading its way through beautifully mountainous national park, and is well-known for moving very briskly in peak periods (until traffic clogs it), and being littered with holidaying families (slowly) making their way north in off-peak times – often in the right lane.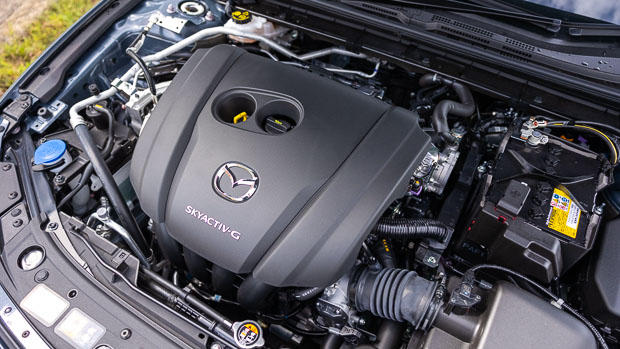 Former Mazda Australia motorsport manager Allan Horsley once told me that the best way to run a regular car in is to flog the daylights out of it for 1500km and then do an oil change (to remove any metal filings). My Mazda 3 won't be getting the latter until it goes back at 10,000km, but I can certainly help with the former!
Pinning the accelerator to the floor wherever necessary, Mazda's perky 139kW 2.5-litre 'SkyActiv-G' four delivers a gutsy keenness that feels strong right from the start. Even with zero mileage under its belt, this engine is a fine performer, with a subtle fizz as it sends the tacho needle skyward that perfectly suits the Evolve SP's black accents and gloss-black 18-inch wheels. And same goes for the six-speed automatic, which is responsive when it needs to be but also knows how to channel torque properly – as if the transmission calibration and engine tune were developed as one.
Admittedly, this car doesn't have the six-speed manual I was hoping for (because Mazda is great at manual 'boxes) but the auto is too good to be considered second-best. And while I had reservations about the Mazda 3's urban ride early on, the greater the speed and the more challenging the surface, the more effective it proves at demonstrating the depth of ability waiting to be unearthed in this delightful little mover.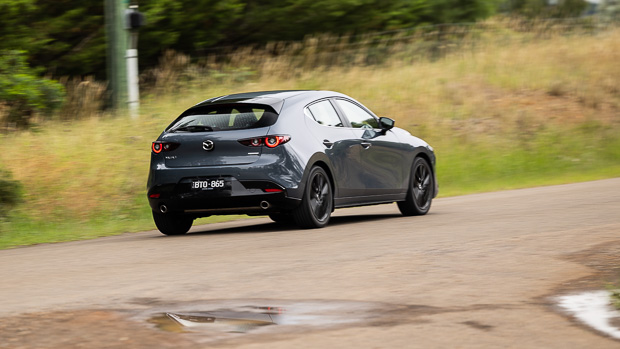 Even after only two tanks of fuel, BTO-865 is already averaging a surprising 8.5L/100km – not only because it's been driven hard (by myself as well as Mr Baker for his full review of this car) but also because we're only feeding it regular 91-octane unleaded. So not only is this alluring, beautifully constructed slice of small-hatch realness cheap to buy, it's also proving usefully affordable to run.
How long this early-relationship glow lasts remains to be seen. But that's the point of running a long-termer – letting it get under your skin, learning to love (or hate) what it has to offer. And so far, my admiration is growing by the week.