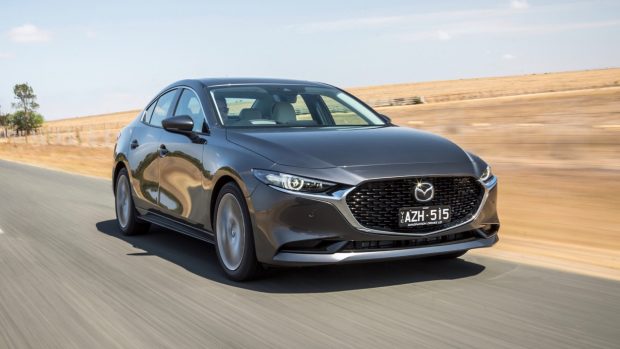 The new Mazda 3 sedan is the best small car on sale today: it's as simple as that.
We don't generally use superlatives or make big calls on Chasing Cars: we prefer sober analysis and keeping things in perspective. Sometimes, though, a car makes such a leap over its competition that it is important to give it due credit.
The 2019 Mazda 3 sedan is one such car. We've already driven the hatchback extensively, in G20 Evolve and G25 Astina forms, but the subtle refinements of the sedan form factor that increase comfort while preserving the hatch's athleticism make it the pick of the bunch. As a result, it receives a rare 9/10 score.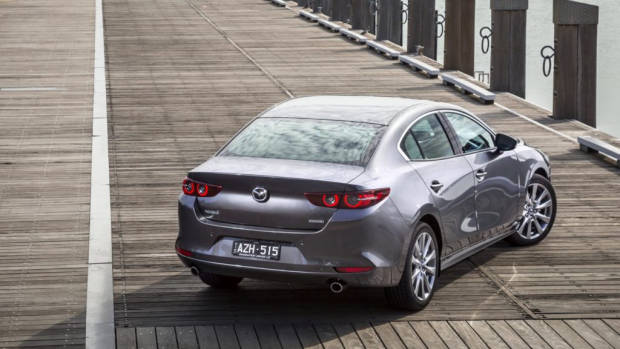 We chose to test the 3 sedan on a combination of highway, town roads and demanding country routes in Victoria's southeast. Across each of these disciplines, the 3 sedan's balanced chassis, firm but comfortable suspension tune, brilliant steering and its premium interior fit-out were impressive.
Only the naturally aspirated four-cylinder petrol engines are worthy of pause: the 2.5-litre engine that powers G25-badged models produces good outputs of 139kW/252Nm, but the lack of forced induction means there is pretty modest low-end torque. You need to rev the Mazda 3 more than a Volkswagen Golf or Hyundai Elantra Sport – but the six-speed automatic is a willing unit and a six-speed manual is available on every grade at a $1,000 discount.
The lack of a flagship engine will be corrected later this year with the release of the Skyactiv-X engine for the Mazda 3, which will produce similar outputs but peak torque will arrive just above idle thanks to the inclusion of a supercharger. This new engine may well be worth the wait.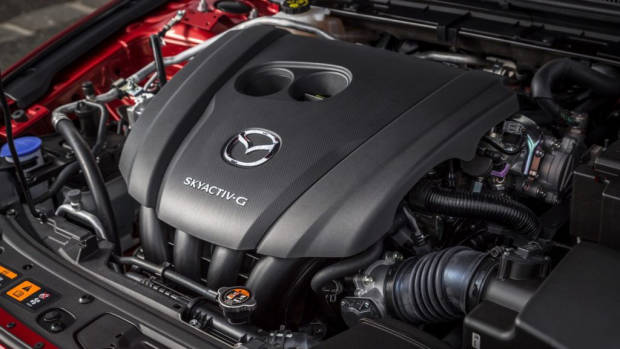 On the whole, though, we struggle to think of a more accomplished small car wearing such an affordable price tag. Even in the most expensive Astina trim – a $37,990 vehicle, before on-road costs – the Mazda 3 justifies itself with a luxurious, quiet interior that demolishes rival vehicles on style and quality points.
The supportive heated leather seats can be trimmed in the pure white leather of our test car, or black – the hatchback form skips white and offers red as its alternative. With metal trim on the buttons, plush leatherette on the dashboard and centre console and soft materials extending into the second row, the Mazda 3 feels more sumptuous inside than some $60,000 sedans.
It's relatively spacious, too, with a feeling of breadth in the first row and decent legroom and headroom on offer in the seats behind. The sedan offers an inch or so more space back there than the hatch, so it'll be the pick if you will be using the rear seats regularly. We appreciate that Mazda includes air vents in the back – though limiting the USB ports to 2 for the whole vehicle feels a little short sighted.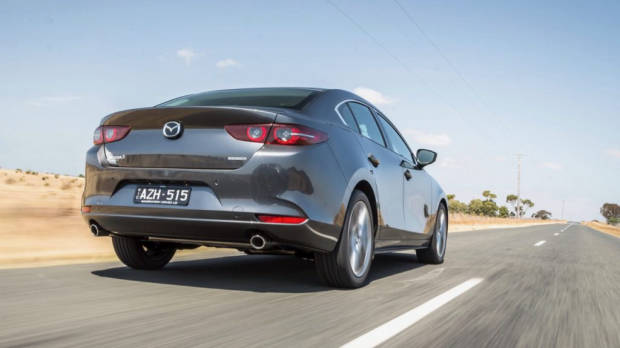 Boot space is bigger in the sedan than in the hatch – up from 295L to 444L, which lets you get two large suitcases in with relative ease. There are pull tabs to drop the rear seats flat, in a 60/40 arrangement, which is handy. You won't find a light or shopping bag hooks in this boot, though, unlike a Skoda Octavia.
But back to the front seat for a minute: Mazda have effectively silenced critics of their infotainment system with a double-whammy in the 2019 3: the built-in software has been upgraded to a new operating system, and there is now standard Apple CarPlay and Android Auto. The Bose stereo of higher-end grades sounds good, too. Some people won't like the fact this is no longer a touchscreen, but we like Mazda's use of a safer rotary dial between the seats.
The ergonomics are near-perfect, with the driver's seat set low, and the thin-rimmed steering wheel falling to hand. All cars – even base models with manual seat controls – have under-thigh angle adjustment, which establishes a superior driving position to some flat-seated rivals.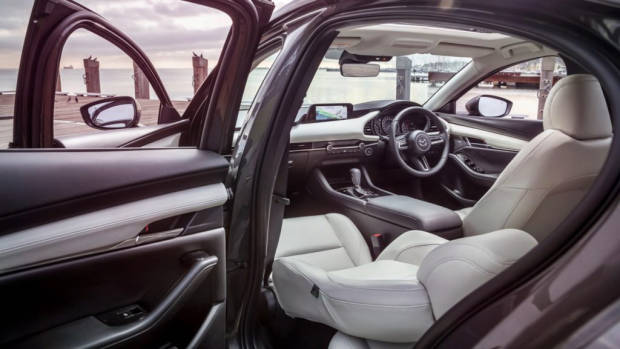 And you'll want to be sat well, because the Mazda 3 drives in an especially engaging way. We'd already discovered that in our 2019 hatchback reviews, but the sedan is actually a little better.
Slightly softer at the front end, the Mazda 3 sedan is more forgiving over the poor quality streets that punctuate Australian cities, while sacrificing little to nothing in its athleticism on winding country roads.
The suspension is just on the firm side of the spectrum but it soaks up bumps well, with the 18-inch wheels generating less sharpness on the sedan than on the more sharply-tuned hatch. On country roads, the sedan lopes along, feeling like a BMW 3 Series as it goes.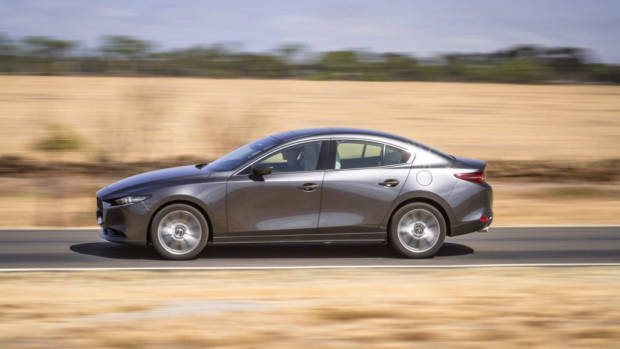 In fact, the comparisons to BMW don't stop there. Creamy steering with a natural-feeling ratio, good directness and more feedback from the front end than rivals reminds us of the Bavarian brand – when they were at the top of their game some years ago.
The chassis balance of the new Mazda 3 is so good, you'll feel like you have scored a true bargain buy – but this car never feels cheap. Instead, it feels expensively made well beyond its modest price point. Flowing with the road while cosseting and flattering its driver, the Mazda 3 is a car clearly engineered by people that love to drive.
It's quiet and refined inside, too, with excellent insulation from road and wind noise. We covered significant highway distance and the sedan makes for a great cruiser.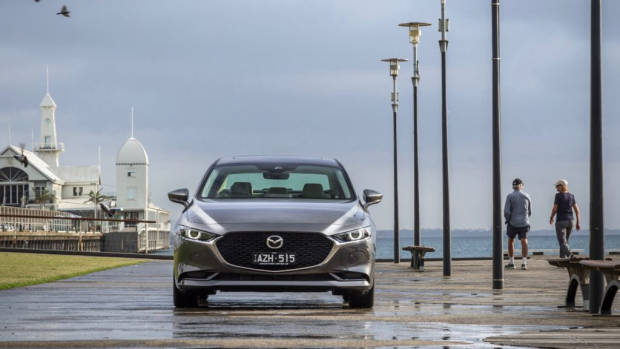 We do think the advanced safety systems could do with a slightly sharper tune: the lane keep assist doesn't trace a clear line down the centre of the lane; a Volkswagen Golf is better in this regard. The adaptive cruise control is easy to use, though, and the fact that AEB in both drive and reverse is standard is great.
You can also option the highest safety features – standard on the Astina – to other models for $1,500. These include a 360-degree parking camera, front cross-traffic alert, and infrared driver monitoring.
Avoid the base model, which feels a little cheap due to its plastic steering wheel and gear shifter, and you'll be happy regardless of specification. All new Mazda 3s delivered in Australia include navigation, DAB digital radio and LED headlights, plus a host of safety tech.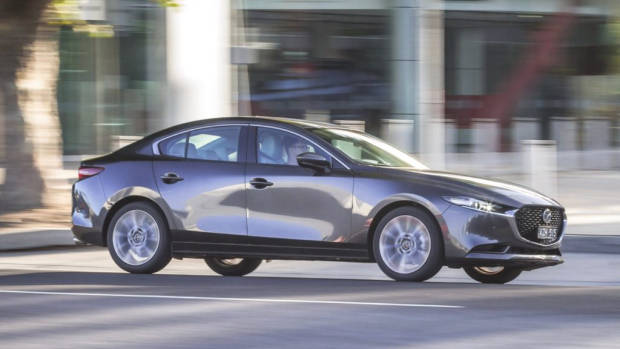 A five-year warranty applies, though ownership costs are not quite as clear from new as Mazda do not offer capped price servicing on the new 3. Instead, service costs are available for owners in advance of the maintenance on the Mazda website. Service intervals are annual or 10,000km, which is a bit shorter than some rivals that can go to 15,000km.
Ultimately, though, the new Mazda 3 sedan does enough to earn its 9/10 score, which bests the corresponding G25 Astina hatchback by half a point.
There is no small car that offers a better balance of handling, ride, interior fit-out and affordability than the six-strong range of Mazda 3 sedans. Some may have superior turbocharged engines, but we can overlook that fact given the enormously virtuous character of the 2019 Mazda 3.