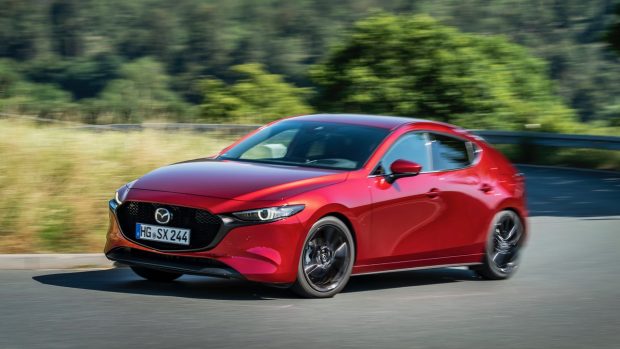 For many years, Japanese carmaker Mazda have eschewed mass-market turbocharging in favour of developing new petrol engine tech that incorporates much of how efficient diesels work. That groundbreaking new engine is now ready, and it'll first appear in the 2020 Mazda 3 Skyactiv-X.
If you can think of a car company that punches further beyond its weight than Mazda, well – we haven't heard of them yet. To Australians, Mazda is a large and successful importer, but the fact is that this Japanese automaker is a small player on global terms.
That makes their ambitious engineering efforts over the past decade all the more impressive. There have been a number of big successes in the 2010s for Mazda: some of the best mainstream SUVs wear the company's badge. The company really does stick to its philosophy of constant product improvement. And a strong commitment to the internal combustion engine has given 'car people' a cause to cheer about.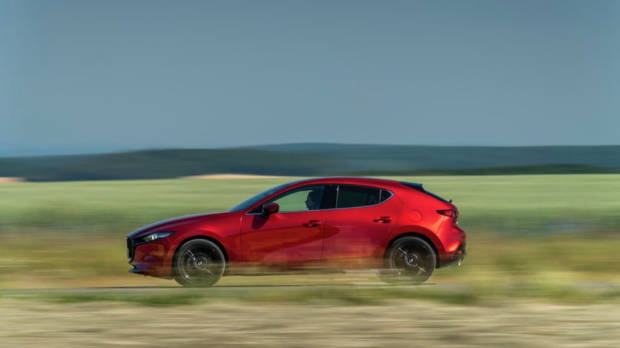 Related: Mazda outlines future SkyActiv-X engine, autonomy plans
That third prong of combustion powertrain development sits alongside a growing interest at Mazda in battery electric vehicles – something we will hear more about in the near future – but the pragmatic thinking from the company's Hiroshima HQ is realistic about admitting that electric cars aren't the best fit for everyone.
Perhaps the economy is powered by dirty fuel and not renewables, or perhaps the driving distances are vast – Australia rings bells on both fronts – but for some, the petrol and diesel engine is far from irrelevant.
If combustion engines are to survive, though, their fuel economy needs to keep increasing. Where most automakers have plied a route to low-pressure turbocharging – a method that has driven on-paper fuel economy very low though conditions in the real world often differ – Mazda has been quietly forging its own path.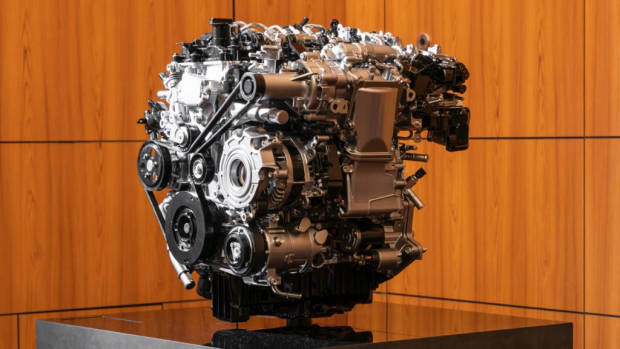 While some of its cars are available with turbocharged petrol and diesel engines, the project that Mazda are rightly proud of is the 'Skyactiv-X' engine. It's the world's first production petrol engine that incorporates both the spark plugs familiar to gasoline powerplants with the compression ignition of a diesel engine.
The result, Mazda says, should combine frugality, plus the lower-end torque of a diesel; and then you add in the rev-happiness, and more manageable tailpipe emissions, of a petrol. If they can pull it off, that's a heady mix. So, have they?
More or less, Mazda have done it – though we temper that statement by saying that while the Skyactiv-X is a groundbreaking achievement and a technical tour-de-force, the real world results don't feel as different to drive as you'd expect. But maybe that's the point.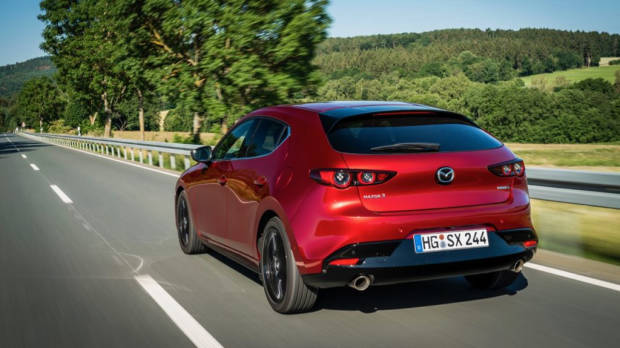 We drove the Skyactiv-X in production form this month in Germany, where it was available for sampling in the first car in which it will be available to buy. The 2020 Mazda 3 Skyactiv-X will arrive in Australia in early 2020 once the first European deliveries occur later this year.
When the Skyactiv-X engine enters the Mazda 3 lineup, it will almost certainly sit above the existing Mazda 3 G25 Astina (reviewed here) as the most premium variant in the lineup, with pricing around $40,000 before on-road costs. Why will the Skyactiv-X be the most expensive? Mazda product planners point out that the substantial development costs have to be recouped.
So, is it worth putting off a potential Mazda 3 purchase and waiting for the Skyactiv-X? If you're into having the latest and greatest, then sure. If you don't really care what is under the bonnet, we think the existing 2.5-litre naturally aspirated petrol would still suit.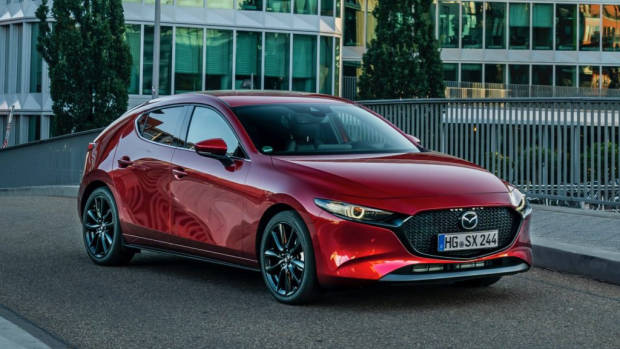 Specifically, the new unit is a 2.0-litre petrol-fuelled naturally aspirated engine producing 132kW of power at 6,000rpm and 224Nm of torque at 3,000rpm. There is a super-high fuel pressure system and a supercharger-driven air supply to create very lean burn.
The main difference between the new 2.0-litre Skyactiv-X engine and the existing family of conventional 'Skyactiv-G' petrols is a greater sense of refinement. Though the new engine is of a smaller displacement than the 2.5-litre that it will sit above in the range, the 'X' engine works less hard, sitting at lower RPMs while cruising and generating more torque down low.
As such, the Skyactiv-X engine is noticeably quieter than either of the other Mazda 3 engines on offer, revving to around 3,000rpm if equipped with an automatic gearbox before shifting up almost imperceptibly. Even revved right out, the Skyactiv-X is hushed.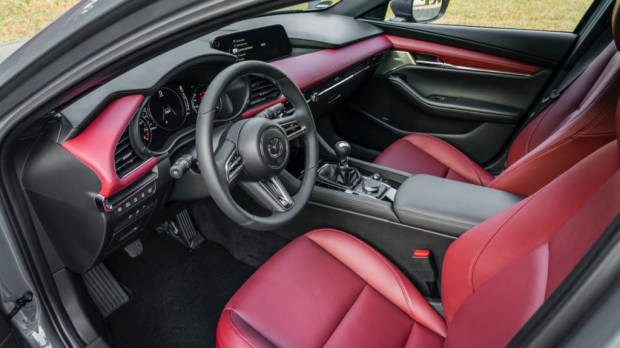 A manual gearbox will also be offered in Australia, and we drove that, too. With a short throw, pleasant clutch takeup and generally low effort, the Skyactiv-X 6MT would be a lovely combination for the few engaged enough to be interested in it.
That said, any hope that the Skyactiv-X pulls like a diesel down low needs to be gently tempered. There is absolutely a greater feeling of torque than the Skyactiv-G family, but the Mazda 3 Skyactiv-X pulls well from around 2,800rpm (rather than around 4,000rpm in the 2.5-litre G engine). By comparison, a modern diesel engine will usually offer full torque from lower than 2,000rpm.
As a result, you have to work the Skyactiv-X harder than a diesel (or even a low-blow petrol turbo engine) but less hard than a naturally aspirated petrol.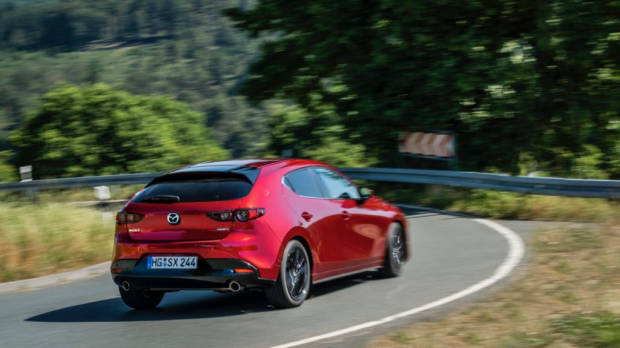 The other big difference is fuel economy. An electronic indicator shows when the engine is working in spark-controlled compression ignition mode, which is most of the time under normal loads. Even if driven quite assertively, the Skyactiv-X works like a diesel and as a result, we managed fuel economy of around 7L/100km across a 40km drive that included a section of derestricted Autobahn. That bodes well for Australians.
Driven hard the Skyactiv-X will switch out of compression ignition towards the top of the rev range, returning to conventional spark operation, giving it the kind of zingy aural note we like from a petrol engine.
Later, the Skyactiv-X engine will be added to other new-platform Mazdas. The second model to receive the powerplant will likely be the 2020 Mazda CX-30 (reviewed here) in mid-2020.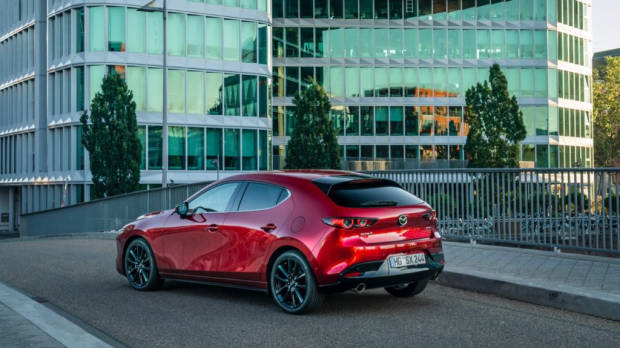 We still believe there is room for the 2.5-litre turbocharged petrol engine to be slotted into the Mazda 3 as a new hot hatch option – preferably with all-wheel-drive – but senior Mazda product planners from brand HQ remain clear this is a remote possibility at best.
Mazda say that the Skyactiv-X is just the latest iteration in a pursuit of internal combustion nirvana. Senior engineers gleefully talk of a hypothetical ideal engine that perfectly combines the best attributes of a petrol and diesel. There's no sign that work will stop here, on this Skyactiv-X.
Nor will this 2.0-litre unit be the only Skyactiv-X engine. There will be a family of 'X' engines developed in varying cylinder counts and displacements. Mazda have confirmed a straight-six version of the engine which will combine with a rear-wheel-drive architecture. That should be very exciting.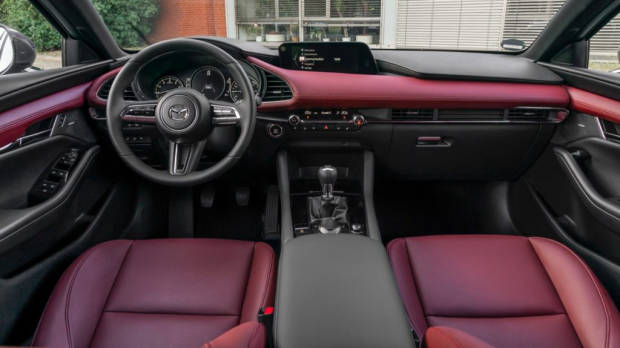 Moving aft of the engine bay, the low weight of the Skyactiv-X unit preserves the dynamic aspects of the new Mazda 3 that we've enjoyed so much. The steering, handling and ride all feel identical to the standard car. This is an engaging, fun small car to drive, so the improved refinement and reduced engine noise of the 'X' engine only adds to the experience.
A standout interior completes the package, with substantial use of premium materials, the inclusion of quality infotainment with smartphone mirroring, punchy audio, relatively comfortable seats and a usable (if not large) second row and boot.
Mazda Australia are yet to confirm a number of specific details about the local version of the 3 with the Skyactiv-X engine, including specific pricing and servicing costs, though senior Mazda powertrain sources confirmed that the servicing intervals are likely to mirror those of the Skyactiv-G engine: the first of 12 months or 10,000 kilometres.
All in all, we applaud Mazda for making a dedicated effort to lengthening the life of the combustion engine. Though electrification and alternative fuel sources command many of the headlines in the automotive industry in the present day, a realistic view must countenance the ongoing relevance of petrol and diesel fuel, at least until renewable power generation is a reality across much of the globe.
That's what Skyactiv-X is really all about: working out how to balance lowering CO2 emissions with a reliable and convenient fuelling source for normal people. Plus, there's the fun-to-drive factor of petrol engines that Mazda are helping to prolong. The first-gen Skyactiv-X achieves plenty, though we look forward to the continued iteration of this engine type, with greater power and further improvements to lower-end torque.