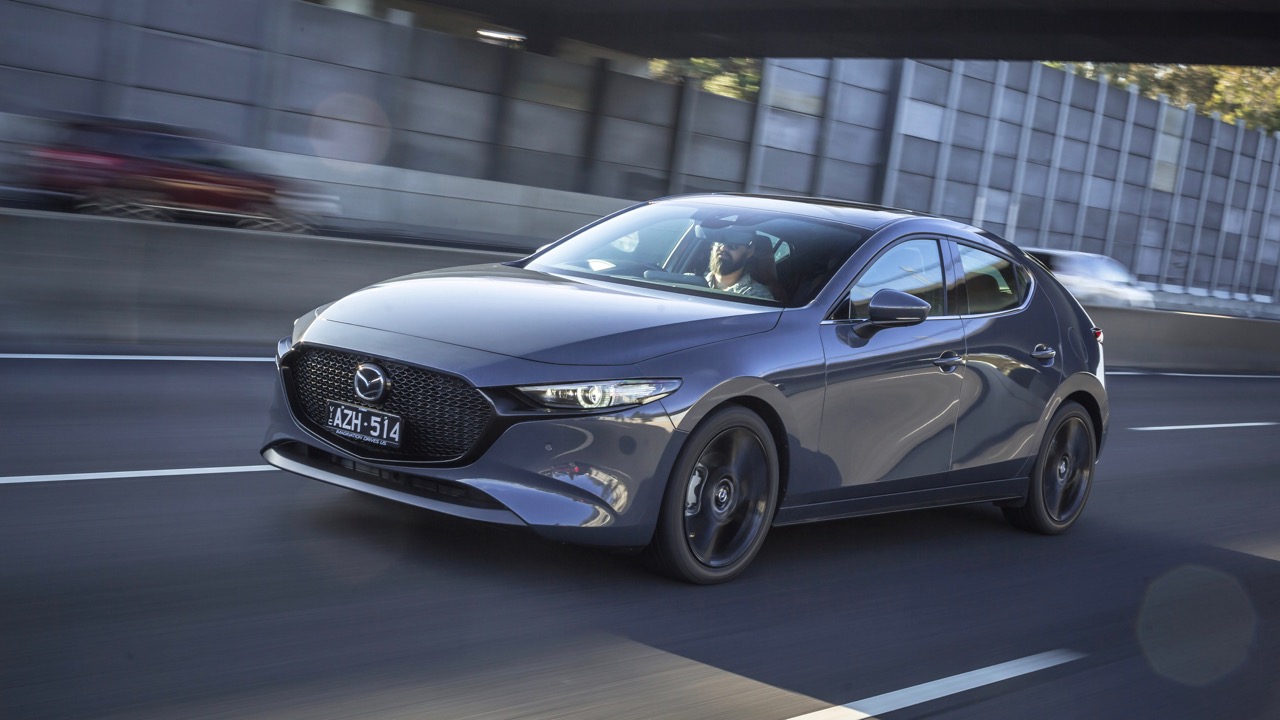 Sensible cars for the masses shouldn't look this good. Australian private buyers – the ones not dining out on cut-price fleet deals – buy more Mazda3s than any other car, so you'd expect them to resemble four-wheeled whitegoods, albeit practical and value-packed ones, especially in affordable G20 Evolve trim.
The new 3 tears up that script. In the metal, the new hatch looks low, contoured and blissfully pure, almost completely eschewing the sharp character lines that pervade most modern car designs. The sloping roofline leads into those bold C-pillars (you won't have missed them), and into a wide, squat rear end with surprisingly endearing gloss black lower bumper. Dress it in signature Soul Red Crystal paint, and this thing should be flouting its curves poolside on its own Insta account.
Please note that the photographs in this review are of the G25 Astina grade, reviewed separately. Photography of the G20 Evolve was not ready by the time of publication. It visually differs mainly by its grey-coloured alloy wheels and cloth interior.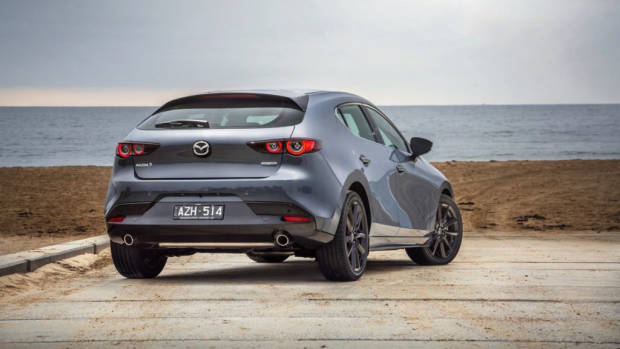 Objects of desire rarely come cheap, and Mazda's substantially bumped the entry fee to 3 ownership. Gone is the $20,490 Neo Sport: the new start line is $24,990 for a G20 Pure with manual gearbox.
On paper this sounds a risky business move, but Mazda insists it's simply giving the private buying market what it wants. "We're focusing on where 90% of buyers are already, and that's looking for features and value," said Vinesh Bhindi, Mazda Australia's MD. "The only thing we've not done is bring in an entry level. It was never a big seller in the current model Mazda3, or the one before."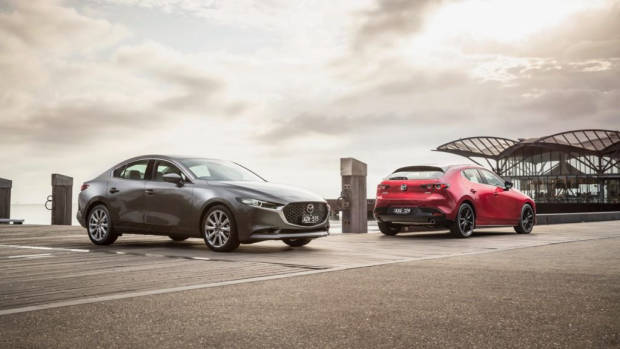 Can't fault the business case then, and it means even the cheapest of new generation Mazda3s looks and feels high class, and there's little compromise on standard kit, be it safety, convenience or toys.
There are six Mazda3s offered – G20 Pure, G20 Evolve, G20 Touring, G25 Evolve, G25 GT and G25 Astina – the G20s using a 2.0-litre naturally-aspirated four-cylinder and the G25s a 2.5-litre equivalent. As before, not a turbocharger to be seen.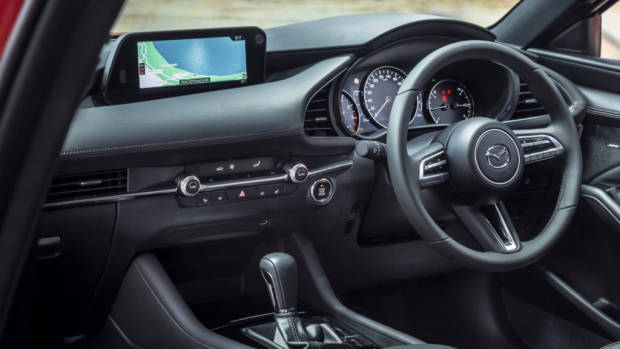 So loaded are the cheaper variants that Mazda believes 55% of total sales will be of G20 Pure and G20 Evolve, the latter accounting for 30%. Arguably then, this one's the most important model in probably the most significant new car launched in Australia this year.
As I experienced on a pre-launch test in America a few months ago, the new Mazda3's a huge leap forward in nearly every department. Mazda's calling it a landmark car; the first in a new generation of vehicles seeing a big step up in quality. It's not just sales talk. This is a quality-rich, impressively executed small car, which is truly joyous to drive in most circumstances.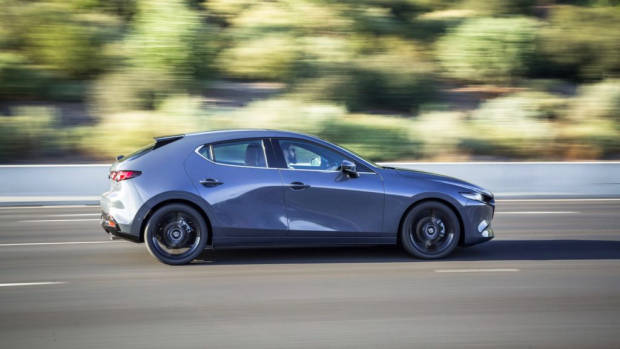 The ride comfort often reminds of an executive sedan – truly – and combined with giant strides in reducing noise, vibration and harshness (the Mazda3's hitherto perennial weak points), it's as if the model has swiftly announced itself as a segment leader in this department.
My daily driver is a Volkswagen Golf Mk 7.5 – one of this Mazda's key rivals, and the benchmark small car – but the driving position, quality feel of the cabin surfaces and overall functionality have me reluctantly afmitting the Japanese may have aced the Germans here.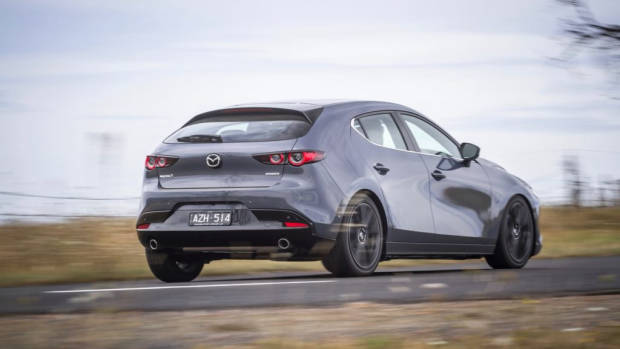 The new Mazda 3's steering is sublime, the highway cruising is a hushed treat and point it on a twisty back road and take charge of gears through the paddle shifters and there's genuine driving joy to be had.
Once you find your ideal seating position the steering wheel rests gently in the hands, reflecting the perfect driver-centric layout where your elbows rest on padded surfaces for your arms to sit at a relaxed angle.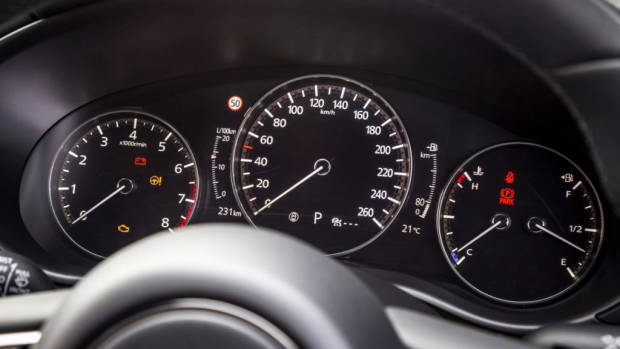 Throw the 3 at some twisties and there's no fidgeting in the seat, no minor adjustments to be made. It means steering effort is easy and you soon place the car with laser accuracy in the turns, with rarely any need for correction. The car communicates well through the wheel and the seat of your pants, showing off the new 3's exceptional balance. It's fun, safe to push to its grip limits and happily flows through directional changes. Kudos to the engineers for replacing an independent rear suspension small car (previous gen Mazda3) with a torsion beam rear in the new car, and make it an even more competent and fun steer.
But, you knew there had to be a but. Because the rest of the car feels so advanced on the engineering, layout and comfort fronts, you can't help but expect the engine to be as cutting edge as the rest of the package.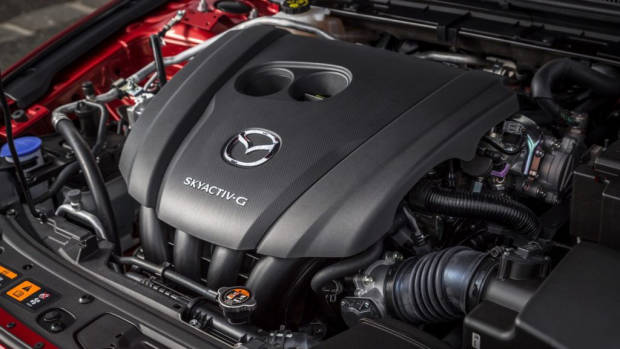 This Mazda 2.0-litre four-cylinder was first introduced by in 2012, and although it's been updated and improved since then, it feels like an old solider trying to keep up in a very modern battlefield.
It's not a bad engine. Far from it. But we're so accustomed now to low capacity turbocharged petrol engines in our small cars these days – some with hybrid backup – that the Mazda3 in G20 form with non-turbo 114kW and 200Nm stands out as a safe, even dull choice.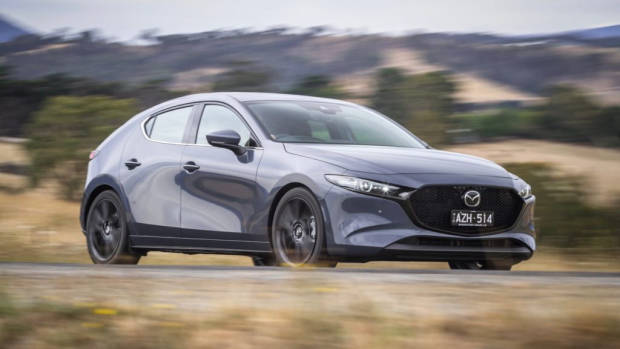 If Mazda3 buyers care about engine response and performance they'll no doubt target 2.5-litre G25 models, but the cheapest of these with auto gearbox (as 90% of shoppers buy) is $30,490 before on-roads for a G25 Evolve. Not inexpensive.
Plucking a few key rivals around the $25k mark, the VW Golf 110TSI Trendline ($25,290) offers 110kW/250Nm; the Toyota Corolla Ascent Sport Hybrid ($25,870) has 72kW and 142Nm from its petrol engine plus 53kW and 163Nm the electric motor; the Hyundai i30 2.0 Elite ($27,790) has 120kW/203Nm; and the Ford Focus Trend ($25,990) 134kW/240Nm.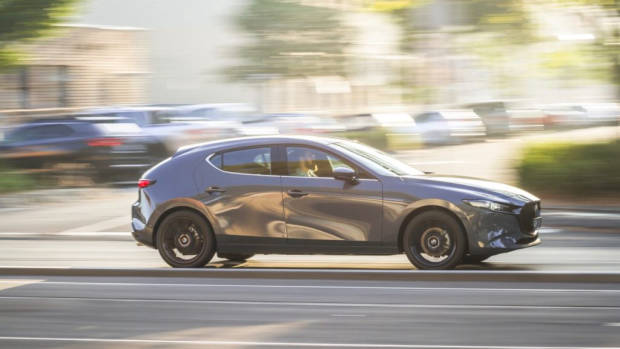 Hyundai aside, the Mazda3's torque looks wanting in such company, and low down torque is exactly what is supposed to give these small cars their zippy, responsive feel so appreciated in urban drives.
The Corolla shoots off the mark with its instant electric helping hand, while the Golf's full 250Nm arrives at 1500rpm and holds on to 3500rpm, while all the Focus's 240Nm is there from 1750rpm to 5000rpm. The Mazda3's full 200Nm doesn't arrive until 4000rpm, so, like the non-turbo Hyundai i30, this car lacks the off-the-line zest of some rivals.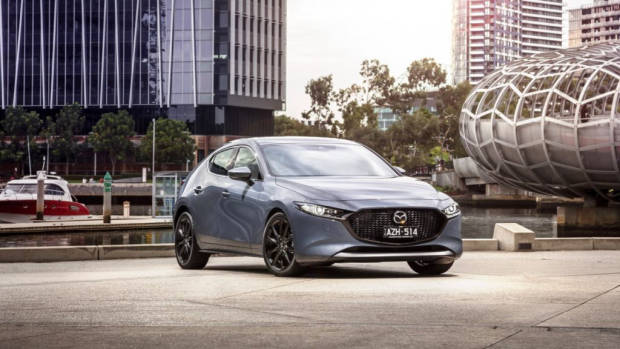 Pulling out of junctions or roundabouts, the Mazda's 2.0-litre takes too long to respond via the six-speed auto transmission, and when it drops a cog or two on uphills the four-cylinder can feel overworked and revvy.
Taking charge through the paddle shifters – and shifting into Sport mode – wakens things a bit, but with the rest of the drive experience being so serene, the engine's lack of guts can't help but stand out. The brand's intriguing SkyActiv-X petrol engine (due by year's end) is sure to address this, but will realistically only arrive for the flagship models.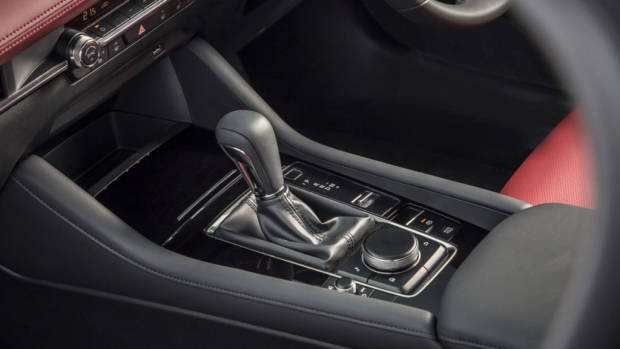 Would a manual gear shifter help the 2.0-litre? Almost certainly, and Mazda knows how to make a slick do-it-yourself cog swapper. None were available on my test sadly, reflecting the minimal take up of three-pedal cars.
Other grumbles include a small-ish rear seat and boot for the class, and rear visibility hampered by that C-pillar design and small rear glass (a fair compromise for the beautiful design). And while it's great that radar cruise control is standard on even the cheapest Mazda3, the system struggled in a few circumstances.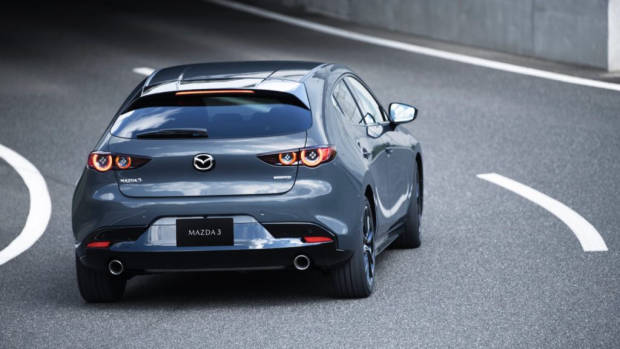 Setting it to 80kmh on a winding road, the roadside barriers seemed to confuse the radar, and it would suddenly brake firmly, no doubt thinking it was an obstruction ahead. With the corner dispatched, it would try to return to 80kmh from 55kmh too quickly, overwhelming the engine with revs to disturb the cabin's quiet. It suffered to a lesser extent on the highway, but still braked and accelerated the car in fast flowing traffic in a far from seamless manner.
Back to the good stuff. The standard kit illustrates the value in this one-up from entry-level model. As with the G20 Pure, it features an 8.8-inch widescreen colour display with Apple CarPlay/Android Auto and in-built navigation, a 7-inch TFT LCD multi-info display, head-up display with digital speedo, navigation instructions and speed sign recognition, keyless entry and start, electric park brake, rear park sensors, dual zone climate control with rear vents (entry level misses out on these), metallic grey 18-inch alloys and leather wrapped steering wheel and shift knob.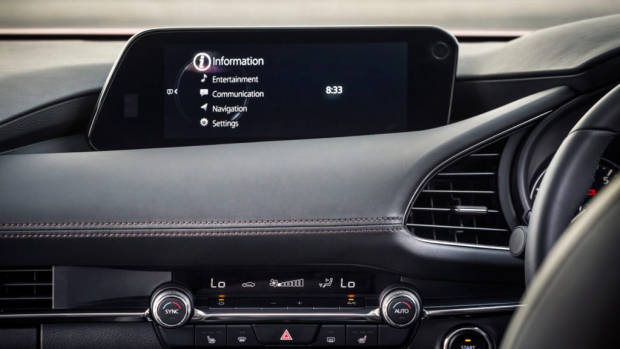 Active safety is deep, too. Blind spot monitoring, auto emergency braking front and rear, driver attention alert, emergency stop signal, forward obstruction warning, lane departure warning, lane keep assist (over-nannying on occasion), traffic sign recognition and rear cross traffic alert are all standard range-wide.
Yes the Mazda3 prices are up, but you can't fault the value seen with such impressive inclusions. It's becoming a familiar strategy, too. The recently launched new Toyota Corolla and Ford Focus have gone big on standard inclusions and dropped the $20k entry-level models, chasing higher-spending private shoppers.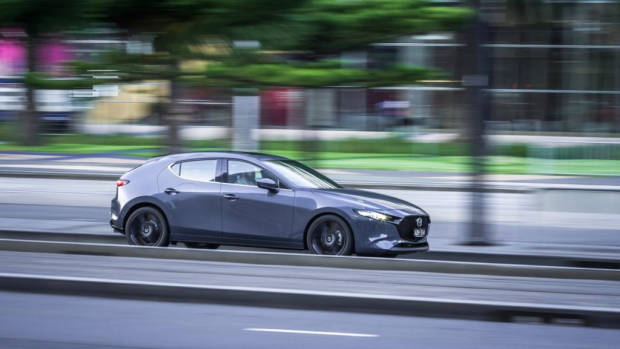 Is the Mazda3 G20 Evolve value for money? With the auto gearbox adding $1000 to the asking price it's $27,690, plus $495 for desirable premium metallic paint (like the hero Soul Red), and then your on-roads. Easily a $30k purchase then. There's value there, but we have to be realistic and accept the difference between a $25,000 on-the-road purchase and a $30,000 one will exclude a chunk of buyers.
If you can afford the entry fee, the new 3's premium cabin materials, quiet, accomplished and dynamically excellent drive, plus lengthy standard features justify such money. This is a very good car indeed, and feels just a punchier engine away from outright excellence.