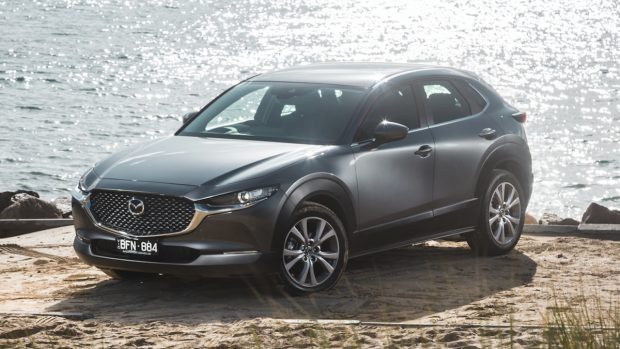 It's one of the most anticipated SUV launches of 2020. The Mazda CX-30 – a goldilocks arrival parachuted into the gap between the popular CX-3 small SUV and CX-5 mid-sizer – is a crossover that will fit Australian upsizers and downsizers alike.
Expect to see a lot more of this in-betweener size, with 'big small SUVs' increasingly popular among buyers, for good reasons. Cars like the CX-30 promise to be easy to park in the 'burbs, but big enough to hold their own on highways and rural lanes.
The Japanese brand predicts about 800 sales per month of the CX-30 – most of those sales will be from outside the brand, but Mazda naturally expects some cannibalisation, with the CX-30 predicted to pinch some sales that would have gone the way of the pint-sized CX-3 that offers fun handling but an especially small boot.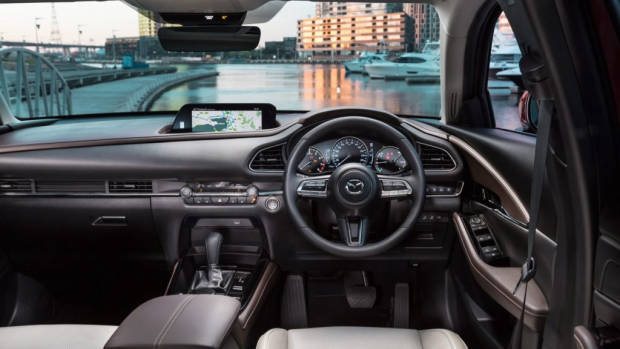 Mazda's new baby goes some way to correcting the CX-3's flawed packaging, with a boot that is closer to being class-competitive and a back seat that is almost as roomy as that of the larger CX-5 that is a perennial favourite in Australia.
A four-strong range is capped by the G25 Astina ($41,490, $45,288 driveaway), which offers a near-luxury experience with an amazingly plush cabin for a mass volume brand, along with a decently strong 2.5-litre 139kW/252Nm four-cylinder petrol engine and a particularly well-sorted chassis that makes the CX-30 pretty fun to drive.
The CX-30 is Mazda's fifth SUV badge – but while all of their crossovers share a familiar design, the new arrival is closely related to the latest Mazda 3 small car which hit our shores last year.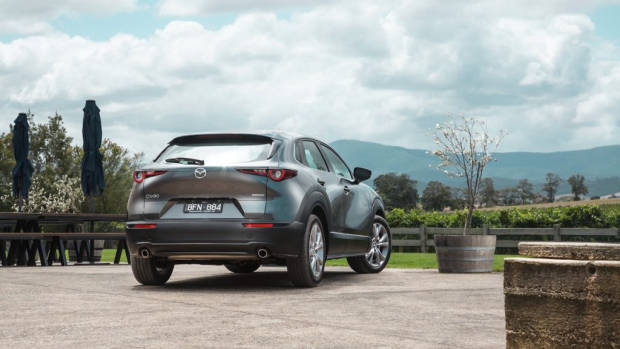 Both ride on a new, more expensive platform and score very similar interiors. As an SUV, the CX-30 rides higher but it also offers a more plush and compliant suspension tune that actually makes it a better fit for Australian roads than its hatchback and sedan siblings.
Like Mazda's 3, the CX-30 has also received copious attention to detail in the refinement department, with sophisticated strategies deployed to minimise road noise, engine harshness and vibrations. Indeed, it's a very quiet, smooth vehicle – except when the engine is revved right out.
Unlike the forthcoming Volkswagen T-Roc 140TSI, the CX-30 runs without a flagship engine at launch. The two four-cylinder petrols offered – the 114kW/200Nm G20 (from $29,990, $33,433 driveaway) and 139kW/252Nm G25 (from $36,490, $40,138 driveaway), are naturally aspirated and feel only adequate – particularly the slightly breathless G20. The G25 will suit most people's needs but it doesn't thrill. The six-speed automatic is, however, very well-tuned. A new engine, dubbed Skyactiv-X, arrives in late 2020, though this unit is more focussed around efficiency than performance, as we discovered when reviewing it last year.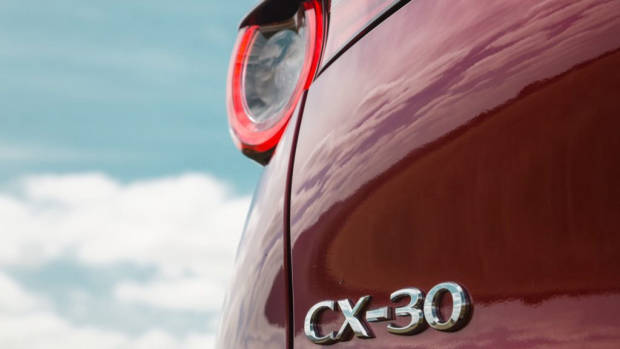 It is also clear that Mazda's engineering team is operating at an extremely high level by the way the CX-30 traverses an Australian country road. A compliant but controlled ride joins feelsome, mid-weighted steering and a deftly tuned stability control system to create a very pleasant driver's SUV. All-wheel-drive will be optionally available for $2,000 extra on G25 versions from next month.
Four people will be comfortable – though five will fit at a pinch. Up front is where you want to be, though, given the CX-30 is the second Mazda to deploy the company's new premium-pitched cabin. Incredibly plush and opulent for a vehicle only a touch over forty grand, the CX-30 Astina grade competes with entry-level luxury cars and beats many on how special it makes you feel.
The option of white leather may not be a durable choice, but it looks great and sets off the soft brown hues of the dashboard and doors nicely. Lower-end grades score blue trim and black cloth seats – and all CX-30s benefit from thigh angle adjustment, which is key for supporting the legs on long drives. Astina grades benefit from electric adjustment, memory for the driver, and front seat heating.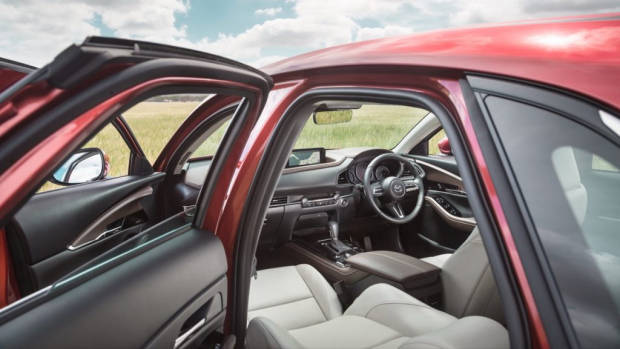 Technology is smartly integrated into the cabin by way of an 8.8-inch display that is not touch-sensitive – instead, Mazda use an iteration of the rotary controllers familiar from BMWs. It works safely and easily. Navigation, DAB radio, and wired Apple CarPlay and Android Auto are necessary conveniences, and are included. The Astina's Bose stereo is crisp and clear.
The back seat is almost as spacious as the larger CX-5, showing Mazda is quickly improving their interior packaging skills. Legroom, toe room and head room were all adequate for this six-foot tester, while the inclusion of air vents is appreciated in a hot country like Australia. That said, the CX-30 misses the CX-5's rear-seat USB charge ports, indicating that for most, this smaller crossover will be a car mainly for couples.
The CX-30's 317-litre boot is far from class leading – the figure is lower than those initially reported due to Mazda Australia's selection of the larger of two space-saver spare wheels for cars arriving locally, eating up the Euro-spec version's under-floor storage.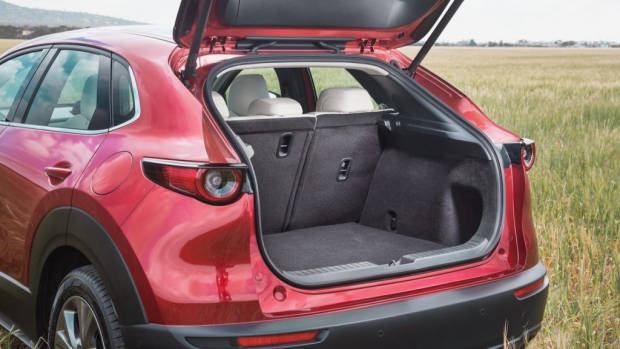 Safety equipment is generous: all cars have forward and rearward autonomous emergency braking, lane keep assist, blind spot monitoring and rear cross-traffic alert – while the Astina benefits from extras like front cross-traffic (junction) alert, better lane tracing capability in traffic jams, and a 360-degree parking camera. However, you can have the Astina's additions on lower grades for $1,500.
A five-year unlimited kilometre warranty and reasonable servicing costs of about $340 per annual (or 10,000km) visit make the CX-30 a better ownership prospect than some rivals – especially entry-level luxury SUVs that have shorter warrantied periods.
Some may think that Mazda now have quite a few SUVs – and they'd be right. However, the CX-30 feels like the right fit for Australia right now: it's well-sized for the city, yet big enough to park easily. It's a delight to drive on a great backroad, too, even if we can't help but pine for a lustier turbocharged engine.
Correction, 10 February 2020: the linked video above states that the CX-30 Touring grade has black cloth upholstery. It does not. The Touring grade is fitted with black leather.