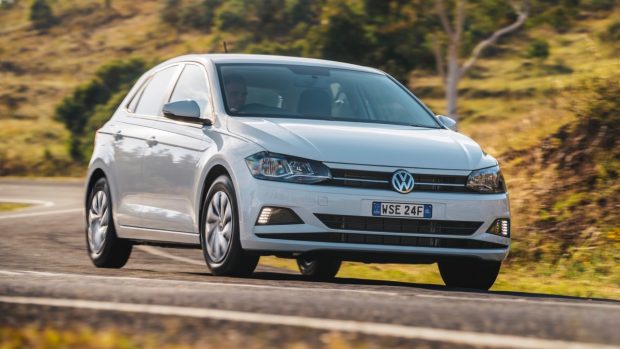 Living in the shadow of a talented older sibling can be hard – just ask the Volkswagen Polo. The Polo is a well-regarded, successful city car, but VW's entry-level model in Australia has never equalled its all-rounder big brother, the Golf, for caché, critical praise, or sales. But while the Polo has never overwhelmed the Golf's position at the first choice of Australians seeking a premium small car, in its 24 years on sale in Australia, the Polo has developed true appeal of its own, encasing many of the Golf's fundamental skills in a lighter, more lithe frame.
There's a new Polo for 2018, but the recipe stays the same: the sixth-generation Polo remains a deeply gifted understudy of the Golf. That's high praise, especially given an entry-level Polo 70TSI, at $17,990, costs $5,000 less than the bottom-tier Golf. The Polo Mk 6 shares many of the Golf's best attributes: compact, muscular turbo engines, athletic handling and class-leading refinement. Many of the similarities are accountable to the sixth Polo's adoption of Volkswagen's modular MQB chassis that also underpins the Golf, Passat, Tiguan and many other Skoda, Audi, and VW cars.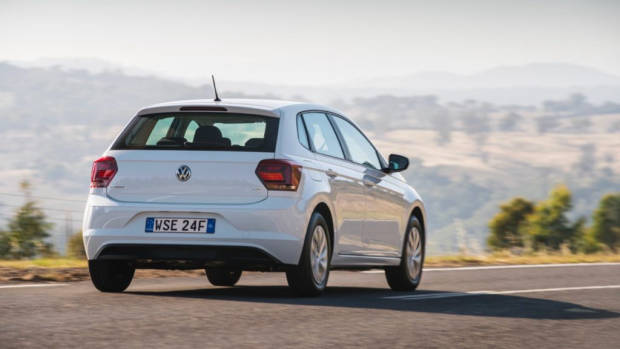 Those shared underpinnings have allowed the Polo to grow larger and stronger without putting on any weight – its gym programme has worked marvellously. Outside, the Polo has grown about eight centimetres longer and wider – it's bigger than the Golf was 15 years ago. Inside, it's basically as roomy as a Golf was just six years ago. The new chassis is 28% more rigid, and as the numbers would suggest, on the road it feels solid and stiff and, well, Golf-like.
While it takes many cues from the Golf and its other Volkswagen siblings, the Polo refreshingly goes its own way in interior design, as the first model to usher in a new era of VW cabins. The touchscreen is no longer buried below eye level – the Polo's standard eight-inch screen sits next to and in line with the driver's instruments, while the climate control vents are shifted beneath the screen. What results is a setup that is safer, placing the key technology closer to the road – and also one that is more visually cohesive and attractive.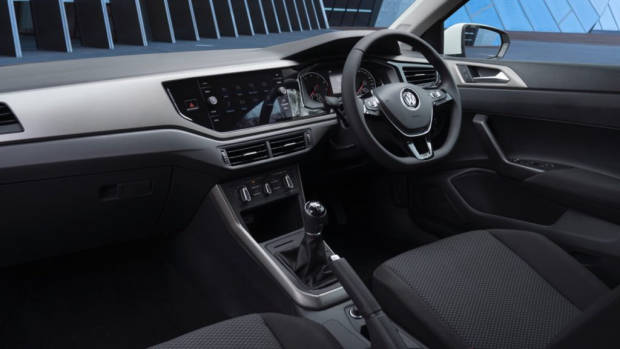 That this eight-inch screen is standard kit is a boon for Volkswagen Australia – overseas, this is the premium option replacing a 6.5-inch iteration. There is no integrated navigation as yet, but Apple CarPlay and Android Auto are included, while Volkswagen's own menus are easy to navigate. VW's Active Info Display digital gauges will be available later on – this replaces the analogue instruments with a high-res screen – but we don't expect this until July, on higher-end R-Line and GTI models. Including two USB ports is smart – too many cars targeted at youth pack just one. Who wants to share?
Comfortable seats are included from the base Trendline upwards. There is no adjustable lumbar in either of the two models available at launch, but the basic seat design is supportive enough for a few hours behind the wheel. Infinite backrest adjustment on both seats, plus a rake-reach adjustable steering wheel mean you can get into a decent driving position; impressively, both front seats are height adjustable. The lack of climate control is a little unusual, though moaning about manual air conditioning feels a bit first-world-problem.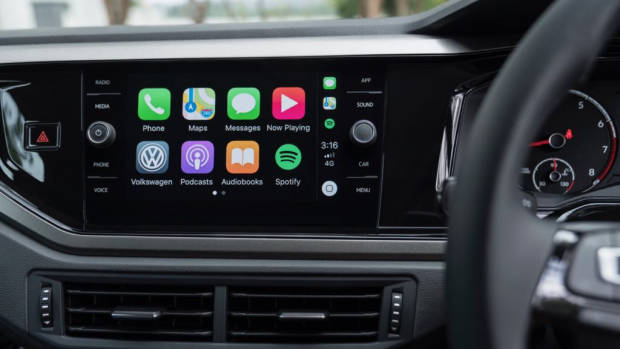 Like the Golf, the Polo sees critical interior touch points covered in tasteful materials. The cloth on the seats isn't bad; the creamy leather steering wheel and gear shifter are best-in-class. The dash top and most higher-up centre console facings are made of soft-touch plastic, but the entirety of the door surface is hard plastic – this is still a cheap car, at the end of the day. Sadly, in the back seat, there isn't even a soft armrest on the doors – which is a shame, because the back seat is now far more usable, with adequate headroom and legroom for two six-footers. The boot is now much larger, with the 351L behind the back seats more than some cars from the class above, like the Mazda 3 or Kia Cerato.
Not so Golf-like are the engines found aft of the Polo's slabbier, more handsome front-end. Four-cylinder power has been ditched in favour of a 1.0-litre three-cylinder turbo petrol. Doesn't sound like much, but as Volkswagen have done time and again, the modest engine punches way above its weight. In either entry-level 70kW/175Nm or high-spec 85kW/200Nm tune, the three-pot is very tractable and torquey and near-silent until 3,500rpm, after which it emits a quiet, entertaining thee-pot thrum and pulls to redline. The 7-speed DSG is expensive at $2,500 but is the best gearbox for extracting the most from these little engines; the 5-speed manual tested in the 70TSI is fun to row but the Polo falls off boost easily with a stick.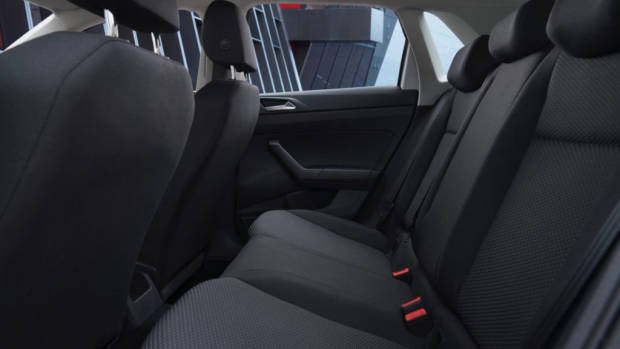 Straight-line pace is adequate, but not rapid – 70TSI models sprint to 100km/h in 10.8 seconds, with the 85TSI cutting that time to 9.5s. Where the Polo dynamically impresses the most is when it's shown a series of corners. Weighing in at just 1,111kg in 70TSI manual form, the Polo is very light on its feet with a particularly keen front end that is happy to be thrown into corners at eight- or nine-tenths, with understeer creeping in very gradually; the stiffer chassis has dramatically reduced body roll. The steering is moderately quick and mid-weighted. Like many Volkswagens the Polo strikes the right balance between being easy to drive, while offering something more to the keen driver to exploit on the right road.
Such a light weight combined with frugal three-cylinders means the Polo sips fuel; the 70TSI manual is rated at 4.7L/100km, while the 70TSI and 85TSI automatics are rated only marginally higher at 5L/100km. The Polo is so light and deft that it demands little of its tyres, and our tester's skinny Continental ContiPremium rubber – 195mm at the rear, 1855m at the front, performed fine on a spirited run through the Adelaide Hills. It's just a shame that when it comes time to throw out an anchor, the 70TSI makes do with rear drum brakes. The 85TSI, on the other hand, receives discs at all four corners.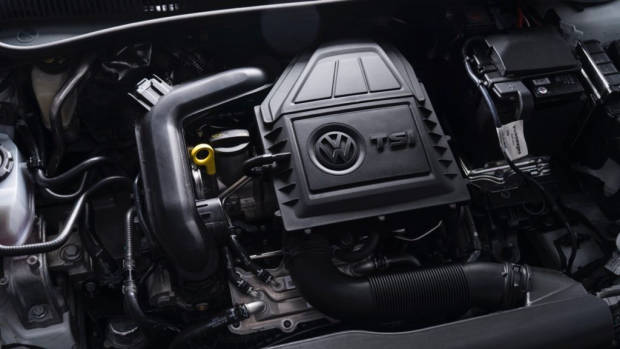 Where the Polo pulls ahead of most of its light car rivals is in the inherent refinement obvious in the ride quality. While big cracks in urban roads reveal firmer-than-necessary damping, the Polo is pliant and comfortable over most surfaces. The Polo is fairly quiet over coarse chip surfaces. Plus, there's a solidity to the driving experience and build quality of most parts that belies this car's modest entry price. And yes, that includes a reassuring German thunk to the doors.
The Polo isn't the cheapest car in the city car segment, and some other cars have more equipment – but the Volkswagen has acceptable kit levels, and a quick drive reveals that you really do get what you pay for here, with a depth of engineering talent evident that eclipses every other light car.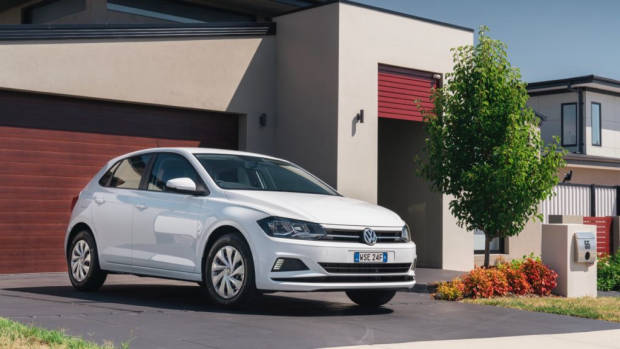 The range starts with the 70TSI Trendline manual at $17,990 drive-away – which includes autonomous emergency braking, a crisp eight-inch touchscreen with Apple CarPlay and Android Auto, two USB ports, six speakers that sound pretty good, cruise control, tyre pressure monitoring, and limestone grey interior trim highlights. Swapping the five-speed manual out for a seven-speed DSG automatic is a bit steep, at $2,500.
The 85TSI Comfortline is a $1,500 upgrade from the Trendline. It sees power and torque increased to 85kW/200Nm (from 70kW/175Nm) with a six-speed manual, swaps 15-inch steel wheels for alloys of the same size, and adds some chrome garnishing inside and out. Plus, you get an armrest between the front seats, which sport upgraded cloth trim, automated lights and wipers, and illuminated vanity mirrors. The auto remains a $2,500 option.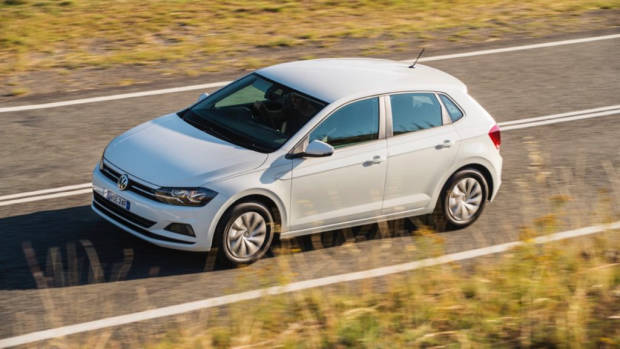 A $1,400 Driver Assistance Pack can be added to the Comfortline, which adds big-car safety technology features like adaptive cruise control, blind spot monitoring, rear cross-traffic alert, automated parking assistance, and power folding mirrors. That takes the price of an optioned-up 85TSI Comfortline DSG to $23,390 – or $100 less than a base-model Golf with fewer safety features. On the Volkswagen showroom floor, undoubtedly many buyers will debate whether they value the Golf's increased size and long-distance comfort over a high-grade Polo's additional creature comforts.
At launch, there are also 400 Polo Mk 6 Launch Editions available ($20,490 manual, $22,990 auto) for that adds wireless phone charging, bigger 16-inch alloys, tinted rear windows, front fog lights, and LED tail lights. Around July, more expensive Polos will arrive in at least three forms. There will be a sporty-looking R-Line model, a Beats edition with a high-end stereo, and the Polo GTI, which gains a 2.0-litre turbocharged four-cylinder producing a stout 147kW/320Nm. With impressive bones on the three-cylinder, the Polo GTI will be something to look forward to.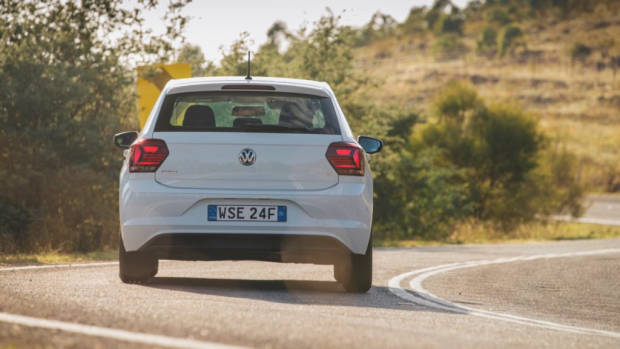 Rather than being a light car revolution, the new Polo is an evolution of the skillset of the outgoing car. It's a bigger, more practical thing, although Volkswagen's smallest car offered here remains smartly city-sized. We welcome the addition of additional safety technology, and the pleasant driving dynamics, led by a refined three-cylinder engine and engaging handling, reveal the depth of engineering that underpins the Polo. Paying a little more for a Polo over a Mazda 2, Hyundai Accent or Kia Rio makes sense. Bigger, better and innately premium-feeling without a truly premium price, the new Polo moves the light car benchmark forward.