Despite recent numbers showing new car sales are becoming a little weaker in this country, Australians just want to have fun – and along with SUVs, interest in hot hatches isn't waning. Having one hot hatch in your range is good; two is better; but three sporty small cars is an ideal situation. That's where Volkswagen is at – with the recent arrival of the sixth-generation Polo in GTI form, the just-off-the-boat refresh of the Golf GTI with more power, and a louder, meaner Golf R Special Edition in dealers from this weekend, there's plenty of choice if you're keen on a quick five-door Vee-Dub.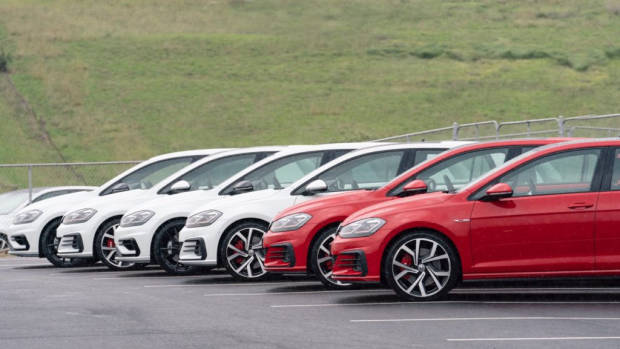 In isolation, each of these cars are really good – you can see our standalone coverage of the Polo GTI here, Golf GTI here and Golf R here. But how does the trio compare? The only real way to tell is immediate back-to-backing in a controlled environment. So that's what we did.
When:
November 2018.
Where:
Luddenham Raceway's new Class C circuit, a short and technical 1.4km loop with 22 metres of elevation change and a unique 'forkscrew' system – near Badgery's Creek in Sydney.
Weather:
Consistent light rain all day, moist to wet surface.
What we drove:
2019 Polo GTI with Luxury Package, Sound and Vision Package (18-inch wheels, 215/40 Bridgestone Turanza tyres) – $37,290 as tested, $42,072 driveaway
2019 Golf GTI with Luxury Package, Sound and Style Package (19-inch wheels, 225/35 Pirelli P Zero tyres) – $51,690 as tested, $57,088 driveaway
Polo GTI
Working our way up the pace spectrum, we kicked off in the morning with the Polo GTI. The smallest of the VW Performance range, the Mk 6 Polo launched earlier in 2018, followed in recent months by the GTI. Significantly, the Polo GTI has been given the same base engine as its Golf GTI and R siblings – the familiar EA888 two-litre turbo four. In this application, outputs are 147kW/320Nm.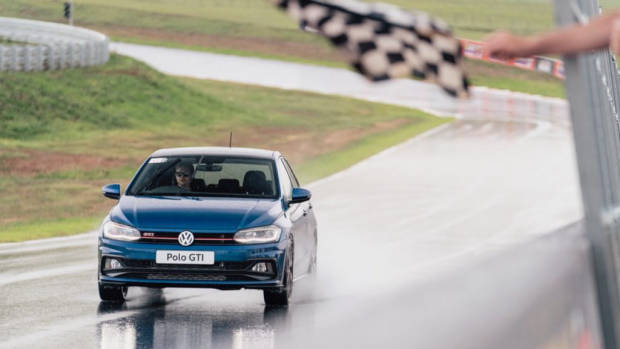 Certainly, the fastest Polo feels beefed-up: the old car used a rorty 1.8-litre turbo producing 141kW/250Nm. 28% more torque in the two-litre is plenty, and you certainly notice it surging from corner to corner at Luddenham. The Polo isn't outright fast but it is pacey, and the EA888 has plenty to give.
What's immediately noticeable about the Polo GTI's performance is that it's really characterful: there's good mid-range shove, but you have to keep this car on the boil. That'd be really easy in a manual but only a six-speed DSG automatic is on offer at this point – a shame. Left in Sport mode it's usually fine on this track, though exiting the final corner onto Luddenham's short straight, the Polo's self-swapper occasionally didn't have a gear at the ready.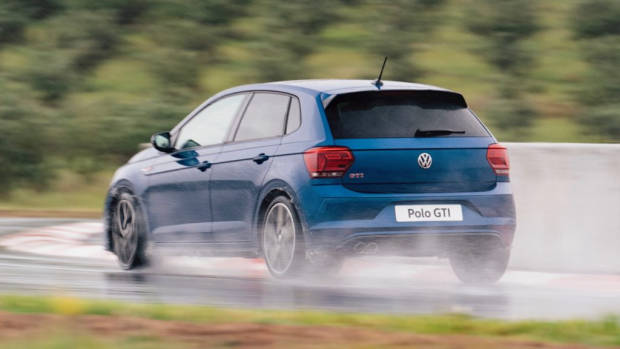 But the character extends to the Polo's exhaust, which is actually the best in this comparo – even better than the Golf R's vaunted Akrapovic titanium system. Rumble, rasp, crackle and pop – the Polo has it all out of the box, especially if the gearbox is in Sport. We love it! The Golfs need to be infused with this sort of exhaust flavour, at least for their Mk 8 iterations in future.
Handling-wise, the Polo is capable and fun, but you do need to be patient. The optional Luxury Package is a worthwhile upgrade for those that want to regularly drive in anger – the Bridgestone Turanzas and higher-profile 18-inch wheels do yield grip benefits. And this thing is grippy…if you don't get greedy. Push too hard into a tightening-radius corner and there's plenty of tyre judder and understeer. Gently transfer the weight and keep the tyres within the limits of grip and it's happy days.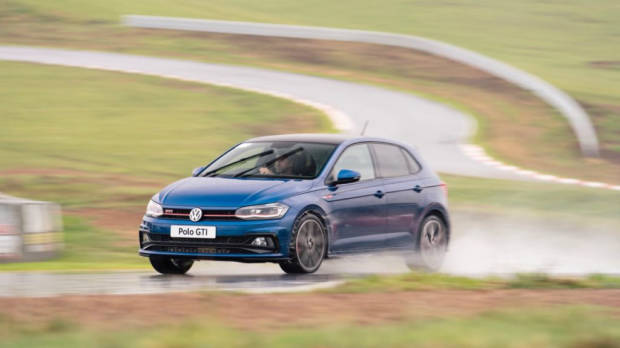 In light of the Golfs moving into faster, more sophisticated hot hatch territory, it's pleasant that the VW Performance range still includes a car like the Polo GTI. Yes, it should have a manual, but in other aspects, this is something of an old school hot hatch. There's plenty for the driver to do – the open diff requires patience, only moderately sporty tyres means fast cornering requires a deft touch and you have to make the most of the engine's grunt in this light little hatch to keep lap times down.
The right-spec Polo GTI to buy: if you're not going to be tracking the car, the base grade on Michelin Primacy tyres is fine: $30,990 ($35,583 driveaway).
Golf GTI 180kW
2018 has been an interesting year for C-segment hot hatches. Volkswagen argue that the Golf GTI stands alone but the arrival into a performance-crazed Australian market of hatches like the Hyundai i30 N and the new Renault Megane RS is undeniable. The beautifully-balanced, 169kW Golf GTI needed a bit more power, and probably an LSD, to keep up. For 2019, it's received both.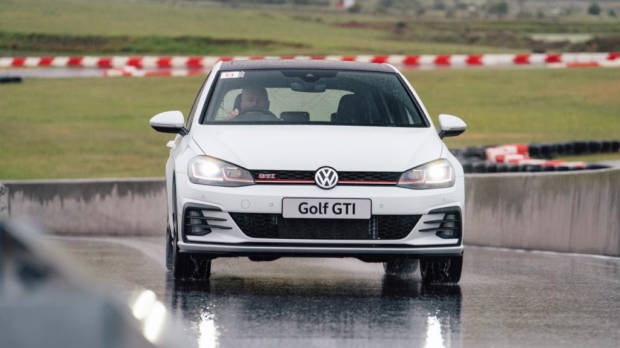 Enter the MY19 Golf GTI – outputs are up 11kW/20Nm to 180kW/370Nm. There's a mechanically locking, electronically controlled LSD on the front axle. 19-inch wheels and Pirelli P Zero rubber are on the options list. The manual is out for optimum speed and a strict point of difference to the manual-only i30 N. Altogether, the Golf GTI is a more serious, dialled-in car.
It's still a comfortable weapon: even on 19s the adaptively-damped Golf GTI has a plush ride and body roll is still a (positive) trait – you can roll the Golf GTI into corners and take effort off the P Zeros. On corner exit, though, the Pirellis have heaps of grip and they can actually use it – the LSD means inside wheelspin is evident for just a moment before being neutered. The extra grunt is evident and bend exit speed is way up on the open-diff MY18.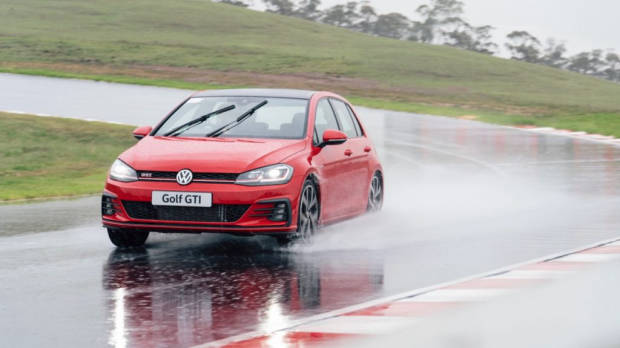 Thankfully, the Golf GTI hasn't thrown away its distinct advantage in this segment – lightweight chuckability. The back end is still frisky and both lift-off oversteer and booty-shaking induced under hard braking and hard turn-in are here, as they were in last year's car. The upgrades to the front end of the Golf GTI haven't prejudiced the lovely rear end.
Exhaust sound is still way too subtle, though. Perhaps the most notable thing the i30 N does better is being aurally delightful – cracks and pops aplenty. As mentioned above, the Polo GTI has more than a bit of this – so it's a shame those adjustments weren't made to the Golf GTI's twin pipes. It doesn't sound bad, it's just too quiet.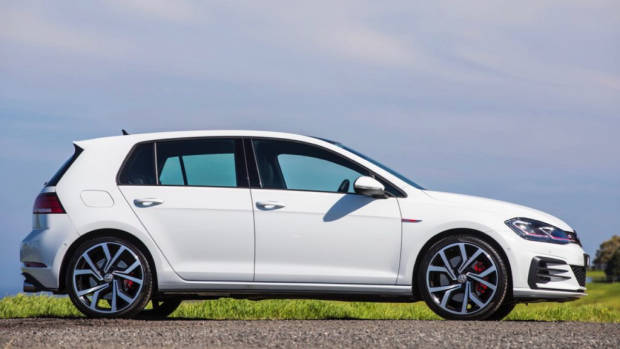 As ever, the Golf's driving position still feels a little high and we do wish that the GTI's standard tartan seats could be upgraded to electric adjustment – the leather pews on the Luxury Package-equipped cars we tested are great, but leather just isn't ideal in a hot country like this. I was cooking by the end of 10-15 hard laps.
The right-spec Golf GTI to buy: grab the Sound and Style package to upgrade to P Zeros and great-looking 19s – $47,490 ($52,993 driveaway).
Golf R Special Edition
Going into this comparison, I think the most hype was reserved for the Golf R Special Edition, which at long last, brings a number of super-desirable Euro-market Golf R options to Australia. The $61,990 R Special Edition ($67,903 driveaway) adds the gold-hued Akrapovic titanium exhaust system and 340mm x 30mm cross-drilled rotors for the front brakes – and it's absurdly underpriced in Australia, a great thing for buyers. In Europe, buying a Golf R in as high spec as the Australian car would cost $90,000.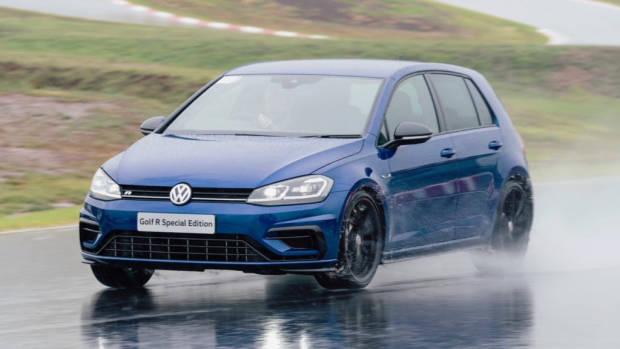 And it feels every bit worth $67,903. The Golf R Special Edition is a serious performance car with really nice shades of character. On track, the Golf R can play a straight bat (like it does on road), jumping from point to point like a scalpel. Push on, though, approaching the car's limits (and my own), and the Golf R becomes genuinely fun, extending just past the (high) thresholds of the Continental tyres and happily rotating on its rear axle. Drive it out of a wet corner on hard throttle and you feel plenty of drive heading rearwards, too.
Anybody that says a Golf R is boring just hasn't driven it hard enough. Thankfully, Luddenham's tight, twisty nature (coupled with more than a bit of water on track by the time we took a seat in the R) brings out everything the all-paw R has to offer. To say it's faster than a GTI here is an understatement: the 213kW/380Nm Golf R is even more able to get that power down and 20% more power counts for plenty. It's just a silly thing that Australia still doesn't get the 228kW full-fat version Europe does, as we're classified as hot climate. In reality, plenty of European regions are as hot as Australian coastal cities.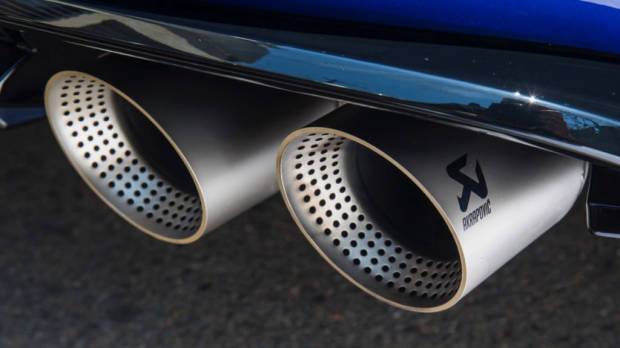 The Akrapovic exhaust is…worth the wait, I suppose. It's a lot louder than the standard Golf R (which solves the problem of overt subtlety), but it doesn't really add huge character. We didn't get much crackle or pop. It's zingy, and it looks cool, with the bronze-gold look to the quad pipes. Nice to have. The bigger brakes are the really noticeable thing. The R SE pulls up very smartly. Gloss black wheels, though? Surely that trend should now be over.
The right spec Golf R to buy: go the Special Edition – it'll be the best of breed Mk 7 R. You know you want to – $61,990 ($67,903 driveaway).
Our pick of the Volkswagen hot hatches
For us, the Golf GTI remains the sweet spot – though the Golf R is hugely capable and remarkably playful once you overcome its heroic limits, and the Polo GTI offers the driver plenty of things to manage, in a good way – the GTI strikes the right balance between the two, with beautifully enjoyable front-drive handling, a light mass so it remains chuckable, and nice upgrades to the grunt.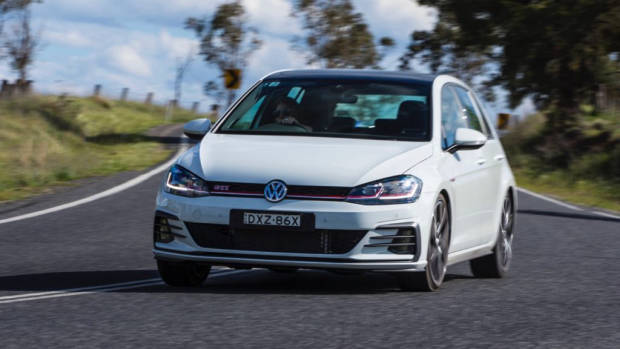 The only issue is that the GTI is getting up there in price now – as tested, this one is $57,088 driveaway! The base-grade GTI is honestly well-equipped enough but at $45,490, this translates to about $50,500 driveaway. Partially, that's because the manual is dead and so is the limited-run three-door 'GTI Original' form factor. The days of sub-$40,000 driveaway Golf GTIs looks to be in the past, at least for now.
With all three of these hot hatches offering benefits of their own, the real question is how much you'd like to spend. The Polo is a right laugh for its entry-level sports car pricing; the GTI remains the archetypal hot hatch despite some pretty significant price creep; and this final, best-of-breed R has a lot going for it. I encourage test driving all three.