Genesis Motors has debuted its first dedicated electric vehicle – the 2022 GV60 – via a global online presentation, a car that will become the first of three all-electric Genesis models to launch in Australia in 2022.
It marks the beginning of Genesis's ambition to "lead the electrification era" not only with electric vehicles but also fuel-cell vehicles, according to chief creative officer and chief brand officer Luc Donkerwolke.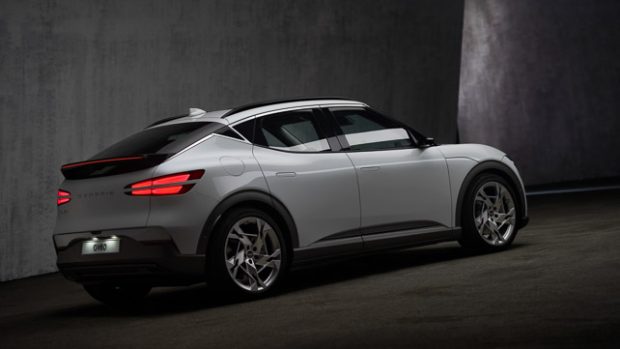 How far can the GV60 go, and how fast is it?
Underpinned by the same E-GMP electric-vehicle platform as the new Hyundai Ioniq 5 and Kia EV6 (though riding on a slightly shorter 2900mm wheelbase), the Genesis GV60 will be offered in three models when it launches in South Korea later this year before hitting all major markets next year – a standard rear-wheel drive, a standard all-wheel drive, and a performance all-wheel drive.
With each GV60 sharing a 77.4kWh battery, the standard RWD model features a 168kW/350Nm rear electric motor, giving it the longest range of any GV60 at 451km (a measurement based on Korean EV certification).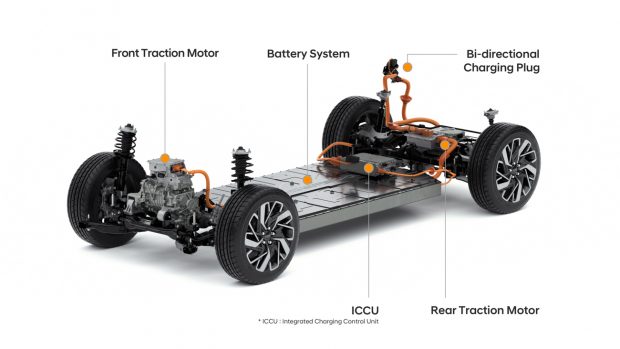 The GV60 standard AWD features a 160kW rear electric motor and a 74kW front electric motor for total outputs of 234kW and 605Nm, giving it a 400km range.
The flagship GV60 performance AWD boasts a 160kW electric motor at both ends, giving it a total power output of 320kW, maximum torque of 605Nm and a maximum driving range of 368km. Genesis says the performance model will feature no specific sports branding.
Courtesy of a unique 'Boost' mode – activated by a button on the steering wheel – the GV60 performance can increase its electric-motor outputs to 180kW for periods of up to 10 seconds, enabling it to smash the 0-100km/h sprint in 4.0 seconds.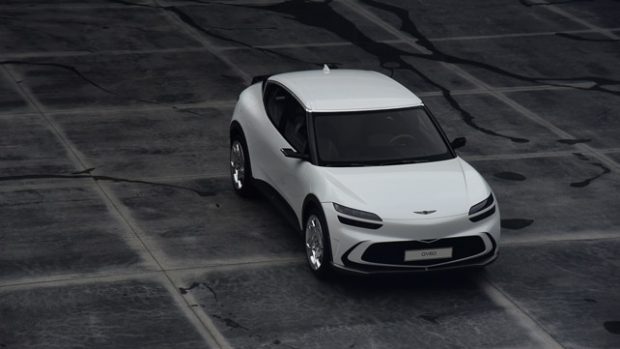 A 'Drift Mode' in an EV?
Genesis describes the GV60 as a luxurious EV, but it also wanted to provide the characteristics of a performance combustion engine – hence the 'Drift Mode'.
Activated by holding the car on the brake, selecting Sport mode, pressing the ESC button and then pulling both steering-wheel paddles towards you for three seconds, the GV60 distributes drive and braking to control to enable small steering-wheel angles to make the GV60 "easily oversteer", as per the GV60 in the launch video.
The GV60 also features electric Active Sound Design (e-ASD), which offers 'Futuristic', a "soft and sporty" option called 'G-Engine' and an 'E-Motor' sound, all of which play virtual driving sounds through the audio speakers.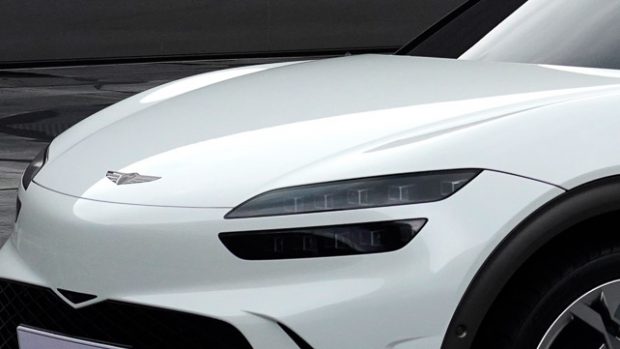 How long does the GV60 take to charge?
Using a 350kW ultra-fast charger, the GV60's battery can go from 10-80 percent in 18 minutes. Charging time using a regular charger has been reduced by increasing the charging capacity from 7.2kW to 11kW.
A battery conditioning function means the GV60 can preheat its battery in low temperatures, or shorten the charging time by adjusting battery temperature. Via the infotainment system, you can also optimise battery conditions while searching for a fast-charge station on the navigation.
A 400/800V multi-rapid charging system is able to boost the 400V supplied by the charger to 800V, for stable and rapid charging regardless of charging infrastructure.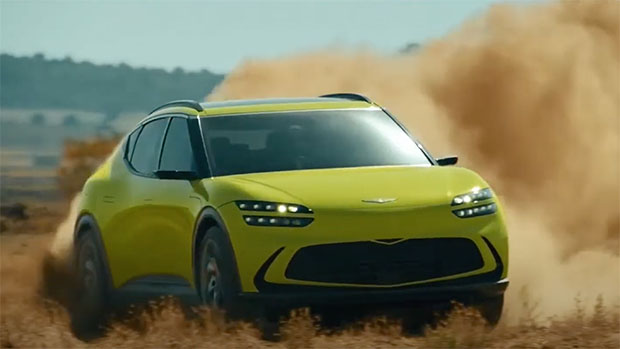 What makes the GV60 cool?
Several interesting design details make the GV60 a bit of a tech statement on wheels.
The first is 'Face Connect' facial recognition that works in combination with the pop-out electric door handles to allow keyless entry to the GV60 (though you can still use a digital key if you prefer).
You simply touch the door handle and a camera on the B-pillar performs facial recognition for up to two different drivers. It also remembers your seating position, steering, ventilation, head-up display and infotainment preferences.
Another super-cool feature that's also something of a safety feature is the 'Crystal Sphere'. This dome-like, mood-lit design piece covers the central rotary gear selector, and when the GV60 is started, it performs a barrel-roll rotation to reveal the selector itself.
Sustainable, eco-friendly and recycled cabin materials include seats, door armrests, console armrests, and crash pads made with plant-based leather, and seat covers and door trims featuring fabrics made with yarns extracted from recycled PET bottles and fishnets.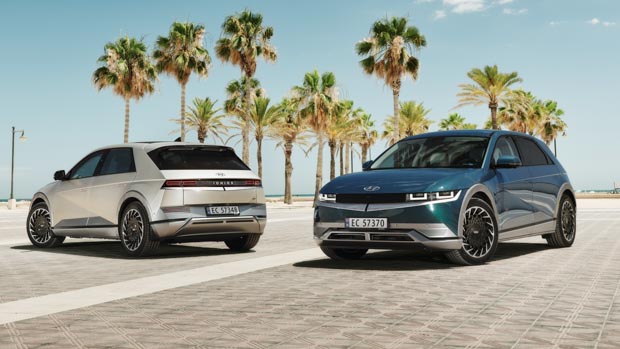 How will the GV60 drive?
Featuring the same suspension architecture as a Hyundai Ioniq 5 or Kia EV6, the GV60 features a four-link strut front end and a multi-link independent rear end, as well as rack-mounted electric power steering, an electronic limited-slip differential, and the ability to switch AWD models to rear-drive to conserve energy.
Intriguingly, much like a Mercedes-Benz S-Class, the GV60 is also available with 'Preview Electronic Control Suspension' that takes information gathered by the front camera and navigation system to prime the adaptively damped suspension for incoming hits such as speed bumps.
The GV60 also has the capability to accept over-the-air updates not only for its infotainment system and instrument cluster, but for its suspension, brakes, steering, driver-assistance systems and integrated vehicle control systems.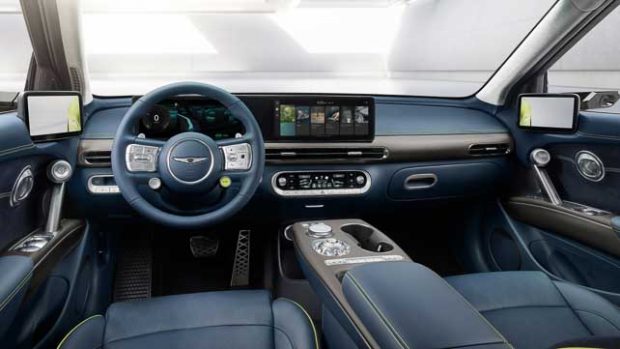 What are some of the GV60's equipment features?
To give it a youthful, modern flavour, the 4515mm-long GV60 will be available in four new Genesis colours – São Paulo Lime, Hanauma Mint, Atacama Copper, and Atacama Copper Matte.
Other GV60 colours include Vik Black, Uyuni White, Matterhorn White, Saville Silver, Carbon Metal, Melbourne Grey, and Royal Blue, making 11 in total.
Cabin colours include five different hues: Obsidian Black, Torrent Navy, Ash Grey/Glacier White, Monstera Green/Camel Beige, and Monstera Green/Glassier White.
The GV60 will also be the first Genesis to feature a Bang & Olufsen stereo. Offering four sound 'moods' (Relax, Energetic, Bright, and Warm), the 17-speaker system also features aluminium speaker grilles featuring Genesis's 'G-Matrix' pattern.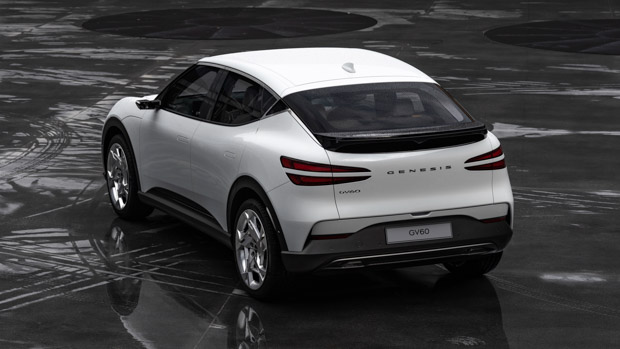 How safe is the GV60?
Like its Hyundai Ioniq 5 and Kia EV6 cousins, you can expect the GV60 to receive a five-star rating in global independent crash testing.
Active-safety feature highlights include:
Lane-holding assist
Blind-spot collision-avoidance assist
Safe-exit assist
Intelligent speed-limit assist
Driver attention warning
Rear side monitor
Adaptive cruise control
Navigation-based smart cruise control
Lane-following assist
Highway driving assist
Surround view monitor
Rear cross-traffic collision-avoidance assist
Parking sensors for the front, side and rear
Rear parking collision-avoidance assist
Remote smart parking assist