Introducing the new Genesis G80 requires a brief history. Indulge us: the first car to be badged G80 was a facelifted version of a car that started life as the (second-generation) Hyundai Genesis back in 2014. The first-generation Hyundai Genesis never came to Australia – but it was a vehicle in the same mould: a large luxury sedan bearing the Hyundai badge.
In 2016, Hyundai split Genesis off as its own luxury brand, as Lexus is to Toyota. That year, the brand revealed its well-received G70 sports sedan – a BMW 3 Series competitor – while the G80 received a visual update and a smattering of Genesis winged-crest badges.
The 2021 Genesis G80 is all-new. In fact, it's so all-new that despite being a third generation vehicle, more or less, it resets our expectations of what G80 means now, and is likely to mean in the future. In many respects, the new G80 is a more sophisticated and mature car than the vehicle it replaces.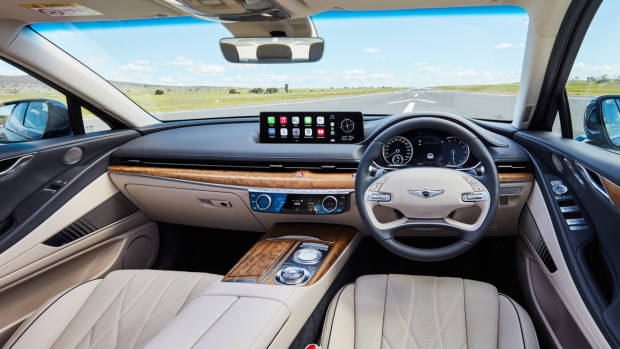 How does the G80 drive?
The fascinating thing about the way the Genesis G80 drives is that it unabashedly targets comfort and plushness rather than sport and athleticism. That immediately makes it stand out against the BMW 5 Series, Audi A6 and Jaguar XF. Even the Mercedes-Benz E-Class is noticeably sportier than the G80.
Why has Genesis done this? Well, with the departure of the Holden Caprice (and well before that, the Ford Fairlane), there's clear air out here – the part of the large sedan segment that doesn't bother trying to be out-and-out fast around corners, and instead preferences plenty of suspension travel to soak up bumps well when running around town.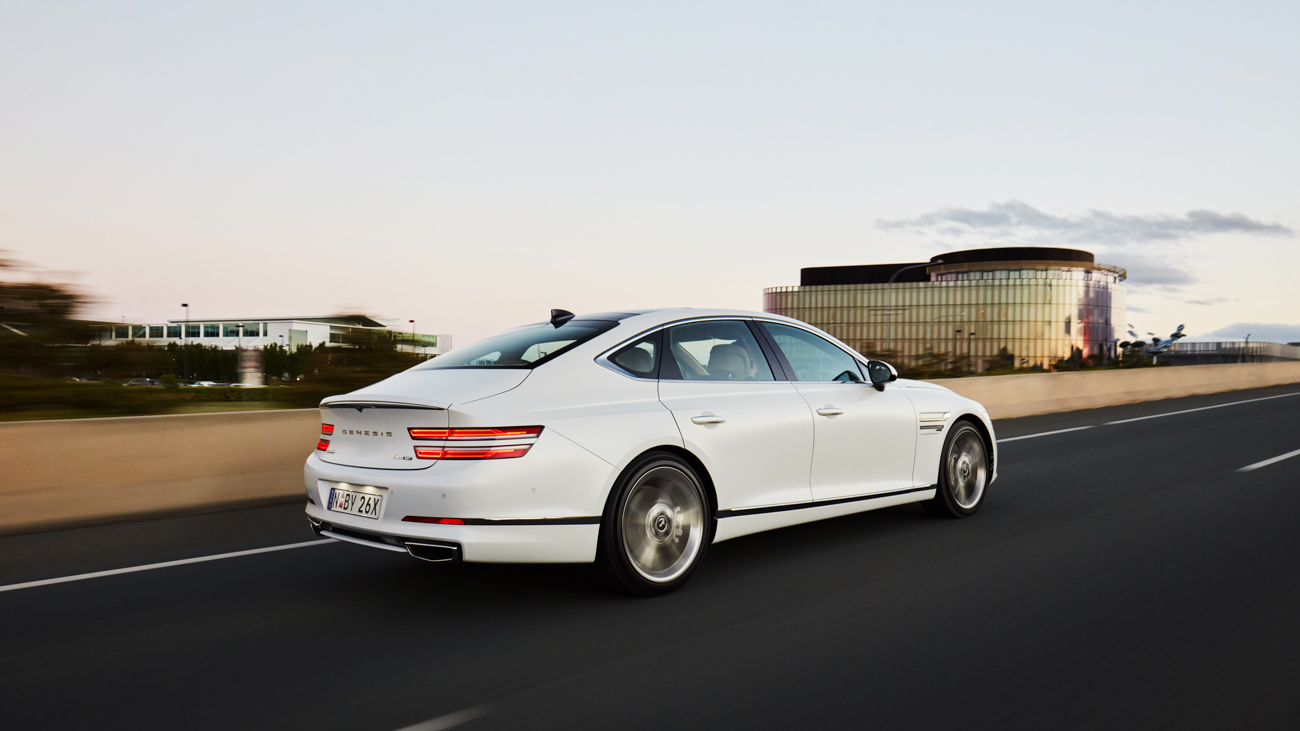 It's this characteristic that will probably make the G80 a continuing favourite with professional hire-car drivers, but we think it will also be appreciated by Australians who have held onto a Caprice, or maybe an older E-Class, and have been holding out for a long, large sedan that soothes rather than zigs.
The problem is that while the soft ride works really well across urban settings and airport runs, it's not a recipe that works all that well when you up the pace and point the G80's classically cab-rearward profile at a curving, pockmarked Australian country road.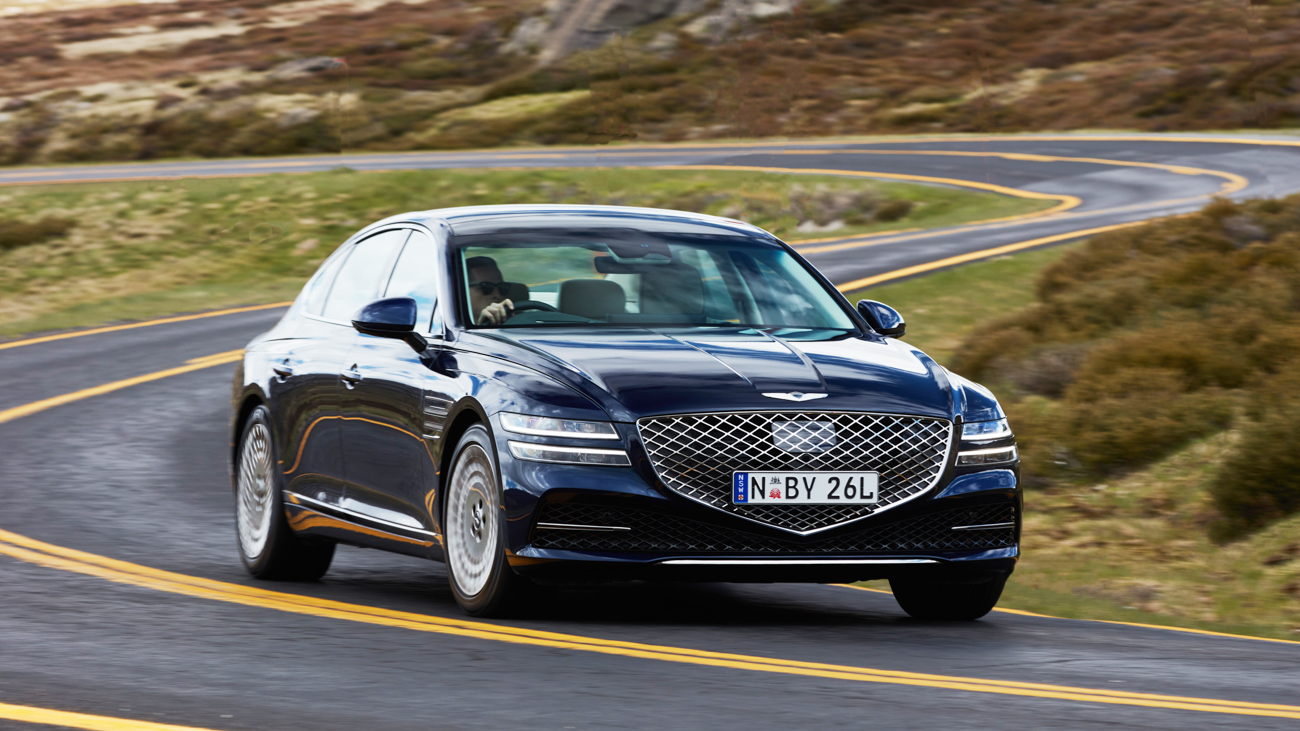 That's because the rear springs, which forgive over speed bumps and potholes, are too soft to adequately control the body when striking imperfections at 100km/h. That's the case with both of the two suspension choices offered with the G80, though the effect is greater with the camera-driven predictive damping that is paired with 20-inch wheels that is only as firm in its sport mode as its German rivals are in comfort.
Driving the G80 sedan back-to-back with its large SUV cousin, the also brand-new Genesis GV80, we were struck by the fact that it is the heavier crossover (by 200kg) that demonstrates a superior blend of body control and suspension compliance. The GV80 is the more polished of the pair, as if more effort was put into its development. That's understandable: large luxury SUVs outsell large luxury sedans in Australia by nearly 13-to-1.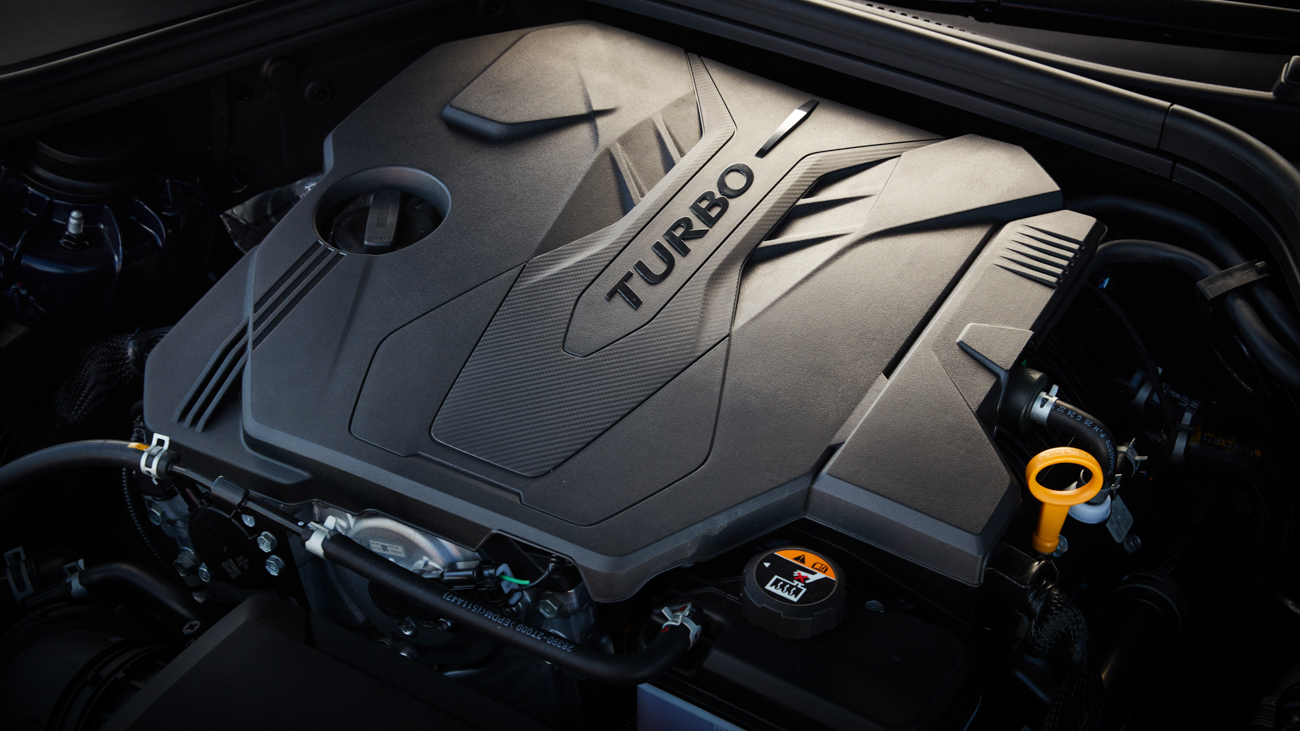 In a BMW 5 Series, and especially in a Jaguar XF, you find yourself turning up the heat on a country road because those sedans shrink around you. In the Genesis G80, you dial back the aggression a couple of tenths, instead choosing to enjoy what this four-door does best: graceful grand touring. With Michelin Pilot Sport 4 rubber (or 4S on the 20s!) the G80 resolutely hangs on however you choose to drive it, but graceful treatment is what it clearly prefers.
Grand touring is what the two available engines are good at, anyway. The entry-level 2.5-litre turbocharged four-cylinder makes 224kW/422Nm – totally adequate and it never feels slow. Best of all, this engine is the lighter of the pair and that makes the nose more darty. Plus, the four-pot has slightly smaller 19-inch wheels and passive suspension, which offers a more controlled rural ride.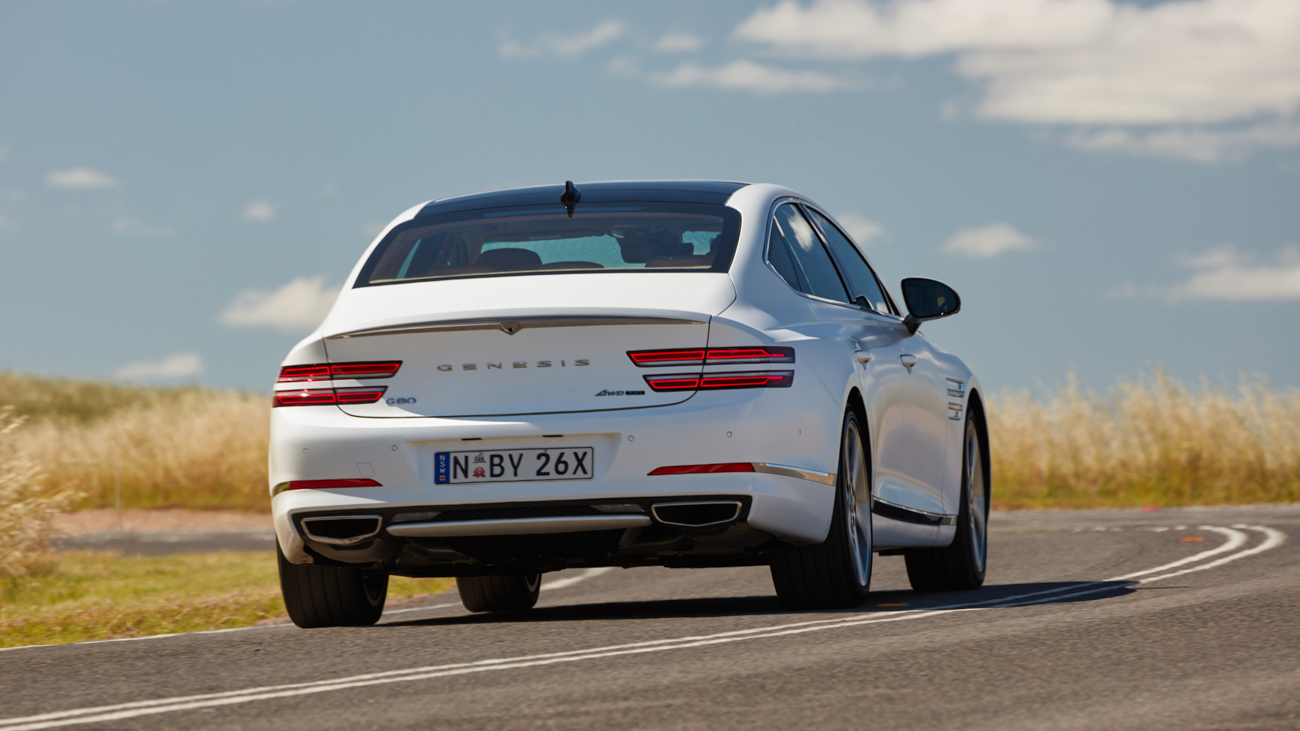 But the four doesn't sound inspiring. What does, though, is the up-spec engine that fans of this genre will probably prefer: a 3.5-litre twin-turbo V6 that makes 279kW/530Nm. Those aren't massive numbers for an engine like this, but that's the point: it is under-stressed and laid-back but it can rustle up quite a turn of pace when overtaking. And it sounds meaty as it works.
The tradeoffs? The heavier V6 adds heavier all-wheel-drive which isn't that necessary in a country like Australia and as we've mentioned, the camera-driven adaptive suspension that is mandatory with the six-pot's 20-inch wheels dilutes the body control – though the four-piston, 360mm-diameter front brakes (and 340mm rears) on the V6 help to drop the anchor.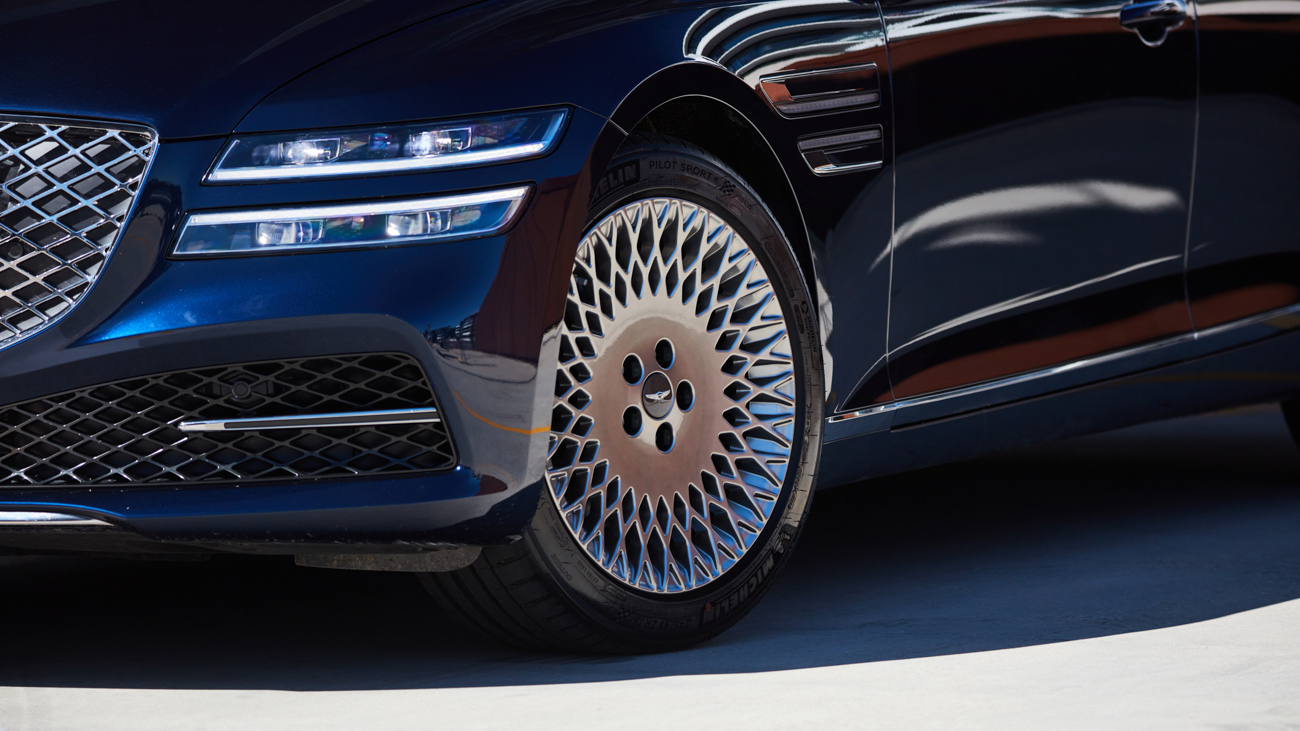 We think the G80 would be particularly sweet if it were offered with the GV80 SUV's three-litre inline six-cylinder diesel that combines a torquey punch with decent real-world fuel economy – but you will have to buy the crossover if you want that blend.
The G80's safety systems are well-tuned. The active cruise control operates very smoothly, while the lane centring works well and detects road edges decently. A 360-degree camera makes parking this barge easier – but reverse-gear AEB is offered only as part of a costly option package.
How is the G80's interior?
In a word: lush. Genesis are going their own way in terms of interior design. The G80 sedan and GV80 SUV have arrived simultaneously and share much in the cabin, and that's a good thing.
Hard lessons from borrowing too many Hyundai parts for the previous G80 and the smaller G70 sedan have been learnt. Inside these new Genesis cabins you'll be hard-pressed to identify anything we've seen before in this car's more affordable cousins. Knurled metal stalk-ends, well-weighed switchgear and lashings of leather provide a solid first impression.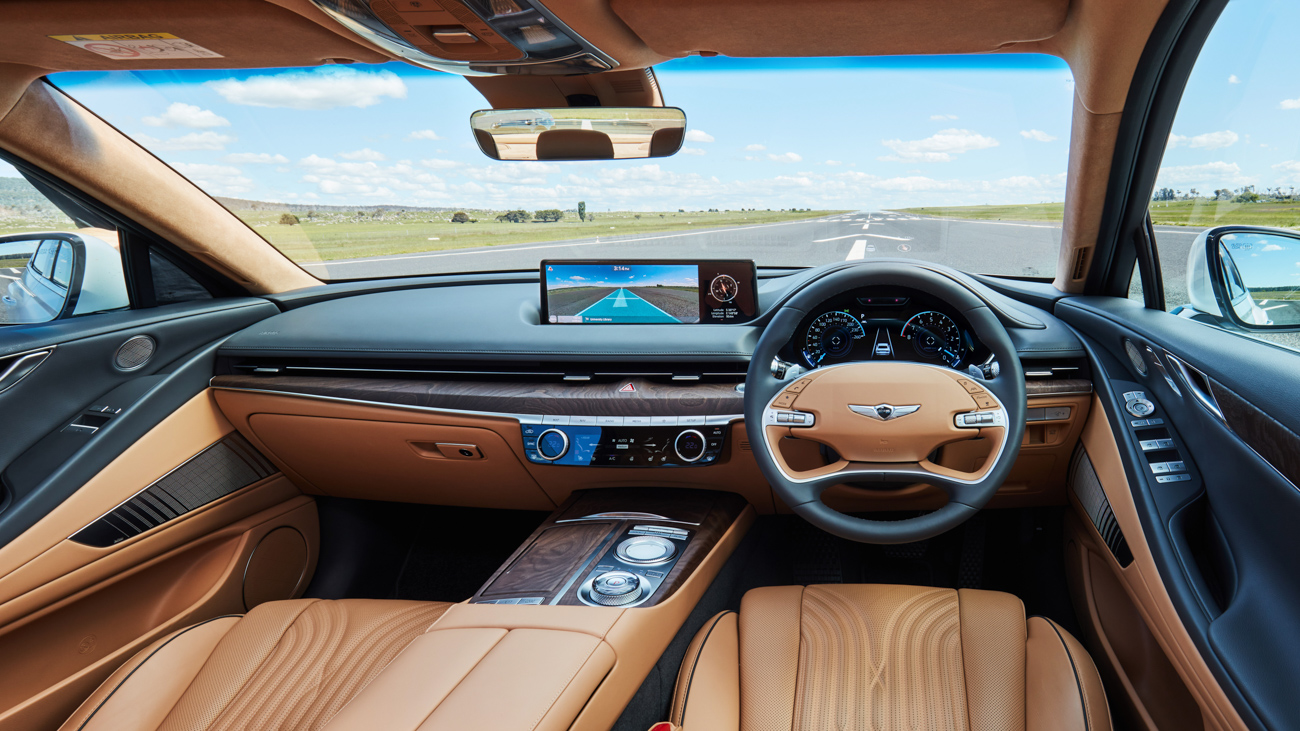 That leather covers seats, doors and the dash is standard, and elegant open pore wood trim is too. G80 buyers will find a panoramic sunroof, a head-up display, acoustic glass, a 21-speaker Lexicon by Harman stereo, and a strikingly wide 14-inch touchscreen. At $84,900 for the four-cylinder or $99,900 for the V6 – that ain't bad for this class. But you'll need to pay more if you want to specify a G80 that is opulent: $13,000 more. That buys you the Luxury Package.
That pack adds a 12.3-inch digital instrument cluster with eye-tracking, subtle 3D effects. The leather is upgraded to Nappa, and the driver's seat picks up extended adjustment and massaging functions. A suede headliner and soft close doors enters the fray, while those in the back will note a rear entertainment system.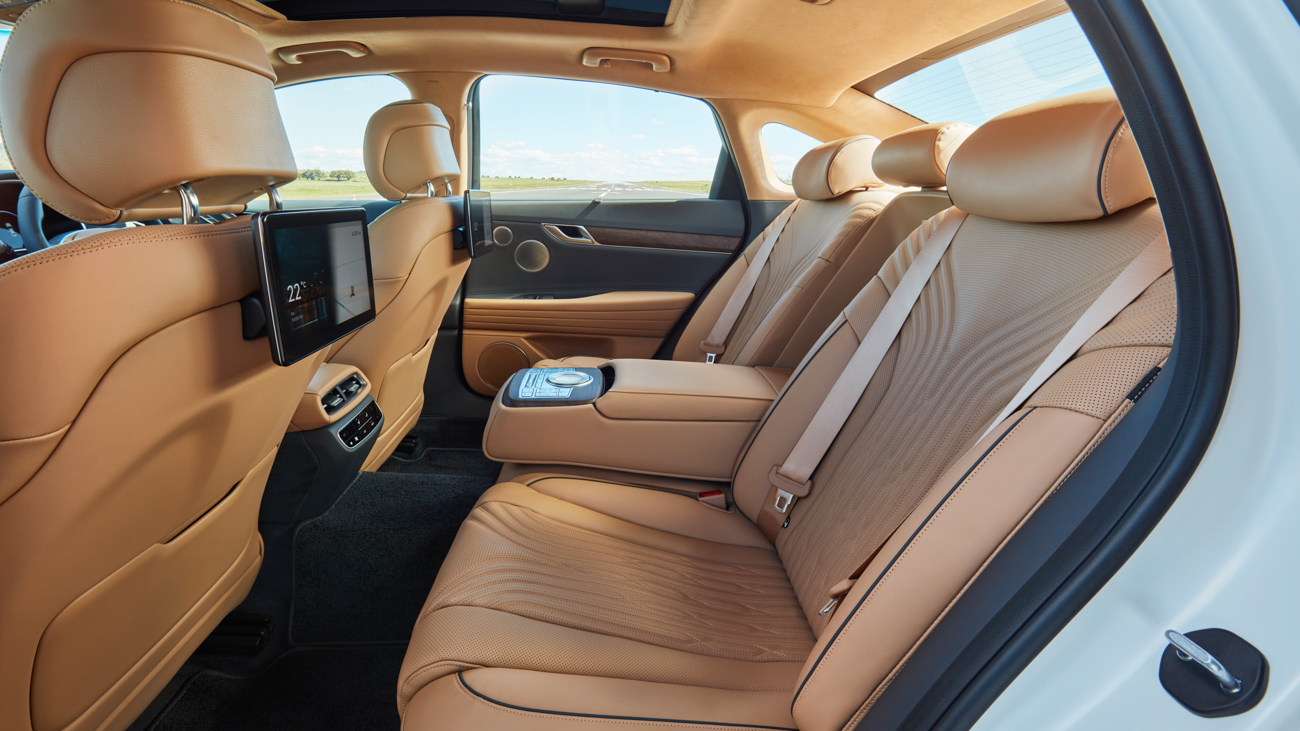 The important bits to most people are this. Build quality is impressive. The doors thunk just the way you'd want them to. Shut lines are tight. The seats are comfortable, and heated, and cooled. The stereo is punchy. The driving position is good and visibility is decent. You'll like sitting in this car.
If we were going to poke a stick at an omission, it would be that you can't equip the front passenger seat with the extended adjustment or massaging features for love nor money. Given Australia's love of a road trip – especially in a luxurious car like this – that seems like a miss.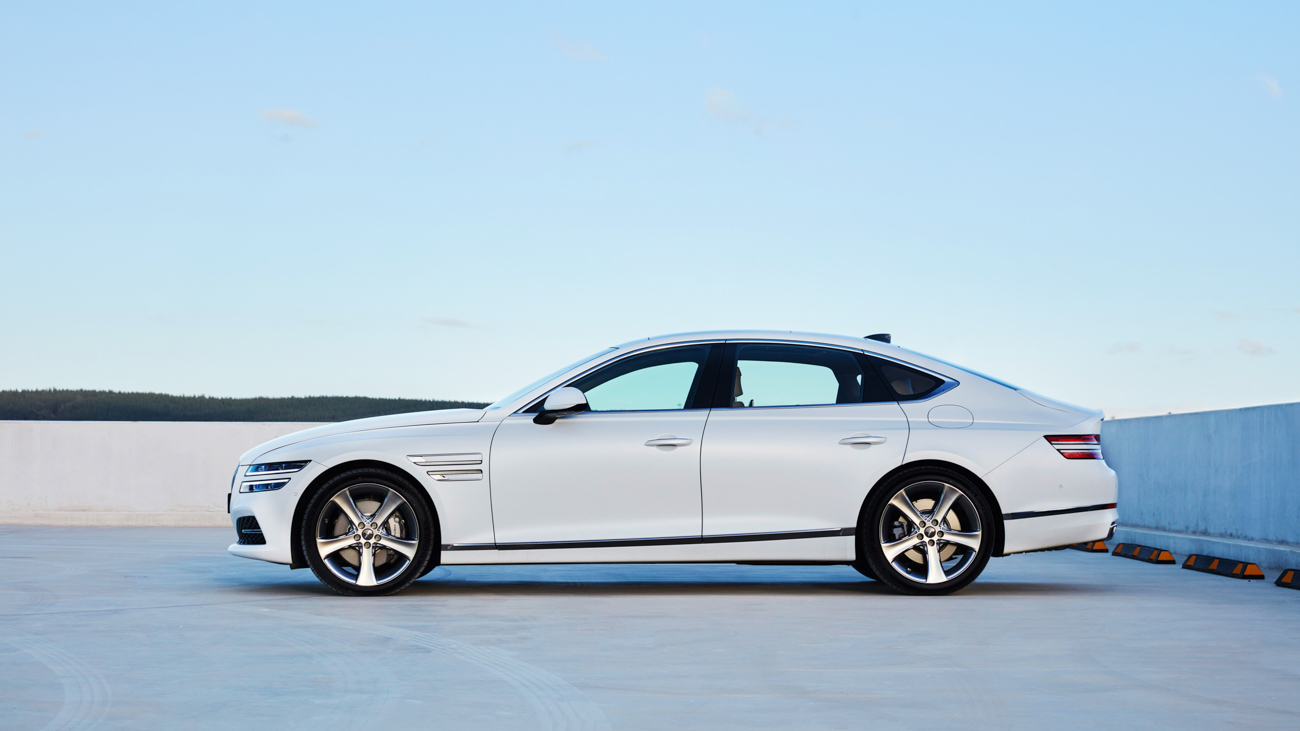 We love the steering wheel in this car, though the rugby-ball hub design won't be for everybody. That's kind of the point, though. The G80 looks like no other luxury car inside. The design is its own; this isn't derivative.
Much like the quad-lighting design outside, you'll either be into this or not. Speaking for ourselves: Genesis's emerging design works for us.
What are the G80's running costs?
The big one is fuel consumption, but there isn't a great difference between the two engines. The four-cylinder used about 10L/100km on our test that took in the Canberra suburbs and the surrounding countryside. The V6 used about 12L/100km. Both require 95-octane premium fuel.
As for servicing: this is an easy one. The purchase price of the Genesis G80 – like the other models this brand sells – includes five scheduled services. The intervals are annual, though the distance you can cover during that time is limited to 10,000km, which is on the short side for the luxury segment.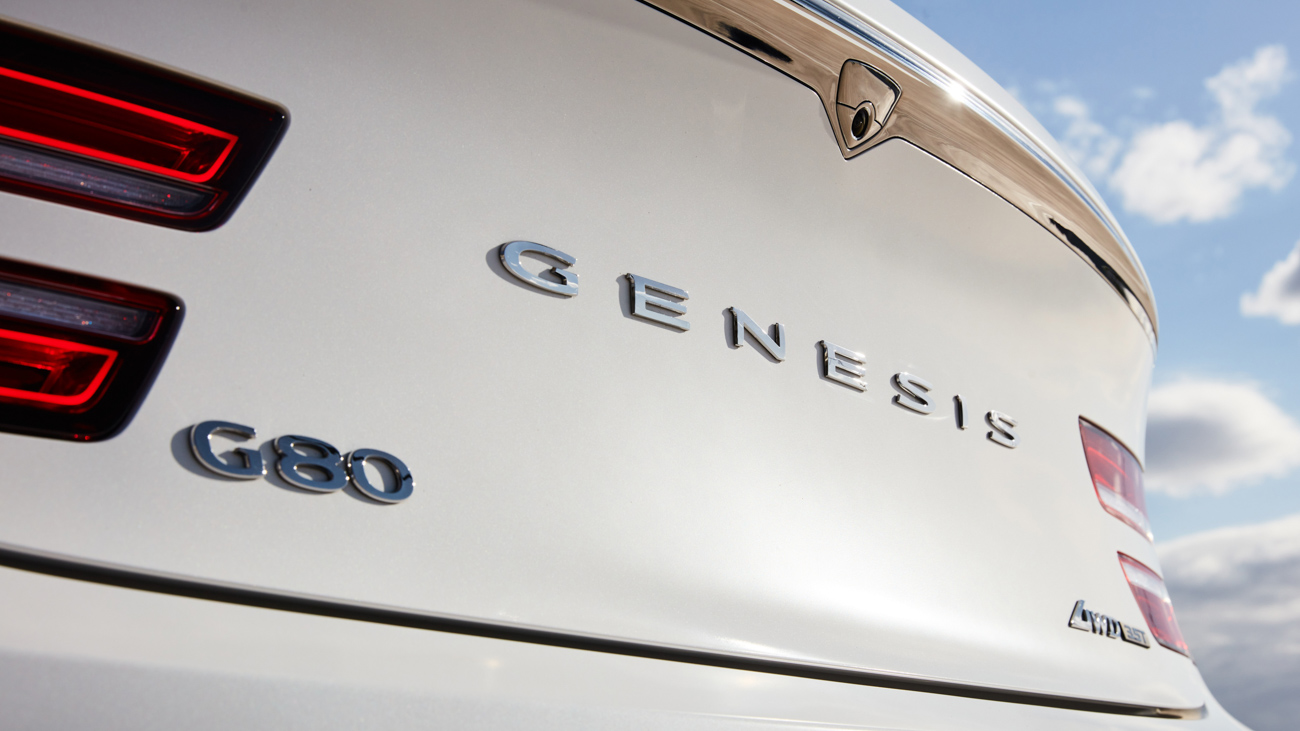 For contrast, a Mercedes-Benz E-Class requires annual servicing but it can travel 25,000km between visits – though Benz don't cover the cost of servicing. They charge you about $800 a pop.
Much like at competitor Lexus, Genesis provide a valet service for that scheduled maintenance. The brand says this is all about giving time wasted sitting in a service centre back to owners.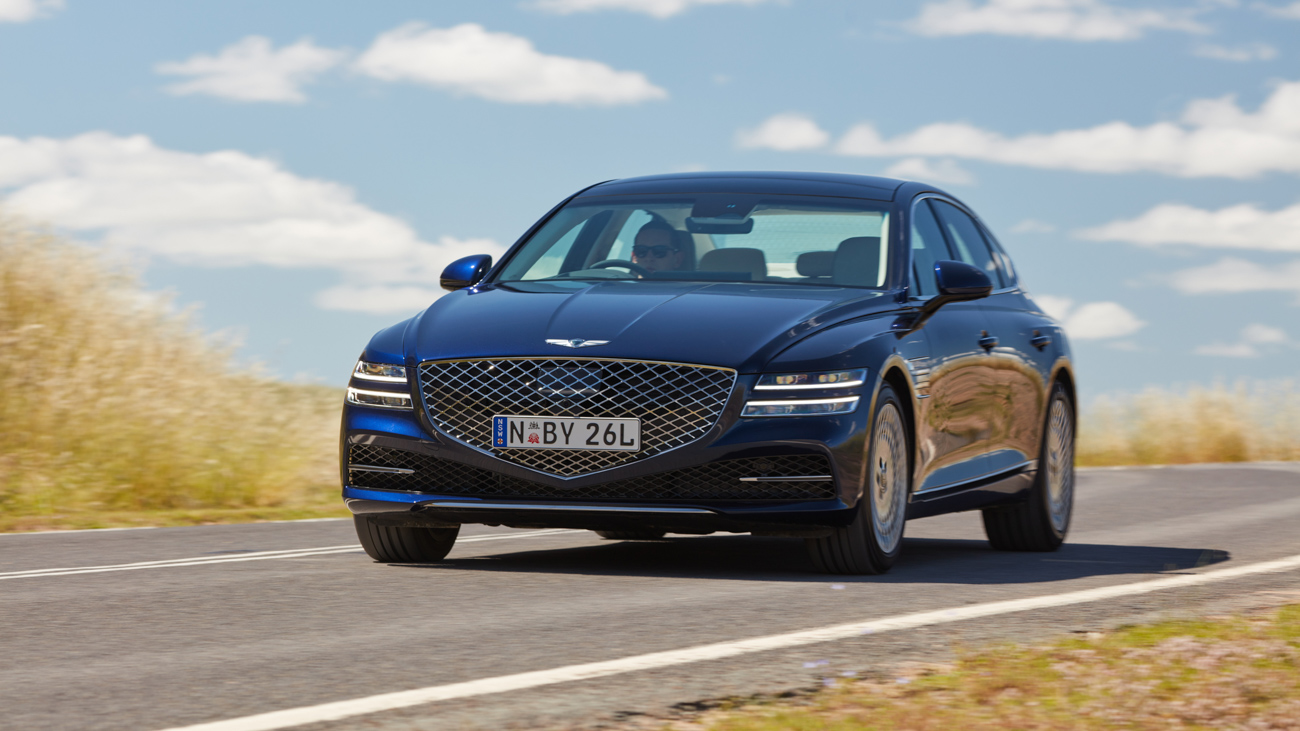 A brand representative will collect your G80 from your home or workplace, and leave you with a stand-in car if you want it. When your car is ready they'll return it to you. But while Lexus give you that privilege for three years, Genesis throw it in for five.
There's also a five-year warranty, plus five years of included roadside assistance, five years of map updates … and a two-year subscription to what Genesis calls a lifestyle concierge. Think restaurant and theatre bookings, and when we're able to travel again, "global travel, medical and security assistance privileges". Swanky.
The final verdict
The Genesis G80 is big, luxurious, and lushly appointed. Plus – in our subjective eyes – it's a good looking large sedan. Available in a combination of lush exterior and interior colours, with beautiful corresponding trim, the new G80 is a bona fide luxury car with a character all of its own.
No doubt, it's a car that biases comfort over all else. For those seeking a really relaxing experience, both to drive and to own, the Genesis G80 will make plenty of sense. It takes guts to go in on a relatively new brand – particularly when the price on-road can end up in the six figures – but this car doesn't feel lacking in pedigree or quality. Quite the opposite: like the GV80, the new G80 is quite an achievement.