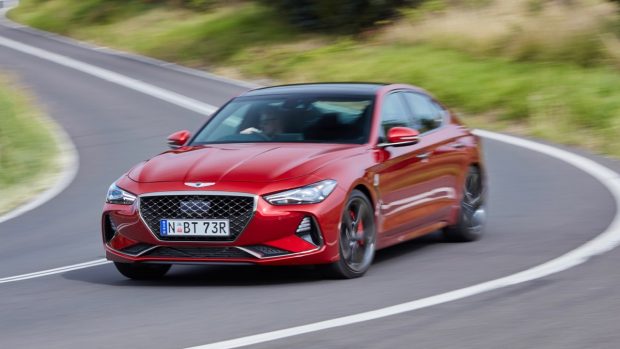 Twenty nine years after Lexus re-wrote the rulebook for Japanese luxury sedans (while successfully unsettling the European establishment), Genesis is attempting to do the same for Korea with the 3-Series-baiting G70 sports sedan.
The brand itself has sprung from the Hyundai Genesis limousine (2014-17 in Australia, though freshly exhumed and now wearing Genesis G80 branding), while the smaller, more athletic Genesis G70 owes its mechanical lineage and 'CK' platform to the Kia Stinger. Given the generally positive reception for the Stinger, that's no bad thing.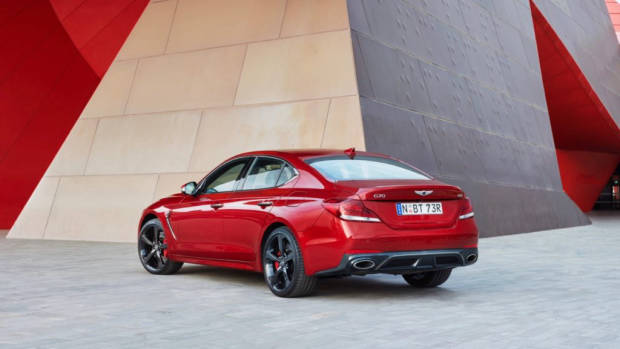 Except the G70 is better than that. If you can imagine a tauter, more polished, more refined Stinger, then you'll be close to where the G70 sits as a driver's car. And if you're familiar with the Stinger's drivetrains, then it's a rinse-and-repeat scenario with the G70 – a 2.0-litre turbo-petrol four with 179kW/353Nm and a 3.3-litre twin-turbo V6 producing 272kW/510Nm (and good for 0-100km/h in 4.7 seconds), each driving the rear wheels through an eight-speed automatic transmission.
We spent hundreds of kilometres in both at the Genesis brand launch in Victoria last week, though it's the twin-turbo V6 that rightfully takes centre stage. Spirited as the turbo-four may be (with a BMW 330i-rivalling 0-100km/h time of 5.9 seconds), it's the lusty, ballsy effortlessness of the 3.3T that gives the flagship G70 a point of difference in the 70-something price bracket.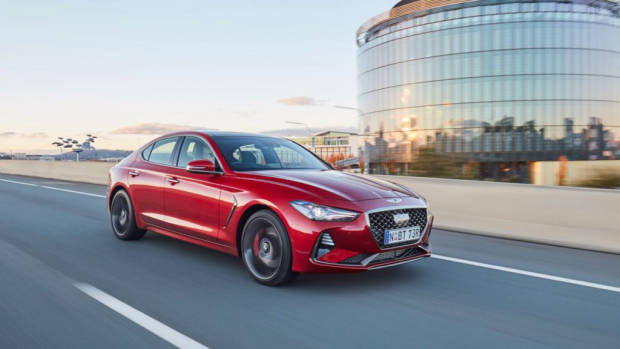 It's one of those rare cars you can actually leave in Sport mode all the time because its adaptively damped suspension still rides well, even on low-profile 19-inch Michelin Pilot Sport 4 rubber. It also steers well, with a consistently connected feel at straight ahead and a real keenness to change direction, combined with an impressively planted feel in all circumstances.
While the lighter 2.0T offers sweeter chassis balance in tighter corners, the 3.3T has the grunt to throttle-steer its way out of them. But good as it is, the G70 lacks the dynamic X-factor that makes the new-gen BMW 3-Series such a sparkling drive.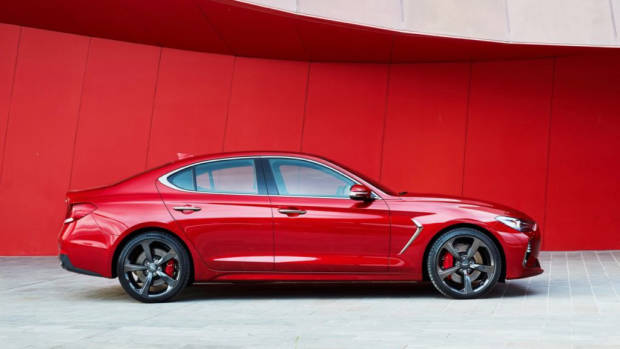 Riding on a 70mm-shorter wheelbase than the Stinger definitely benefits the G70's agility, though it also eats into rear-seat legroom. Sitting in its heavily sculpted rear bench, anyone taller than 180cm will be wishing they were somewhere else over any distance, even though headroom and overall vision are both decent.
Up front is a much happier story. The G70's classy, beautifully constructed cabin architecture and seat upholstery mostly nails its premium brief, and the Hyundai-derived switchgear and instrument graphics are excellent.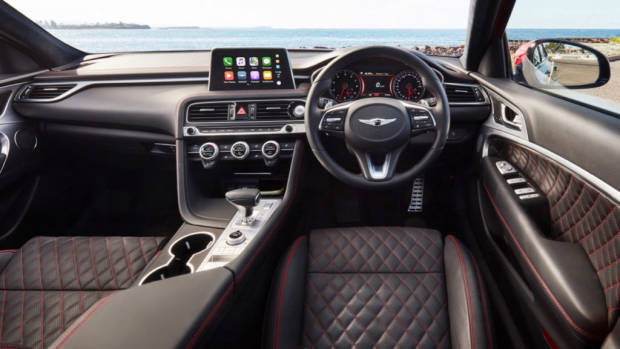 There's plenty of room for front occupants but not enough under-thigh seat support from the 18-way electric front buckets – a common Korean car failing – and you'll only fit 600ml water bottles in the front doors (and none in the rear!). The multimedia screen's graphics are also depressingly junior, and the brightwork that rims the ventilation dials is too obviously plastic. As for luggage space, let's just say the G70 isn't as hard done by as its below-par 330-litre boot capacity might suggest.
Genesis is offering six G70 models in Australia, starting at $59,300 (before on-road costs) for the 2.0T and then progressing through the 2.0T Sport ($63K), 2.0T Ultimate ($69K), 3.3T Sport ($72K), 3.3T Ultimate ($80K) and 3.3T Ultimate Sport (also $80K). Seeing Genesis won't have any traditional dealerships – merely 'studios' such as the Sydney CBD space that has just opened (with Melbourne and Brisbane to follow in 2020) – all those prices are fixed, with transactions handled online.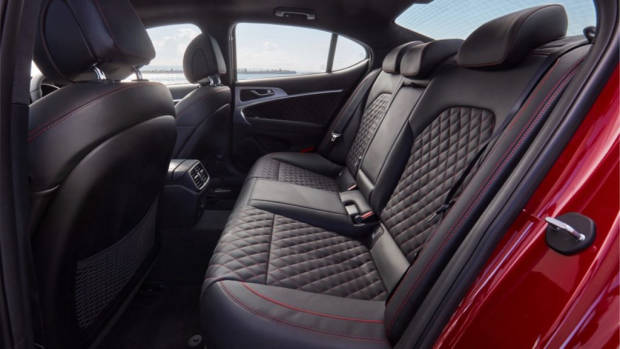 Any G70 with 'Sport' in the name gets charcoal wheels, darker detailing and edgier interior styling, as well as a Brembo braking package, whereas the others feature extra chrome, flashier wheels (18s on the base 2.0T, 19s on everything else) and a more traditional cabin aesthetic.
Even the 2.0T boasts LED headlights, quilted leather upholstery, 12-way electric (and heated) front seats and a hands-free electric bootlid while the Ultimate versions bring an adaptive front lighting system, a large glass sunroof, fan-cooled front seats, Nappa leather upholstery, a head-up display, a surround-view monitor, and a 15-speaker Lexicon by Harman premium audio system.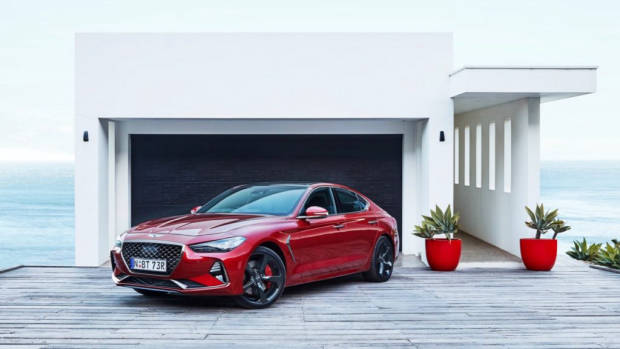 Then there's the lure of the Genesis ownership experience. You essentially get five years of everything – unlimited-kilometre warranty, free servicing, roadside assistance, and a five-year subscription to Genesis Connected Services and 'Genesis to You' valet service that handles pick-up and delivery for scheduled services, or even test drives. There's also a two-year 'concierge lifestyle' service that, much like the Lexus Encore program of 20 years ago, allows you to book holidays, restaurants and life experiences by simply dialling or emailing and making the logistics someone else's problem.
As global CEO (and former race driver) Manfred Fitzgerald pointed out, "Genesis will always place the focus on the customer … to give them back their time."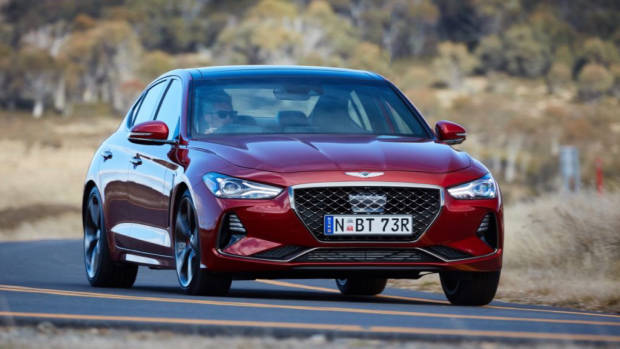 But is the G70 worth the gamble? If you place considerable value on the stress-free proposition of Genesis ownership and aren't fazed by the G70's lack of European cachet – despite its Nurburgring chassis tuning – this premium sporting sedan should perform beyond expectation. Handsome to look at, comprehensively equipped and confidence-inspiring to drive, it has genuine appeal.
Unfortunately that attraction doesn't quite extend to a sedan capable of being a proper four-seat interstate express. In terms of overall practicality, the G70 is convincingly trumped by a 3-Series or A4. But as an interesting alternative to the usual premium suspects, there's more promise here than many will give it credit for.