Genesis has unveiled the all-electric version of its G80 large sedan that will enter the Australian market amongst a growing lineup of EV offerings in early 2022.
The 2022 Electrified G80 is available exclusively with all-wheel-drive that uses motors mounted at the front and rear to generate a combined 272kW of power and 700Nm of torque, with a claimed 0 to 100km/h of 4.9 seconds.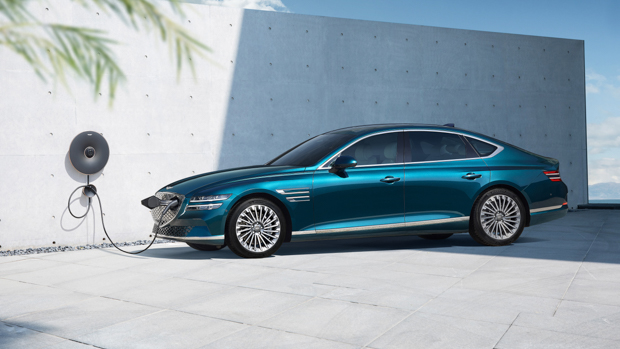 Those figures are close to or slightly better than the fastest G80 available in Australia, which is equipped with a twin-turbo 3.5-litre V6 that develops 279kW/530Nm with a 0-100km/h time of 5.1 seconds.
Genesis claims the G80 can travel around 427km in one hit and can charge at speeds of up to 350kW – enough to top up the battery from 10 to 80 per cent in around 22 minutes.
While luxury electric cars are thin on the ground in Australia, arguably its closest electric competitor the 2022 Mercedes-Benz EQS has up to 770km of range but the charging times are capped at 200kW.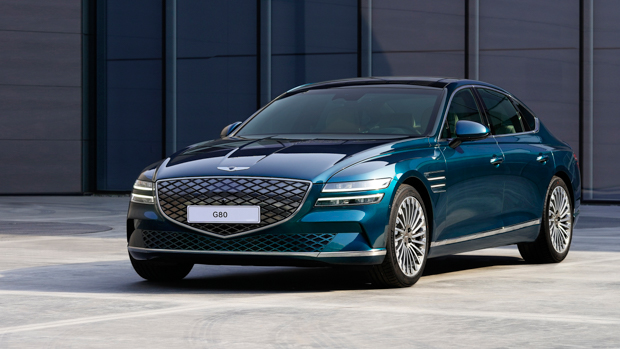 With motors mounted at each end of the Electrified G80, Genesis says drivers have the ability to switch between two-wheel-drive and all-wheel-drive to increase efficiency when needed.
Genesis has even integrated a solar panel into the roof to generate electricity when it is parked to cut down on the frequency of charging.
The electric system also features the ability to power appliances with up to 3.6kW, which should come in handy when using a laptop or when away on a camping trip.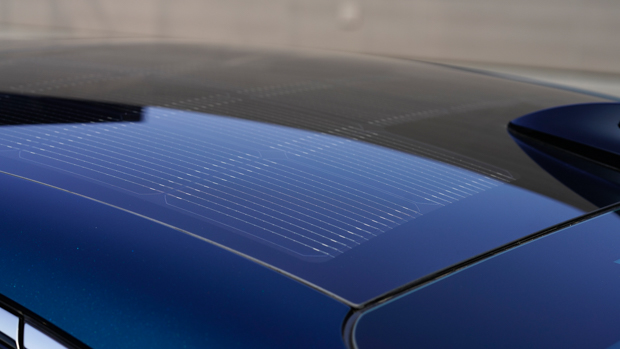 To ensure that the Electrified G80 retains a luxury experience Genesis has equipped its Active Noise Control-Road that uses a series of sensors and microphones in the car to dampen noise in the cabin by playing noise of the opposing frequency to cancel it out.
Genesis has also fitted its adaptive suspension system that reads the road ahead to adjust dampening on the fly to maintain both comfort and body control.
While not a radical departure from its petrol-powered siblings the Electrified G80 has some key styling features that help it both stand out and perform better as an EV.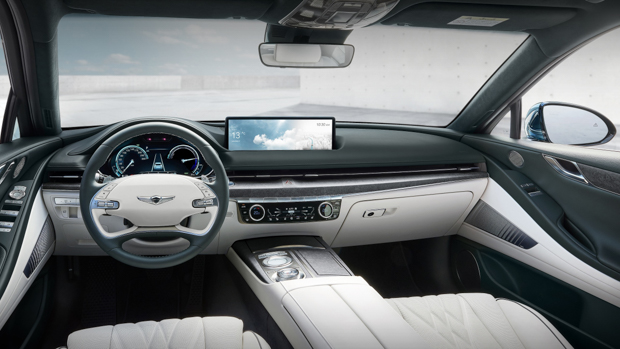 Starting at the front, the Electrified G80 has a new grille design that is blocked out for aerodynamic efficiency with a G-matrix pattern that features a charging door that is difficult to spot when closed.
Genesis has ditched the large exhaust at the rear for reflectors, with a new indented character line cut into the rear that leads to a silver strip that runs the length of the car.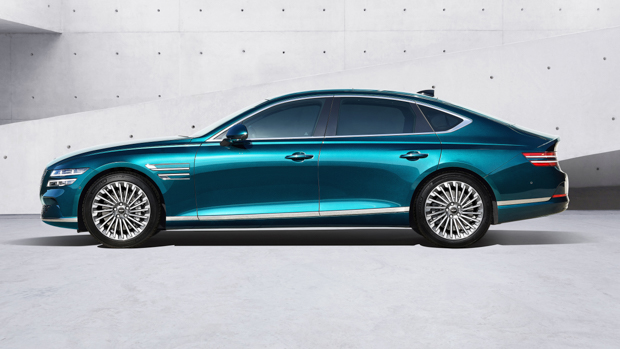 Genesis has equipped the interior with a range of natural and recycled materials including eco-friendly forged wood garnish that uses repurposed wood from furniture manufacturing along with a more environmentally-friendly fabric material to cover other surfaces.
The Electrified G80 also features exclusive colours to help it stand out including a Matira Blue paint colour matched with a dark green two-tone interior.
Genesis will release exact pricing and specifications of the Electrified G80 close to its release date in early 2022.