Launching a new luxury brand is hard. Where do you set the price of a car without much mass recognition, but that you suggest is as good as – or better than – more established badges? That's the challenge that the product planners behind Genesis in Australia have been grappling with for this brand's first SUV. While Hyundai's luxury arm isn't exactly new – the brand has two sedans currently in the market – they've been something of a prologue. Sedans are all very well, but luxury crossovers are hot property. The release of the 2021 Genesis GV80, a BMW X5 rival, feels like the true opening number for this upscale Korean brand. Later, a new GV70 will arrive in the even more hotly-contested midsize luxury SUV class.
We don't usually start a review by talking about pricing – but according to our commenters, it's the single biggest question people have about the GV80. Well, Genesis have chosen not to undercut the competition by too much. A rear-drive four-cylinder turbo petrol costs $90,600 before on-road costs; the two six-cylinders, a straight-six diesel and twin-turbo V6 petrol, cost $103,600 and $108,600 apiece. Each of the trio of engines is all-new. The platform underneath the GV80 is also brand new – but it's fair to say, those prices are certainly confident. Optimistic, even.
The brand's upbeat Australian marketing team suggest that the GV80 SUV represents "approximately 10 percent more value in terms of price, while at the same time offering 15 percent more value in terms of specification and features." For comparison's sake, the BMW X5 four-cylinder diesel costs $102,900, while a six-pot diesel is $119,900 and a six-cylinder petrol will set you back $122,900.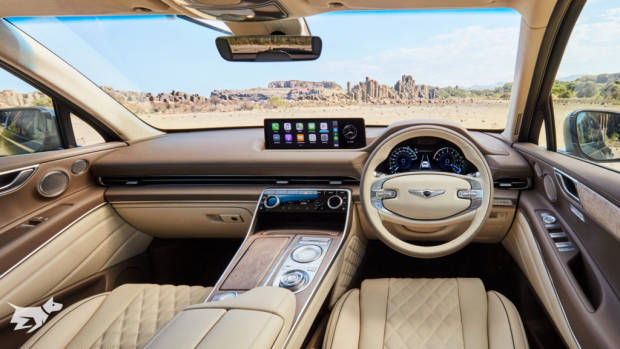 Genesis marketing boss Stewart Parnaby says the pricing on the BMW – and the Mercedes-Benz GLE, Audi Q7, and other rivals – are set high so savvy customers feel they get a discount in the end. But chief executive Jun Heo – who is also the local Hyundai chief – says that Genesis doesn't want to waste people's time with a drawn-out negotiation. "The customer is tired. We don't want to spend a lot of time discounting or [doing] some deal."
So, if the transaction price for a six-cylinder diesel large luxury SUV ends up somewhere between $100,000 and $110,000 – whether it's a BMW X5 30d, Mercedes-Benz GLE 400d or Audi Q7 50 TDI – that means the Genesis GV80 has to compete on its equipment and on its merit. There is no bargain basement pricing to be found here. If you low-ball the staff member at the studio (there are no traditional dealerships), you'll be knocked back. The price does include five years of scheduled maintenance, though, and a Lexus-aping ownership programme that means you'll never have to drop your own car off for servicing. That is done for you.
Between them, the X5, GLE and Q7 account for about 45 percent of luxury SUV sales. Mr Heo, the Genesis Australia boss, says the brand wants 10% of the pie. For reference, the Lexus RX makes up 10.5% of sales in this segment – and that SUV has been in the market for 17 years. It'll be a challenge.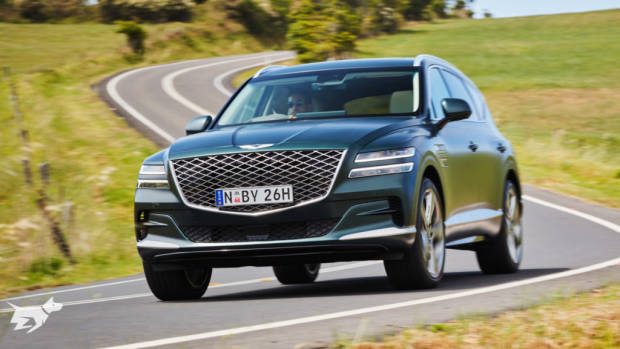 The good news for Genesis is that the GV80 has a real sense of occasion about it. The Hyundai conglomerate has been hugely assertive in hiring some of the best minds in the automotive business in recent decades and the result has been a string of cars that make no apology for challenging some established greats – just see how the Hyundai i30 N so convincingly took the fight to the Volkswagen Golf GTI.
Here, it's a different segment and more than double the money – and yet, there's a similar lack of apology from the GV80. The styling is brash and assertive, with the crested grille and retro-cool quad headlights, side indicators and tail lights that Genesis say are their new hallmarks. And yet, there's restraint here. The GV80's aesthetic, chalked up to former Lamborghini and Bentley designer Luc Donckerwolke, looks like the Bentley Bentayga should have looked – expressive, confident, not too showy.
There are numerous pleasant details: the Americana full rear-end view is distinctive. The pronounced bonnet lines are visible from the driver's seat, giving the GV80 a Range Rover-esque sense of control. Genesis are particularly proud of what they call the G-Matrix pattern – intricately weaved lines that appear everywhere from the striking five-spoke 22-inch wheels to the rubberised bases of the driver's door pulls. There is polish here – that's certain.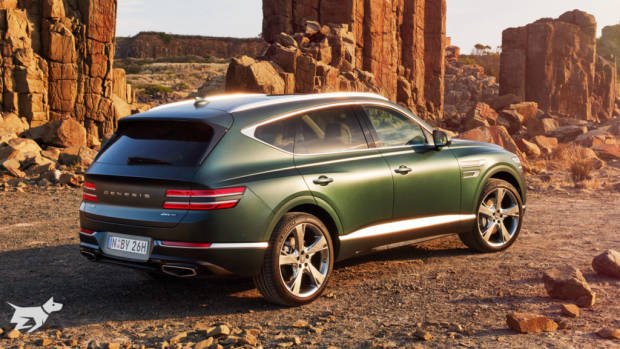 Inside, Genesis have steered the GV80 away from the cabin philosophy of the brand's G70 sedan – a BMW 3 Series competitor feted for its handling but criticised for sharing far too many interior components with a Hyundai i30. That mistake has not been made with the GV80. This is a bespoke Genesis cabin and even with our cynical automotive journalist's eye, we struggled to find a single component, shape, font, anything – that we've seen in a Hyundai.
There are a few flourishes inside that feel perhaps a little overdone – handsome metal knurling is used on so much switchgear that it seems like it is there to make a point. But beneath such flamboyance is real quality, and that is what matters. Finding a hard surface is tough. This is a cabin swathed in genuine leather – the seats, the doors, the dash, the centre console … all hide-bound. There's attention to detail in the weightings of the knobs and switches, too: it's uniform. That doesn't happen by accident.
While the 'base' GV80 is well-equipped, arriving with the aforementioned leather everywhere, powered, memory, heated and cooled front seats, a panoramic sunroof, 12-inch head-up display, wireless phone charging, acoustic front glass, a tempered glass rotary shifter, high-pile carpets, and a technology package that takes in a 21-speaker Lexicon by Harman stereo and an enormously wide 14.5-inch touchscreen with a jog dial between the seats – you'll want to spend $10,000 more on the Luxury Package. The GV80 isn't quite all inclusive, as it turns out.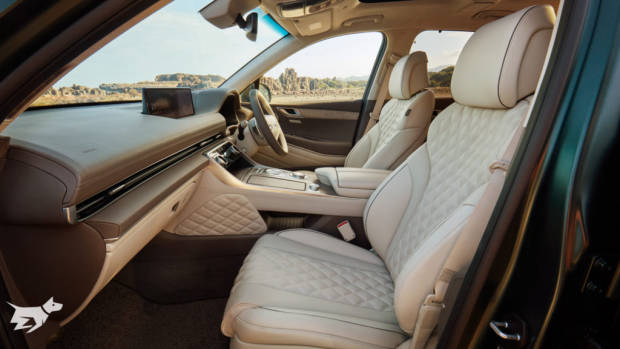 Bundling softer Nappa leather for the seats, a suede headliner incorporating active noise cancellation microphones, an 18-way power driver's seat with 'stretching' massage functions, a power-tilt and recline second row seat with heating and cooling, steering wheel heating, soft-close doors, tri-zone climate control, remote-control forward-backward autonomous parking, a 3D-casting digital instrument cluster and eye-tracking attention monitoring – the Luxury Package elevates the GV80 well beyond most rivals in terms of opulence.
The Luxury Package also adds an exclusive deep-green leather upholstery colourway – though even without this option pack, buyers can choose from a more expressive and sumptuous mix of colours than most rivals – with contrast vanilla beige, urban brown, and 'dune' tan options granting a reprieve from the available monotone obsidian black scheme. Open-pore wood is fitted to every GV80 in black ash, olive ash, metallic ash or birch varieties.
The GV80 is a seven seater, though accommodations are slightly tighter than you might expect. Up front it's fairly palatial, and the first-row pews are especially comfortable over a long drive – but legroom in the second row is only adequate. Headroom in the third row is very restricted by the tapered roofline; it'll be kids only back there. By contrast, an Audi Q7 is more usable if you'll really need the sixth and seventh seats.
Out on the road, it's a refined experience – though the GV80 offers up a softer, more plush ride than most of its rivals that subtly market themselves as athletic in one way or another. Where the BMW X5, Mercedes-Benz GLE and Audi Q7 feel too firm in Australia – apart from in hard-to-find wheel and suspension combinations – any GV80 you select offers a compliant, cosseting ride quality. In style, it is most similar to the Lexus RX or the softly air-sprung Volkswagen Touareg.
Unlike the Vee-Dub, though, the GV80 does not have air suspension. It's conventional steel springs and dampers here – either passively, with just one 'setting', in the four-cylinder, or with continuously variable dampers informed by a forward camera, in the six-cylinders. The sixes also dispense with the small-looking 20-inch wheels of the four-cylinder cars in favour of 22s.
The base 2.5-litre four-cylinder is a new engine that will be shared with Hyundai. Priced at $90,600 in rear-wheel-drive form – AWD adds $5,000 – the 2.5T makes 224kW of power and 422Nm of torque. Four-pot petrols are rare in this class: the Germans use diesel fours for their entry points. The comparison here is really the front-drive Lexus RX 300 ($73,136 to $94,836), which produces 175kW/350Nm from its two-litre turbo.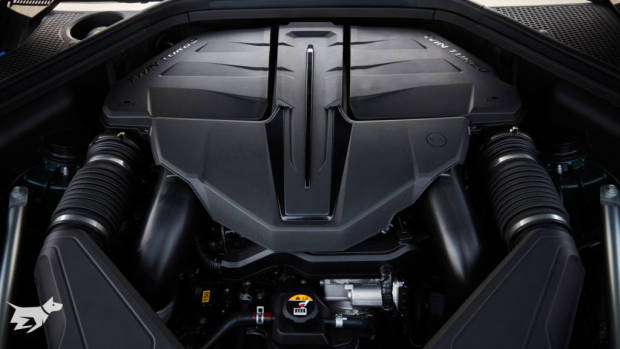 On the road, the GV80 four-cylinder feels competent, fairly torquey, and overall, capable of hauling the vehicle's considerable 2,073kg mass – about 100kg heavier than the Lexus. But it's a bit raucous at the top-end, it drinks 12L/100km in grand touring and really, if you're buying a car like this, do you want a four-cylinder?
We think the $103,600 GV80 diesel makes a lot more sense. Brand-new diesel engines are rare, especially great ones like this: the inline six-cylinder oiler is smooth, refined, almost vibration-free and frugal, drinking 10L/100km on our loop. 204kW of power is competitive with rivals and 588Nm of torque is delivered in a slow wave from 1,500rpm to 3,000rpm. Effortless is the word. Genesis expects 55 percent of GV80 buyers to opt for this diesel.
For $108,600, there is a 3.5-litre twin-turbo V6 petrol – producing 279kW/530Nm, it is a traditional big-displacement six and feels like it. There's good shove off the line and it makes pleasant noises. Using 13.5L/100km on our road loop it isn't even that much thirstier than the four – bigger engines can make sense for big, heavy cars, and the petrol six tips the scales at 2,248kg. That said, don't confuse the 3.5TT for a sports SUV: it's not overtly fast. Both sixes are laid back; all are paired with a smooth eight-speed torque converter automatic designed in-house.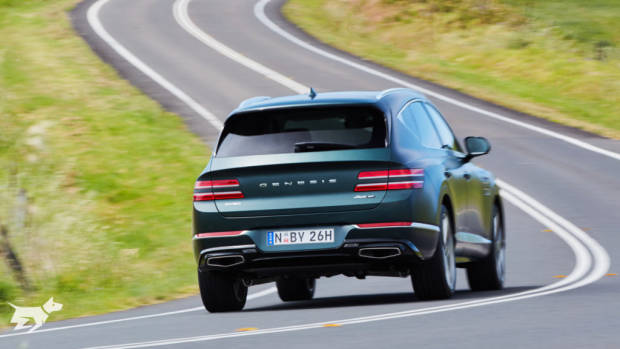 As for more modern powertrains: Genesis are actively working on electrified vehicles, and while senior executive weren't willing to confirm any specific future iterations on the record, there will be announcements in this space in future.
The rest of the driving experience is best described as graceful. Like a Range Rover the GV80 wafts rather than zigs – a diesel X5 or Q7 show this a clean pair of heels on a country back-road. But those cars demand comfort sacrifices in order to go apex-hunting the way they (remarkably) do.
The GV80 is admittedly equipped with Michelin Pilot Sport 4 SUV rubber across the range, meaning it can pull off being hauled into a bend with alacrity – but you can tell that corner-carving isn't its favourite discipline. The big Genesis prefers to dispense with the illusion of mega-agility in order to pursue mega-comfort. And, with the exception of some pretty subtle intrusion in urban areas from the 22-inch wheels, it succeeds.
Of particular note is the refinement. Go for the Luxury Package and the efficacy of the active noise cancellation system will impress you – it does what it says on the tin, noticeably deadening roar from Australian coarse-chip country roads compared to a non-Lux version driven back-to-back.
Safety is well taken-care of. The autonomous emergency braking system monitors cars, pedestrians, cyclists and oncoming traffic at junctions. The lane keeping assistance with centre-tracing is strong, and occasionally overzealous, but this can be switched off. The adaptive cruise control is smooth, and tuned very well. Blind spot monitoring is done intuitively by the use of cameras that appear in the digital instrument cluster – something that sounds complicated but works very well in practice.
So, all the expected luxuries – and a few more – are present and accounted for.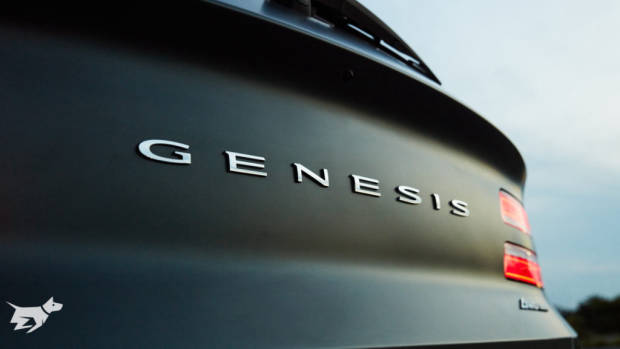 Whether it will all be enough is another question. There is no doubt that it is a big ask to drop six figures on a brand that is finding its feet in the market. Genesis will be offering a Guaranteed Future Value programme for customers which should stave off any major depreciation concerns. The brand will be pushing itself in front of audiences with a campaign titled 'Civilised Rebel'. There will be partnerships with personalities that Genesis feels embody this – beginning with Michael Clarke.
We will have some insight into how the GV80 reveals itself over time – and how the brand begins to settle in properly – as we'll be running a six-cylinder diesel model on our long-term test fleet from the end of this year. Stay tuned for updates and comparisons based on that car.
With all the bona fides accounted for, the Genesis GV80 is the real deal. Slotting into the popular and lucrative large luxury SUV set, this model is this premium Korean brand's first real shot at breaking into the popular imagination. Let's see what the response is like.