After teasing us with renderings last month, new-kid on the luxury block Genesis confirmed details of its foray into the luxury SUV segment. The all-new GV80 will arrive in Australia by mid-2020 with full pricing and specification still to come.

Where the G70 is the Korean brand's answer to the unfashionable executive saloon, the GV80 is a much more on-trend vehicle aimed squarely at seven-seat SUVs from German giants; think Mercedes GLE, BMW X5, Audi Q7 and Lexus RX.

And if you're not sure what Genesis is, it's the luxury arm of Hyundai and Kia, think of the brand as the Lexus to Hyundai's Toyota. When it arrives the GV80 promises more than a new form-factor for the brand, it will sit on a unique platform with an all-new three-litre V6 diesel outputting of 204kW and 588Nm.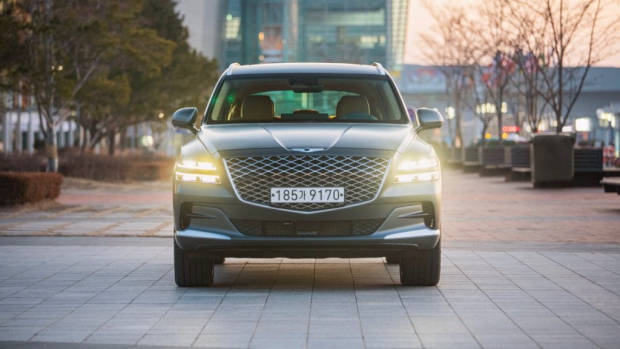 The new platform has been designed around rear-wheel drive but will allow for all-wheel-drive models, configured in two-wheel drive specification the diesel promises around 8.5l/100km.

By the time the GV80 arrives in Australia, it will also be available with a 179kW/353Nm turbo four and the brand's twin-turbo petrol V6 with 272kW and 510Nm, the same found in the stinger.

On launch in its home market, the diesel GV80 will list for 65.8 million Won – about $82,000 Aussie at the current conversion rate – which would make it excellent value against German competitors.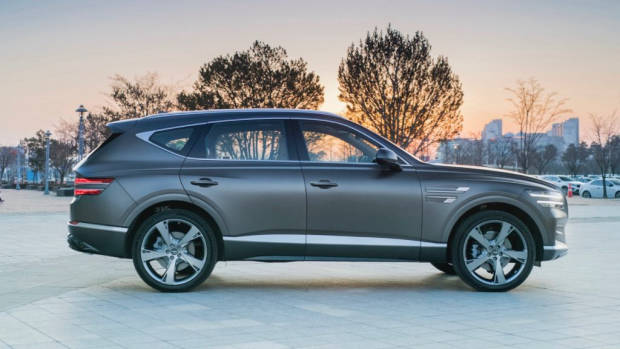 There are other new features for Genesis, there's a system that uses navigation and information from the front camera to preempt the road and adjust suspension settings; the Germans do have this available but it's reserved for more expensive cars like the BMW X7.

Similarly, there is some high-end noise-cancelling tech, the GV80 will analyse unpleasant sounds – tyre roar – and generate opposing frequencies to cancel them out, neat.

As for the design of the GV80, well it's not particularly groundbreaking nor what you might call beautiful. But then, nor are the brand's other models. There are carry-over lines though, the grille is smattered with the brand's 'G Matrix' pattern, as are the LED lights and it goes some way to shaping the Genesis brand identity.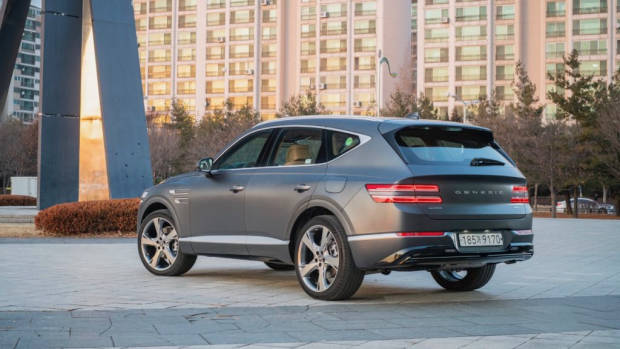 From the rear there are elements of Bentley Bentayga to be seen, Genesis says the design had input from teams in South Korea, Germany and the USA, it looks remarkably holistic considering.

Inside looks sumptuous, pictured here delightfully wrapped in tan and clay cow-hide, Genesis claims inspiration from the Korean 'beauty of white space' and it looks to be remarkably airy in there, we'll hold judgement until we sit inside though.

There's a generous 14-5-inch infotainment screen mounted high on the dashboard, Genesis says they used a minimum of hard buttons to keep the interior tidy and straightforward. Hopefully, there are some shortcut buttons though.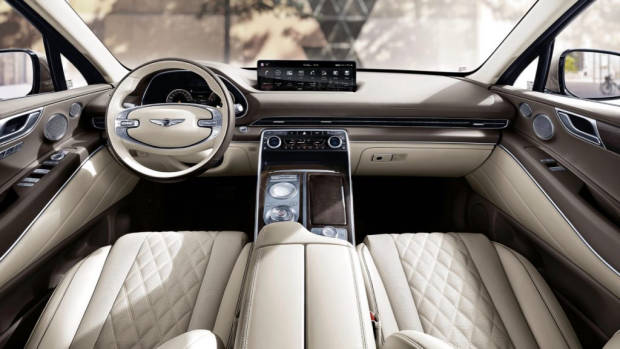 An augmented reality system works in tandem with the navigation and infotainment screen, with the ability to overlay directions and lane choice onto the windscreen to make follow directions easy. It really should take the head-up display to a whole new level.

Safety tech aplenty has made its way onto the GV80; there's a smart cruise with machine learning that will adapt to pilot preferences, we can't wait to see how that works, the cruise also has an auto-merging function when the indicator is activated. Naturally, there's AEB with blind-spot activation, rear cross-traffic alert, ten airbags and a driver alertness monitoring system.

In South Korea, there will be more involved customisation with "Your Genesis" which sounds like it might function like BMW's 'Individual' program.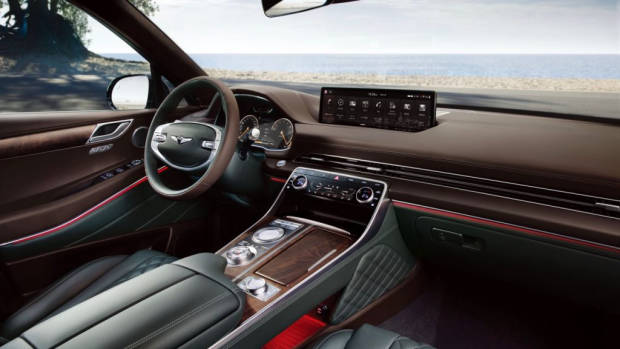 Although versions of the GV80s safety and in-car tech are available from the established marques, it sounds as though Genesis' effort will offer them at a much more affordable level. Will the GV80 shake the luxury SUV segment up like Lexus' LS400 did to the limousine?

One thing's for sure, we'll be eagerly awaiting July for a steer in one.