Genesis, the incoming luxury brand of Hyundai Motor Company, will launch in Australia "by Christmas", the chief executive officer of Hyundai Australia, JW Lee, has told Chasing Cars. Initially the Genesis brand will offer two vehicles in Australia: the mid-size G70 sedan, a BMW 3 Series rival that we have previewed in a detailed G70 video here – and the G80, a refreshed and rebadged iteration of the full-size sedan, known as the "Hyundai Genesis" in Australia since 2014.
The pair of sedans will prop up the Genesis brand in Australia until the arrival of two SUV models – the mid-size GV70 and large GV80 – which will not occur until at least 2020, sources within Hyundai have told Chasing Cars.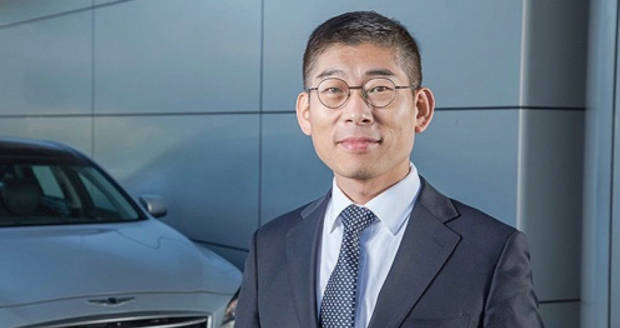 Hyundai's Australian CEO, JW Lee.
Until now there has been considerable hand-wringing within Hyundai's Australian operations about how Genesis vehicles would be sold locally. In our comprehensive 2017 interview with the general manager of Genesis Australia, Peter Evans, we revealed that the options on the table included sales through existing Hyundai dealers, or via upgraded, 'premium' Hyundai dealerships, or by establishing standalone Genesis-only dealers.
A decision has now been made. Mr Lee confirmed to Chasing Cars at the local launch of the 2018 Hyundai Santa Fe SUV that two standalone Genesis dealerships will be established, following a global decision within Hyundai Motor Company to avoid cross-selling Genesis cars within existing Hyundai retail chains.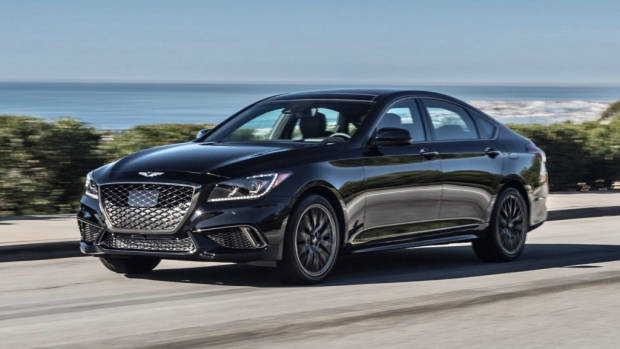 The Genesis G80 full-size sedan.
Hyundai Australia's general manager of public relations, Bill Thomas, would not confirm the location of the initial Genesis dealers but did indicate that a suggestion of Sydney and Melbourne would form a good "educated guess". Mr Lee hinted that the dealers will take the form of "flagship stores" in prominent city locations. This approach may echo that of electric car maker Tesla, who established their "stores" in non-automotive retail precincts with a flagship location in Sydney's Martin Place.
The initial Genesis dealers will be owned and operated as company dealerships by Hyundai Motor Company Australia itself. Mr Thomas said it was "likely" that Hyundai's existing private dealer partners would not initially be involved in retailing Genesis models, partially due to the limited opportunities presented by selling two premium sedans without any SUV offering – running contrary to the tastes of Australian buyers who are rapidly deserting conventional sedans in favour of crossovers.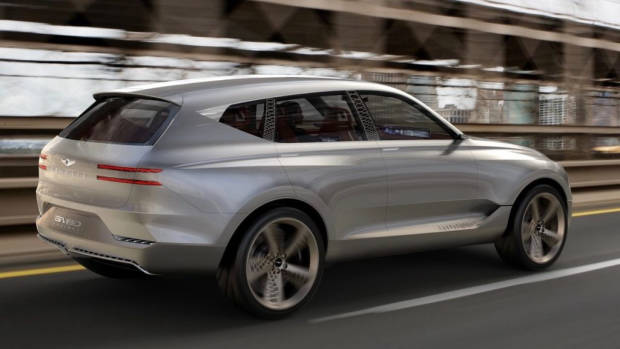 Genesis have not yet unveiled their SUV models, but they have been seen in concept form.
The arrival of the SUV models in a couple of years may see this arrangement changed with an expansion of the Genesis brand into greater numbers of dealerships or stores potentially operated by franchise dealers.
The G70 sedan is rear-wheel-drive and shares parts of its platform with the Kia Stinger. The Stinger uses two engines developed for the G70, in the form of a two-litre turbocharged four-cylinder petrol developing 188kW/353Nm, and a 3.3-litre twin-turbocharged V6 petrol making 272kW/510Nm. The V6 will sprint to 100km/h in as little as 4.7 seconds.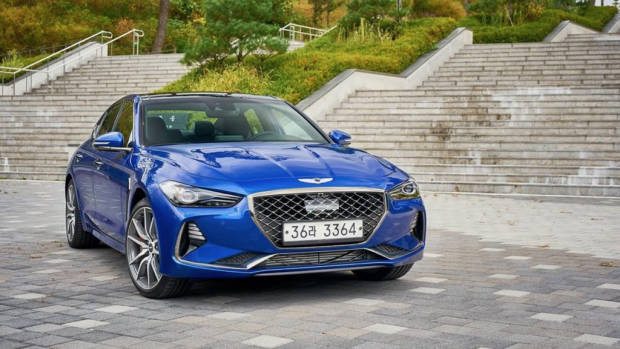 The forthcoming Genesis G70.
The G80 full-size sedan will retain the Hyundai Genesis' 3.8-litre naturally-aspirated V6 petrol that develops 232kW/397Nm. The G70's twin-turbo V6 is offered in the G80 overseas, but this will not be coming to Australia.
We expect that the Genesis brand – along with the G70 and G80 models – will be launched sometime after September this year, and we'll have comprehensive coverage of these events. Stay tuned.