Hyundai have used the platform of this week's Consumer Electronics Show in Las Vegas to share plans for an advanced new type of car head-up display. A product of the Hyundai group's acquisition of Swiss start-up WayRay, future Genesis and Hyundai vehicles will benefit from WayRay-developed holographic augmented reality tech that will display navigation directions and safety prompts in hologram form.
The Korean manufacturer acquired the Swiss tech firm four months ago in September 2018 but work on next-generation head-up display systems has been ongoing internally for around two years. The Hyundai group – which includes its eponymous brand, as well as Kia and Genesis – are focussing increasing resources on augmented reality.
Holographic head-up displays are quite different to today's conventional LCD-projected HUDs, which rely on indirect reflections. Hyundai say that by using augmented reality, holographic images can instead be projected straight through the windshield glass to a more comfortable distance – usefully without the requirement for the driver to wear a headset.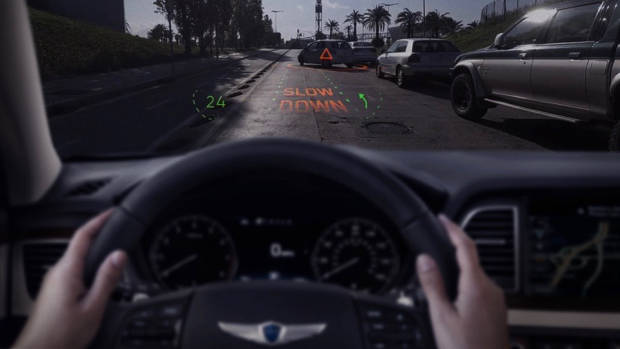 The holographic projection itself is pretty large – sitting fifteen metres ahead of the driver, the image measures 1.31 metres by 3.15 metres, and Hyundai says the specific projection will be adaptive to the driver's own particular viewing angle.
By placing the projection farther away than today's systems – which rely on data being reflected straight onto the windshield, very close to the driver, it's quite possible that Hyundai's next-gen system will be easier on eyesight without requiring a focus change from distance vision to near-sight.
A Genesis G80 proof-of-concept vehicle is already equipped with the augmented reality tech, demonstrating the two features already developed – navigation directions and adaptive safety projections that include lane departure and forward collision warning.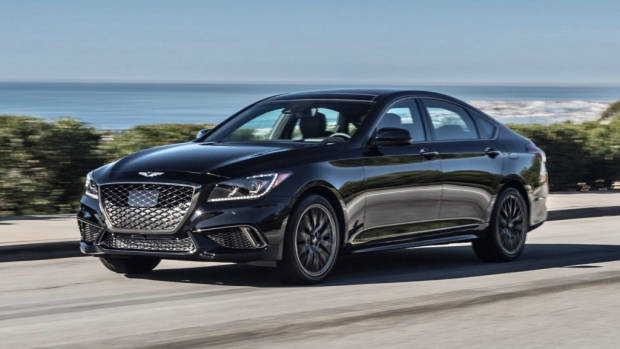 The proof of concept vehicle is a Genesis G80, above.
However, Hyundai predict that by the time the system is ready for a mainstream rollout, online 'Vehicle to Everything' tech will create the potential for additional projections, including road conditions and upcoming traffic signals.
There's no specific word on plans for a broader rollout, but we'll be keeping an eye on the development of this tech throughout the next couple of years. For now, long-term road testing is ongoing in South Korea in order to iron out inaccuracies.