A few short decades ago, there were strict rules for middle managers. You wore the right suits, climbed the corporate ladder and ultimately treated yourself (or your company did) to a large, luxury sedan. Yes, the Holden Calais was nice enough and top marks for patriotism, but to show you were winning at life, it had to be German: BMW 5 Series, Benz E Class or Audi A6.
These days the rules have changed. Large luxury SUVs are in the ascendency while executive sedans have rapidly lost favour. It's a massive tragedy. Such four-doors have serious presence without being imposingly big and can carry four or even five adults in spacious surrounds. They're large enough for business class highway cruising but with enough agility to hold it together through the twisties. Large SUVs can seemingly defy physics and get close, but really there's nothing like the rewards from a low centre of gravity sedan flatly carving through bends.
The all-new Audi A6 does just that, enjoyed – of course – in leathery comfort with a dazzling array of technology, comfort and safety features in accompaniment. With some of this filtering down from Audi's sublime (and also new) A8 big brother, buyers can look forward to a new world of intelligent functionality – once they get their heads round the sea of menus, shortcuts and personalisation opportunities.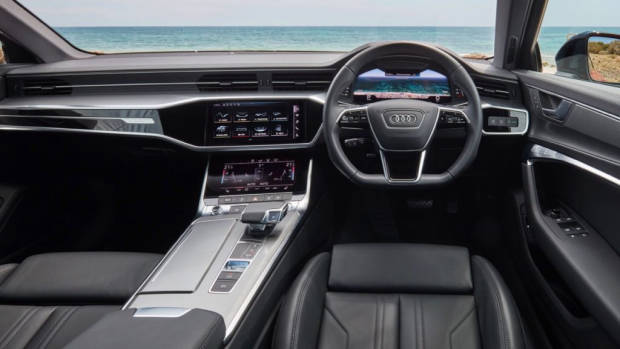 Being presented with Audi's still excellent digital Virtual Cockpit behind the steering wheel, plus a brace of central touchscreens – a 10.1-inch for infotainment and 8.6-inch below for climate control and convenience and vehicle functions – is daunting at first. It's a super clean setup doing away with traditional cabin knobs and switches, but don't expect to nail it first time. The vehicle handover session must be a lengthy, deep dive indeed.
The new A6 sedan lands in three guises with two different engines. The 2.0-litre four-cylinder petrol 180kW 45 TFSI quattro at $95,500 plus charges, and $10,000 more for a more loaded S line version. Traditionalists may favour a more thumping 3.0-litre V6 petrol version – the 55 TFSI quattro – already on sale at $116,000 plus on-roads. Both engines feature mild hybrid technology (12-volt and 48-volt respectively), helping with coasting and the stop/start system. Next year a cheaper entry-level 40 TFSI drops at $85,500, followed by rapid S6 TFSI for $154,900, the cladded A6 Allroad quattro 45 TDI wagon (the only diesel version available) for $109,500 and finally a mad-dog, V8-equipped RS6 wagon (no price yet) in the second half of 2020.
Concentrating on the A6s you can buy now, if you pop into an Audi showroom you'll see the problem. Close to the A6 will sit the imposing Q7, costing roughly the same amount but its sheer size and extra seating may convince it's the one offering better value for your dollars. Certainly from a wife and kids standpoint a Q7's the popular choice. As I've been reliably informed by my better half – and backed up by Audi's buyer-type research – there are few cars to rival large sedans for male bias. Illustrating the A6's lesser appeal, some 241 sold last year, 315 the year before that. The Q7 shifted 1622 and 2664 respectively.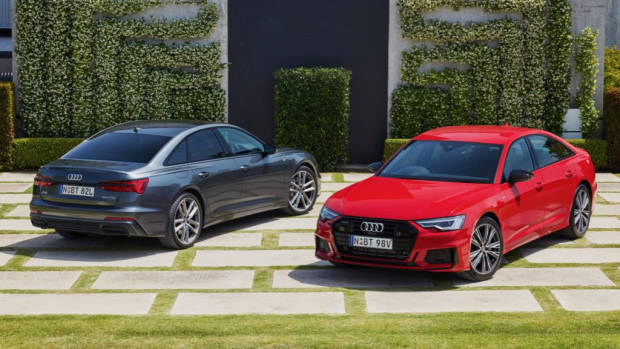 For the less sheep-like, the A6 is a compelling choice, and to my eyes the best-looking German large sedan when up against a 5 Series and E Class. The new Audi is of near-identical size to its predecessor, but makes greater use of aluminium, including for the doors, bonnet, front wings and boot lid. It's a sporty looking thing with sleek coupe-like back end, quite muscled rear arches and sizeable single frame front grille. Complex matrix LED headlights are standard across the range. The rolling stock isn't shy, either. The 45 TFSI gets 19-inchers, S line versions 20s, and if you go the Premium Plus package (Audi expects it to be popular), you gain 21-inch alloys along with panoramic sunroof, HD matrix headlights, Bang & Olufsen audio, ambient lighting, electric boot lid (which should really be standard without this pack) and electric steering column.
Better interior packaging gives increased cabin space for occupants – especially for rear travellers – and it's a striking place to sit. Audi calls this its next generation interior which debuted on the A8, featuring lots of horizontal dash lines to give the impression of width, and a stepped-back dash top to give the impression of space. From the stitched upper dash to Valcona leather sports seats (which allow an excellent driving position) on my 45 TFSI S line test car, there's scant reason to complain. The dash layout may be digital overload, but it's uncluttered, stylish and well-built.
The technology is staggering. The temperature control screen uses haptic feedback as you prod away, but when driving I found I was taking my eyes off the road more than with simple knobs. I'm sure it'd just need more getting used to, but in the A6 the voice control proved brilliantly reliable and I found this the preferred way of operating: it's advanced enough to let you control cabin and seat temperature through voice alone.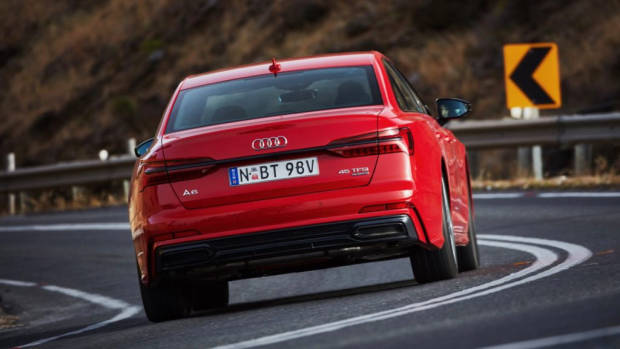 Audi Australia says it's thrown every available driver assistance system at the new car. Standouts are semi-autonomous traffic jam assist, excellent 360-degree cameras including kerb view, rear cross traffic assist and intersection crossing assist. The latter got confused on one occasion when a parked car sat opposite the junction I was pulling out from. As I moved, lights and beeps went off, giving me the fear I'd missed a moving car and was about to get cleaned up. With sensor warnings also going off while I was stationary in a two-way traffic jam situation, it shows this technology may be very welcome, but also not seamless.
Standouts on the tech front include a Wi-Fi hotspot (for up to eight devices), online radio and hybrid radio, increased personalisation for the Virtual Cockpit – and the ability to have a Google Earth view in your sat nav is brilliantly effective. The Audi Connect Plus infotainment, with its permanent data connection, also shines with real-time traffic information and avoidance options, and being able to check petrol station fuel prices (it cleverly gives you the price of the required 95 RON rather than 91), parking space availability in the likes of Westfield shopping centres and even Yelp reviews for restaurants and wineries. Word of warning: the Audi Connect SIM is free for the first three years, but there'll be an as yet unknown charge after this.
It's easy to get caught up in all the technology and forget about the actual drive experience. As we've come to expect of these non-S or non-RS Audi sedans there's competence in spades but without serious driver engagement. For me, BMW is the German that still does this best of all. That's not to say this A6 isn't fit for purpose. My 45 TFSI quattro S line will be the popular choice for good reason, as it's the most sensible all-rounder. Its 0-100km/h time of six seconds is impressive and arguably all you need, and a return of 7.3L/100km (which was nearly matched on test) is a win on the economy front. The engine is a refined thing and the cabin does an excellent job of suppressing noise. I found little difference in ride comfort between the non-S line's 19-inch wheels to the S line's 20s, and ride comfort was good if not superb. It did feel the harsher bumps, but the S line's damper control kept most imperfections in decent check.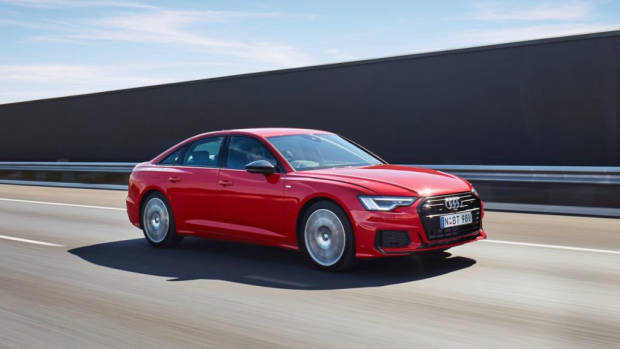 The 7-speed S tronic gearbox was a dash tardy when cruising in Comfort mode, but a switch into Dynamic had the gears, throttle response and steering on alert to boost response. The adaptive dampers in more athletic settings, a quick blast up Adelaide's curvy Willunga Hill, showed off the A6's composed nature. For a reasonably big car the four-cylinder turbo hustled it along impressively, and the body control and balance – helped by that quattro all-wheel-drive – proved near unflappable at fast road speeds. It did an impressive job of disguising its large sedan nature, so even on tight turns it kept its sporty feel, compelling the driver to push on even harder in the next bend. Overall, impressive competence rather than grin-inducing fun.
The A6 will, of course, be bought by the select few SUV rejectors sold on its gracefully sporting looks, refinement and deep list of latest technology. It's hard to imagine any being disappointed, with the new A6's design and standout cabin sure to give this model a much-needed boost to claw some sales back from the quality German competition. Come next year the A6 range choice will be lengthy indeed – the S, RS and Allroad having their specific niches. But the 45 TFSI S line should be the volume seller, offering a superb mix of ample performance, style and technology.