Audi has revealed key details of its fourth-generation Audi RS6 uber-wagon, set to compete with heavy-hitters of the Autobahn including the BMW M5 Competition and Mercedes-AMG E63 S. In true Audi tradition the RS6 is, however, the only one of the hot German trio available in a wagon body shape and how could you not be intrigued by a family wagon with 880Nm of torque.
With a twin-turbo V8 with mild hybrid assistance that produces 441kW and a massive 880Nm of torque, the C8 RS6 is sure to be rapid when it arrives. The RS6 dispatches the sprint from 0-100km/h in a claimed 3.6 seconds, which is notably slower than both the Mercedes-AMG E63 S (3.4 seconds), and BMW M5 Competition (3.3 seconds).
Audi has quoted a 0-200km/h figure of 12 seconds and top-speed governed to 250km/h, although the limiter can be raised 280km/h with optional dynamic package, and an impressive 305km/h with the dynamic package plus.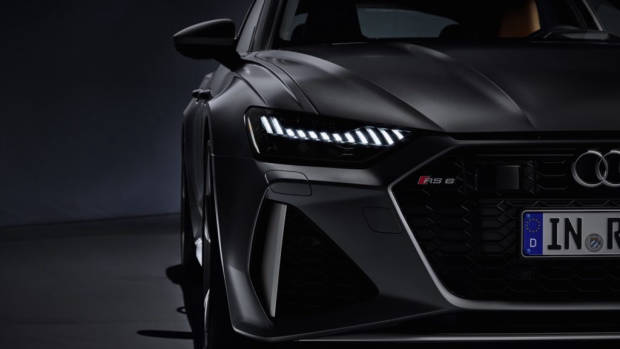 Audi's mild hybrid system is essentially an alternator that generates power when decelerating, giving up to a 12kW power boost. Audi also claim boosts in efficiency, with alleged fuel savings of 0.8L/100km. The RS6 is equipped with cylinder deactivation system which allows cylinders 2-3-5-8 to shut down when cruising.
Power is transferred via an eight-speed torque converter automatic much like the C7 generation RS6. Power is fed to all-four wheels through Audi's Quattro all-wheel-drive system which in the RS6 is calibrated for a 40:60 front-to-rear torque bias and at maximum allows 70% of torque to be sent to the front wheels, or 85% to the rear.
As standard the RS6 has a torque-vectoring system applied by braking specific wheels, though if the dynamic or dynamic plus packages are selected a 'Quattro sport' mechanical limited-slip differential is fitted to the rear-axle.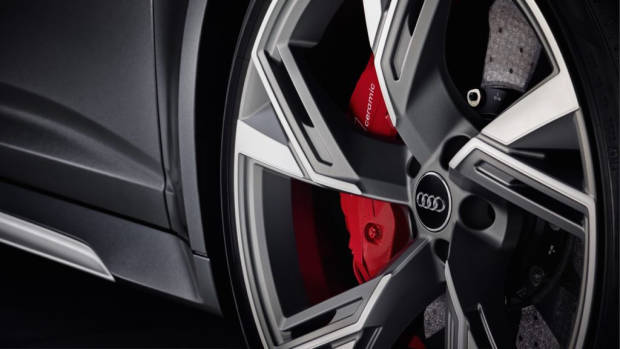 This is certainly the most aggressive looking Audi RS6 to date, Audi claim that only the roof, front doors, and boot lid are standard A6 fare, every other panel is specific to the RS6. Audi mention specifically the three slats between the bonnet and front bumper, flared guards (by 40mm), and generous bonnet bulge call back to Audi Sport Quattro of the 80's. Sitting on sizable 21-inch ten spoke wheels as standard with 275/35 series tyres, the RS6 pictured sits on the optional 22-inch five spoke 'trapezoidal' wheels shod in 285/30 series tyres.
The (now signature) Audi front grille has undergone the 'black-out' treatment, dropping the chrome accents of the A6 for a more aggressive look. This theme continues around the rest of the car on the sills and anywhere else chrome is to be found on the standard A6, it's now shadow black. The front bumper also receives significantly bigger air inlets for cooling enhancing the brutish stance of the RS6, we can't wait to see one in the flesh.
The fourth-gen RS6 is equipped with adaptive air-suspension as standard. Initially this choice may seem strange on a performance car, but on the 'uber-wagon' it makes sense. No grandmas or labradors want their teeth rattled out by pockmarked Australian roads.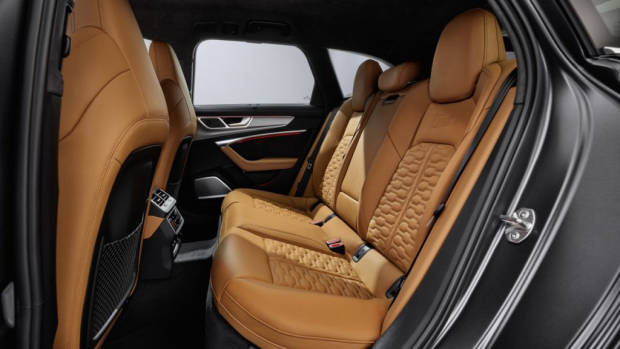 The RS6 sits 20mm lower than the A6 avant, though over 120km/h the air-suspension will drop a further 10mm to improve stability, the air suspension has the ability to raise by up to 20mm at low-speeds to make navigating car parks pain-free. Audi does offer the RS6 with more traditional steel spring and adjustable damper set-up too, with active roll-control to quell body lean under hard cornering.
The RS6 has a selection of six drive modes available, comfort, auto, dynamic, and an efficiency mode, along with a customisable RS1 mode, and RS2 mode which Audi say exists to "specifically influence the ESC at the push of a button".
Audi's interiors are fantastic and the RS6 continues this trend with minimal and classy design, the only real divisive feature being the flat-bottomed wheel. The wagon form means a generous boot space, too, with 565L, or 1,685L with the 40/20/40 split rear seats folded down.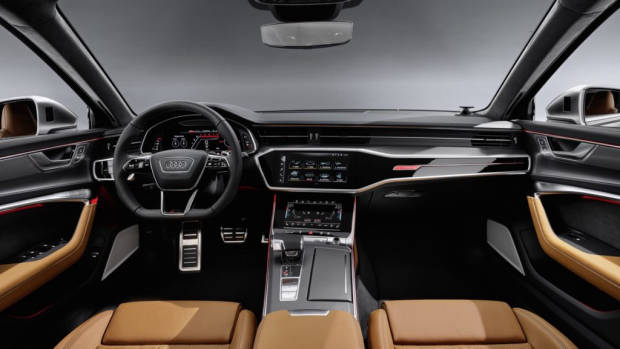 Interior technology on the RS6 includes Audi's new touchscreen-driven MMI, an 'RS' monitor read-out with coolant and oil temperature, tyre temperature and pressure, as well as G force readings, Audi virtual cockpit, shift lights, optional head-up display, optional rear-wheel steer, multifunction steering wheel, Audi sports seats with RS bucket seats optional, RS badges adorning everything, keyless entry, power boot, optional reverse camera with trailer reverse assist.
Audi say the C8 RS6 is fitted with thirty-plus driver assist systems including active cruise, intersection warning, lane-keep assist with warning, park assist, and 360 degree cameras.
Audi have not confirmed Australian pricing for the fourth-generation RS6 uber-wagon, but it is due to land on our shores in Mid-2020 with pricing and final specifications announced closer to launch.