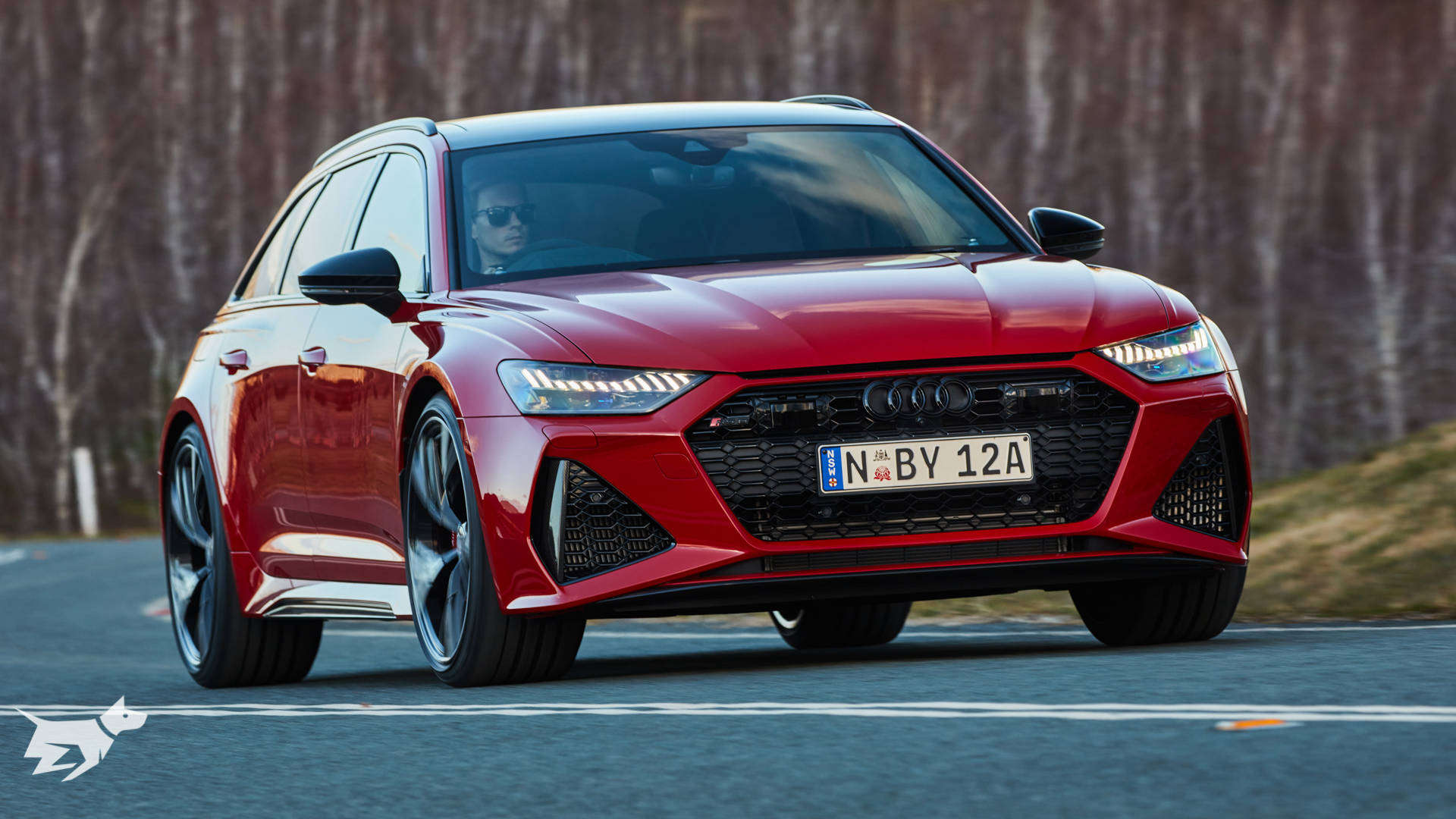 If station wagons are a niche, thinking person's choice in the family car world, then four-litre twin-turbo V8 super-wagons is an uber-niche, slightly unhinged person's choice. But the enlightened woman or man who buys a 2020 Audi RS6 is somebody we want to spend time with: forget about six-figure SUVs. This is the vehicle to buy if you need to seat five with regularity, while carrying their stuff in the long load-bay behind them.
Most middle-aged Australians will remember being driven to school in the back of a station wagon – or estate car, if you prefer the English terminology – and that's probably why they have been relegated to somewhat daggy status compared to high-riding crossovers. However, we've noticed a slight swing back to the wagon in certain parts of the Australian new car market. Wagons drive like cars, not like slightly unwieldy trucks – and the RS6 drives like a supercar.
What is an Audi RS6?
The Audi RS6 is one of this Ingolstadt, Germany-based brand's flagship vehicles. While there is a higher-numbered RS7, that vehicle is a saloon-esque hatchback version of this car. Audi also sell the S8 limousine, but that vehicle isn't an RS (Renn Sport, or Race Sport) – and the sheer outputs of this 441kW/800Nm twin-turbo V8 estate car establish who's really boss amongst the Audi lineup.
The RS6 continues Audi's long-running tradition of positioning a fast station wagon – or Avant, in Audi parlance – at the head of its performance car lineup. Historically, the RS6 and its predecessors, right back to the RS2 Avant that was co-engineered with Porsche, have been wolves in sheep's clothing, largely undetectable without the trained eye and ear. Even the previous generation RS6 was deliberately understated, with only a couple of badges and fat tailpipes to give it away.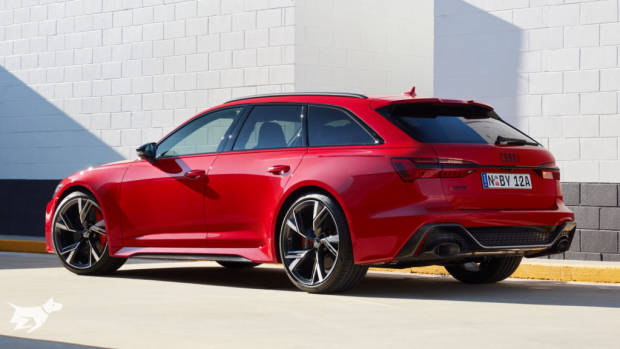 This time, however, Audi have decided to substantially unwind the subtle and understated theme. The new RS6 still isn't massively exaggerated, but the design is certainly more extroverted for the 2020 'C8' generation. Very few panels are shared with the underlying A6 wagon: the entire nose cone is switched to that of the lower-slung RS7, and there are huge flares over all four wheels to draw attention to this vehicle's all-wheel-drive capability. Similarly, at the rear, the angular diffuser treatment is arguably a little overdone.
But as the saying goes – if you've got it, flaunt it. While we may not all agree shouting about our capabilities is a good thing, the Audi RS6 can walk the talk. Sitting above the Audi S6 sedan in the range, The 0-100km/h sprint is conservatively estimated at 3.6 seconds, but in the real world, the RS6 lunges off the line so ferociously we think the real result will be closer to three seconds than four. But launching the RS6, as dead easy as it is thanks to AWD and a brilliantly-tuned eight-speed torque converter automatic – is only a small part of the performance story.
It's the Audi's mind-boggling cross-country pace – while carrying a load in the back – that makes you think that if you could only have one car, an RS6 would surely be it. Despite weighing about 2,100kg, the RS6 is amazingly agile, offering up crisp handling dynamics that wind back the boundaries of physics. Despite all the weight of the bent-eight over the nose, the RS6 dives for corner apexes, stubbornly sticks around them and then catapults out with tremendous throttle response assisted by a beefed-up 48-volt mild-hybrid system.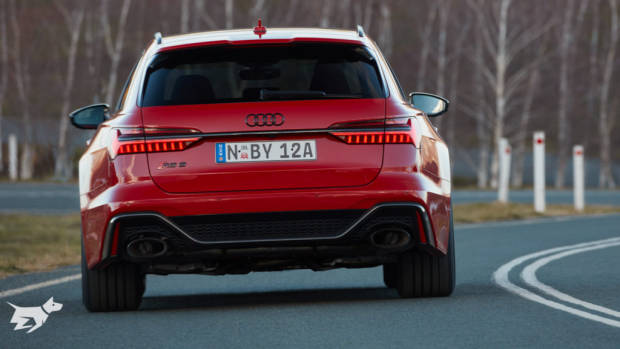 It's here that buyers must choose one of two directions for their RS6. As standard, this wagon is delivered with a specialised RS adaptive air suspension system. However, the optional $2,850 RS Sport Suspension Plus ditches the air in favour of a stiffer setup, sporting conventional steel springs and adaptive dampers. Both arrangements unashamedly bias athleticism, but it is the latter suspension option – sans air – that extracts the most from the RS6's cornering abilities …
… at the expense of ride quality, that is. While the steel Sport Suspension Plus system contains body motion even further, cinching in the RS6's movements even further in the corners, the shorter travel of the springs means occupants aren't as well insulated from the kind of bumps and lateral joints common to Australian back roads – and these sorts of imperfections are already a challenge on 22-inch wheels, which are standard for the Australian-spec RS6.
We drove both setups extensively in NSW's Central West region, and came away thinking that the standard-fit RS adaptive air suspension is the way to go. Not only does the air-sprung setup preserve what we have come to expect from an RS6 dynamically, with the Sport setting lowering the ride height and amplifying cornering abilities, when you want to back off and just cruise, the Comfort setting does a bang-up job concealing nasty bumps in the road. That's precisely the mix you should want from an ultimate grand tourer.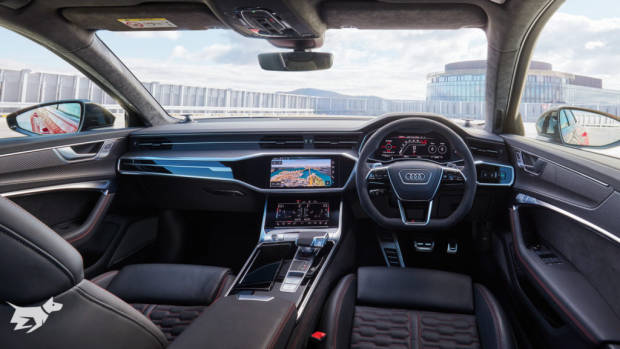 Inside, the 2020 RS6 moves away from the previous car in several ways. There is a new interior layout and a new approach to how you interact with some of the technology – so upgraders will need to learn the new methods. The full-size 12-inch Virtual Cockpit comes to the RS6 for the first time here, allowing you to present performance gauges or a satellite map in glorious high-resolution directly in your line of sight. But the screens continue on the centre console, in the form of two vertically stacked touchscreens measuring 12 and 10 inches respectively.
These screens ditch the mechanical rotary controller of the previous RS6 which was such a boon on rough Australian backroads. Now touch-based, the new screens are intuitive but realistically require you to be travelling on a smooth piece of blacktop in order to hit your target. At least the resolution is very crisp, the software is intuitive, and there's wireless Apple CarPlay included to be enjoyed through the standard Bang and Olufsen stereo. You'll also find integrated navigation, DAB radio, and the Audi Connect data-enabled services suite that includes Google Maps integration, fuel price data, parking space availability and more, all powered by a bundled three-year 4G data plan.
The front seats are epically comfortable and suitable for long-distance touring. Trimmed in Valcona leather in either black (with grey or coloured stitching) or our preferred cognac tan colour, and matched to a standard extended leather package that places hide on virtually every surface you'll touch, the seats offer a huge range of electric adjustment, as well as heating and cooling. The driving position is near-ideal, behind a small-diameter leather (or optional alcantara) steering wheel with a new, dedicated RS Mode shortcut button.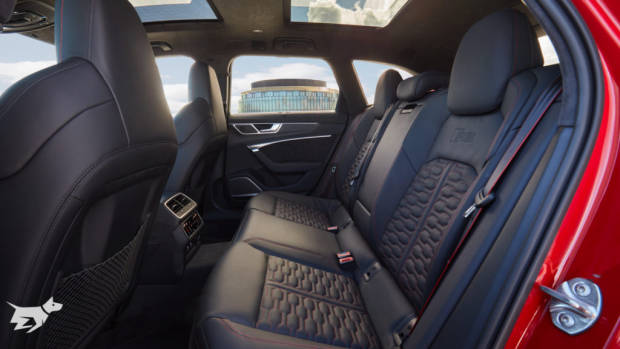 What we miss from the old model was that car's unimpeachable, vault-like quality. While there's no doubt that the 2020 Audi RS6 is a very well-built vehicle, with acres of opulent materials used throughout the luxurious cabin, we did hear a few minor creaks as we traversed some admittedly broken-up road surfaces. We're finding this to be relatively common in Audi's new high-end vehicles that have a higher number of trim fittings across the full breadth of the dash, which seem to move about more as the car flexes, as opposed to the simpler, one-piece dashboard used on the previous RS6 and on lower-cost new Audis, like the new RS Q3.
In the back, there's room aplenty. Both outboard rear seats have substantial legroom and headroom, although the middle seat is too much of a perch – making the RS6 a rather large four-seater, speaking realistically. The back row is still very sumptuously appointed, though families wanting the flexibility of seven seats will need to look to the diesel V8-powered SQ7 TDI, which we've reviewed here. No arguing with the RS6's 565-litre boot, which offers capacious load-lugging capability behind an electric tailgate.
How much is the 2020 Audi RS6?
The 2020 Audi RS6 Avant comes to Australia in a very highly specified form as standard. Features that are considered desirable options in this car's home European markets have been included by Audi Australia – for a low-volume vehicle like this, it's understood that most customers will want a good range of luxury and performance features included in the $216,000 (about $233,000) driveaway price.
The RS6's standard feature set is extensive. Seven colours are standard – metallic white, silver, grey, black, red, blue and the well-known, non-metallic Nardo Grey. Special Audi Exclusive colours (for both the exterior and interior) can be ordered separately, including matte hues for $10,900. Outside, you'll note the 22-inch wheels and 285/30 R22 tyres, HD Matrix LED headlights, tinted windows, and a black pack for the grille, mirrors and exterior trim – though this can be deleted and replaced with matte aluminium, which we recommend doing.
A substantial amount of performance kit is fitted as standard. This starts with the RS high performance brakes with red callipers and extends to four wheel steering, a rear sport differential for the Quattro system, and the RS air suspension. As standard, the top speed of the RS6 is governed to 250km/h.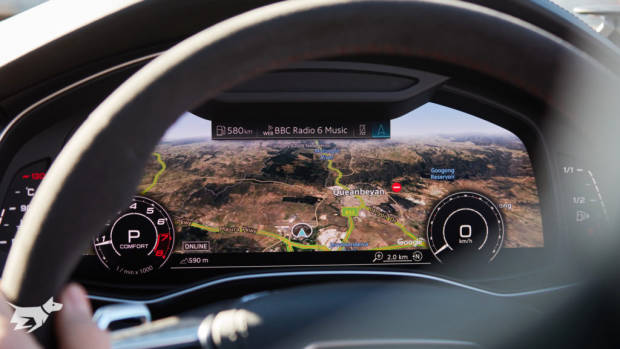 Inside, the RS6 sports unique RS 'tombstone' seats with front seat heating and cooling. The inlays are aluminium by default, though a beautiful natural ash wood ($750) and carbon twill ($1,700) are optional. The climate control has four zones with two fragrances included to keep the cabin smelling pleasant, along with a 30-colour LED ambient lighting setup, a flat-bottom steering wheel, and illuminated aluminium door sill trims.
Tech-wise, RS6 buyers enjoy three bright screens, along with a Bang and Olufsen 3D stereo with 16 speakers and an output of 705 watts, plus a full-colour head-up display, wireless charging, and two simultaneous Bluetooth connections.
While the standard specification is generous, there are a number of options available to customise a 2020 Audi RS6. Some of these are organised into bundles. The $11,000 Sensory Package adds rear seat heating and sunshades, plus an even more powerful 1,820-watt 19-speaker Bang & Olufsen Advanced hi-fi, along with black alcantara headlining and a leather steering wheel airbag cover (shouldn't that be standard?). The $19,500 RS Dynamic Package Plus brings ceramic brakes with red, blue, or grey callipers – and these meatier stoppers allow Audi to increase the governed top speed to 305km/h.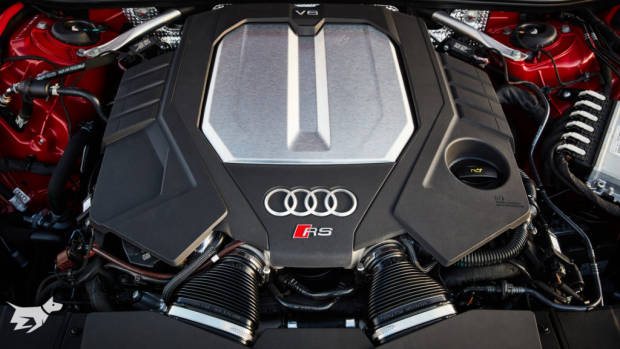 From there, it's all about aesthetic options. The $8,700 Carbon and Black pack adds gloss carbon fibre to the front spoiler, side flaps, side sills and rear diffuser, and gloss black trim to most other exterior aspects. Two RS Design packages (in red or grey, both $2,900) add alcantara to the steering wheel rim, sides of the centre console and shifter gaiter along with a variety of stitching in either colour to various interior components.
Individual options include the $2,850 optional Sport Suspension Plus, gloss black Audi rings and badges ($700), a luggage rail system ($750), and DVD player ($350).
Is there an RS6 sedan?
Yes, there is … in a way. If you're not a fan of station wagons – and there are some among us who aren't – the 2020 Audi RS7 Sportback may well be the solution for you. The RS7 is also a real looker. The Daytona Grey over Cognac Brown RS7 on launch certainly tickled our fancy.
Fundamentally the same vehicle as the RS6 underneath, and powered by the same 441kW/800Nm four-litre twin-turbo V8 petrol engine, the RS7 is rebodied into a lower, wider saloon shape – though it's actually a hatchback. Audi are just sticklers for practicality!
There was a true sedan version of the Audi RS6 in the 'C6' generation that lasted from 2008 to 2011. Since then, the RS6 has been wagon-only.
Should I buy an Audi RS6?
If you're looking for a vehicle that can comfortably transport a family of four – or five at a pinch – plus their luggage behind, at autobahn speeds or cross-country at breakneck pace, then yes.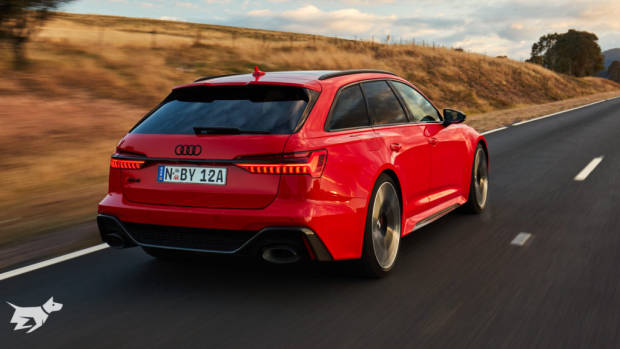 More realistically, Audi RS6 drivers will enjoy a vehicle that can be practical and placid on the weekdays and wild on the weekends. There is a very, very short list of vehicles that can offer truly supercar-like performance on demand with the ability to wind that all back to a sensible family wagon when the kids are around.
So, if the family car budget can stretch to $240,000 on road or so – once you've included a few choice options and perhaps an Exclusive colour combination – we'd definitely go for a new Audi RS6.