The first allocation of the highly anticipated Chevrolet C8 Corvette is on track to arrive in Australia before the end of 2021, General Motors Speciality Vehicles (GMSV) has confirmed.
A spokesperson from GMSV told Chasing Cars that some customers have already received build information for their 2022 Corvettes.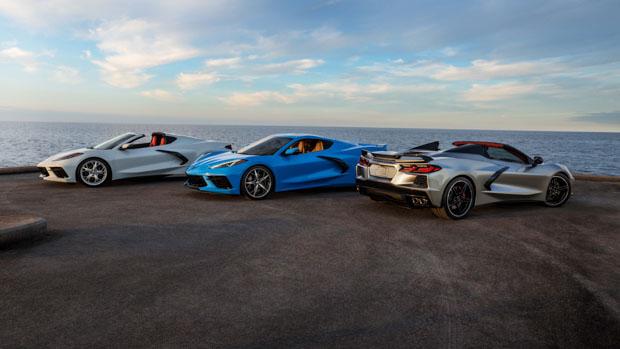 "Some of our allocation is in the build process and will be shipped in 2021, but there are a few things outside our control which will determine exactly when they land and when they'll get to customers," he said.
The Corvette Z06 unveiled yesterday will also be coming to Australia in right-hand-drive form but additional official information is currently limited.
"We're yet to learn price, allocation and timing," the spokesperson from GMSV said.
No orders have yet been placed for the Corvette Z06 in Australia as they are yet to officially open to the public, but we expect they won't be far off with the Australian confirmation.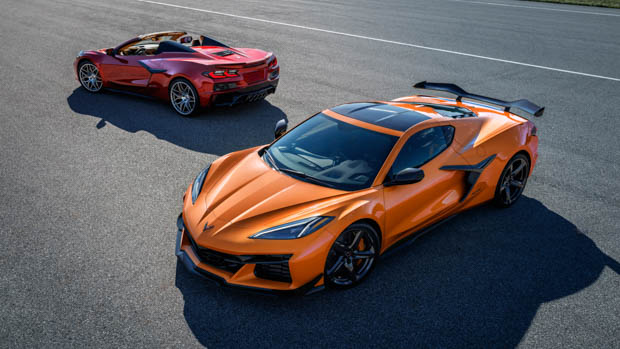 While an official arrival date has yet to be set for the Corvette Z06, we expect buyers will need to wait until 2023. Left-hand-drive production won't start until the North American summer next year, with right-hand drive production following some months later.
GMSV has not named the potential issues that could hinder its Australian deliveries and specification but global semiconductor shortages, matched with extensive shipping delays, have made it difficult for the entire car industry to deliver cars on time.
At launch, the C8 Corvette will be available in a choice of three grades in both coupe and convertible bodystyles, with prices starting at $144,990 before on-road costs.
Australia will receive the 6.2-litre V8 engine fitted with the Z51 Performance Package that takes outputs to 369kW and 631Nm, and sends power to the rear wheels via an eight-speed dual-clutch automatic transmission.
The Corvette Z06 has a significantly more sophisticated 5.5-litre V8 fitted with a flat-plane crank and dual overhead camshafts that delivers peak outputs of 500kW and 623Nm, and an 8600rpm redline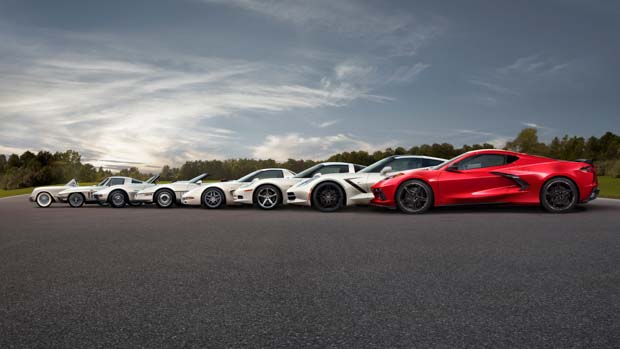 Coming to Australia for the first time
The eighth-generation Corvette, dubbed the C8, went on sale in North America in February 2020 and has faced huge demand in Chevrolet's home market, as well as abroad.
When the C8 arrives it will become the first Corvette generation to officially be sold in Australia, though many tuning houses have taken it upon themselves to offer right-hand-drive conversions for many years.
The decision to build the C8 Corvette in right-hand drive has also allowed GM to sell its iconic sports car in major markets like Japan and the UK.
It follows a similar decision by Ford who decided to build the seventh-generation Mustang in right-hand drive from the factory, prompting significant sales success in Australia.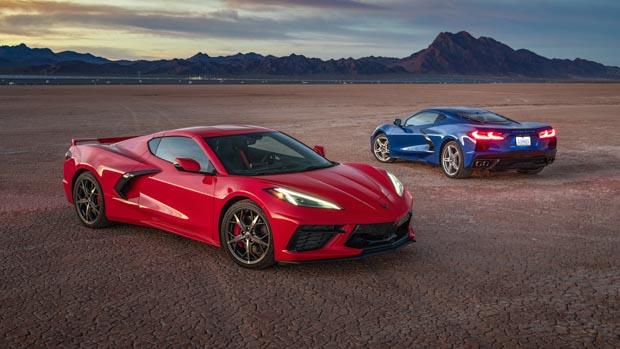 The other major difference with the eighth-generation Corvette is the decision to move the engine from a front-mid position to a mid-rear position behind the driver, with power still sent exclusively to the rear wheels.
Doing so has allowed a more ideal weight distribution, with international media quoting significant improvements in braking, acceleration and cornering when compared to the seventh-generation C7 Corvette.
As we've mentioned, the C8 Corvette should arrive in limited numbers from the end of this year, however there are many variables at play so we'll keep you updated with any changes in timing.
Chevrolet Corvette 2022: prices in Australia
All prices listed are before on-road costs.
Corvette 2LT coupe: $144,990
Corvette 2LT convertible: $159,990
Corvette 3LT coupe: $160,500
Corvette 3LT convertible: $175,500
Corvette Carbon Edition: TBC