Despite rumours that plans to bring the Chevrolet Corvette supercar to Australia had been shelved, new distributor General Motors Special Vehicles (GMSV) has assured buyers that the vehicle will make it to our shores.
The right-hand-drive Corvette will be offered for sale firstly in Japan, where General Motors has priced the entry-level 2LT at around 11.7 million Japanese yen – currently equivalent to AUD$152,000.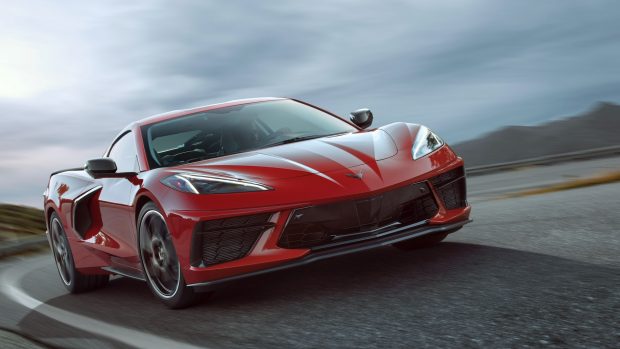 Australian pricing and arrival dates are yet to be confirmed by GMSV, but we expect the local cost of the Corvette to be somewhere in the $150,000 ballpark.
The expected launch date for the new Corvette is likely to be in the second half of 2021, once GMSV has landed their volume sellers: the new Chevrolet Silverado 1500 and 2500 pick-up trucks.
How will the Corvette stack up against rivals?
If the price figures are accurate, expect the Corvette Stingray to represent pretty good value alongside the similarly mid-engined Porsche 718 Cayman and Boxster line-up.
Chevrolet suggest that the Corvette is really placed in the supercar class, fending off threats from far more expensive rivals from Ferrari and Lamborghini.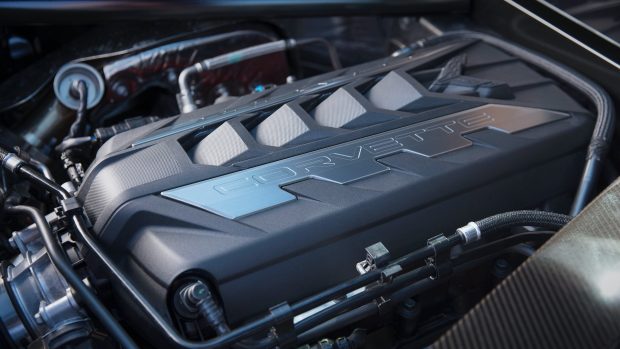 What are the new Corvette's specifications?
There's quite a lot to look forward to when the new Corvette arrives in Australia.
The recipe starts with a proven 6.2-litre LT2 naturally-aspirated petrol V8 engine mounted in the middle of a slinky body, with maximum outputs of 369kW and 637Nm if optioned with the Performance Package that will be a mandatory take for Australian buyers.
Those beefy outputs are sent to the rear wheels only via an eight-speed dual-clutch automatic gearbox. A manual is not available.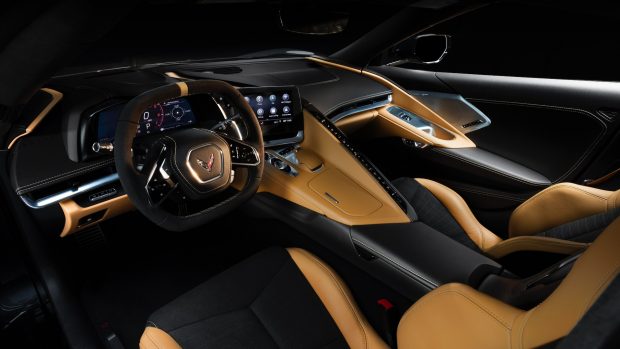 Performance figures are imposing: 0-100km/h is dispatched as fast as 2.9 seconds with the Z51 package, before going on to a top speed of 296km/h.
If you're more interested in top speed, you'll want to skip the Z51 package though. The Z51's higher diff ratio of 5.2:1 limits maximum velocity, with the longer 4.9:1 gear set the C8 Corvette is good for a top speed of 312km/h.
The 'regular' Corvette also makes do with slightly lower outputs of 365kW and 631Nm. However, all Australian-delivered 'Vettes will pack the more powerful 369kW donk.
How will this American supercar handle Australian roads?
Things bode much better for the new C8 Corvette Stingray than those gone before, and it all starts with engine location. Sticking the engine in the middle is, in theory, the best way to make a balanced vehicle. With all the weight between the wheels, the Corvette should break away from its rapid but unathletic muscle car heritage.
Naturally, both front and rear suspension systems are fully independent, and Chevrolet will offer Corvettes with adaptive dampers. The performance pack cars bring firmer suspension settings in general. Braking is taken care of by Brembo four-piston callipers all around.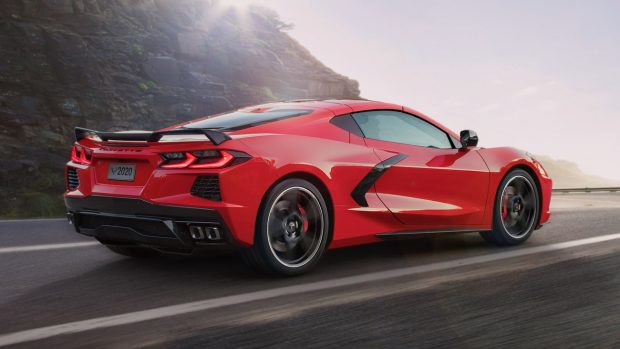 Corvettes are about image: does the new one deliver?
If you're partial to a bit of Americana, we sure think so. There are clear aeronautical influences everywhere on the new C8, it's a very angular shape, almost like a Harrier jet. The fresh proportions look somewhat out of character for the Corvette; the bonnet much shorter, and cabin set further forward. Of course, that's due to the new mid-engined layout.
For the first time, you can buy a coupe Corvette; all previous models employed Targa top roofs. There will also be a fully loaded Convertible range-topping model which will start from ¥15.5 million, or roughly AU$200,000,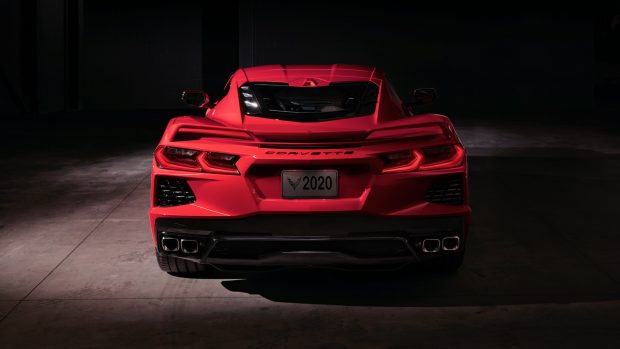 Inside the team has kept their work ethic up; the new C8 envelops the driver entirely, with a flying centre consol wrapping around an eight-inch touchscreen and customisable digital driver's display. The cabin does reflect that of a jet fighter – it's proper cool.
Sports seats are standard, but optionally available are Nappa leather-appointed items, and racier bucket seats. There are plenty of leather hues to choose from, including Red and Yellow. Wireless Apple CarPlay and Android Auto are standard, and there are all the connectivity functions you would expect.
Safety is not the Corvette's priority; the sports car doesn't have AEB or provisions for adaptive cruise control. It does, however, come equipped with a reverse camera and rear parking sensors as standard – blind-spot monitoring, rear cross-traffic alert and front vision cameras are available on the mid-spec vehicle in America. Exact Australian specification is still unconfirmed.
When is the Corvette going to arrive in Australia?
This is something we still don't have exact information on, though the Australian arm of GM – GMSV – has indicated that a late 2021 arrival is possible, subject to production and availability levels.