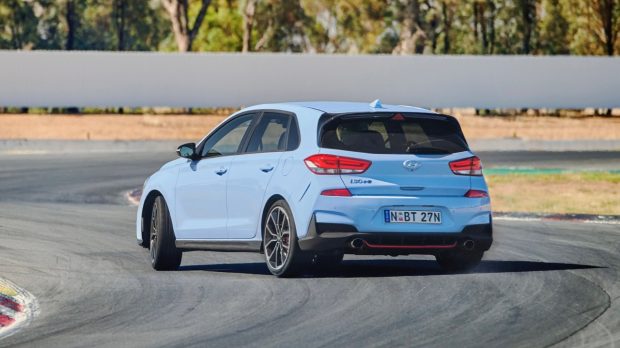 What do you do when you want to build the first hot hatch ever to pose a serious threat to the Volkswagen Golf GTI? Well, you follow Hyundai's recipe to a T, because that's what the 2018 Hyundai i30 N is. This is the first car that has a real chance to knock the GTI off its perch as the default-choice hot hatch. We spent last week driving the i30 N hard on road – on northern Victoria's challenging alpine roads – and on track at Winton Circuit. We've come away with the impression that the i30 N is a stellar achievement, and it is all the more impressive given this is the very first product developed by Hyundai's N performance-car division. To many who don't follow developments in the automotive industry closely, the i30 N's largely unheralded arrival will have plenty of people asking where this car came from.
That brings us back to the winning recipe that produced the i30 N. It goes like this: forge a favourable reputation for the base car – the i30 hatch. Recruit the best talent from established go-fast divisions – in this case, Albert Biermann and friends from BMW M. Then, spend whatever it takes to get the debut product right. Get the ratio of ingredients right and be patient, and it's possible to smack the fiercely competitive hot hatch segment hard, like Hyundai are doing with this car.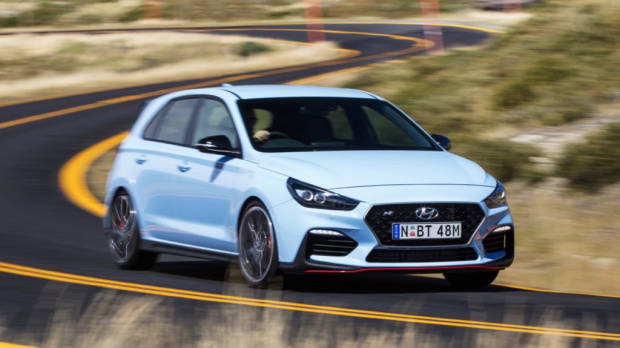 If we sound complimentary about the new i30 N, that's because we like it a lot. No, the i30 N does not immediately give the impression that it is a a Golf GTI beater – sure, the Hyundai is faster and better value but we didn't emerge with the perception that the Hyundai smashes the ultimate all-rounder persona that marks out the Golf GTI as such an easy choice. But that would be an unrealistic bar for a first-go car, even if that first-go is a product of seasoned engineers largely plucked from BMW in Munich. We think the appropriate bar to set for this car is the one we've established above: can it at least seriously challenge the Golf? As we'll set out, we think the i30 N is highly credible in this regard – and if you're GTI shopping, you simply have to test drive the Hyundai. In the longer term, this car puts Volkswagen and other makers of quality hot hatches – Honda, Peugeot, and Ford among others – well and truly on notice for what N does next.
So that's the big-picture meaning and posterity of the i30 N out of the way. Now, we can get into what this car is really like when experienced on and around demanding Australian roads.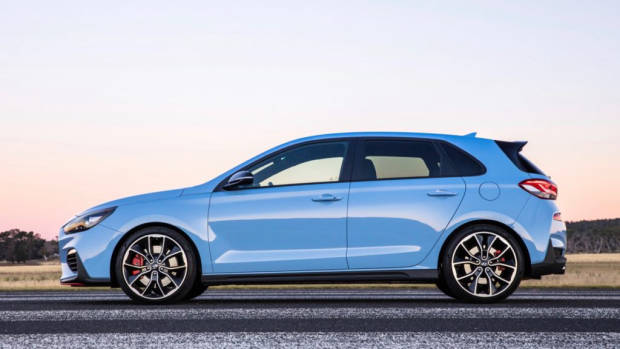 But before we get moving, the i30 N scores runs statically. The first win is the $39,990 price point that Hyundai Australia must be elated to have achieved – whether this is a profitable offer we are not sure, not that this matters to buyers. At under forty grand, a 202kW/353Nm two-litre turbo, with a mechanical front-end LSD, a performance exhaust, AEB, and a well-equipped interior with navigation, DAB radio and dual-zone climate control is undoubtedly compelling. And so is the $42,990 offer that bundles a Luxury package, which we think most people will go for, adding heated suede/leather seats with electric adjustment and memory for the driver, keyless access and go and wireless charging. Even when loaded up with creature comforts, the i30 N is still $500 cheaper than a basic Golf GTI five-door manual which is not as generously equipped.
Then there's the way it looks: design might be subjective but we think the i30 N looks right, with smart and cohesive lines that build upon the already-handsome SR model that sits beneath the N in the i30 range. Like the Golf GTI and R, and the Peugeot 308 GTi, the i30 N errs towards conservatism and not overt aggression – a la Honda Civic Type R. We know what we prefer: on a heavily-policed road network, driving a hot hatch with restrained visual features, and one that could be mistaken for a slower model is not a bad thing. The Civic Type R's juvenile lines mean it catches the eye of every officer of the law it passes. By contrast, in white, silver, grey or black, a Hyundai i30 N flies under the radar. In red or the awesome halo hue, Performance Blue, it attracts more attention. Plus, we're happy to see a brand using a baby blue. It suits this car.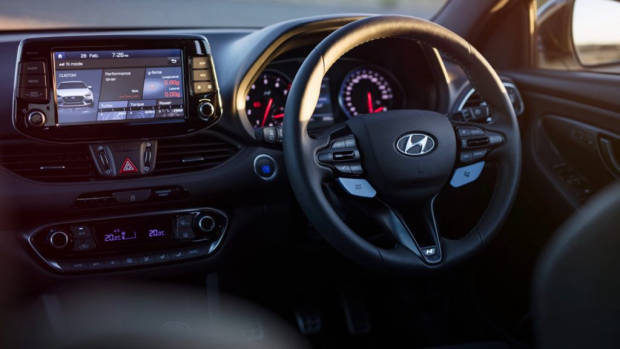 As for the interior, it's pretty clear that Hyundai spent the money for the i30 N programme on the oily parts, not cabin adjustments. Aside from the sports bucket seats with blue stitching, and a blue-flecked steering wheel, this is effectively a standard i30 cabin with lots of black plastic. It's fine, rather than impressive. For dealership appeal, a Golf GTI or 308 GTi have the Hyundai cornered, if cabin looks matter to you. The infotainment is among the best in the business, though; the navigation graphics are a bit cheesy but the eight-inch touchscreen is very easy to use, and it has Apple CarPlay and Android Auto. The speakers are average. Half the materials are soft-touch. The ergonomics are good, and practicality up front is decent. In the back, legroom shrinks because of the front bucket seats but six-footers can still fit behind six-footers. The boot gets marginally smaller because of a (removable) strut brace that also removes the 'flat' from flat-folding seats. Cargo capacity remains a decent 381L, however.
Don't think considerations of the interior are irrelevant: you'll want to sit in each one of the hot hatches you're considering for a while, because the fact is that these cars are mostly used as commuters by their buyers five days a week. Making the i30 N liveable everyday was a stated goal by Hyundai. This car does that job pretty well, though the Luxury Pack makes the most sense. Not only are the leather/suede seats more comfortable, their range of adjustment is vastly better and we achieved a lower, better driving position with the upgraded pews over the standard cloth seats which are a little ordinary.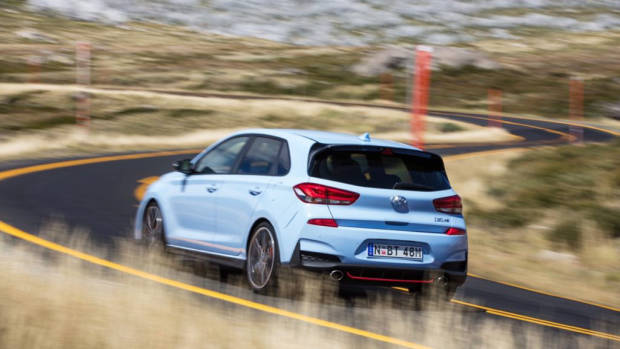 Ultimately, though, we're most interested in how the Hyundai i30 N drives. Here, it scores high marks. Last time we drove this car, Hyundai Australia were not settled on whether they would take one or two different tunes of the i30 N. In other markets, there is a basic 184kW/353Nm version with no locking front-end differential. But when it became clear the Australian arm was able to get the global 'Performance Package', with its 202kW/353Nm boost and a proper LSD for under $40,000, the entry model was scuttled. This choice is the right one. The 202kW tune feels competitive with the current hot hatch set and blitzes the Golf GTI's modest 169kW output. The i30 N's turbocharged engine is linear and tractable, with a good amount of shove available across the rev range. The torque comes on strong before 2,000rpm and if you commit to full throttle, it'll overboost to 378Nm for almost twenty seconds at a time with a few seconds of cooling in between uses. We believe Hyundai when they intimate that this car's official 6.1 second 0-100km/h sprint is conservative.
Offering only a six-speed manual at launch is an unusual choice, and the alternative eight-speed dual-clutch automatic is still about 18 months away. This will hurt the car in Australia, no doubt, but thankfully, the manual is a good one and those that can live without an auto will find much to like about the i30 N's stick. With a ball shifter that strikes a balance between Civic Type R and Golf GTI, but with a short throw closer in style to the Honda, this is a fun manual. The inclusion of automatic rev matching with a dedicated steering wheel button is inspired, making the i30 N manual easy to drive, but allowing heel-toe experts to disable the feature on request. The clutch is light and conventional in feel. The only problem is the ratios themselves. Too many times on corner exit, second was too low and third was too high.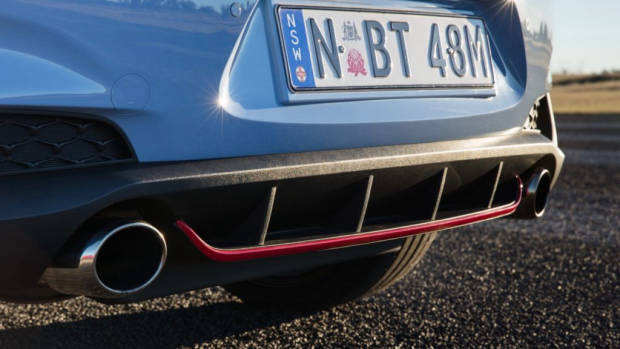 Hyundai have read the market correctly in realising that a great-sounding exhaust is something hot hatch buyers lust after. The i30 N's standard performance exhaust is shiveringly good, with a bratty personality that serves up pop after crackle on every overrun, at least when the 'Sport Plus' exhaust is selected – more on that later. Loud both inside and outside the car – a lot of people care about this – the i30 N hits a perfect aural note, at least on the exhaust front. At the other end of the car, the engine sound is gravelly and uninspiring, with some metallic unpleasantness at high RPMs. There's plenty of turbo whistle but subdued intake noise. More work here would be appreciated.
The i30 N's adjustable electric power steering is quite different from an i30 SR because the motor for the electric power assistance moves from the column to the rack. Hyundai says this change generates more road feel, and lo and behold, the road surface was detectable through the well-sized, blue-stitched tiller around the Kiewa Valley. The front end is quite nimble if not as darty as a Peugeot 308 GTi or Honda Civic Type R, but it is supported by grippy Pirelli P Zero HN tyres developed in collaboration with N Division ('HN' means Hyundai-N). Like other P Zeros, these ones kick up plenty of road noise – this isn't a quiet car on coarse chip. But the HNs are made from a more durable compound than standard P Zeros, and a whole day of abuse at Winton left more than enough tread to drive home on legally. Impressive.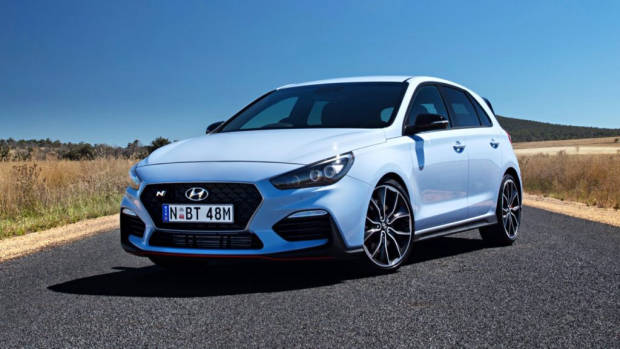 Hyundai will offer semi-slick Pirelli P Zero Trofeo R tyres as an accessory, and we had the opportunity to drive a track-ready i30 N on Trofeos at Winton. This was a great experience and demonstrated to us that Hyundai have real potential to offer a harder 'I30 N Cup', perhaps with just a little more power extracted from the two-litre, and adding the Trofeo Rs along with upgraded brake pads and cooling ducts that were also fitted to the track tester. In the standard i30 N on P Zero HN tyres, we recorded 1:43.50 at Winton. On Trofeos, this fell to 1:41 dead. The regular setup was impressive – the HN tyres and standard brakes are remarkably strong and durable, but if you are planning to track the i30 N, as Hyundai believes up to half of buyers will, we'd be buying a set of Trofeos or other semi-slick tyres to make the most of this car's potential.
There is the capacity for significant dynamic personalisation built into the i30 N. There are five drive modes in this car. Three are accessed via the steering wheel's 'drive mode' button: these are Eco (why bother?), Normal (our choice for pottering around town), and Sport (we're not sure why this exists). Then, via a separate chequered flag button, you find N mode and N-Custom. There's quite a difference between those two, and N-Custom is the one to go for whenever you want to drive with intent.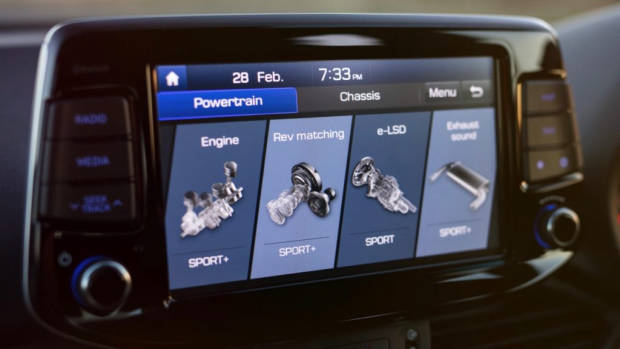 The standard N mode simply dials up everything to the hardest, sportiest settings – that's the throttle response, rev-matched downshift aggression, the steering, suspension stiffness, the loudness of the exhaust, and the intensity of the LSD. N-Custom, on the other hand, is basically a personalised mode that allows you to mix and match the aggression of those individual dynamic elements. Over several hundred kilometres of hard road driving, we found that the suspension was best in its softest setting, the steering should be backed off to the medium setting and everything else could be left in their whole-hog modes. And we felt the same way on track.
We'd make those adjustments to our ideal N-Custom setting for these reasons. Hyundai have done an excellent job on the i30 N's ride but the most aggressive 'Sport Plus' suspension setting is just too stiff for Australian roads; even Sport frustrated us. Normal is still stiff by any reasonable standard, but it allows an appropriate amount of vertical motion in the car just to take the edge off big bumps. On track, the more relaxed ride allowed the i30 N to lean more, placing less reliance on its tyres and shaving a second off our lap times at Winton. As for the steering, it's artificially heavy in 'Sport Plus', but about right in 'Sport'.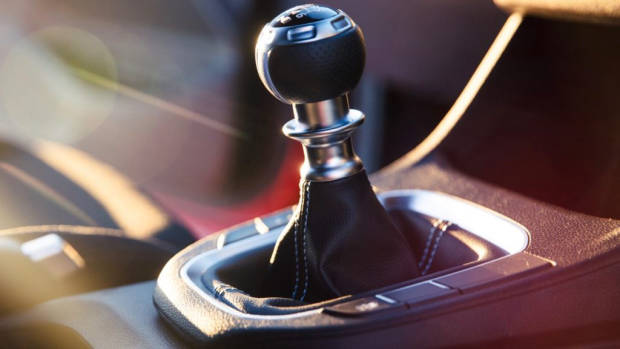 Around town, the i30 N is an easy car to drive. It doesn't feel compromised or harsh like some other hot hatches do in urban settings. Switched back into its 'Normal' drive mode, the i30 N's steering is light with lots of power assistance at low speed, the clutch and gear shift are manageable. The automated rev matching makes downshifting in heavy traffic much smoother. The engine has plenty of low-down torque for darting into gaps in traffic. The ride quality is acceptable in urban settings, but it's hard for this firm suspension to fully stop the big 19-inch wheels from crashing into potholes. An 18-inch wheel option would be nice.
All up, what do we think of the i30 N after our first impression of the car on Australian roads, and at Winton circuit? Well, the i30 N is a bewilderingly good first effort from a brand that, before now, had barely dipped a toe into the sea of performance motoring. Our forthcoming four-way hot hatch comparison, featuring the i30 N, Golf GTI, 308 GTi and Civic Type R will reveal how close the i30 N comes to toppling class benchmarks. On its own merit, we think this is a hot hatch with a chance of beating at least a couple of them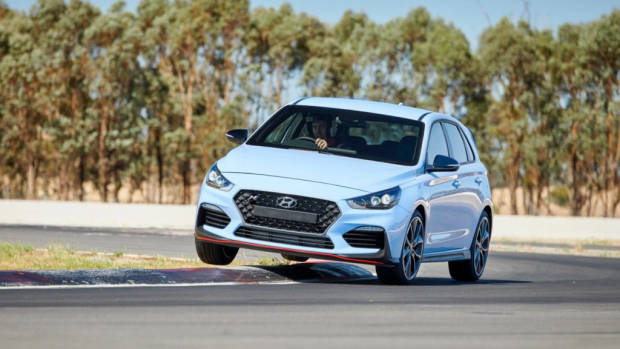 But we actually think that isn't the real point of the i30 N. Sure, Hyundai would be happy for this car to beat some of its rivals in the volume stakes, but the true purpose of the 2018 i30 N is to shift buyer perceptions of what Hyundai can do. With that in mind, the i30 N hits its target and then some.
Driving the first i30 N is a fun and engaging experience but on a first hard drive, we think it pulls up slightly short in the cohesiveness stakes. Corner to corner, shift to shift, we're not sure the i30 N lures its driver in quite as seductively as a Golf GTI does, coaxing you to push harder and faster, to perfect a string of corners, to drive further. This is the ephemeral feeling every driving enthusiast looks for: the feeling of a 'flow' building up between machine and driver. We're still building that level of intimacy with the Hyundai i30 N. We think we'll get there driving on our own testing roads, though we didn't feel completely natural with the car on the road in a foreign state. The Hyundai is very good, no question, and we look forward to more time getting to know it better over the coming months.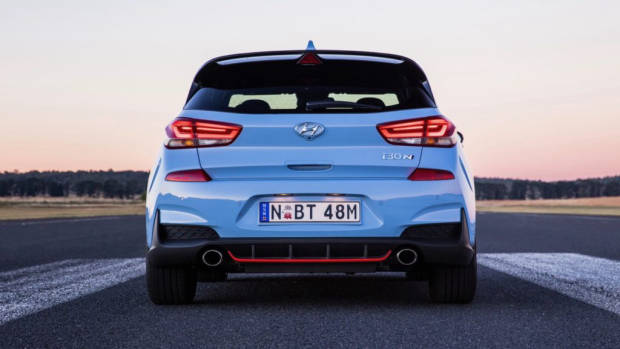 The big takeaway is this: the i30 N is an incredible breakout product from Hyundai's N performance division. First attempts rarely emerge as potent, capable and likeable as this. A super-sharp price, a powerful engine, a proper differential, genuinely good driving dynamics, a liveable interior and good looks mean the new kid on the block is an easy sell. If you thought you wanted a Volkswagen Golf GTI – or even something much more expensive, like a Honda Civic Type R – not trying the i30 N first means you haven't experienced one of the most important performance cars of the decade.