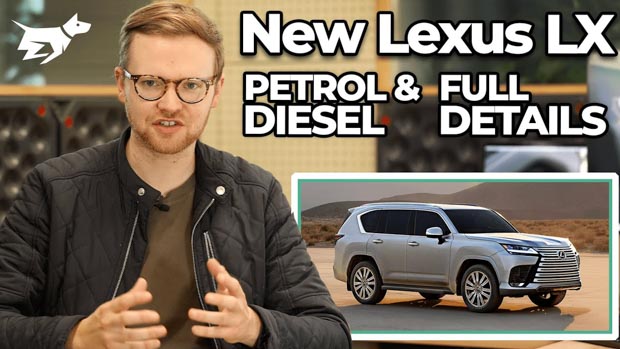 Lexus this morning unveiled the fourth-generation LX four-wheel drive which is confirmed for an Australian release at some point in 2022.
The 2022 LX debuts a number of firsts for the Japanese luxury off-roader, including a new VIP grade with two seats in the second row along with a new F Sport grade.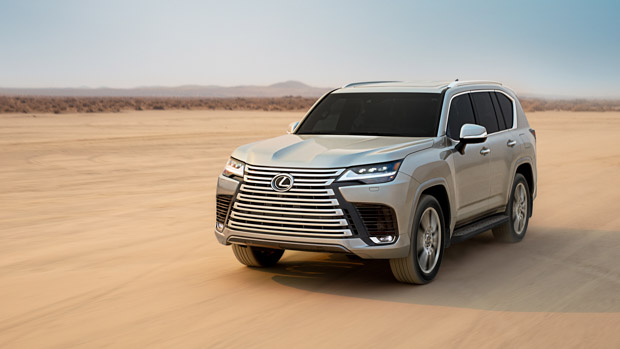 Lexus will offer the LX with offer a choice of twin-turbo V6 engine options, with the 3.5-litre petrol known as the LX 600 and a 3.3-litre diesel badged the LX 500d and will also be available globally in five- and seven-seat versions, but no decisions have yet been made for Australia.
The LX shares the same TNGA-F platform and engine options as the recently unveiled Toyota Land Cruiser 300 Series but the Lexus has historically offered an interior with more lush materials, a higher level of specification and ride comfort.
When it arrives, the LX will not only compete with the high-tier Sahara variants of the Land Cruiser, but also direct luxury rivals in the Range Rover, Mercedes-Benz GLS, Audi Q8 and BMW X7 large SUVs.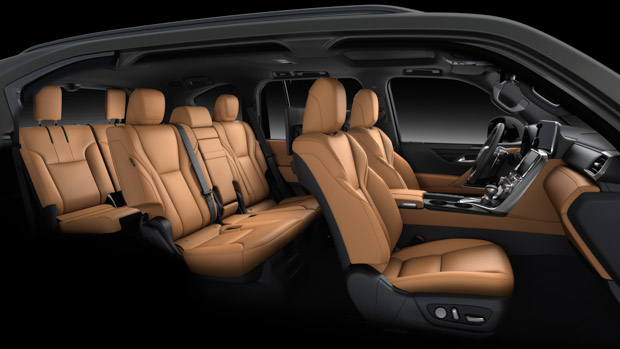 What's new on the 2022 LX?
The flagship SUV of the Lexus range has revealed a new but familiar design with the rear end design, that was previously teased, sharing the same single-piece tail-light design as the incoming NX midsize SUV.
At the front, the Lexus has fitted a huge front grille in the marque's classic hour-glass figure shape that is flanked by two large side intakes. Wheel sizes start at 20-inches with the aforementioned LX VIP and F Sport grades receiving huge 22-inch alloys.
Interior designers have opted for a significantly larger 12.3-inch touchscreen with Apple CarPlay and Android Auto fitted for the first time, with a range of customisable display options.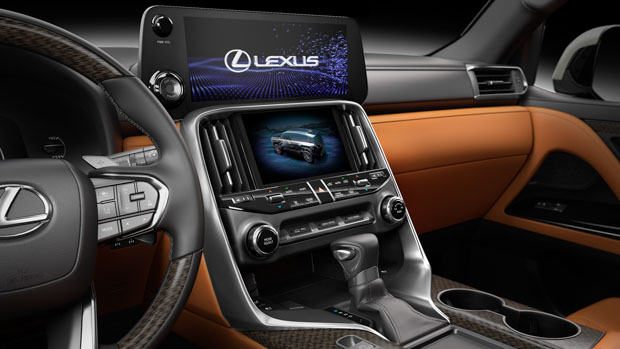 An additional 7.0-inch screen sits below for core functions such as climate control though can display off-road vehicle information while leaving the main display free for the 360-degree camera that is optimised for off road driving.
The LX features a 10-speaker sound system as standard though buyers can select a 25-speaker Mark Levinson surround-sound system – which is unsurprisingly the most amount of speakers ever fitted to a Lexus.
A number of tweaks have been made to the interior to increase usability, including modifying the driving position to feel more natural and spacing out the accelerator and brake pedal to allow more precise inputs off road.
Interior designs have also revised the seat design to keep occupants more comfortable on long trims and prevent them from being thrashed around.
Additionally, the third-row seats in seven-seat variants benefit from a 'walk in' function that dips and moves the second row for easier entry and an 'auto arrange' button in the boot can configure all three rows to free up additional room for storage.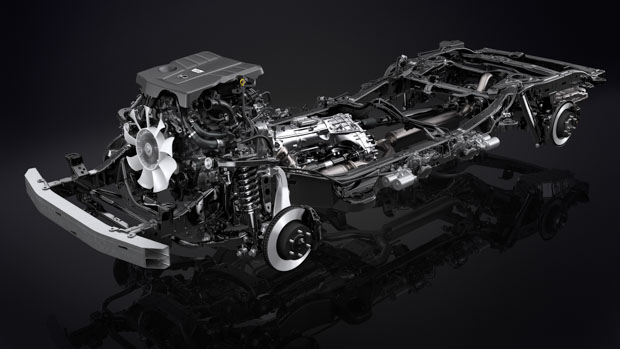 More capability, on and off road
Like the Land Cruiser, Lexus have discontinued V8 engines for the J300 LX, instead opting for a pair of more powerful but lower-emission twin-turbo V6 engines.
The 3.5-litre petrol is badged the LX 600 and provides 305kW of power and 650Nm while the LX 500d with the 3.3-litre diesel is more torque heavy at 227kW/700Nm. Australia will likely get both options but nothing has yet been decided.
Both are mated to a 10-speed torque converter automatic which feeds grunt through to a four wheel drive system with electronic differential locks between the front and rear wheels.
Lexus says the drivetrain has been shifted 40mm rearward and 28mm downward creating a better overall weight balance and a lower centre of gravity for this high-riding SUV, though the maximum stable inclination angle of 44 degrees remains unchanged.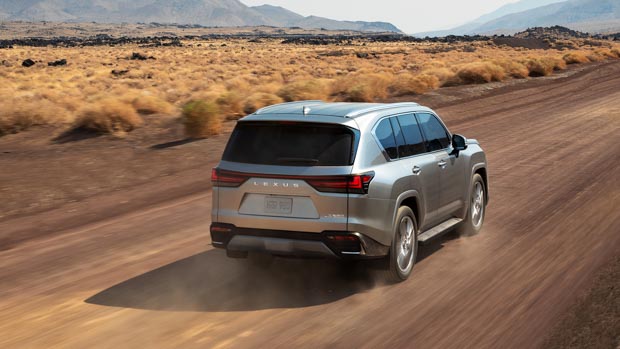 The LX maintains the same 2,850mm wheelbase as its predecessor but has lost more than 100kg in weight thanks to the use of aluminium for the roof, bonnet, doors and tailgate panels.
The chassis is also 20 per cent more rigid thanks to a series of additional spot welds and those who really like to get muddy will appreciate the unchanged 700mm maximum wading depth.
Engineers have bolstered with off roading tech with up to six driving modes (Dirt, Sand, Mud, Deep Snow and Rock) to choose from. Hill descent control and crawl control mode also feature, with the latter working with the driving modes to better tackling difficult terrain at speeds of up to 30km/h.
The new 360-degree camera setup, known as Multi-Terrain Monitor, uses four cameras mounted on the front, rear and on each mirror to make parking easier but Lexus also slots an additional camera under the rear of the car for assistance to visually check ground clearance when off road.
LX VIP and F Sport explained
The four-seat LX VIP grade places a greater emphasis on early seat comfort, similar to the flagship LS sedan, with extensive comfort and adjustability.
The rear seat angle can been reclined at up to 48 degrees with the front passenger seat able to be moved forwards by pressing the 'relax' button to open up 1,000mm of legroom.
Designers have fitted the rear seats with a soft urethane base to dial out unwanted vibration while traversing bumpy roads.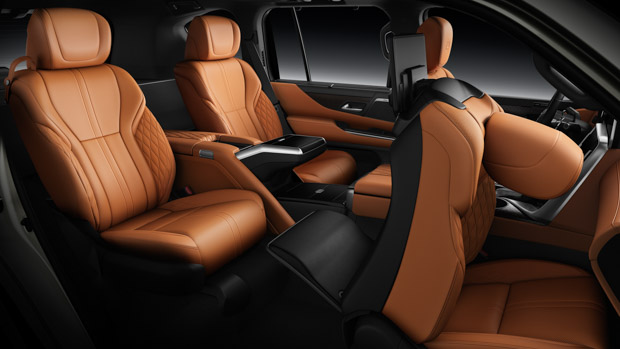 Other niceties include side window shades, reading lights, displays mounted on the back of the front seats and multiple air vents for a shower-like effect in the rear seats.
Lexus has dressed the exterior of the LX VIP with a suitably flashing appearance with a chrome grille complete with 22-inch wheels in a gloss black finish.
The new LX F Sport grade takes a different approach, with changes focusing on offering a more aggressive appearance with a mesh spindle grille and black 22-inch forged alloy wheels.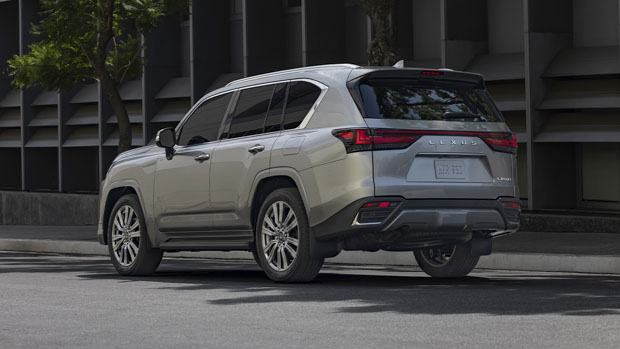 Buyers will find the interior trimmed with a perforated leather steering wheel and gear knob and more bolstering to keep occupants in place when tacking the off road or during hard cornering.
Lexus has fitted the F Sport with separate front and rear performance shock absorbers, rear sway bar and a Torsen limited slip-rear differential.
Engineers have also given a separate tune to the adaptive variable suspension system, that will likely provide better on-road capability than other models.
More information on official pricing and specification will be provided closer to the official Australian launch in 2022.