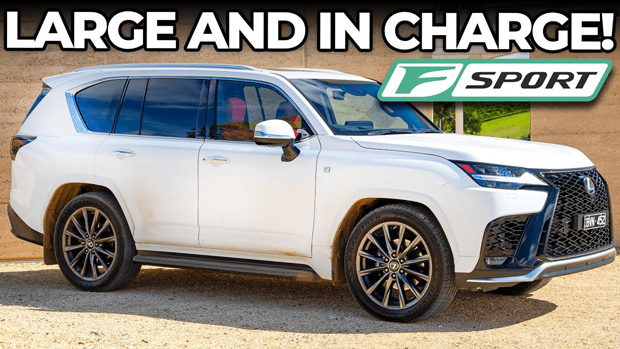 Like its predecessor generations that date back to the J100-series Lexus LX of 1998, the brand-new J300-chassis 2022 Lexus LX is based on a Toyota Land Cruiser. To many of its buyers, this is an awesome benefit, rather than any kind of a drawback.
Whereas some owners purchase large luxury SUVs to get them through a few years of family life at a time, trading their ringed, starred or roundel-ed crossover every three or four years, the Lexus LX is kept by many families for much longer stretches, becoming a family hack that sticks around for decades.
Scant supply of the venerable 100-series Lexus LX of the 2000s on the second-hand market is testament to how much these vehicles are loved by the families that own them. High residual values reflect the quality and durability that is central to the Land Cruiser platform underneath.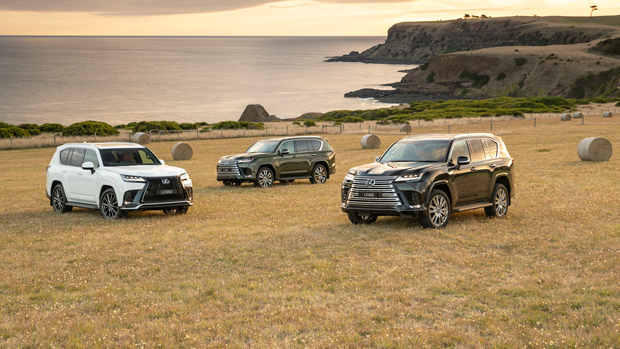 But times may be a'changing: massive, under stressed V8 engines – long a mainstay of the Lexus LX – have given way to relatively smaller, twin-turbocharged V6 powertrains. Australian buyers can choose between an LX500d – the same 3.3-litre diesel found in every new 300-series Toyota Land Cruiser – or the LX600 on test here.
As is usually the case with the Lexus LX/Toyota Land Cruiser divide, if you want petrol power, you generally need to buy the Lexus, and so it goes with the J300. The LX600 borrows the supremely refined 3.5-litre twin-turbo petrol from the brand's absolute flagship: the LS sedan, where it goes by LS500 nomenclature.
These choices replace the previous-generation J200 LX's gigantic 5.7-litre, naturally-aspirated petrol V8 (LX570), and the late-in-life addition of the Land Cruiser's 4.5-litre twin-turbo diesel V8 (LX450d).
Unsurprisingly, the new engines are substantially more fuel efficient – especially the petrol, which used half the fuel on test as its predecessor, and thus emitted about half the carbon emissions – but there's still no hybrid LX or any electrified option at all. Toyota insiders suggest an LX hybrid will join the lineup soon.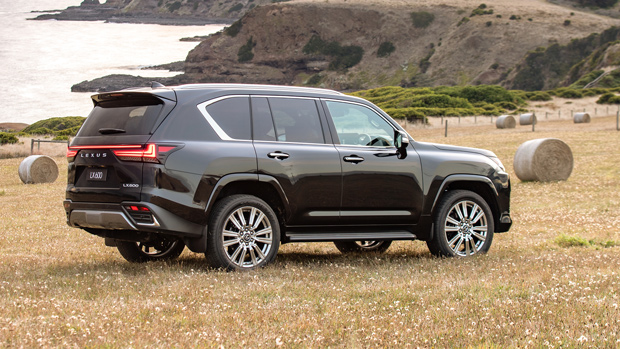 New powertrain strategy aside, Lexus Australia has significantly expanded the LX offer locally, with an aim to shift about xxx units per year. Base models are in some areas a little less generously equipped than the generation they replace, but are the sole seven-seaters – a key consideration for some family buyers. Lush levels of spec remain available in the Sports Luxury and first-for-LX F Sport, plus a perfect-for-plutocrats four-seater raised-limo model dubbed Ultra Luxury.
Prices open at $148,800 for the entry-level LX500d – there's no specific variant name for the base grades – and cap out at $210,800 for the petrol-only Ultra Luxury. On the car's extensive launch drive in Tasmania, we found the LX600 Sports Luxury ($169,300) offered a charming blend of high specification and refinement, but greater practicality than the flagship car.
How does the Lexus LX drive?
Beneath the 2022 Lexus LX sits Toyota Motor Corporation's TNGA-F body-on-frame platform. This is no car-based crossover: the LX continues to be a true four-wheel drive (4WD) with actual off-road capability. It is street-styled outside, but can be raised to clearance of 205mm with the vehicle's signature hydraulic-supported lift system, upgraded over the previous generation.
Not every component in TNGA-F is new when compared to the J200-generation LX (and 200-series Land Cruiser), and the wheelbase is unchanged from the 2850mm 'magic' length of the previous car, but there have been very considerable alterations to numerous hard points: enough to increase rigidity by about 20 percent.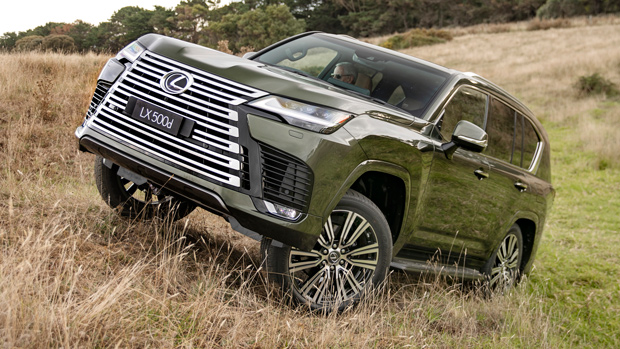 For a body-on-frame vehicle, a 20 percent jump in stiffness is a lot – so it is no surprise that the LX is much more adept on winding country roads, which the launch drive route in Tasmania through up plenty of. We didn't foresee punting an LX600 along a number of Targa Tasmania stages…but that's precisely where we ended up.
We wouldn't exactly call the new LX a driver's SUV – if you're after a properly athletic five-seat SUV for this kind of money, look at the BMW X5 M50i – but given this vehicle's genuine off-road capability, we're impressed with the road manners on balance. Quicker steering before – fed through a smaller steering wheel – helps to convey agility, and body lean is manageable (but very much present).
Every LX now wears big 22-inch wheels on lower-profile tyres (only the base grade sans-Enhancement Pack gets 20s; Americans can specify 18s), but adaptive dampers do their best to constrain the ride. In fact, they're probably a bit too stiff; we had to dial the drive mode right down to comfort – it defaults to 'normal' – to settle the ride on tarmac.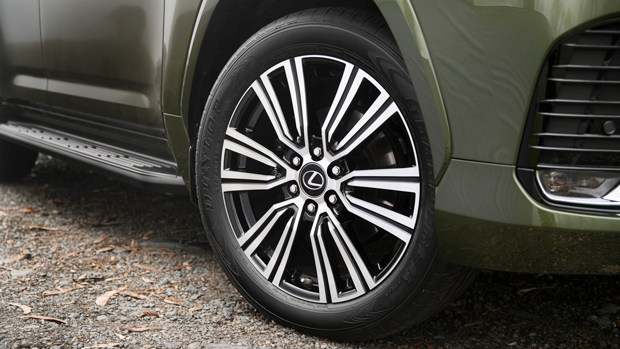 Once in comfort mode – and with due respect to the size and considerable 2,680kg mass of the LX600 – the big Lexus is a calming open-road vehicle and a commanding partner for urban commuting.
But where the new LX is simply unbeatable – way beyond an Audi Q7, BMW X7 or Mercedes-Benz GLS for refinement – is on gravel roads. Chasing Cars has never tested a vehicle that is quieter and more compliant on undulating gravel than the 2022 Lexus LX. That's testament to the years of development of this vehicle, and the 300-series Land Cruiser, right here in Australia. 80 percent of our road network remains unsealed.
It's clear that significant effort has gone into refining the LX's electronic stability control, which is far less jarring in its operation. This work has paid off, allowing a keen driver to hustle the LX with pace on gravel while trimming your line and keeping the rear axle from stepping out too much.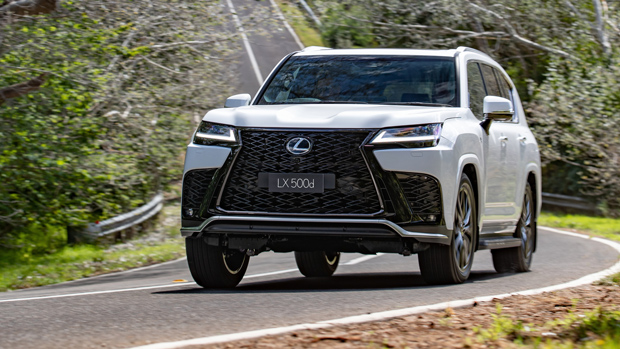 The full-time 4WD system with dual-range transfer case remains seamless in operation, and impressively, low-range now takes about a second to engage – the quickest we've tested. Additionally, the previous-generation LX's groaning, grinding downhill assist control has been refined into an utterly silent product that takes all the guesswork out of long, steep descents.
Between the two engines, the petrol is the clear pick for us. To say that the previous-generation petrol-fed LX570 V8 had a prodigious thirst would have been a dramatic understatement: 30L/100km wasn't that out of the ordinary; so to observe the punchy new twin-turbo LX600 V6 consuming less than 15L/100km was pleasantly shocking, and barely worse than the diesel.
It's a powerful unit, with the 3.5-litre twin-turbo producing 305kW of power and 650Nm of torque . That compares to 270kW/530Nm from the old 5.7-litre V8. The LX500d diesel now makes 227kW/700Nm, which is similarly favourable compared to the previous car's 200kW/650Nm diesel V8. In other words, the V6 engines are making more with less.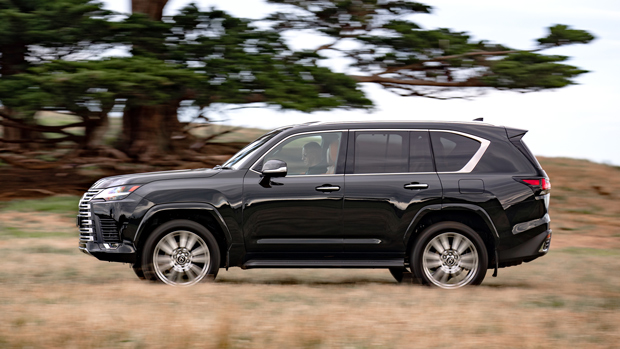 Naturally, some V8 fans have opined that this raises durability questions. We don't have a crystal ball, but we'd be shocked if Toyota was prepared to wreck their carefully-maintained reputation just for the sake of downsizing engines.
The new petrol's simply quieter, quicker and smoother than the V6 diesel, which is torquey and very driveable but slightly workmanlike, even behind the sound deadening Lexus adds between driver and motor. Reputable people have timed the LX600's 0-100km/h sprint at just over six seconds, which felt accurate.
Both engines work cooperatively with a new 10-speed torque converter automatic transmission. Paddle shifters are standard but arguably superfluous and the gearbox downshifts much more intelligently under braking than the J200's six-speed AB60 ever did. Overtaking is a doddle with either engine but particularly the petrol.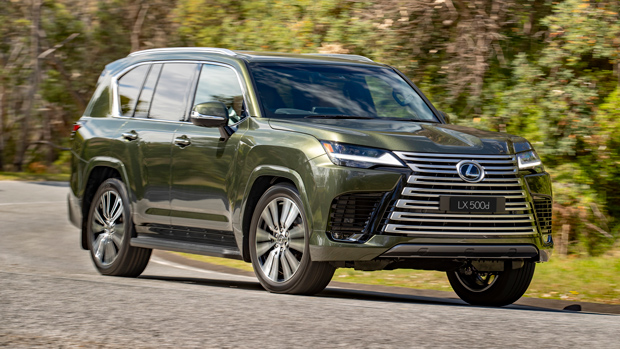 The LX's braked towing capacity remains rated at 3500kg and while the V8s are gone, both V6 powertrains are so torquey that there is little suggestion that towing would be any kind of problem – though we haven't yet tested it.
On the safety front, the list of inclusions is long, taking in autonomous emergency braking (AEB) that detects cars, cyclists and pedestrians – even those crossing at junctions. There's also reversing AEB across the range, which we regard as critical in a vehicle of this size and type.
Adaptive cruise control is standard and this works well, but we longed for additional strength in the lane keeping and tracing system, which refused to lock the LX into the centre of the lane, unlike BMW's X7, for instance. And while we're on a shopping list of safety improvements, the camera-based blind spot monitoring (BSM) system of the Genesis GV80 wouldn't go astray, being superior to the radar-type BSM of the LX and most of its rivals.
How is the Lexus LX's interior?
Climbing into – and sealing yourself within – the new LX's confines leaves no doubt about the quality of construction here. That effect is even more pronounced after noticing the silence while pounding across gravel at triple digit speeds. Rattles? Not in the Lexus LX. We anticipate durability will remain a strong point.
But while the old LX's cabin was in some ways ageing (small trip computer, no touchscreen), the overall interior design of the old car was more cohesive, we think. The new LX has a centre stack which tries a little hard to be modern, incorporating vertically-stacked twin touchscreens (of differing sizes) that look dated.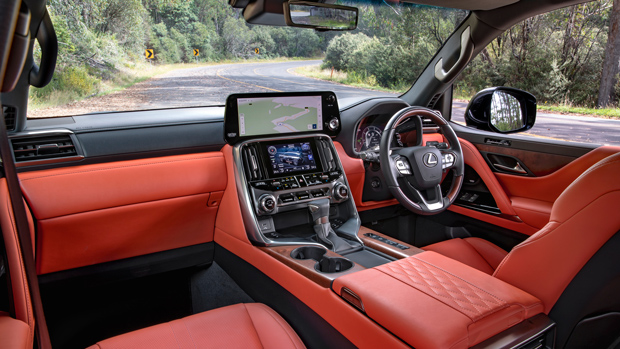 Lexus says it has located controls in intelligent groups but the 4WD system controls are scattered between physical knobs and the lower touchscreen, while small buttons between the seats are used to control oft-used functions like the seat heating and cooling.
We think that the Toyota version of this vehicle has a simpler, better dashboard design, even if the Lexus material bin is of a higher quality. Sumptuous semi-aniline leather, gorgeous real wood inlays, real metal for the F Sport … you won't find any of that in the Land Cruiser, in fairness.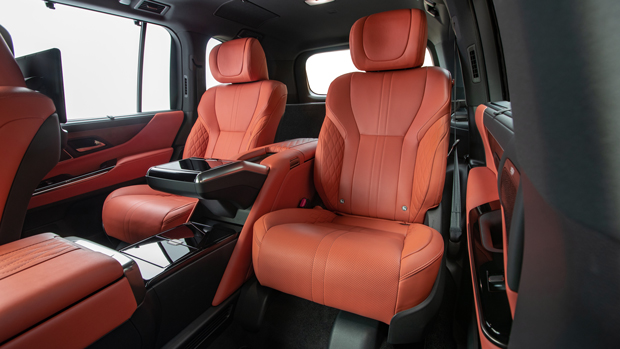 Returning to seat ventilation, momentarily: there's been an odd de-specifying across the Lexus range of seat cooling in recent years, and despite being an L-grade flagship model, the LX has also suffered this fate. Absurdly, if you want a seven-seat LX, you have to buy the base model…which has no seat cooling. Australia is a hot country, and the LX is pretty good in the outback, so it's crazy this feature has been deleted. This change should be reversed.
Opt for the F Sport, Sports Luxury or Ultra Luxury and you do get bottom-coolers, incorporated into front seats that are quite comfortable if not the last word in thigh support. The seat bases couldn't be vertically tilted high enough to give this tester's long legs truly sufficient long-distance support. The same is true of the Mercedes-Benz GLS; the BMW X7 is better in this area.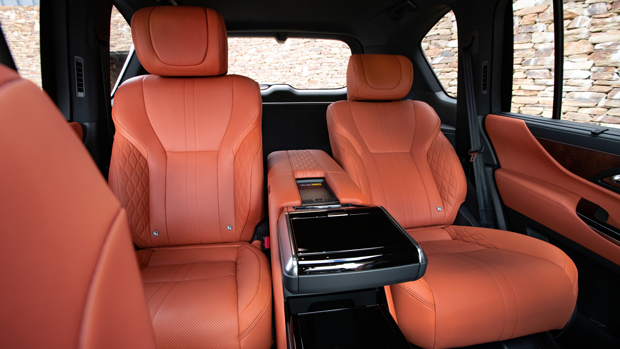 There's a great choice of interior fitout, though, with F Sport models offering edgy black/white and black/red two-tone leathers in addition to plain black. The Sports Luxury brings a deep red and a sumptuous tan to the fore, while the Ultra Luxury uniquely offers expensive-looking sun-flare orange.
We also appreciate that Lexus has not skimped on audio: whereas the Land Cruiser makes do with an acceptable JBL system, every LX is fitted from factory with a truly brilliant 23-speaker Mark Levinson reference-level stereo that will please audiophiles…everyone else will just think their music sounds better than ever.
What are the Lexus LX's running costs?
We won't beat around the bush: running any large combustion-powered 4WD comes with high running costs, though the drastic improvements in fuel efficiency for the petrol LX have made a big dent compared to the old V8.
Our launch test mainly involved higher-speed country-road driving (though we weren't being modest) and we managed to return just 13L/100km in the petrol on average. Throw in urban commuting and this figure will be more like 16L/100km – and don't forget that 98-octane premium fuel is required.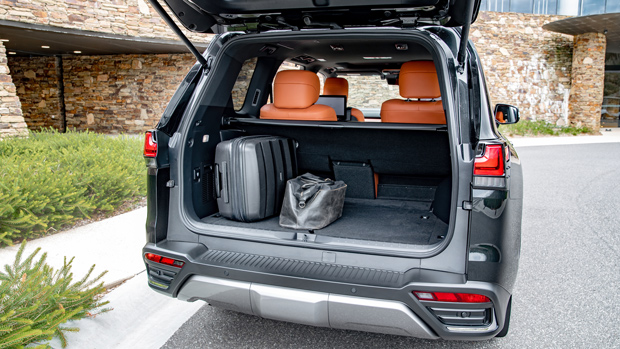 The diesel is admittedly more frugal but not by a huge margin; in our testing of the mechanically near-identical Land Cruiser 3.3-litre, we've found 13L/100km very much repeatable.
With fuel prices remaining doggedly high despite a temporary halving of excise, the lack of a hybrid LX is keenly felt – though well-heeled buyers of this $150,000+ vehicle may be impacted to a lesser degree than some.
Like its Toyota-badged relation, the LX requires servicing more often than most: scheduled maintenance comes up every six months/10,000km. Lexus does cap the first six of these services (out to three years/60,000km), with a cost of $595 per service. After that point maintenance goes uncapped.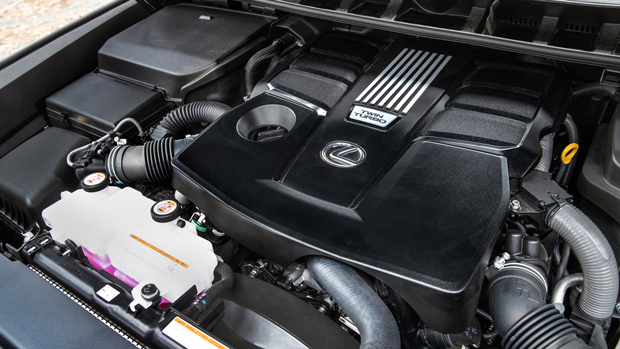 Car-based rivals like the Audi Q7 and BMW X7 only require servicing every 12 months/15,000km, making them more convenient for city slickers in this way, while the Mercedes-Benz GLS also needs annual maintenance but can actually be driven 12 months/25,000km between visits, its maker suggests.
At the end of 2021 Lexus opted to increase its warranty coverage in Australia from four years/100,000km to five years with unlimited kilomtres, and it's the latter arrangement that applies to every J300 LX sold in this country.
The final verdict
Two well-heeled groups should closely consider buying the Lexus LX over its rivals: those that genuinely need to drive on gravel very often (say, to a far-flung country property off the beaten track), and those that intend to keep the vehicle for a long time.
There's no real doubt that the Q7, X7 and GLS brigade are more enjoyable cars to drive on road, but the proven reliability of the Lexus LX is a major drawcard. It's better on-road than ever, but it feels built to last – even if your commute includes long-distance gravel-road work.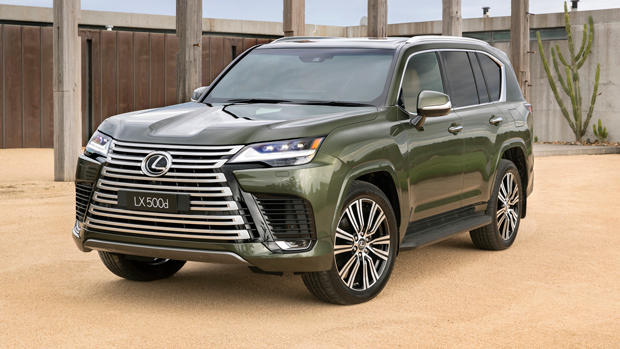 In a world full of flimsy, short-term material goods something with the substantial makeup of a Toyota Land Cruiser – or Lexus LX if you want higher-grade materials and a petrol engine – is like a rock to cling to in a time of great change. It feels like it'll still be here in 15 or 20 years, ready to hand down to your university-aged kid, door dents and all.
Speaking for ourselves, we find that endearing – hence why we'd have to give the LX600 Sports Luxury in particular close attention if we were shopping in this segment.