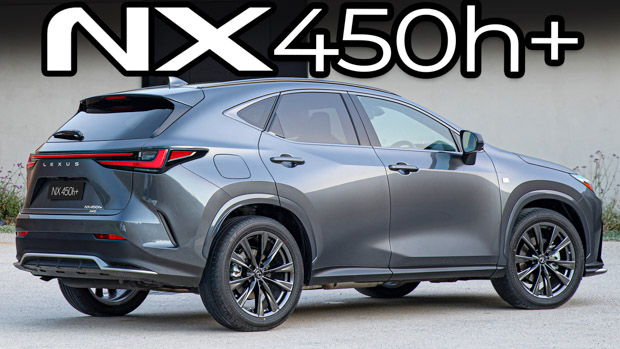 Earlier this week, we revealed just how much of an improvement the second-generation Lexus NX represents over its fairly forgettable predecessor.
But our comments on the party-piece of the 2022 Lexus NX range – the all-new NX 450h+ plug-in hybrid that offers about 70km of pure-electric driving before requiring the petrol engine – have been restricted until now.
Our own comment threads, NX owners' groups and discussion forums Australia-wide have been alight with interest in this top-shelf NX variant that is priced at $89,900 before on-road costs – $6000 more than the next-dearest variant, the fully-optioned NX 350h series-parallel hybrid.
The big difference between the NX 350h and NX 450h+ is the presence of plug and port. 'Regular' series-parallel hybrids are familiar fare for Lexus and parent brand Toyota, using small electric motors and batteries to assist the underlying petrol engine.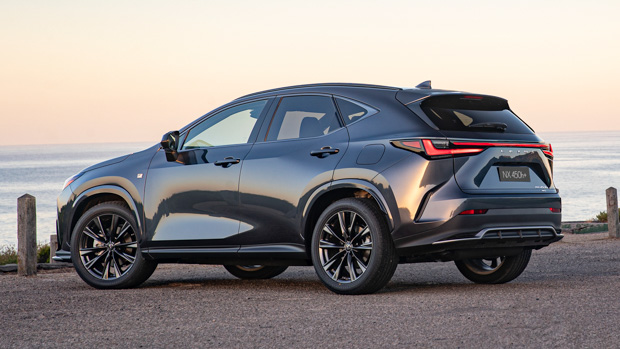 The NX 450h+ can do that, but it has a much larger battery – at 18.1kWh in size, it's about 10 times larger than the battery used by the NX 350h – meaning you can drive the NX on electric power alone from urban speeds right up to motorway pace.
Rated on the tough WLTP European testing scale at 69-75km of electric range, this means some Australians could feasibly commute from home to work for multiple days without firing up the petrol engine.
Compared to the $95,700 Mercedes-Benz GLC 300e and $101,971 BMW X3 xDrive30e plug-in hybrids, the slightly-smaller $90K NX looks like a value pick. When it comes to pricing, the first-ever Lexus plug-in hybrid packs a punch – especially when you look into the benefits of the Encore Platinum ownership program.
But unlike the series-parallel hybrid powertrain that in our view has now been integrated seamlessly into the 'Lexus driving signature' of supple ride and good handling, there are costs involved in opting for the plug-in hybrid.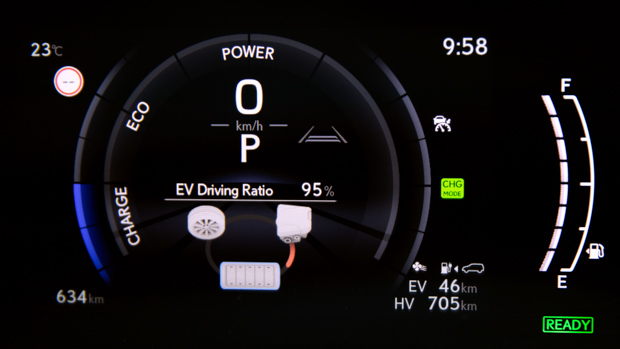 The $6000 upcharge is an obvious one, but a 180kg kerb weight penalty is another. 10 percent more weight negatively affects ride and handling, even if it is located low in the chassis (as it is here).
Those weight concerns also caused a reduction in specification: the plug-in NX is a high-quality premium SUV but unlike the $84K NX 350h F Sport or Sports Luxury EP2 grades, it runs without the Mark Levinson stereo and replaces a long panoramic sunroof with an older-school porthole – both weight-saving measures.
So, do the benefits outweigh those costs – or should you simply opt for the tried-and-tested NX 350h series-parallel hybrid? Let's find out.
How does the NX 450h+ plug-in hybrid drive?
There is no doubt that the 450h+ is the quickest NX in a straight line. We haven't independently verified the 6.3sec 0-100km/h claim but it felt about right when the battery had sufficient charge in it.
Setting that time means the NX 450h+ out-sprints the cheaper, lighter 350h hybrid to 100km/h by a significant 1.4sec. It's even 0.7sec quicker to triple digits than the 205kW/430Nm NX 350, which uses a hot 2.4-litre turbocharged engine.
By contrast, the NX 450h+ uses a similar combination of engine and motors to the NX 350h. The core engine is the same: a 2.5-litre naturally-aspirated Atkinson cycle petrol four-cylinder engine. The big difference comes in the power of the motors and the battery that feeds them.
Where the NX 350h uses a circa-2kWh battery and either two (in front-wheel drive) or three (in all-wheel drive) electric motors, the NX 450h+ exclusively gets a powerful triple-motor AWD setup and an 18.1kWh lithium-ion battery.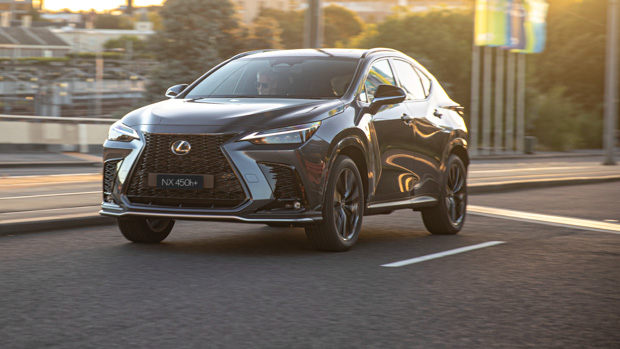 The blend results in maximum combined power of 227kW – a big 49kW jump over the normal hybrid. That's 27 percent more power: mash the loud pedal and you really feel the difference. Merging onto a fast-flowing highway or overtaking a truck is easy in the normal hybrid, but an effortless doddle in the plug-in, which has plentiful and instantaneous torque.
We'd call it surprisingly quick, and our initial confusion as to why Lexus would only offer the plug-in hybrid in athletic F Sport guise quickly dissipated. This isn't a sports SUV but it's certainly warm, producing considerably more power than the top four-cylinder turbo engines of the X3, GLC, Q5, XC60 and Discovery Sport.
Lexus does not proffer claimed combined torque but if they did, we'd wager that the NX 450h+ has the match of some six-cylinder rivals, even if its momentum starts to taper off into triple digit speeds.
All of the above is when you let the NX 450h+ operate as a hybrid: a smart, default drive mode wakes the engine when it makes sense to do so – at highway speeds and when you need to accelerate very quickly.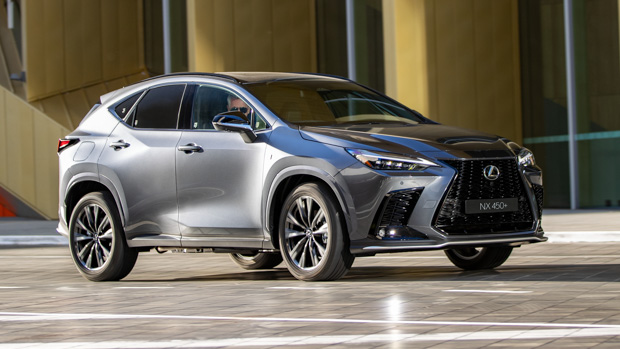 But you can force the plug-in NX into electric-only mode, and that would be our MO: charge up this PHEV overnight in a garage or driveway, commute as if it was an electric car, and save the punchy petrol-electric hybrid drive for weekends away. Or the traffic-light drags.
That recipe works really well. A complimentary wallbox installation as a part of the Encore Platinum ownership program NX 450h+ buyers become a part of completes the picture: this would be such an easy way to dip a foot (not just a toe) into everyday electric motoring, while still keeping petrol flexibility in reserve for now.
So far, so good – but where the NX 450h+ starts to show cracks, at least when compared to its impressive NX 250, NX 350 and NX 350h siblings, is in the ride and handling department.
The regular NX 350h F Sport is already firm-ish, on 20-inch wheels shared by the plug-in, plus adaptive dampers. And that car isn't exactly light, at 1870kg. However, turning up the weight to 2050kg puts additional strain on the ride quality, and while the dampers are retuned to support the extra kegs, the NX stops feeling light on its feet.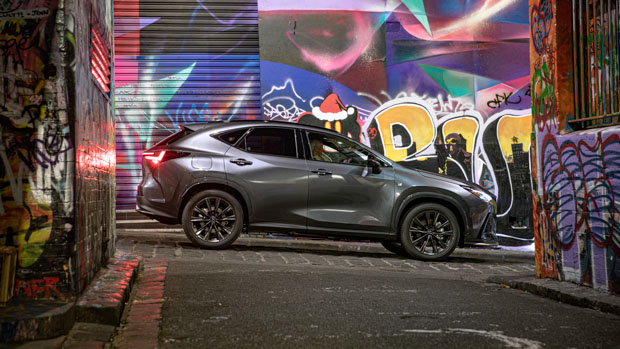 We could definitely live with the ride, which we'd still say is better than some German rival SUVs (at least the ones without adaptive dampers), but the body control is simply not as crisp as the impressive NX 350h.
Piloting the NX 450h+ up and down Arthur's Seat on the Mornington Peninsula revealed considerably more pitch, roll and tyre squeal than the sorted turbo and hybrid options in the range – both of which could almost be considered driver's SUVs.
It might wear an F Sport bodykit and racy two-tone interiors but the NX 450h+ is best driven gracefully, as its limits are found earlier than in its siblings.
It would be a fair comment to suggest that few owners will hurtle around in their luxury midsize crossover – we accept that – but when Lexus have lavished the new NX with dynamic attention, we think it pays to buy a variant with the best possible ride and handling.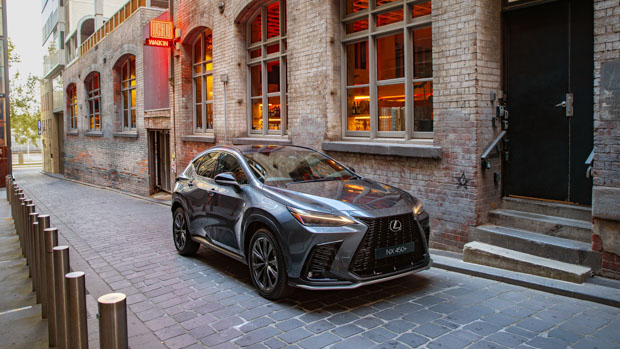 No doubt having to locate a large and heavy petrol engine alongside the batteries reduces packaging efficiency, and we expect that – while also heavy – the future Lexus RZ full-electric SUV will be better in this regard.
When it comes to refinement, it's a mixed bag. In electric-only mode the powertrain is serene – as expected, though the beefy tyres throw up some road noise on coarse-chip surfaces. Mash the throttle and the 2.5-litre engine is louder than we'd like, and seemed louder than in the standard hybrid … though that could be our ears playing tricks on us.
Lexus has poured effort into the processing smarts of its suite of safety technologies in recent years, and the payoff is an excellent lane keeping assist system that really hews to the centre of the lane – making motorway driving noticeably less fatiguing.
It's one of the best lane aids we've used, actually. The adaptive cruise control is also nice and smooth, while the forwards, junction and reversing AEB provide peace of mind. Blind spot monitoring and cross-traffic alert are included, though we prefer the camera-driven blind-spot feed used in the Genesis GV70.
How is the NX 450h+ plug-in hybrid's interior?
We might as well get past the elephant in the room – or more accurately, the boot. Because of the positioning and portly weight of the 18.1kWh battery pack used by the NX 450h+, the superb 17-speaker Mark Levinson premium stereo included in the $6000-cheaper full-spec hybrid is substituted for the standard 10-speaker unit shared with a $60,800 NX 250.
Is that a problem? For audiophiles, probably. Listening to both stereos back-to-back, you just can't avoid the fact that the 'Mark Lev' is richer, deeper and clearer – especially in the bass range.
But that's not to say the standard ten-speaker unit is rubbish. It isn't! We'd call it above-average and happily listened to our tunes for two hours non-stop and found ourselves singing along dorkily. A few drives after delivery and most will have gotten over it. Those who do not want to compromise on audio will find the plug-in hybrid is not for them.
Then there's the panoramic sunroof. For this tester, it's not that important – the old-school porthole sunroof standard on the NX 450h+ does us fine under the Australian sun – but we listen to our readers who tell us that a pano-roof is expected fare at $90K.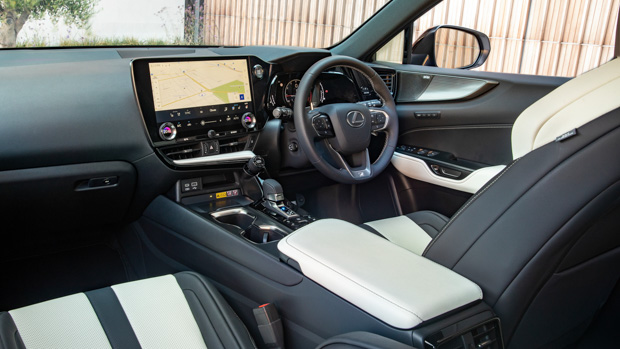 Well, all that glass was deemed too heavy and it was nixed. Those who want a full view out the roof (and fair enough!) will have to step back to the standard hybrid.
Extra sunshine and stereo sonorousness aside – the NX 450h+ is remarkably full-featured.
Essentially an F Sport EP2 from the regular lineup minus the aforementioned kit, the plug-in NX benefits from a long equipment list that includes most expected creature comforts.
This starts with the excellent F Sport seats from the regular range, which have taller bolsters than the posh Sports Luxury trim (unavailable on 450h+) and better under-thigh support. They are upholstered in genuine perforated leather and are heated, but more importantly are ventilated. Once you've lived with this feature you can't go back.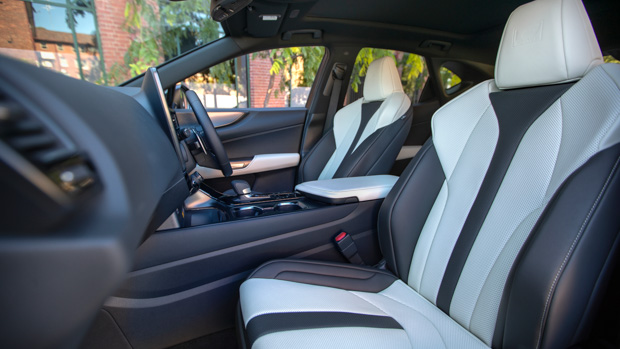 Both front pews are electrically-adjustable and the leather can be finished in black, or a two-tone in either black/white or black/red. All combinations look tasteful, but you can't choose a tan leather in the aluminium-lined F Sport like you can in the wood-trimmed Sports Luxury. Oh well!
Interior quality on the tester we drove for a couple of hundred kilometres seemed up to Lexus standards, and perceived quality is pretty high too – with swathes of soft materials on the dash, doors, and where your leg rests – a key area for long-legged folk that is often missed.
Then there is the generously-proportioned 14.5-inch wide touchscreen that is a big leap over the tech found in the old, first-gen NX. No more passive pad or trackball, the new screen has a snappy processor and clear touch targets and the Lexus software is decent to use.
But the wireless Apple CarPlay and Android Auto that was supposed to launch with the new-gen NX in Australia caught a technical snag along the way and the hope is now to add this via software update later. For now, smartphone mirroring is done by way of cable.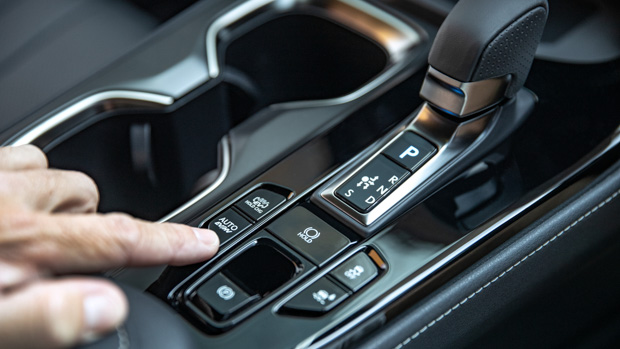 Storage solutions are plentiful and you now get wireless device charging (though if you're going to have a cable for mirroring, you'd just use that, we reckon), but the box between the seats (under a comfy, well-placed armrest) is big.
The back seats are roomier than the old NX despite the exterior dimensions barely growing – there's a longer wheelbase, though, and that's been put to good use. Six-footers fit behind six-footers, the middle seat is usable (if not super-comfortable) – and all benefit from air vents, an armrest and USB-C ports. No window shades, though.
Sharing its 520-litre boot space with the regular NX, the plug-in hybrid does not suffer a cargo room deficit like some rivals – but under the boot floor, it shares the trait all other new NX variants do: no spare wheel. Instead, run-flat tyres are standard. This remains a consideration for many rural buyers.
What are the NX 450h+ plug-in hybrid's running costs?
For a plug-in hybrid, the cost of ownership is hugely variable – but this variable is in your control. The question is, will you plug it in religiously?
You'll want to, even if your goal is maximum power from the hybrid system, which relies on a full charge for the fullest zest.
But you should do it so that you extract the full potential from this car's batteries. Drawn from a standard household powerpoint overnight, a full 18.1kWh charge costs about $4 in New South Wales at the time of writing – less than half the price of the petrol it would take to drive the same 69-75km the electricity gives you.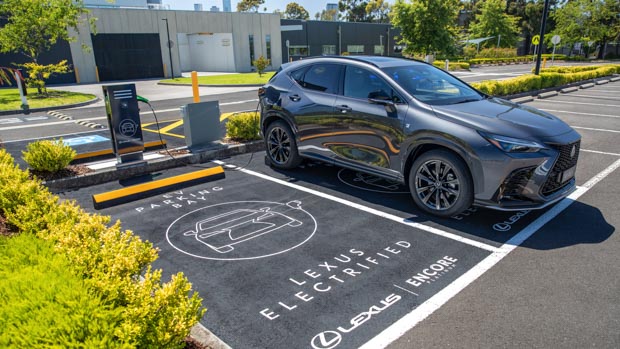 Got household solar? Well, you could be doing your daily running for free, or close to it.
That said, the NX 450h+ is more efficient even with a flat lithium-ion battery than some PHEV rivals. We purposely drove 100km with 0km of EV range remaining and managed to return 5.8L/100km over 100km driven with zero kilometres of EV range left – just 0.3L/100km worse than the series-parallel hybrid.
Servicing is capped under the same arrangement as any 2022 NX variant. Three scheduled services are capped at 12 month/15,000km intervals, with each of the trio priced at $495 for a three year/45,000km cost of $1485 – about average for a class that usually caps five services.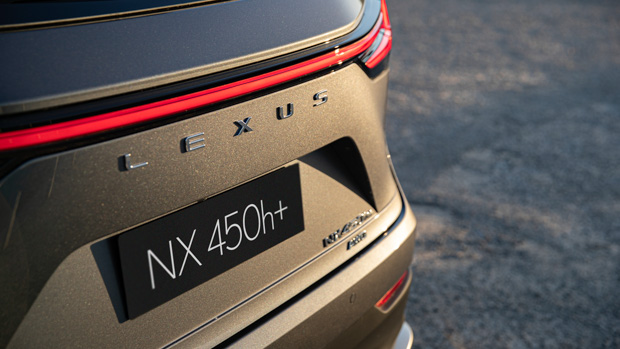 The vehicle warranty for the NX 450h+ is the new Lexus coverage of five years with unlimited kilometres – matching the Mercedes-Benz GLC 300e but besting the BMW X3 30e, which gets by with just a three-year warranty.
High-voltage components including the lithium-ion battery and motors are covered under a separate eight year/160,000km warranty.
The final verdict
Buyers seeking a luxurious and well-made premium SUV that can offer a useful electric-only driving range will be very satisfied by the Lexus NX 450h+.
This plug-in hybrid is considerably more affordable than its German rivals while offering a long equipment list – with one or two conspicuous omissions made to save weight.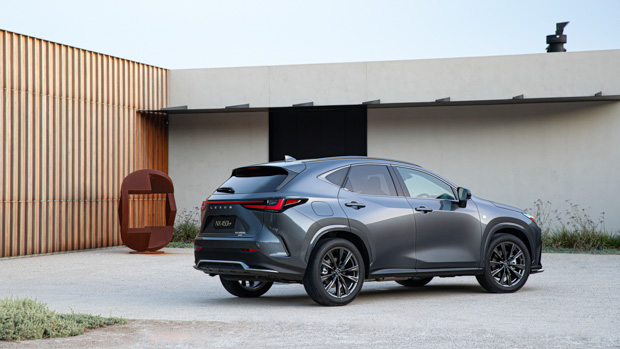 But that portly weight means that despite its F Sport outfit, the NX 450h+ can't quite match its poised NX 350h hybrid sibling in the ride and handling department.
It's really a question of which motoring attributes matter more to you. The 'luxury of choice' mentality at Lexus really does provide a number of meaningful options to consider.
For dipping a foot into the sea of electric motoring, the NX 450h+ makes plenty of sense – though the future is rushing towards us with the all-electric Lexus RZ 450e SUV just about to crest the horizon.
F SPORT + EP2 PHEV AWD
Comprehensive cover