Chasing Cars was this week one of the first outlets to see a pre-production version of the 2022 Lexus NX 450h+ while it was in Australia for market evaluation purposes.
Lexus Australia boss Scott Thompson said of the NX plug-in hybrid: "We're very keen to get the car; it's an amazing car and would sit as the flagship for our overall range. We'd love to commit today, but unfortunately we can't."
Mr Thompson explained Lexus Australia was in talks with its parent company (Toyota) about bringing the NX 450h+ to our market, said local interest was strong surrounding the NX plug-in but there was still more work, evaluation and conversations to be had.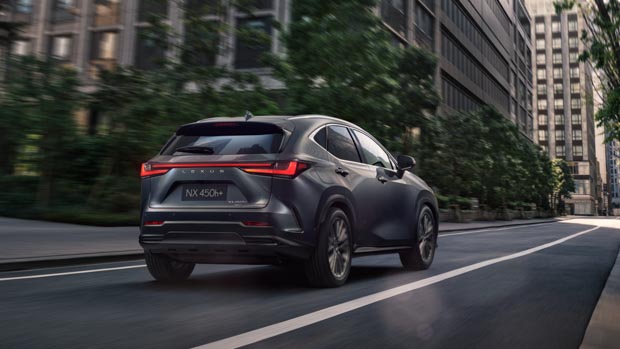 A plug-in Lexus sold here would indicate a different strategy to Toyota Australia's current electrification approach. Toyota appears in no rush to bring plug-in hybrid models to our shores, instead favouring its hugely popular hybrids and prioritising introducing full battery electric vehicles (BEVs), including next year's RAV4-sized Toyota bZ4X.
Mr Thompson insisted the lack of confirmation of the plug-in NX 450h+ for us wasn't due to the relative lack of Australian state or government incentives for electrified cars – a common reason cited for other markets being prioritised for BEVs and PHEVs ahead of us.
"It's an internal Lexus thing," Mr Thompson said. "Globally and domestically, we believe the portfolio approach around electrification is the right way to go. We believe having offerings across the entire electrified spectrum is the right way we're going to deal with carbon neutrality and reducing our carbon emissions going forward."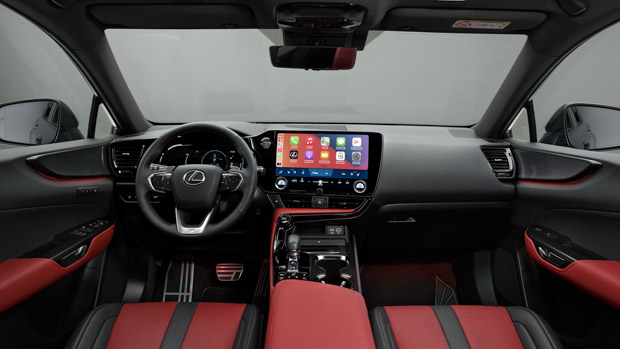 When and if the plug-in NX medium SUV arrives – which will have an estimated 75km pure electric range – it will join the three confirmed grades and engines coming here in November.
Entry to the 2022 Lexus NX range will be the NX 250 with 2.5-litre four-cylinder petrol; mid-spec NX 350h adds hybridisation to the same petrol engine; while flagship NX 350 will use a 2.4-litre turbo four-cylinder and likely be sold only in F Sport guise. Volume seller is expected to remain the hybrid model.
The NX competes with the German set of midsize crossovers, including the Audi Q5, BMW X3 and Mercedes-Benz GLC, though the Lexus dimensionally measures about a half-size smaller than those cars.
While we weren't able to drive or take photos of the pre-production plug-in NX 450h+, brief initial impressions were positive. Clean styling, a less polarising front end with a more upright (but still huge) front grille plus chunkier, more athletic haunches.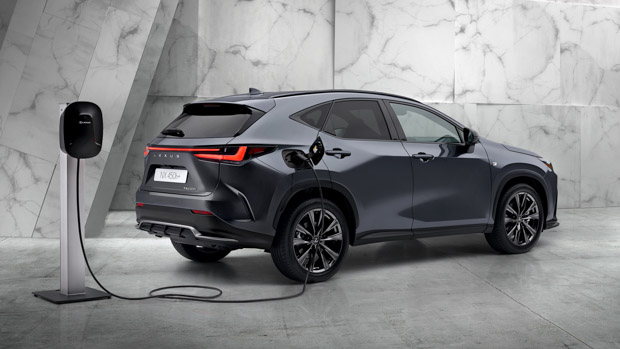 Inside, the new NX's 14-inch touchscreen is a highlight with smart functionality and simple-to-navigate features ensuring aspects such as driver aid settings aren't buried in a sea of menus. A 'Hey, Lexus' voice command system also worked well on initial testing.
Climate control, too, is a combination of quick-access dials and digitalisation. Very impressive was the head-up display, mirroring the extensive functionality on the steering wheel – it's the most comprehensive HUD this reviewer's seen. And – little cheer here – the unloved central touchpad is gone.
A Lexus-first E-Latch system – where the doors are latched and unlatched electronically – also fitted the luxury remit, popping open the doors with barely a tap of the fingers. This system also works with a blind-spot monitor to prevent opening doors on passing cyclists.
This plug-in NX would align with Lexus' lofty electrification goals. Mr Thompson said the brand was "at the tipping point of the largest and quickest product renewal in over a decade, and that starts with a major investment in electrification."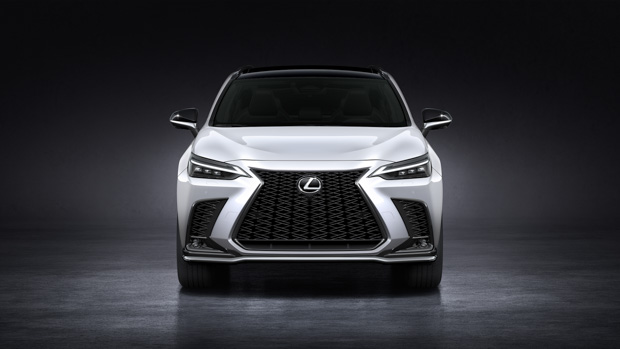 Its first fully electric vehicle – the UX 300e small SUV – is also set to arrive in November to be "the fastest flagship luxury compact SUV we have offered so far." Lexus said it would offer a unique ownership program for UX300e customers through its Encore initiative, but details wouldn't be revealed until later in the year.
In 2020 petrol-electric hybrid models made up 30 per cent of all Lexus sales, and by May of this year that had surged to 39 per cent. Clearly, there's Lexus customer appetite for electrification.
The brand has promised over $100 million investment in next generation Lexus dealerships. Its new showroom at Sydney's Chatswood, for example, features solar capabilities for carbon neutral charging "in anticipation of the arrival of the future plug-in models."
On a global scale, Lexus has confirmed over 20 new models are set to be revealed by 2025, with over half of those to be electrified. In Lexus speak, that includes petrol-electric hybrids, plug-in hybrids and full battery electric vehicles. Its first BEV to be built on a dedicated platform will be revealed in 2022.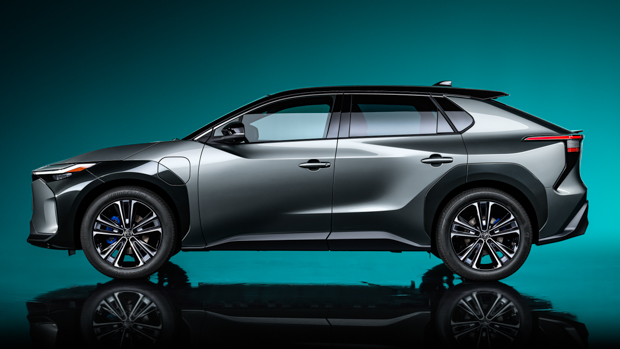 "We believe we're launching battery electric (BEVs) at the right time," said Mr Thompson. "If we can extend our portfolio in terms of plug-ins, we believe that portfolio approach will be able to cater to a higher percentage of the marketplace with the alternative drivetrain offerings."
Lexus Australia refused to be drawn on pricing for the next generation NX SUV, which has been its best-selling product here since 2014. It made up a massive 40 per cent of all its sales in 2020, and in the luxury medium SUV segment it sits below only the Mercedes-Benz GLC and BMW X3 for sales numbers.
Current prices start at $57,500 for the entry-level NX300 Luxury and $60,500 for the best-selling hybrid NX300h range. The next-generation plug-in hybrid NX 450h+, were it to go on sale here, would far surpass the current range-topping NX300h Sports Luxury AWD's $79,088 sticker price.