For the last few years, every new generation model Lexus has released has been much more satisfying to drive than the car it has replaced. The same is true of the 2023 Lexus RX – the brand's large luxury SUV model.
We had an inkling that this could be the case when we had our first drive of this new fifth-gen RX model in California last year, but as always, the real test arrives when we can get the car onto a variety of Australian roads – from scarred country routes to the tram lines of Melbourne's avenues.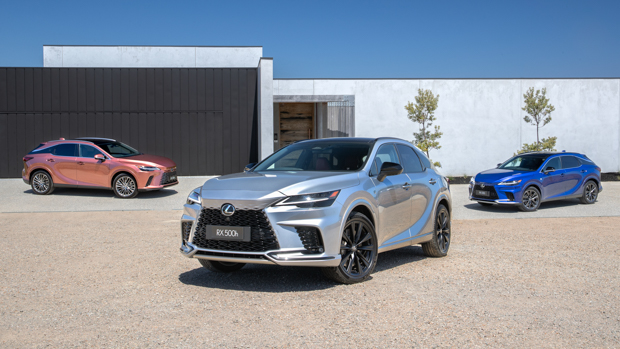 February 2023 brought that chance alongside the launch of the latest-gen RX, which has hit Australian dealers with a choice of three engines – two hybrid, one traditional – and three trim grades, not all of which are available with each engine.
It's a complex lineup, but over two days with the new RX, a BMW X5 and Volvo XC60 rival, on Aussie shores it became clear to us that there are two specifications that easily make the most sense.
They are this car – the entry-level RX 350h Luxury (from $87,500 with front-wheel drive), specifically when you tick the enhancement pack option ($5500) that adds desirable options like cooled, real-leather seats, a head-up display and a panoramic sunroof.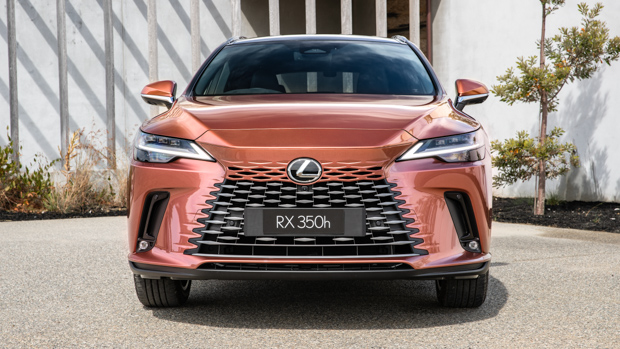 It's at this relatively low-end spec that the well-built and refined RX is something of a value buy. Conversely, the other easily recommendable model is the top-end version – the $126,000 RX 500h F Sport Performance – an athletic trim that debuts a new turbocharged hybrid engine. Most of the 'middle' trim grades make less sense.
We've written about the RX 500h over here, but this piece concentrates on the RX that most Australians will seek out long-term: the 2.5-litre petrol-electric hybrid-powered RX 350h that makes 184kW of power and used just 6.1L/100km on our testing loop.
What are the RX 350h Luxury's features and options for the price?
The $87,500 RX 350h Luxury is the base model RX, but like most Lexus models, the entry grade is still relatively well equipped. It is priced at $87,500 plus on-road costs for the front-wheel drive (FWD) version, and $92,600 for all-wheel drive.
A full pricing and specification breakdown of the 2023 RX can be found here.
Included as standard on the RX 350h Luxury trim are the following features:
19-inch alloy wheels

235/60 R19 tyres

Bi-LED headlights with auto-levelling function

Roof rails

Rear spoiler

Acoustic windscreen and front side windows, rear privacy glass

Vinyl ('Nuluxe') seat upholstery in black or white

Heated, ten-way power-adjustable front seats

Power-adjustable steering wheel

Black herringbone film interior trim

14-inch touchscreen with satellite navigation

12-speaker Panasonic stereo

Wireless Apple CarPlay, wired Android Auto

Interior ambient lighting, single colour

Three-zone climate control with Nanoe-X tech

40/20/40 folding rear seats
The entry-level RX 350h Luxury trim has a number of premium features, but its use of 'Nuluxe' vinyl trim makes its name something of a misnomer – luxury SUVs like this deserve real leather or a premium textile.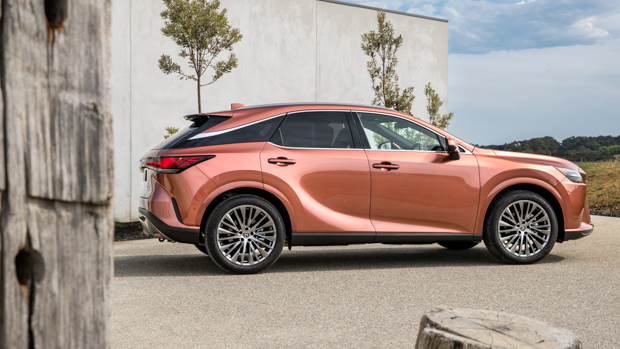 We recommend selecting the $5500 enhancement pack, which adds the following items to the Luxury grade:
Panoramic sunroof

Leather-accented seat upholstery in white, black, hazel or dark sepia

Cooled front seats

Driver's side seat memory

Larger digital instrument cluster

Head-up display

Touch-function steering wheel shortcut controls

Wireless device charger
Buyers can also choose to spend significantly more on the RX 350h Sports Luxury trim, which costs $111,900 before on-road costs, as an AWD model only. It includes:
21-inch alloy wheels

235/50 R21 tyres

Three-projector bi-LED headlights with blade scan technology and adaptive high beam

Semi-aniline quality leather seat upholstery in white, black or dark sepia

Heated and cooled 12-way power-adjustable front seats

Sumi black wood or bamboo interior trim

21-speaker Mark Levinson stereo

Leather gear shifter

Heated steering wheel with wood trim

Multi-colour interior ambient lighting

Heated and cooled rear seats

Manual rear window sun shades

360-degree parking camera
The RX 350h Sports Luxury can be further optioned with a panoramic sunroof ($3000), or with that feature plus automated parking and a digital rear view mirror ($3900).
How does the RX 350h Luxury drive?
All RX 350h trim grades use the same engine, but there is a considerable difference in ride quality and quietness between the Luxury and Sports Luxury variants because of a change in wheel and tyre sizing.
The Luxury model – with or without the enhancement pack – rides with relatively chunky tyres and 19-inch alloy wheels. In our view, these wheels just escape looking too small, and the considerable insulation granted by the thicker tyres means this spec is perfect for ironing out bumpy roads.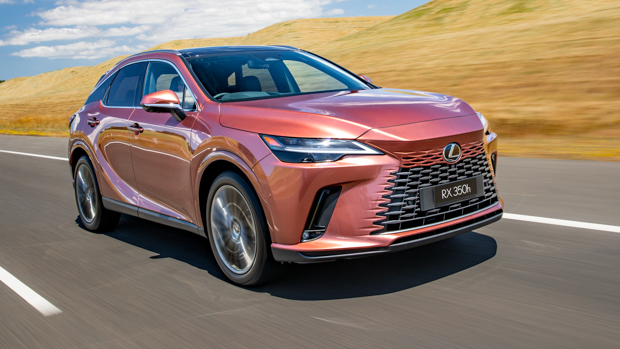 On the other hand, the Sports Luxury is not uncomfortable, but there is notably more road feel (and a bit more noise) from its more aggressive 21-inch wheels and lower-profile tyres. If you mainly drive in the city this should be fine, but for country touring, you'll appreciate the security of a chunkier tyre.
Engine-wise, the RX 350h is the most run-of-the-mill RX powertrain – which is saying something! The RX model was traditionally a V6-powered car, and indeed, the previous-gen version gave the choice of a V6, a V6 hybrid, or a discontinued 2.0-litre turbo four-cylinder.
You won't find a six-cylinder engine on the new RX full-stop. Instead, the range opens with the RX 350h, which borrows its 184kW 2.5-litre non-turbo hybrid system from the ES sedan and NX midsize SUV (plus Toyota's Kluger, RAV4 and Camry models).
As with all of those cars, this hybrid system strikes a superb balance between giving sufficient power and impressive real-world fuel efficiency – albeit at the cost of some engine noise. Go to overtake a truck and you will hear the engine revving despite high levels of sound insulation.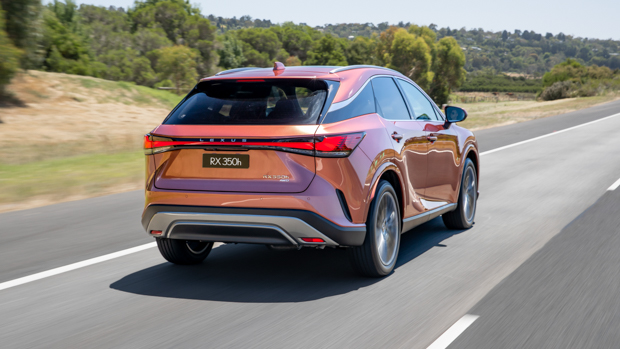 From the RX 350h, you can upgrade to a turbo non-hybrid RX 350 which is quite gutsy but also much thirstier than the hybrid – or to the ultimate RX powertrain, the intensely torquey, and reasonably efficient, RX 500h F Sport Performance.
But while Australian pre-orders for the RX 500h have been stronger than expected (and it's a great powertrain) we think that eventually, the clear majority of buyers will go for the RX 350h because it is a great all-round engine. Handily, it's also the most affordable choice.
The major choice here is whether you can live with front-wheel drive (FWD) or if you need AWD, which is a costly $5100 option. If you rarely venture onto unsealed gravel roads or snow you can probably get by with FWD, which is much cheaper and uses less fuel.
So, it's all-change in the engines department, but the ride and handling are arguably where Lexus has made the biggest moves with the RX.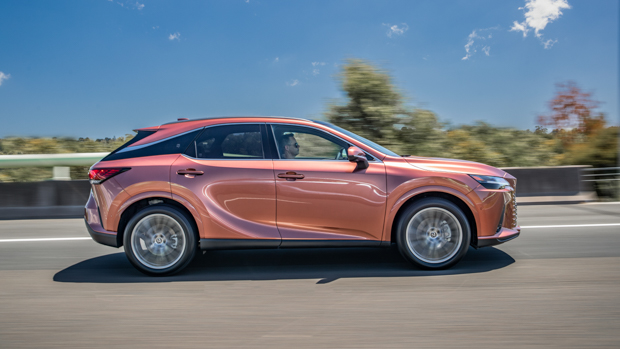 For the fifth-gen RX, Lexus has moved the model onto a stiffer, newer transverse-engine platform called GA-K, which, like the engine, is borrowed from ES and NX.
This choice has transformed the handling from competent-but-uninspiring for the facelifted fourth-gen RX to genuinely quite athletic when pushed in the new car. If you're not the type to go corner-hunting in a family SUV – like most – you'll simply find the handling responsive and natural: all good things.
In particular, we like the steering and the body control is reasonably good, too. Plus, the ride quality is insulated and more even, transmitting fewer thuds and thumps into the cabin than any previous RX. That's even on the Luxury grade's one-mode passive dampers.
What is the RX 350h Luxury's interior and tech like?
Like the chassis, the interior of the fifth-gen RX is another all-new element of the SUV, with the badge moving into the modern era when it comes to screen size and smartphone-linking tech.
Apple iPhone users get the best experience, though, enjoying standard wireless CarPlay functionality presented on the RX's striking, high-resolution 14.0-inch touchscreen. Android phones can be mirrored but this requires a cable.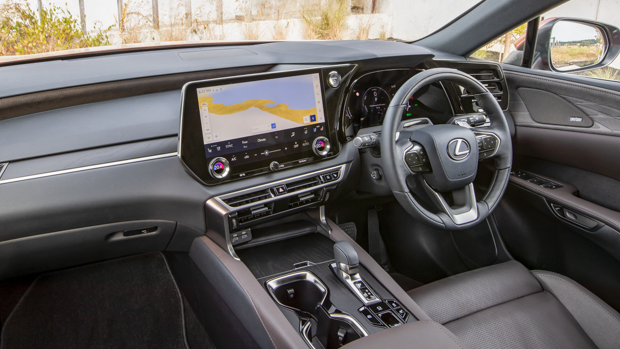 Speaking of cables, the RX has five USB ports to keep everybody's devices charged up. Wireless device charging is also included as a feature of the Luxury grade's $5500 enhancement pack.
Lexus allows less customisation of the screens than what is possible in an Audi Q5 or Mercedes-Benz GLE, but most functions are easy enough to locate, particularly in the new touchscreen – which features bigger touch targets and a better orientation to the driver.
Seats across the RX lineup are big, comfortable and supportive for longer drives, though an unoptioned base Luxury's vinyl trim can get a bit hot on your back because seat cooling is no longer a standard feature.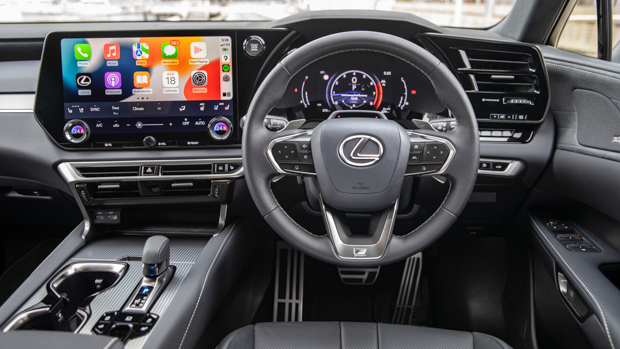 Another good reason to stretch to the $5500 enhancement pack. Not only does the upholstery switch to more breathable and perforated genuine leather, the vaunted seat-cooling fans are also added back in for a calmer, colder drive.
10-way power adjustment is standard while the Sports Luxury picks up another two ways, because that trim alone lets you move the seat lumbar up and down as well as in and out – making for better and more flexible back support on long trips.
The accommodation in the front row leaves little to complain about – even the heads-up display (HUD) is visible through polarised sunglasses, a rare feat.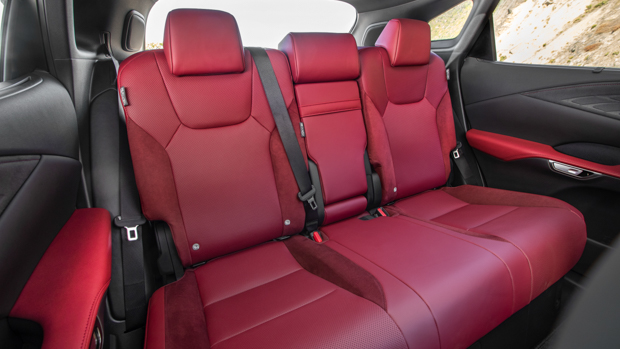 That's important, as the HUD gives contextual clues about what the touch-sensitive shortcut pads on the soft-rimmed, power-adjustable steering wheel actually do.
Move to the back seats and it's another impressive zone, as long as you don't require more than five seats. The previous-gen RX could be ordered as a slightly awkward-looking, lengthened long-wheelbase model that packed a compact third row.
The option of the RX L body style has been removed for the new car, with Lexus set to add a new seven-seater SUV model to its Australian range.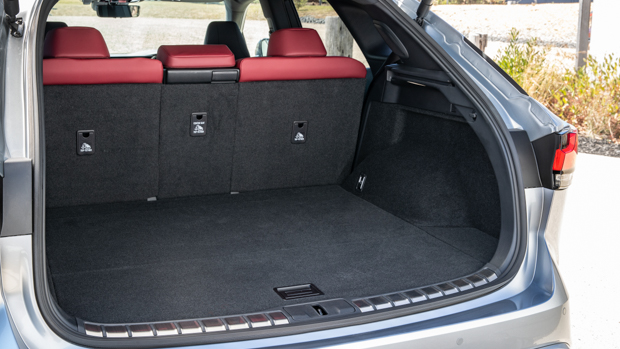 Still, as a five-seater, the new RX is very respectable, with plenty of room for adult passengers in all directions – and a genuinely usable centre pew thanks to decent width in the body.
Behind a standard power tailgate is a 612-litre boot, which is flexibly sized and links to convenient 40/20/40 folding rear seats. However, country touring becomes that much less confidence-inspiring – because there is no spare wheel here.
Is the RX 350h Luxury a safe car?
While the new Lexus RX has not yet been crash-tested, or rated, by Australia's ANCAP car safety rating agency, it has been tested by Europe's Euro NCAP body.
The 2022 test of the new RX resulted in the SUV being awarded a five-star result in that jurisdiction. The RX received the following scores from Euro NCAP:
Adult occupant safety: 90%

Child occupant safety: 87%

Vulnerable road user safety: 89%

Safety assist: 91%
ANCAP may choose to rate or crash-test the RX separately at a later date.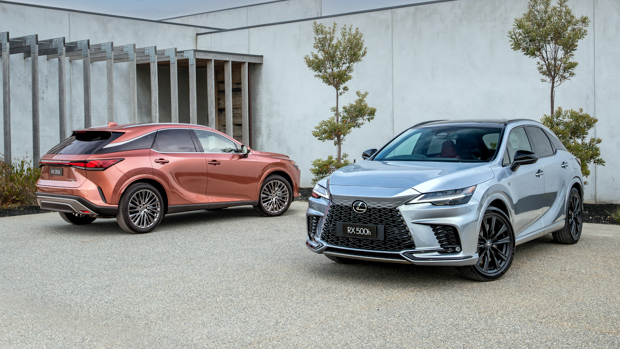 The following safety features are standard on the RX 350h:
Eight airbags

Forwards AEB with pedestrian and cyclist (day/night) and motorcyclist (day only) detection

Junction AEB

Reversing AEB

Lane-trace lane-centring assist

Blind spot monitoring with rear cross-traffic alert

Adaptive cruise control with curve speed reduction function

Automatic high beam

Reversing camera

Tyre pressure monitoring

Rear seat reminder
It's worth noting that the Sports Luxury grade adds adaptive high-beam and a 360-degree camera to supplement the standard reversing camera.
Simply having safety tech is one thing, but it's crucial these systems are tuned well, and with subtlety, to ensure drivers don't simply turn them off.
For the most part, that's true of the Lexus RX, though the lane-centring is at times overzealous on country roads. We also couldn't locate the function to turn this off, so we simply put up with it.
What are the RX 350h Luxury's ownership costs?
Go for the RX 350h engine, and the new Lexus RX is an inexpensive luxury SUV to run – at least from a fuel consumption perspective.
We used the same fuel economy loop for all three RX engines, and we got the following fuel efficiency scores which can be directly compared:
RX 350h (hybrid) Sports Luxury AWD: 6.1L/100km

RX 350 (turbo) AWD: 11.4L/100km

RX 500h (turbo hybrid) F Sport Performance AWD: 9.6L/100km
In other words, the RX 350h uses a third-less fuel than the sportier RX 500h hybrid, and essentially half the fuel of the non-hybrid RX 350 turbo.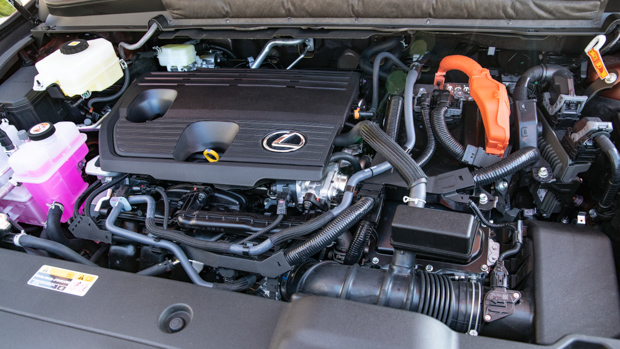 If you drive 15,000 km per year and if the RX's required 95-octane premium petrol remains around $2.00 per litre in Australia, the three engines would cost:
RX 350h (hybrid): $1830 (one year), $9150 (five years)

RX 350 (turbo): $3420 (one year), $17,100 (five years)

RX 500h (turbo hybrid): $2880 (one year), $14,400 (five years)
The savings certainly add up over time for the RX 350h, putting the best part of $8000 back in your pocket over five years while releasing fewer carbon emissions. That's before you think about the hypothetical possibility of emissions-based vehicle taxing in future.
All RX engines attract the same capped price servicing. The intervals are 12 months/15,000 km, and the price is $695 every year for the first five years, amounting to $3475 over five years/75,000 km.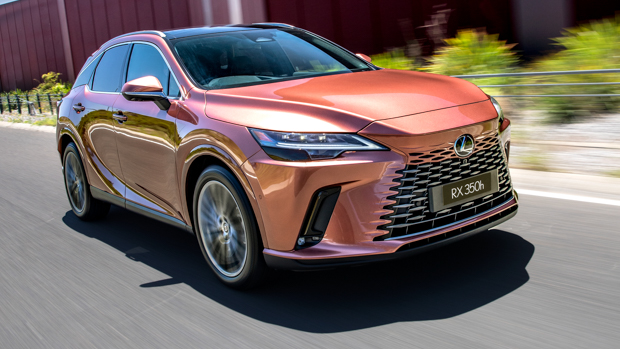 That is quite expensive when you consider the mechanically very similar Toyota Kluger hybrid AWD model costs just $1325 to service over the same time and mileage … but Toyota doesn't have the Lexus Encore ownership benefits program, we suppose.
Lexus maintains a five year, unlimited kilometre warranty in Australia and the RX model is covered under this deal.
The honest verdict on the RX 350h Luxury
Another new Lexus product; another review praising the car's significantly improved dynamics and frugal engine. Frankly, we don't expect that much more from a large luxury SUV like this one.
With the Lexus RX offering a radically upgraded interior and nice improvements from behind the wheel – plus solid savings at the bowser in RX 350h hybrid format – there's just one problem.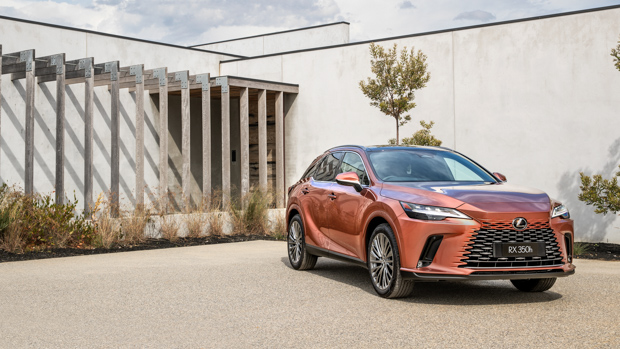 The elephant in the room is that with a vehicle of this external size we normally look for at least the option of a third row to enhance family flexibility.
With the old RX there was precisely that option with the RX L shape. Lexus Australia insist they have an alternative on the way, and this is firming as the next-gen, Prado-based GX four-wheel drive, rather than a car-based model.
Well-heeled families seeking a more flexible Lexus SUV – without going to the brand's much larger LX model – will need to wait and see.