Pricing was announced this week for the 2020 Lexus RX – with the new model year marking the major facelift of the fourth-generation RX. The comprehensive update includes massaged styling but the changes run deeper than the skin, with changes to this SUV's dynamic capability, safety technology, and cabin convenience.
While prices generally rise across Australia's thirteen-strong Lexus RX lineup, stepping into Lexus's medium SUV will actually become a little more affordable at the entry point. The RX 300 Luxury – a five-seat front-driver – falls by $1,600 to $71,920.
The range stretches almost $40,000, with a range of four-cylinder, six-cylinder and hybrid engines and a choice of five seats in the standard car, or seven seats in the stretched RX L. A full list of prices appear at the end of this article.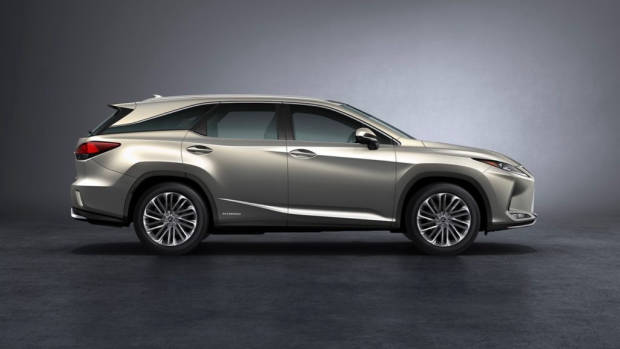 While prices do rise by about $700 on average Lexus say the revised RX concentrates on delivering "ten new technologies as standard", while promising a further "ten engineering updates…to quell vibrations, deliver smoother, more level ride control, and reduce bodyroll."
The mechanical revisions take in a revised construction process that involves 36 new weld points and another 4.2 metres of body adhesive to increase the RX's rigidity.
There are new hub bearings on the suspension, front and rear, to enhance steering feedback, along with a broader, but lighter, rear stabiliser bar. Additional changes that should boost the crispness of the RX's handling include a torque vectoring by braking function and a new tune for the electric power steering.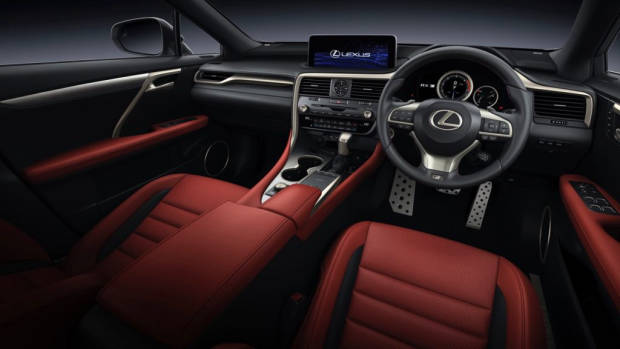 F Sport grades gain performance braces at the front and rear while F Sport and Sports Luxury cars benefit from a revised tune of their adaptive dampers.
Inside, a new touchscreen measuring 12.3-inches replaces the previous passive screen, and this display also picks up Apple CarPlay and Android Auto in a first for Lexus Australia.
Safety technology has been upgraded to include nighttime pedestrian and daytime cyclist detection for the autonomous emergency braking. There is also now a stronger 'trace' version of lane keep assist and traffic sign recognition. Low-speed parking AEB is also now fitted.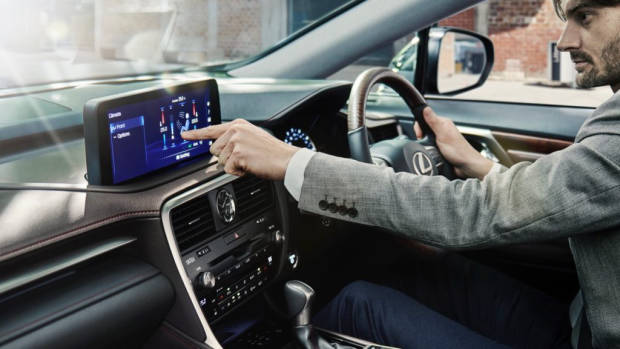 The RX range for Australia continues to consist of three petrol engines, and three trim grades. The RX 300 (from $71,920 plus on-road costs) is a two-litre turbo four-cylinder producing 175kW/350Nm; this engine is the range's sole front-wheel-drive variant.
Stepping up to a 3.5-litre V6 in the RX 350 requires shelling out an additional $9,970; this buys additional smoothness as well as increased outputs of 221kW/370Nm.
The flagship RX 450h pairs that V6 to a 2kWh battery and electric motor and produces a combined 230kW of power while consuming an official 5.7L/100km. The hybrid doesn't come cheap, though; it starts at $91,090.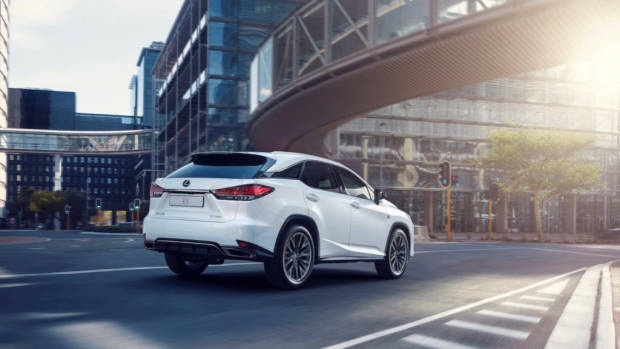 In the five-seat RX, each engine can be paired to three trim grades: the entry-level Luxury (now from $71,920), a mid-spec and more athletic F Sport grade ( from $86,800), and the flagship Sports Luxury trim (from $92,700).
The seven-seater RX L is available as a Luxury (now from $85,000) or Sports Luxury (from $101,600).
Standard specification rangewide includes navigation, DAB digital radio, wireless smartphone charging, automatic headlights and wipers, AEB, blind spot monitoring, rear cross traffic alert, and full keyless entry and start. Alloy wheels start at 18 inches and quickly rise to 20 inches.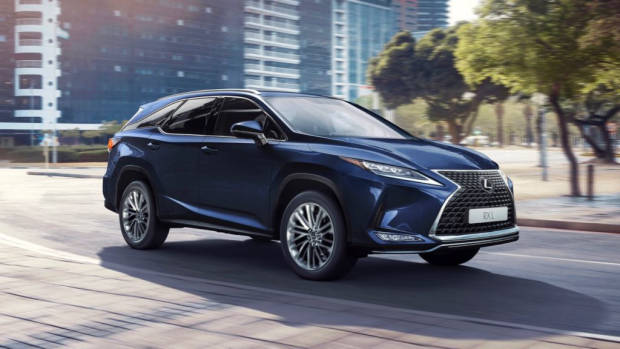 F Sport variants gain adaptive dampers, a sport-plus drive mode, a 360-degree parking camera, rear-seat sun shades and a 15-speaker premium stereo.
The Sports Luxury sees specification boosted further to include memory and 14 ways of power adjustment for both front seats, semi-aniline leather trim, and heated second row seats.
2020 Lexus RX Australian pricing
All prices are before on-road costs.
RX 300 Luxury 5 seat: $71,920 (down $1,632)
RX 300 F Sport 5 seat: $86,800 (up $978)
RX 300 Sports Luxury 5 seat: $92,700 (up $728)
RX 350 Luxury 5 seat: $81,890 (up $1,198)
RX 350 F Sport 5 seat: $93,970 (up $978)
RX 350 Sports Luxury 5 seat: $99,870 (up $728)
RX 450h Luxury 5 seat: $91,090 (up $930)
RX 450h F Sport 5 seat: $103,440 (up $980)
RX 450h Sports Luxury 5 seat: $109,340 (up $730)
RX 350L Luxury 7 seat: $85,000 (up $1,029)
RX 350L Sports Luxury: $101,600 (up $829)
RX 450hL Luxury 7 seat: $94,470 (up $1,030)
RX 450hL Sports Luxury 7 seat: $111,070 (up $830)