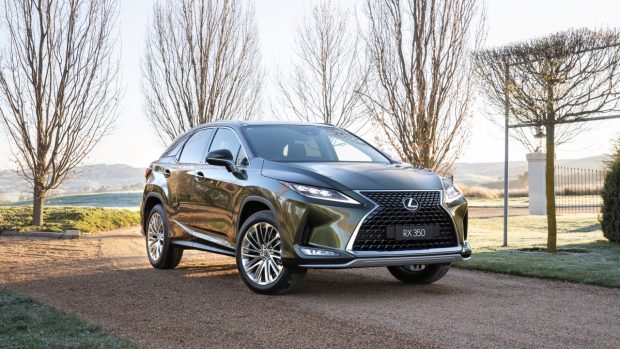 This year, the Lexus RX nameplate celebrates its 21st anniversary. In the world of luxury crossovers, then, the large Japanese SUV is something of an elder statesman. Lexus took an early punt on there being a market for luxuriously appointed, high-riding vehicles that didn't need any genuine off-roading ability. The long term has shown that to be a remarkably prescient move.
But while the RX's early innovation stands out, for most of its life the Lexus has happily cruised along in high gear, coasting on its reputation as a dependable, well-appointed, safe crossover. Sporty dynamics? Not really. Edgy design? Well…not until the fourth generation.
Introduced in 2015, the fourth-gen RX polarised visually, all hard edges and creases outside while packing an origami-like Japanese interior design underneath. But while the aesthetics went out on a limb, the driving experience remained pretty sedate.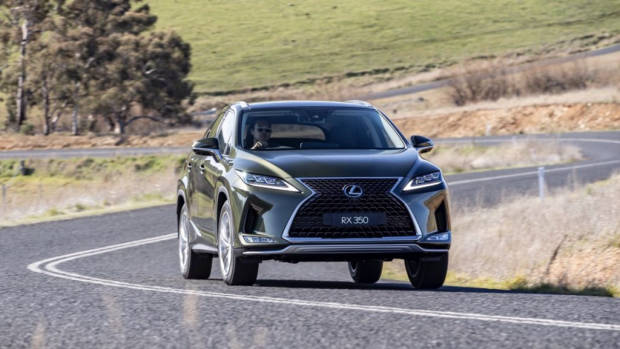 As we know, though, from recent drives in the UX small SUV, RC F sports coupe and even the ES midsize sedan, the Lexus of 2019 isn't satisfied with sedate anymore. Enter the 2020 Lexus RX facelift, which softens the lines ever so slightly outside while sharpening up this car's responses by way of retuned suspension and steering setups.
Our drive in the revised, sharper 2020 RX took in town and highway, plus a few challenging sections in the Blue Mountains region that forms Sydney's western border. And, while it's quite clear the updated RX hasn't taken on Porsche Macan levels of agility, it's also evident that the tinkering under the skin has created a more cohesive, resolved SUV that is considerably better to drive.
We'll come back to the dynamic changes shortly – first, let's revisit the Lexus RX range in Australia. Three petrol engines are on offer – a 2.0-litre turbocharged four-cylinder (175kW/350Nm) in the RX 300; a 3.5-litre naturally aspirated V6 (221kW/370Nm) in the RX 350; and a petrol-electric hybrid that teams the 350's engine with a synchronous AC motor and electric battery to produce a combined 230kW of power.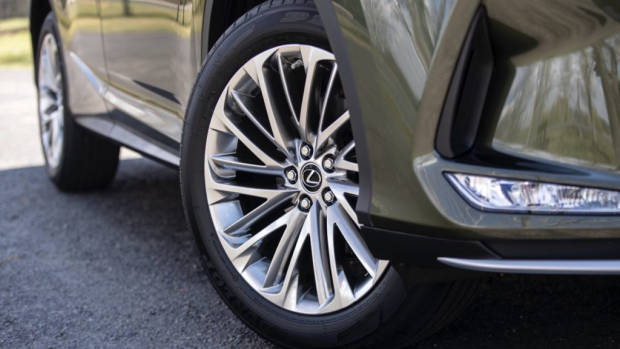 If you've bought a Lexus before you'll also know that along with your engine choice, you need to nominate a trim grade, which bear familiar names for this brand: Luxury, F Sport, and Sports Luxury
There's more or less a ten grand step between each of the engines, with the turbo four marking its territory as a value buy (from $71,920). That car, the RX 300 (which was previously badged, more clearly, as RX 200t) looks especially attractive when you consider that its German five-seat rivals are much more expensive – to the tune of five figures: SUVs like the BMW X5 and Volkswagen Touareg.
You can also opt for a slightly stretched version called the RX L, which sees two extra seats in a third row fitted. These dinky chairs are now slightly more spacious due to a rail-sliding system. The extra weight of the L means it's V6-only; as a result, it starts from $85,000.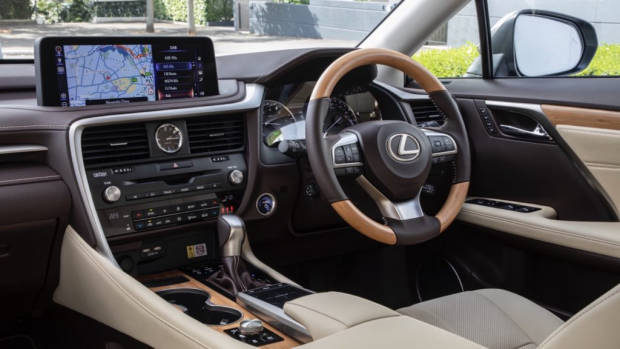 Today's Lexus may be embracing vehicle dynamics but, in the main, they haven't forgotten their tradition of offering better value than their Teutonic rivals. All RXs pack a 12.3-inch touchscreen, now with Apple CarPlay and Android Auto; they all have power-adjustable front seats, DAB digital radio, wireless smartphone charging, auto lights and wipers, full keyless entry and start, autonomous emergency braking, blind spot monitoring, and rear cross traffic alert.
And that's just on the $71k car. From there, equipment quickly rises – but so does the price. The F Sport grade is a $13k-$15k step over the base Luxury, but it adds innovative blade-scan LED headlights, heated and ventilated front seats, a colour head-up display, panoramic sunroof, adaptive dampers, a 360-degree parking camera, sun shades for the rear seats, a 15-inch premium stereo, 20-inch alloys, more real leather, and more assertive styling outside.
Finally, the Sports Luxury – which costs about $6,000 over an F Sport – switches to semi-aniline leather, swaps into more ornate 20s, adds memory and four more ways of adjustment to the front seats, and second row passengers score seat heating too.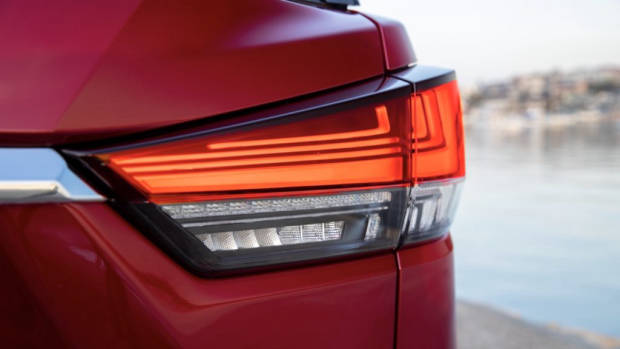 All up there are thirteen combinations to choose from here, so the range isn't straightforward, exactly, but there is at least a great degree of choice. Five or seven seats, displacement, and equipment levels can be broadly interchanged.
We'll make it easy: the RX 300 Luxury ($71,920) falls in price (by $1,632) unlike the other 12 grades and is great buying in this space. The RX 300 Luxury can also be kitted-out further through a decent-value Enhancement Pack ($6,030) which adds a sunroof, genuine leather, and memory, heating and ventilation for the front seats. But you can go for a real indulgence – and a very complete car – in the RX 450h Sports Luxury, for $109,340, and still see this as decent value over a German rival.
So, what's changed? None of the engines, for a start. For this update, the engineers at Lexus concentrated on the broad goals of improving body control and driver engagement. They've come at those goals from several angles. Rigidity is up: there are more weld points and body adhesive. The suspension is tinkered with – there are new hub bearings; there's a broader and now-hollow rear stabiliser bar; grades with adaptive dampers experience a revised tune. There's new software for the electric power steering.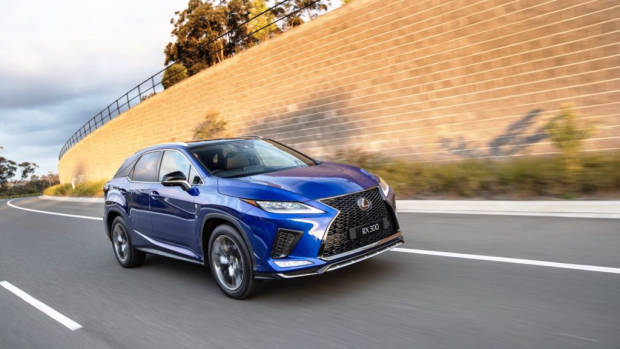 On paper these are subtle changes but in the real world, the result adds up to more than the sum of the alterations. It quickly becomes clear that the 2020 Lexus RX sits flatter, delivers less head-toss over speed bumps, and turns in with greater agility than the pre-facelift version it replaces.
This SUV still shamelessly biases comfort over sport, though, and that's fine: too many crossovers sacrifice a compliant ride for an attempt at physics-defying handling through bends. Few, other than Porsche, succeed. While the RX is certainly better at cornering now, it remains an SUV best driven in a relaxed manner.
The possible exception is the F Sport, which now picks up performance braces on the front and rear suspension and a firmer tune for its adaptive dampers. It look sporty outside, too. For us, though, the F Sport is the least convincing new RX: it's considerably more expensive than the base Luxury and the sharper ride it delivers disrupts the luxury vibe. Stick with the affordable Luxury or opulent Sports Luxury – you'll have a better time.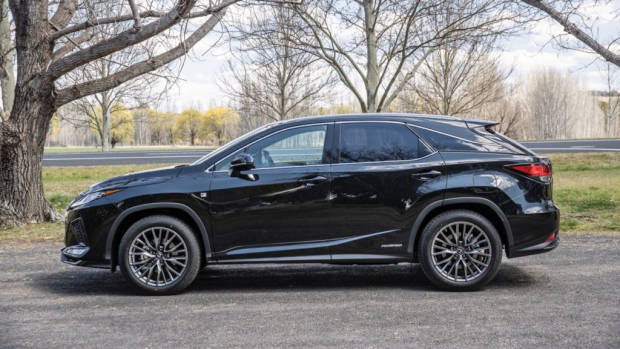 Among the engines, the hybrid V6 stands out as the pick – but given it starts at $91,090 for a five-seat Luxury, it doesn't come cheap. This stands out in the current Lexus hybrid push – in most of this company's models, hybrid is a relatively affordable step.
In the UX small SUV, hybrid costs $3,500 over the base petrol. In the NX midsize crossover and IS small sedan, hybrid power is only a $2,500 impost. In the RX, choosing hybrid is a near-$20k step over the base petrol four, or $9,000 over the petrol V6.
There is a reason why: for the RX, Lexus use their older V6-hybrid setup, pairing an expensive six-cylinder engine with the electric motor and battery. The aforementioned UX, NX and IS have four-cylinder base engines for their hybrid. While we like the grunt, smoothness and in-town alacrity of the RX 450h hybrid, we think there is room for a far more affordable, four-banger hybrid in the RX range.
So, what about the other engines? They get the job done. The RX 300 – the front-drive turbo four – is torquey at low revs and pairs well with the eight-speed automatic. It gets out of the way. However, the AWD RX 350, the petrol-only V6, is a lovely engine and probably worth the ten grand it charges over the four-cylinder. It is buttery-smooth, refined, and powerful.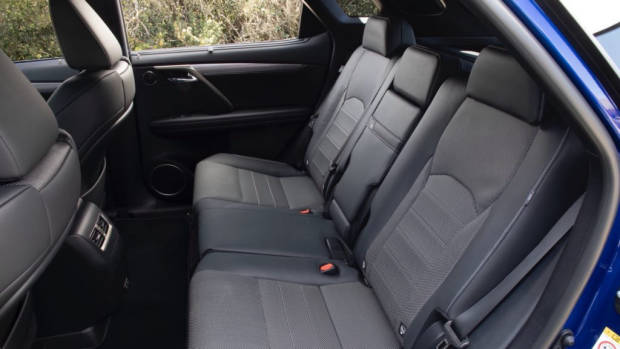 Inside, the RX feels pretty high quality. Plush leather, plenty of soft-touch plastics and interesting secondary trims make you feel like you're in a luxury car. First impressions are a little diluted by the doors, which don't feel or sound as heavy as some German rivals, but that's looking for complaints.
The base Luxury's seats are not entirely real leather but they feel fine; however, the Sports Luxury's semi-aniline hide is all genuine, and the 14-way seats on that grade offer continent-crossing levels of comfort. We also love the Sports Luxury's exposed bamboo trim.
The switch to a touchscreen liberates drivers from Lexus's frustrating 'Remote Touch' trackpad-driven infotainment. The integrated screen software still looks really dated and is counterintuitive to navigate, but that's no longer a problem because the RX becomes Australia's first Lexus to gain (wired) Apple CarPlay and Android Auto. Use that smartphone mirroring and enjoy the great stereos included in the car.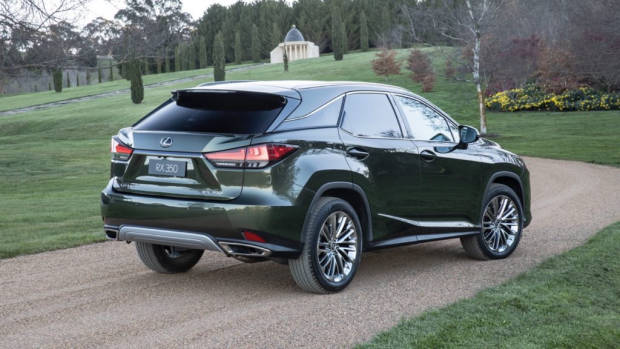 The back seat is spacious because the RX is a big five-seater (or a relatively compact seven-seater). Legroom and headroom are more than adequate for six-foot adults and even the AWD-equipped versions go without an obtrusive hump in the floor, so three can sit abreast. Air vents are standard in the back; the RX's six USB ports should keep everybody happy. The RX L's third row is fine for kids.
A standard kick-to-operate electric tailgate makes loading the 506L boot easy. Opt for the RX L and space behind the erect third row is a paltry 176L, but with the sixth and seventh seats folded, the L's cargo area is massive.
On the ownership front, Lexus continue to impress in the luxury space by offering a four-year/100,000km while its German rivals stick to three years. Still, parent company Toyota now offers five years of coverage in Australia – but Lexus ruled out matching that earlier this year. The servicing arrangements include a loan car that can be dropped at your home or office.
So, that's the updated Lexus RX. Still a great SUV to buy if you're after a really dependable and easy luxury vehicle to own – but the variety of subtle changes to the 2020 RX mean it now offers drivers more than a modicum of pleasure on a good road, too. Factor in the relative discount over one of its Teutonic competitors and there is little to disagree with here. And you can get it in green – so we're in.