With the intention of delivering a knockout "one-two punch" in the crossover segment, Lexus has today launched an all-new RX which significantly ups their luxury game.
Competing against sixteen alternatives – yet still maintaining a 25% share of the luxury crossover market – the RX is a crucial car for Lexus, both in Australia and here in the United States, a country that represents a stunning 50% of Lexus sales.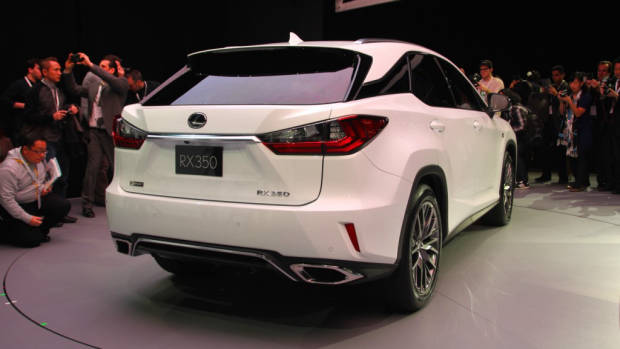 Offered initially in 3.5-litre petrol RX350 and hybrid RX450h guises, the new RX takes its styling cues largely from the NX crossover we reviewed here, as well as the new RC coupe and IS sedan. It's a handsome vehicle in the flesh, particularly from the front. The enlarged rear is perhaps not as tidy as the NX – but it's a fair sight more practical.
It's inside where the biggest gains are evident. There's a new 12.3-inch infotainment system that looks the business (and includes, thankfully, all new graphics). There's also more adventurous interior colour choices this time, with the F Sport model aggressive styled inside and out. The white-on-red model looked great at the New York Auto Show. As for the optional coloured wheel inserts…we're not so sure.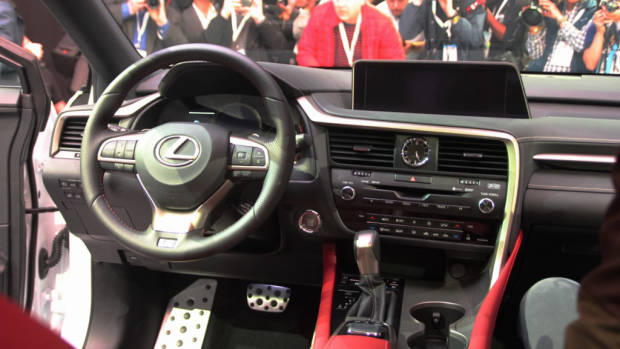 Also available are a 360º around-view monitor, a panoramic sunroof, and a rear door that opens in response to hovering your hand over the Lexus badge.
Lexus has managed to drive down the price of its advanced safety package – in the American market at least, Lexus Safety System Plus (which includes lane keeping assist, autonomous emergency braking and radar cruise) will be "less than $650".
The RX will launch in a number of markets in "late 2015". We anticipate to see it in Australia in summer 2015-16.