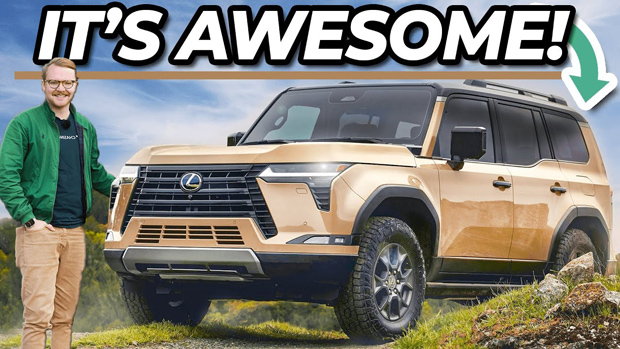 We've driven the groundbreaking new 2024 Lexus GX – in late-stage prototype form, and at a Japanese off-roading course designed by its maker, in the shadow of Mt Fuji, Japan.
That's a necessarily limited environment for testing, we'll admit – hence the lack of a formal score awarded on this review – but we're confident to share some positive first impressions.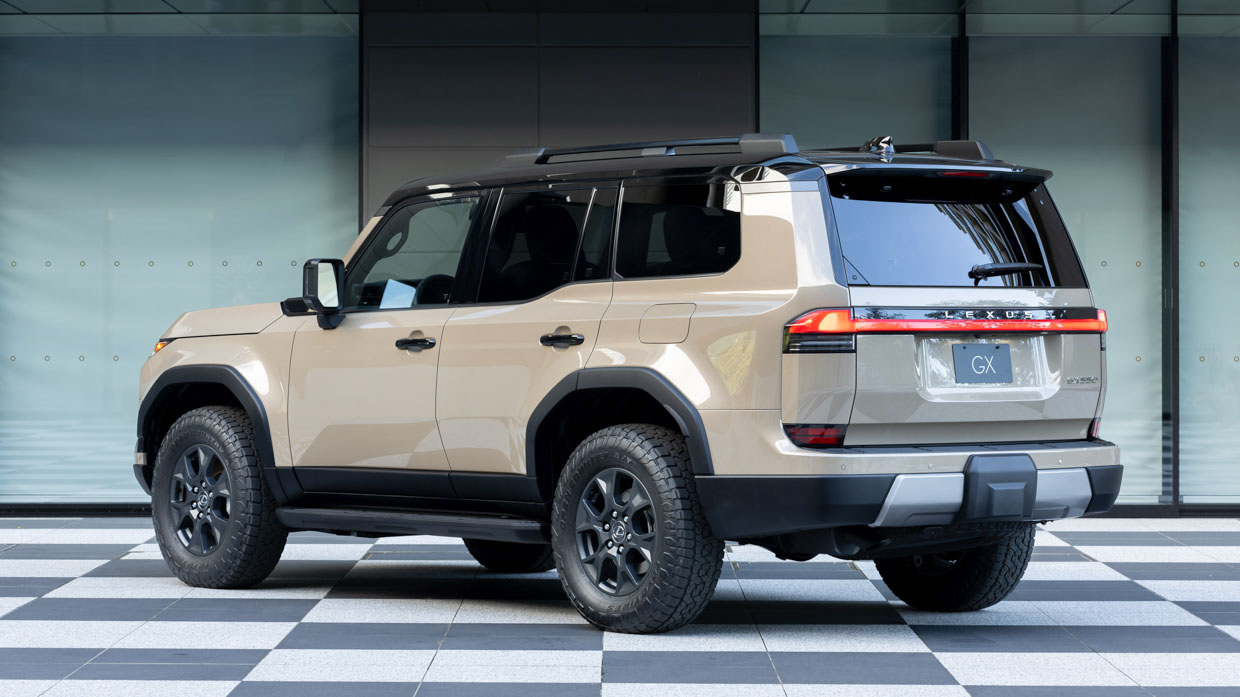 We tackled four obstacles in the turbo-V6 GX550 in rugged Overtail trim – two deep mogul sections, and two break-over ramps (one muddy, the other of strewn rock).
But before getting behind the wheel, we were permitted to crawl over a static GX Overtail display car for about an hour – this was probably the more revealing aspect of our first encounter with the GX.
This model is a premium Lexus adaptation of the new Toyota Land Cruiser Prado chassis. The dimensions are the same, and the proportional similarities between Prado/GX are obvious.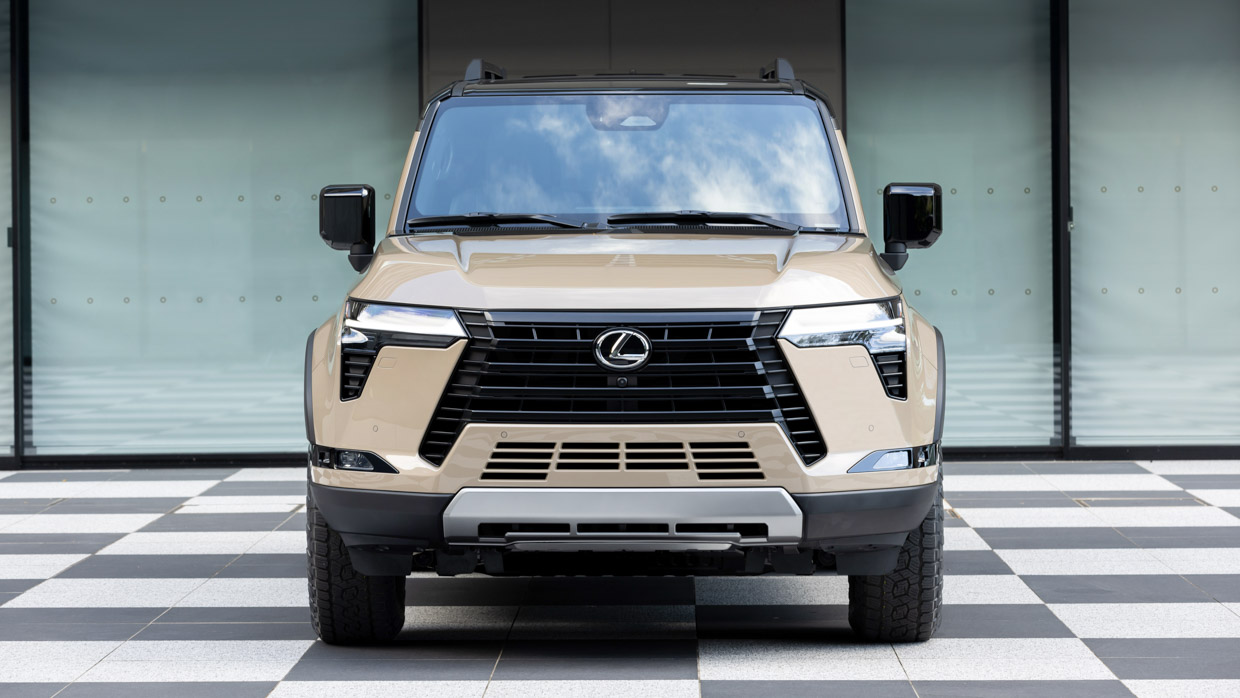 That's no bad thing. Walking up to the GX reveals a tall, handsome four-wheel drive that has unashamedly rugged styling. This is no curved, car-like SUV.
There's an honesty in the GX's blocky lines: unlike rivals such as the BMW X5, Mercedes-Benz GLE or Volkswagen Touareg, the Lexus is not a monocoque vehicle. Like the related Prado it's a body-on-frame 4×4 with significant off-road capability.
And no more so than in Overtrail trim, which has been confirmed for an Australian arrival alongside at least one other variant. The release date is firming as autumn 2024 in Australia – perhaps May or June.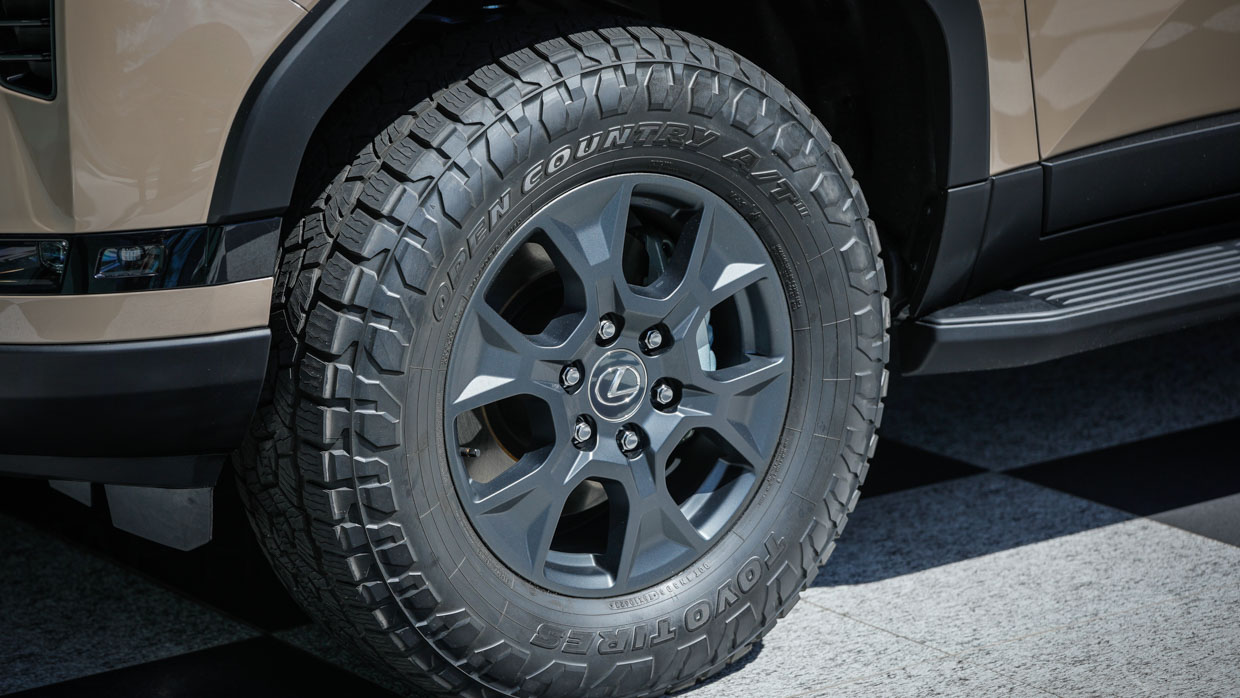 Overtrails are marked by 18-inch wheels wrapped in all-terrain tyres, while black plastic cladding features on the squared-off wheel arches. Other grades will be luxury-focussed, with more body-painted surfacing, and will wear 20-inch-plus alloys.
Our tester was painted in Overtrail-specific 'earth' brown paint with a black roof. The interior was finished in charcoal air-conditioned 'Nuluxe' vinyl trim with khaki ultrasuede highlights.
It's a pleasant mix and our initial impression was that the GX Overtrail will play well in Australia. There's an authenticity to the styling. We think it's a good-looking rig.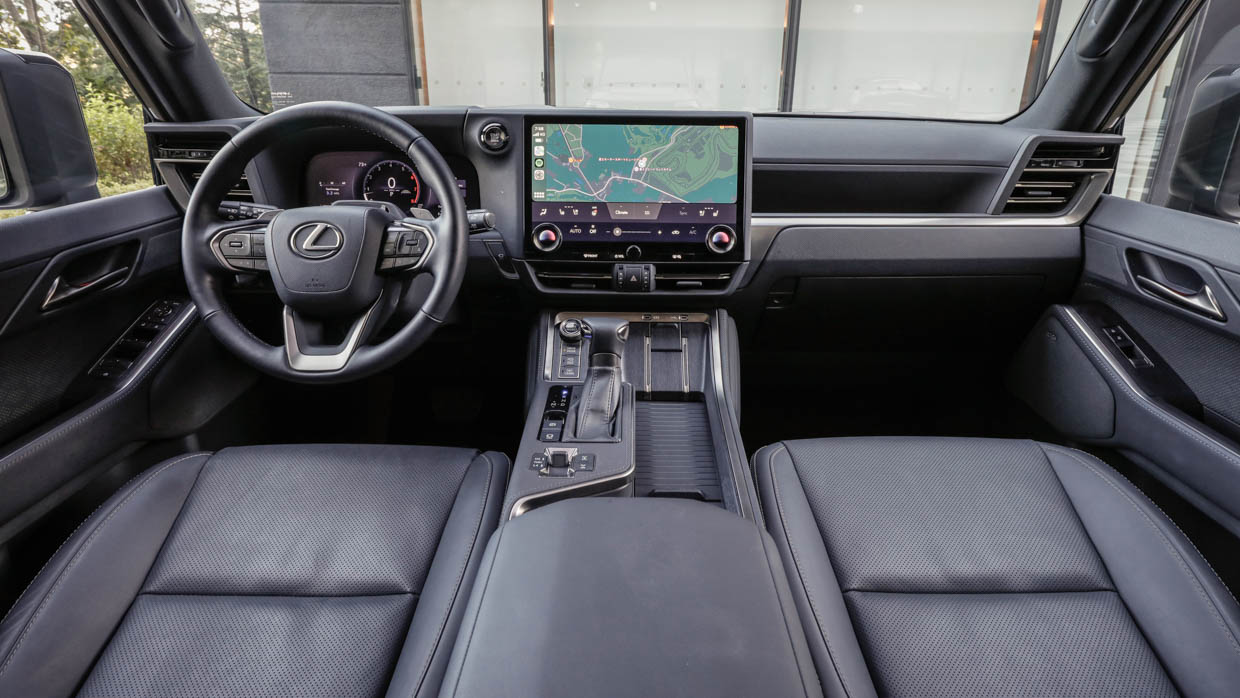 Inside, the GX combines some of the interior cues of the smaller (car-based) RX model – such as the 14-inch touchscreen with wireless Apple CarPlay and Android Auto – plus mixed soft and hard climate controls.
But there are plenty of GX exclusives – including the squared-off shaping of the screen cluster and dash layout, the inset 12-inch digital driver display, and the broad centre console incorporating a cool-box.
The seats felt comfortable, with 12-way electric adjustment plus fan cooling and heating. Build quality, even on this late-stage prototype, seemed good. Most surfaces are leather or vinyl-lined.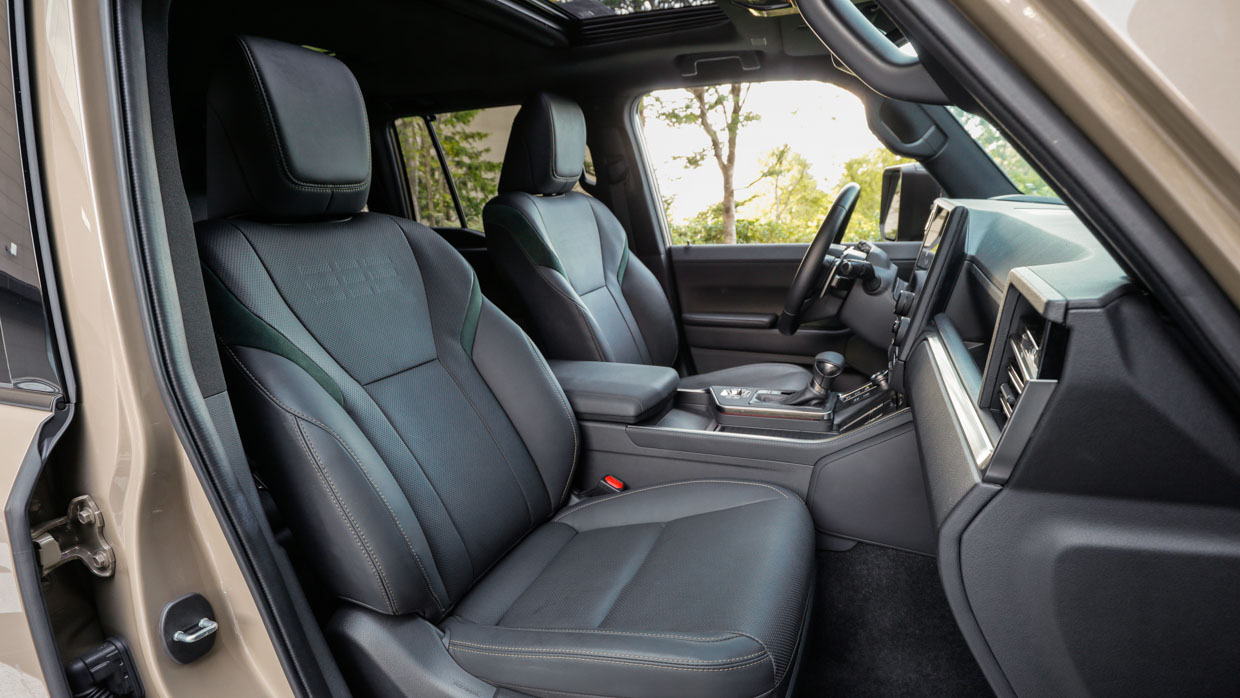 The Overtrail model is limited to five seats, making it the pick for tourers – the boot measures in at 1320 litres. Other grades will have a third row, while offering a choice of a bench or captain's chairs for the second row.
Some of the GX's popularity will hinge on its pricing, which will naturally be north of the Prado – which could hit $100,000 in its own range-topping form.
Lexus's own LX four-wheel drive – based on the larger 300-series Toyota Land Cruiser – starts at $151,561 (before on-road costs), so the GX could be a $120,000-plus proposition.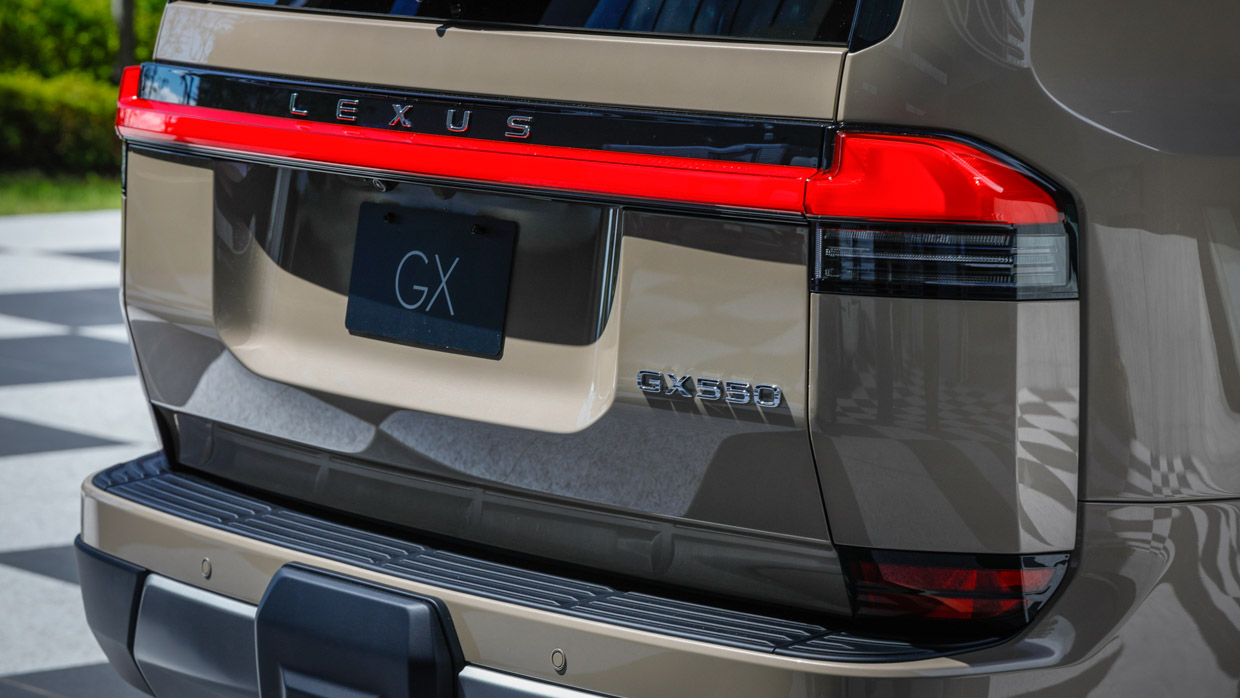 That is where the pricing of the smaller (and car-based) Lexus RX five-seater SUV stops – with the $124,675 turbo-hybrid RX500h model.
Clear white space remains in the $120K-$150K range for the Lexus GX to slot into for the first time in Australia. Previous-gen GX models were left-hand-drive only, and built a small but loyal following in the United States.
The old GX just ended production with a 4.6-litre non-turbo petrol V8 engine – in the body of an old Prado! – but it was only modestly powerful (224kW) and thirsty (14L/100km).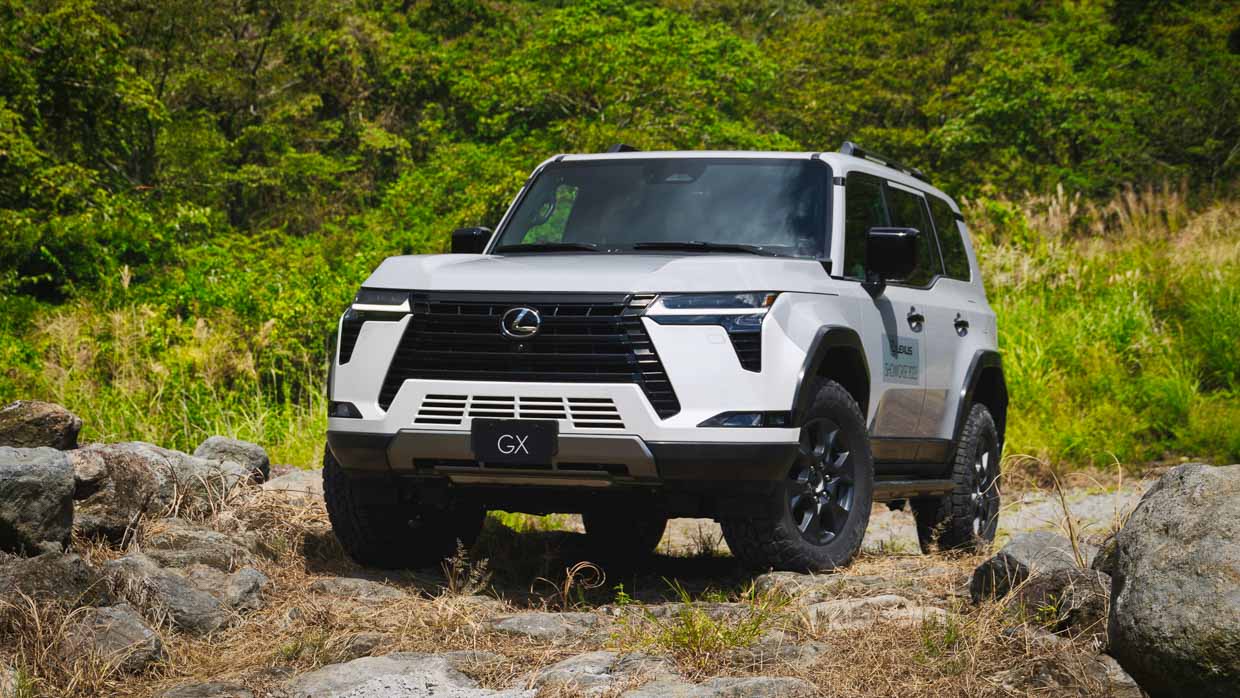 By contrast, the new GX is a thorough modernisation, riding atop the same TNGA-F frame platform as the LX and 300 Series.
Wearing GX550 badges, under the bonnet is a new 3.5-litre twin-turbo petrol V6 producing 260kW of power and 650Nm of torque. It's a detune of the larger LX600's 305kW motor.
But an electrified, turbo-petrol version of the GX won't come to Australia for at least a couple more years as it undergoes strengthening for heavy-duty, Aussie-spec use. The delays are partially to ensure tighter waterproofing of the hybrid battery, the GX's chief engineer told Chasing Cars.
So, at launch it'll be GX550 only for Australian buyers.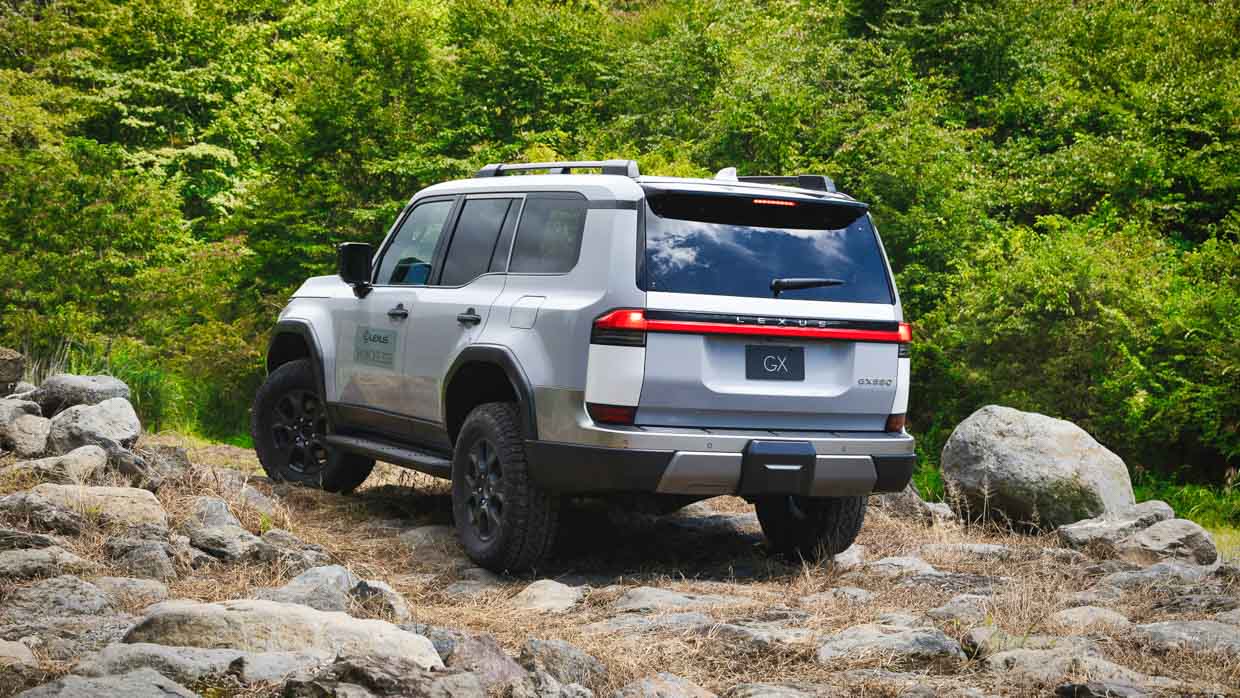 Aside from fairly ordinary fuel economy claims in the United States – between 13L/100km and 14L/100km – that is otherwise no problem.
We've tested this twin-turbo petrol V6 in the LX and found it to be a swift, nearly silent partner in everyday driving while offering plentiful flexibility for overtaking on the highway.
Progress should be considerably easier in the GX550. Even though it's down 45kW, the Prado-based vehicle is expected to be several hundred kilograms lighter than the LX600.
While the off-road course established by Lexus outside Fuji Speedway was located on a relatively steep hill, we didn't trouble the upper reaches of the V6 engine.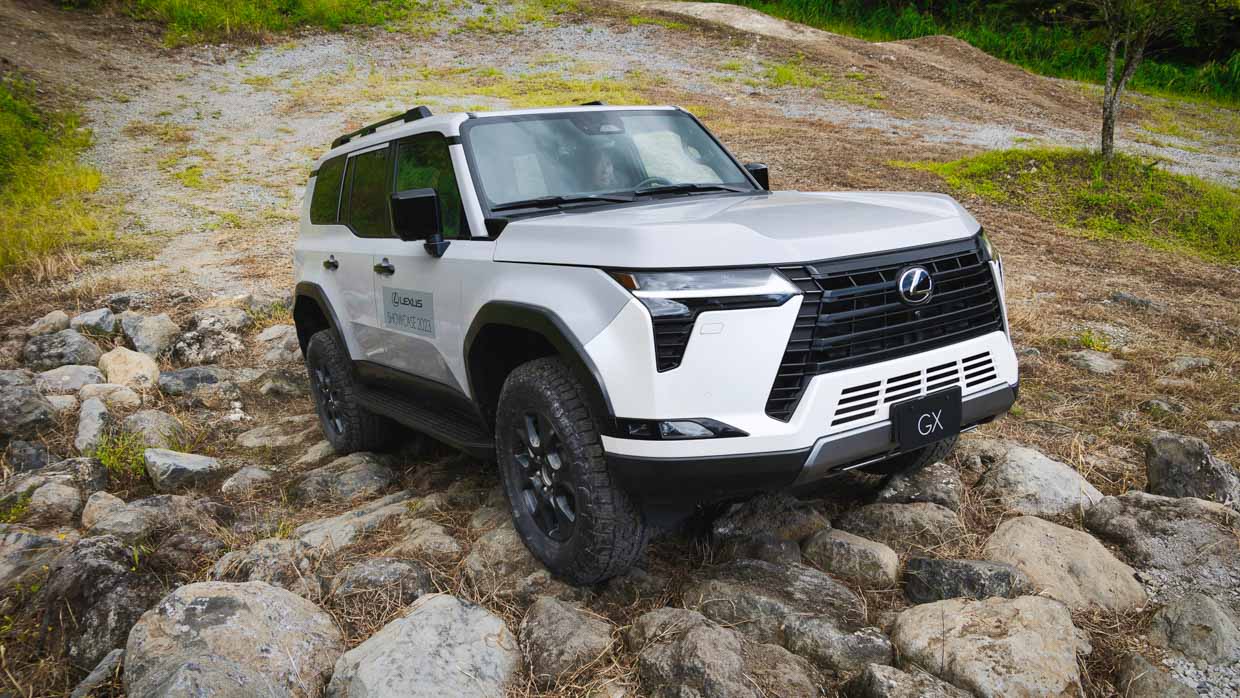 The entire course was completed in the first few of the GX550's ten forward gears. The transmission uses a torque converter, while there is a two-speed transfer case with high-four and low-four.
Low-four was used on each obstacle, but neither the locking centre differential nor the rear locker were engaged at any time. Progress was unimpeded.
The course began by easing the GX550 over four or five deeply sculpted moguls cut from the volcanic earth.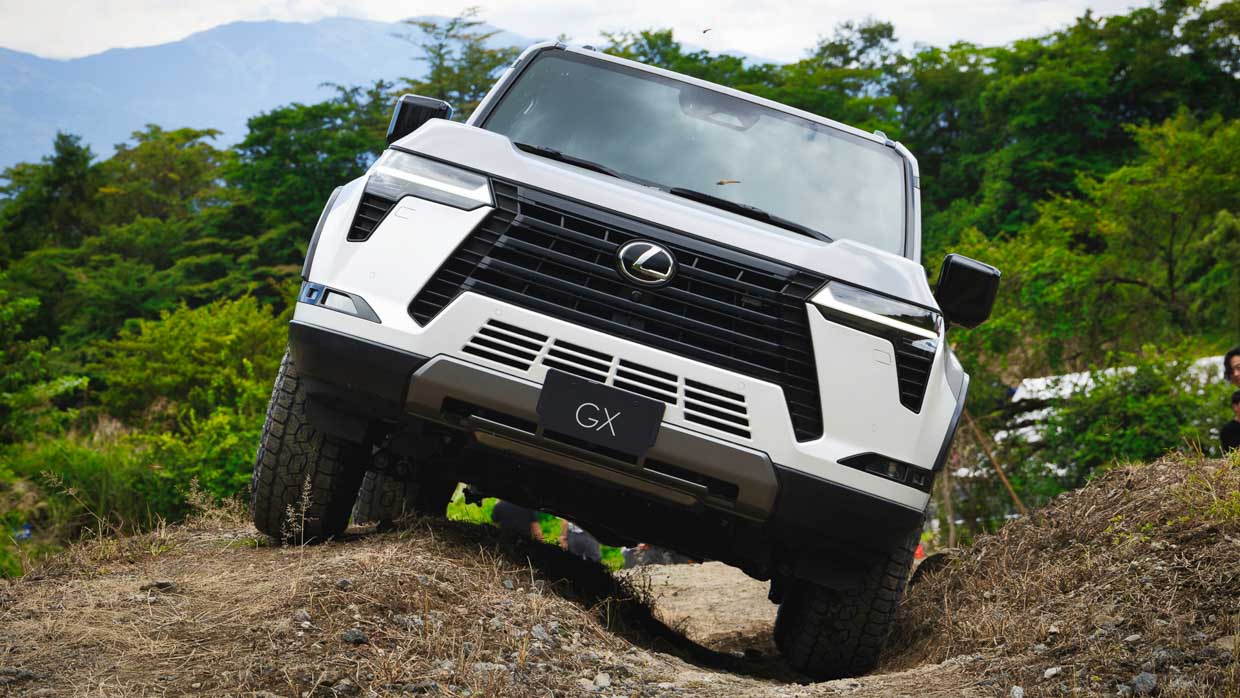 Carmakers don't build off-road loops their vehicles can't achieve – so it's no shock we made it – but the moguls weren't shallow or lame.
Instead, they were an opportunity for Lexus to show off the seamless operation of the Overtrail's exclusively-fitted electronic e-KDSS roll-bar disconnect system.
You don't need to do anything as the driver; the computer decides that the front axle requires significantly more – and mixed – wheel travel from left to right, and the rear follows.
A second set of moguls incorporated a fairly nasty verge to navigate the GX over, testing the Overtrail's 22-degree departure angle; the approach angle is 26 degrees for all grades, while the Overtrail benefits from a 24-degree breakover angle.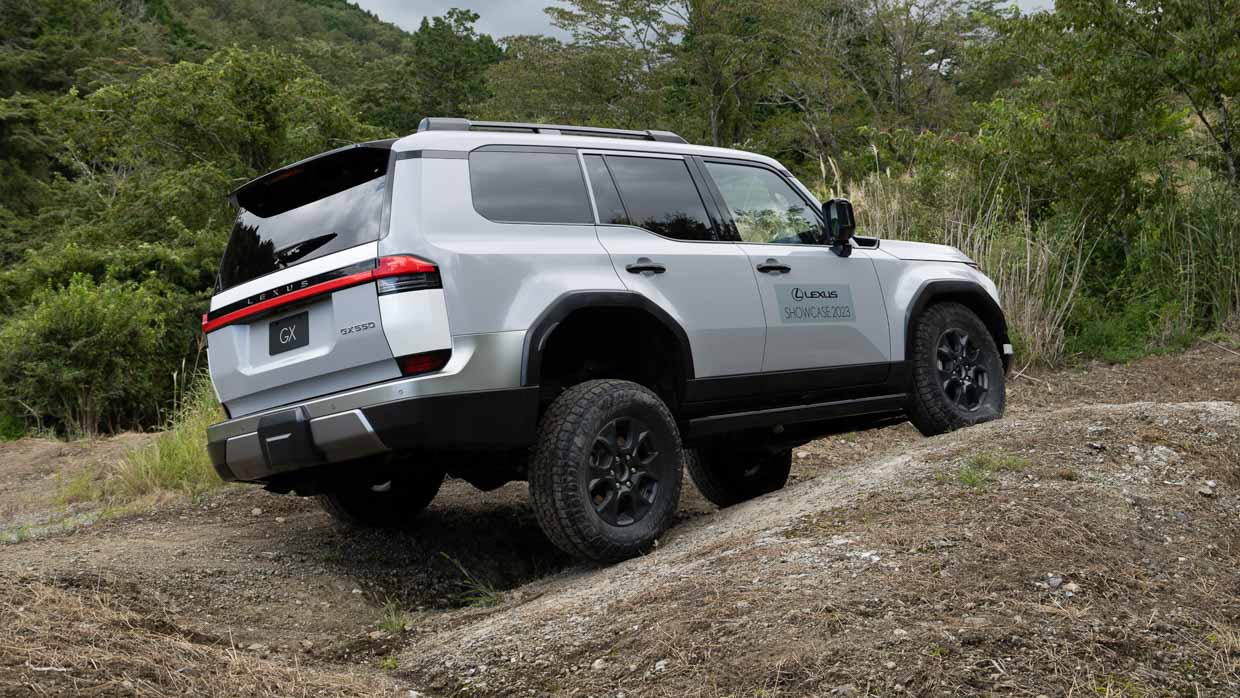 Next was a relatively tight, forested bend demonstrating the wieldiness of the GX/Prado shape – it's still narrower than an LX/300 Series with mirrors factored in.
Breakover was the next test, with a short, sharp mud bank to crawl over. Our main remarks here? Even with some engine load applied, the V6 is quiet and silky with heaps of low-end torque.
Oh, and we noticed that the cabin was cold: outside, it was 32ºC (90ºF) with ninety percent humidity…
Last task was to ascend and descend a gently sloped but forebodingly sharp artificial hill constructed of broken-up rocks.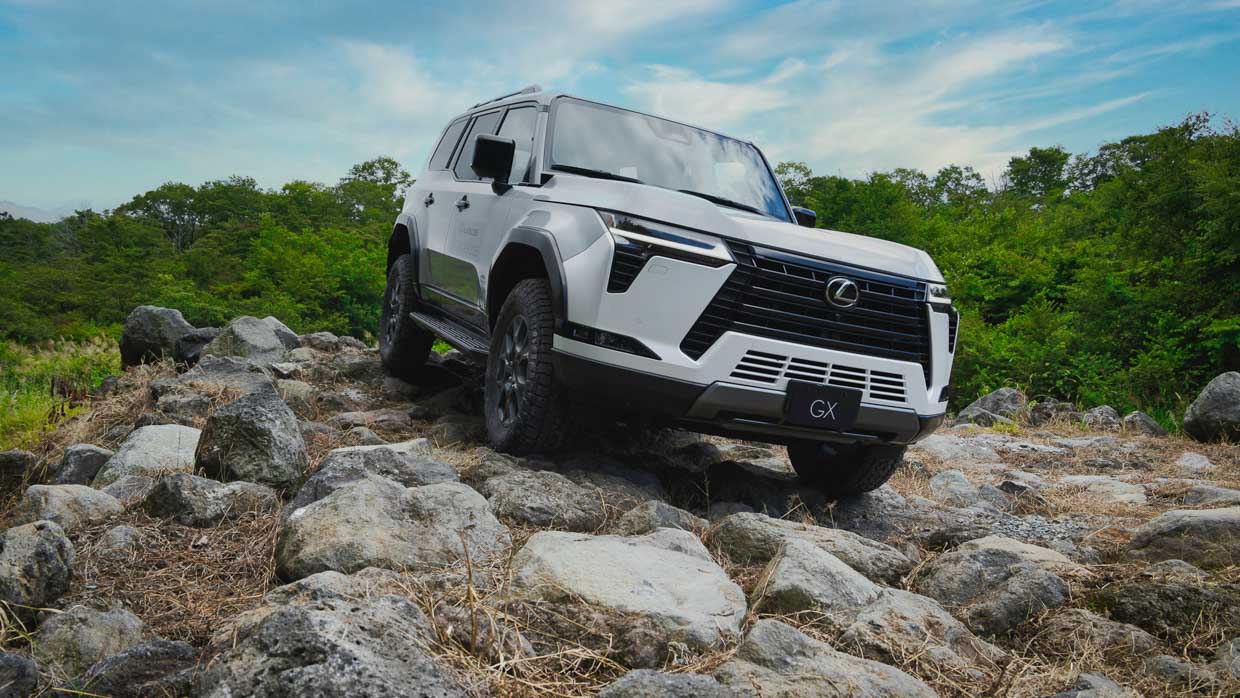 As we remarked in our video traversing the obstacle, it's the kind of thing we would think twice about using on our own off-road test course – so kudos for the honesty, Lexus.
The point of this man-made feature was to test the GX550's crawl control function – like off-road cruise control, allowing the vehicle to automatically pilot its forward momentum between 1-5km/h.
This technology has been around on Toyota fourbies for some time, but the GX benefits from quieter, smoother operation with less 'graunching' than a previous-gen LX. It worked well.
And that was it! Short, sweet, and yet enough to make us keen to test the GX properly on our own roads and trails when it arrives in Australia next year.
We expect that Australian pricing for the Lexus GX will be announced either late 2023 or early 2024.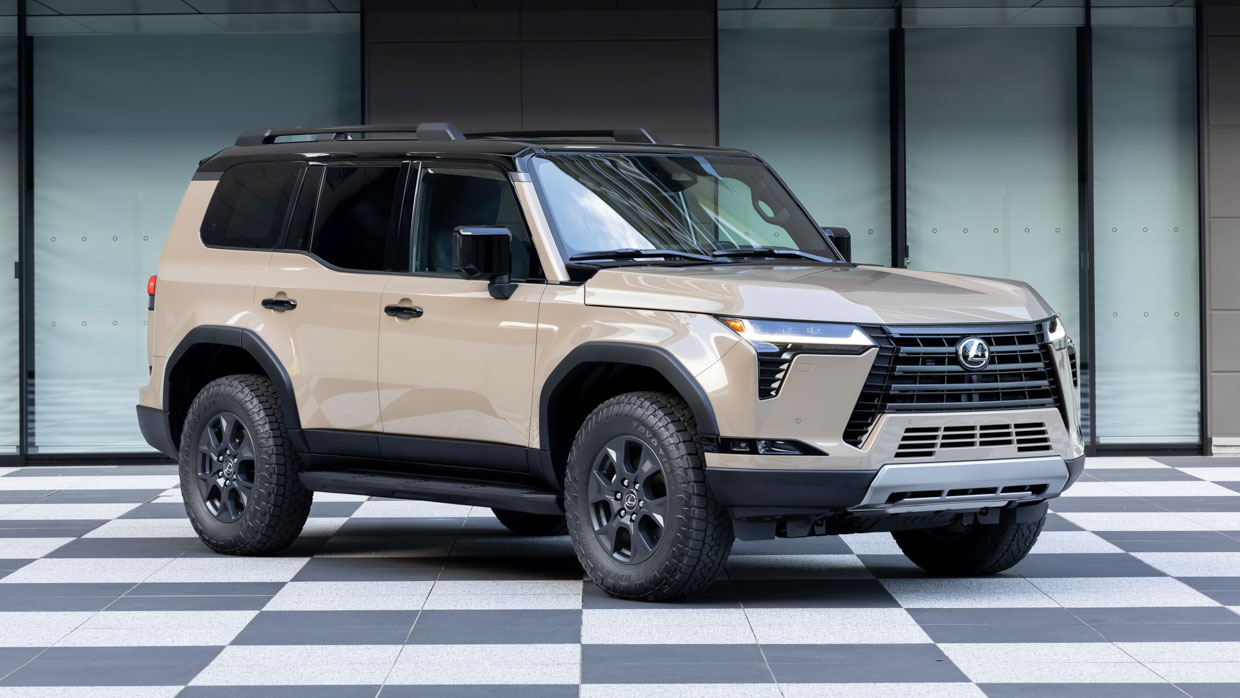 For its part, Lexus expects early demand to exceed supply. After taking in the GX550 Overtrail in static form, we think Lexus is probably right: this is an alluring, handsome, high-quality vehicle.
In some ways, it's Land Rover-esque in its premiumness while carrying the durability promise of the Toyota Motor Corporation.
Unlike the fairly grandiose LX, the GX comes with sizing and proportions that will be more at ease in Australian streets.
Consider us interested – at the right price.