First it was the all-new Lexus GX that debuted a radical new shape. Then, Toyota revealed at last its next Land Cruiser Prado for the Australian market – a similar shape, the same platform, but an altogether different proposition.
As always, the Lexus-badged 4WD is targeted towards luxury buyers, while the new Land Cruiser Prado will be for the many adventurous, land-cruising Australians who love camping and exploring.
But what is it about these two large SUVs that sets them apart, exactly? And more so, which one should you be saving for when they both launch in the middle of 2024?
Let's find out!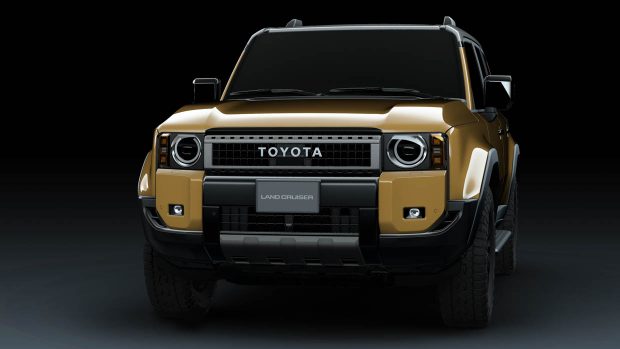 What standard features will you get with each?
So far, there isn't a lot of information surrounding the Toyota Land Cruiser Prado's specification for Australia. This is likely to come soon, however we can look to the US-spec Land Cruiser to see what Australia may receive.
The Land Cruiser has debuted with multiple different faces, too, with both round and squared off LED headlight designs harking back to Land Cruisers of old.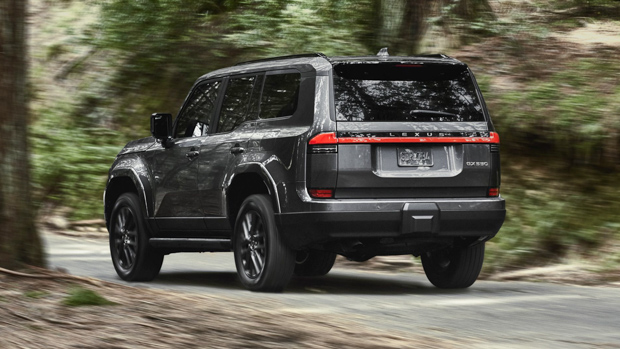 The top-spec US-spec Toyota Land Cruiser First Edition is set to receive the following:
18-inch alloy wheels with all-terrain tyres
12.3-inch touchscreen
10-speaker sound system
Leather upholstery
Rock rails
Roof rails
Front skid plate
Round LED headlights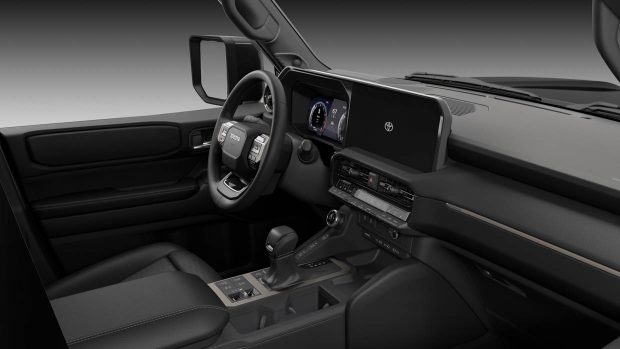 For the North American market, some features for the Lexus GX Overtrail have been confirmed and will include the following:
Seven seat layout
14.0-inch touchscreen
12.3-inch digital instrument cluster
Captain's chairs can be configured for second row
33-inch tyres with 18-inch alloy wheels
Optional head-up display
Wireless Apple CarPlay and Android Auto functionality
Semi-leather upholstery
10-speaker sound system (21-speaker sound system optional)
We can expect the new Lexus GX to be quite a bit more luxurious with its interior trims and technology as it will be offered at a higher point of entry.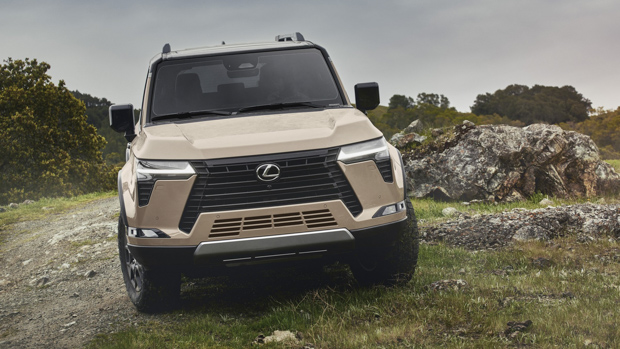 What engines will the Prado and GX get in Australia?
For the Land Cruiser Prado, Aussie buyers will be given the option of a 2.8-litre turbo-diesel four-cylinder engine – very likely to be the same engine found in the outgoing Prado. This engine produces 150kW/500Nm. An eight-speed automatic transmission will be standard fitment.
The Lexus GX is set to receive a 3.5-litre twin-turbocharged V6 petrol engine as its beating heart.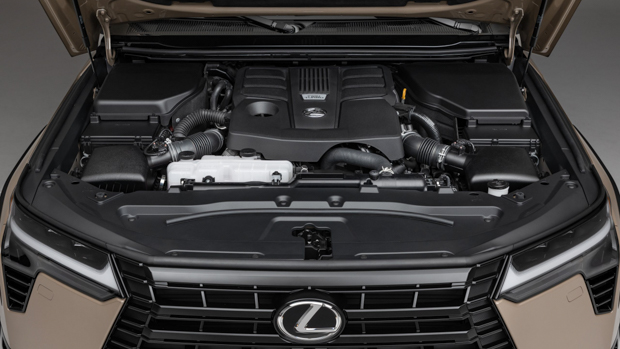 This engine is set to produce 260kW/650Nm and will be paired to a 10-speed automatic transmission.
Both are expected to also be offered with Toyota's I-Force Max hybrid system at a later date, which utilises a 243kW/630Nm 2.4-litre turbocharged petrol four-cylinder and an electric motor between the engine and the eight-speed automatic transmission.
Off-road capability compared
The Toyota Land Cruiser will feature full-time four-wheel drive and will also use a new stabiliser bar disconnect mechanism, a multi-terrain monitor and multi-terrain select – much like the Lexus GX.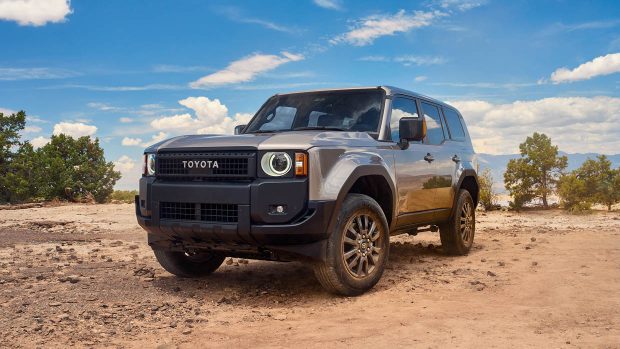 The Lexus GX uses the same TNGA-F platform as models such as the Toyota Tacoma and Land Cruiser 300 Series. It will be a full-time four-wheel drive.
The Lexus GX for Australia will come with an Overtrail variant that boosts the off-road capabilities of the model.
Standard features will include the Australian-developed E-KDSS suspension, multi-terrain select including six off-road driving modes (Auto, Dirt, Sand, Mud, Deep Snow and Rock).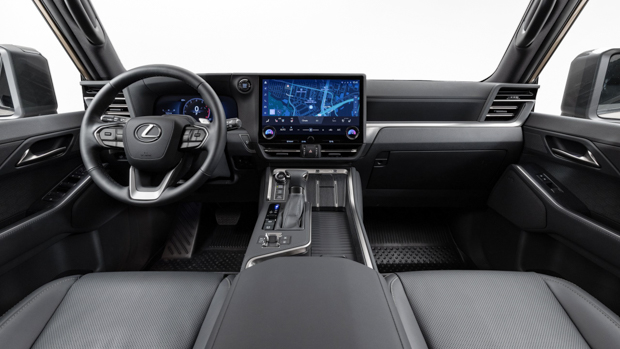 Dimensions for the new Land Cruiser Prado measure in at 4919mm long, 2138mm wide and 1860 tall.
The Lexus GX is longer at 5004mm, narrower at 2113mm wide and up to 1934mm tall.
While Toyota hasn't shared the breakover angles for the new Land Cruiser Prado, Lexus has revealed that the GX will have a 26 degree approach angle, a 24 percent breakover angle and a 22 degree departure angle.
How much will they cost?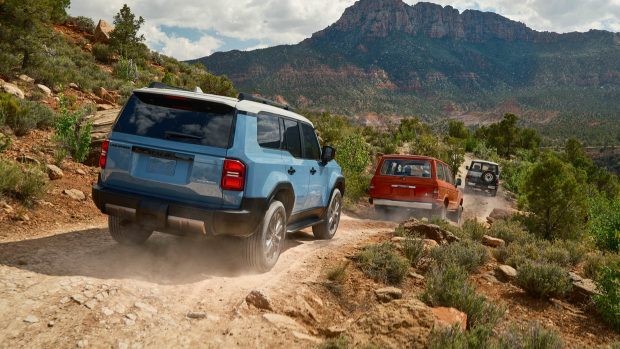 The Toyota Land Cruiser Prado, also known just as 'Land Cruiser' in North America, has not yet had its pricing confirmed. However, Toyota USA has said that the Land Cruiser could cost 'around USD$50,000' (AUD$77,000), making it a cheaper proposition than the related Lexus GX.
It's unclear just yet what Prado variants are slated for Australia, but the range could look similar to the current lineup: GX, GXL, VX and Kakadu.
Pricing for the Prado currently starts at $62,830 before on-road costs for the entry GX, and tops out at $87,468 for the Kakadu flagship.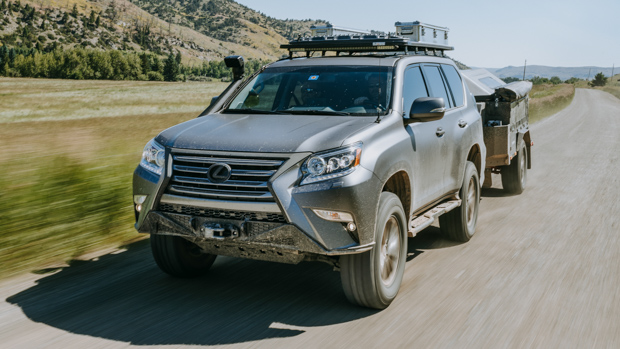 It's expected that the new-generation Land Cruiser Prado could be around 10 percent more expensive than these prices, putting it in the realm of $68,000 to just under $100,000 in Australia.
Meanwhile, pricing for the Lexus GX has yet to be announced, either here in Australia or anywhere else in the world.
However, given precedence that certain Lexus models command a 50- to 60-percent premium over related Toyota cousins – such as the ($151K-plus) Lexus LX against Toyota's 300 Series Land Cruiser ($95K-plus) – it's feasible that a new Lexus GX could cost between $130,000 to $140,000 in Australia in highest-spec guise.