The return of the Ford Bronco has kicked off a revolution in the US market, with macho, retro-style off-roaders being all the rage. In America, Toyota killed off the Land Cruiser 200 Series, but it will return to the segment with an all-new, aggressively heritage Land Cruiser model with Prado-like dimensions.
The new, American-market Land Cruiser is built upon the TNGA-F platform, the same that underpins larger vehicles like Australia's 300 Series and the US-market Tundra ute and Sequoia four-wheel drive – plus the forthcoming Lexus GX that shares these new Prado-like dimensions.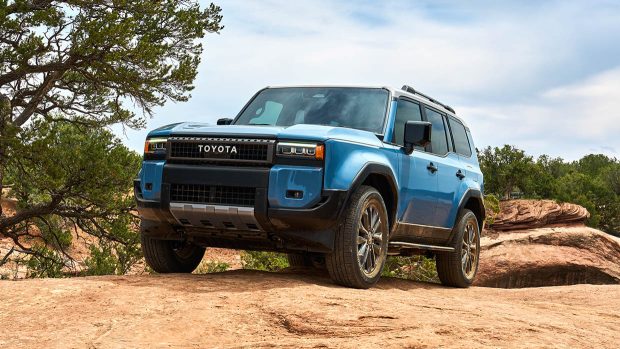 Despite its simple 'Land Cruiser' name for the United States, we expect that this model is effectively the next-generation Prado – and that it will probably still be called the Prado when it is released in Australia in 2024.
For American customers, the new Prado-sized Land Cruiser is a remarkably different proposition to the 200 Series which sold in very small numbers in the US.
The outgoing 200 Series skewed much more towards luxury and family duty than rock-crawling and trail-hopping, a fact reflected by its MSRP that started above US$80,000, or about AU$120,000.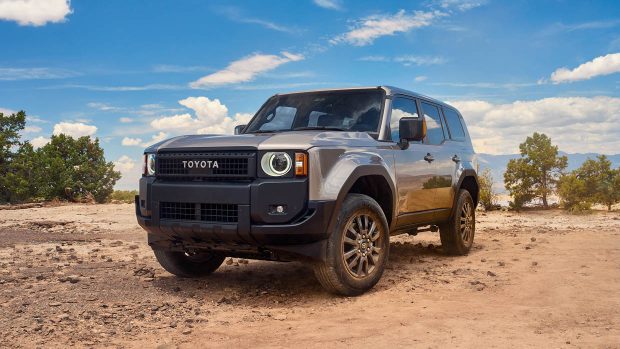 To Australian readers, that may come as something of a surprise. While luxury-spec Cruisers are popular in Australia, the vehicle's reputation locally is one of go-anywhere durability rather than premium-ness.
For this new Prado-sized Land Cruiser, Toyota marketing for the US leads with its off-road capabilities. That starts with significantly smaller and more nimble dimensions – it's 112mm narrower and 30mm shorter than the 200 Series.
Compared to the outgoing Prado in Australia – a vehicle which never made an appearance in the US – the new American Land Cruiser is 70mm shorter in length. Meanwhile, its 1859mm height aligns almost perfectly to today's Prado GX and GXL.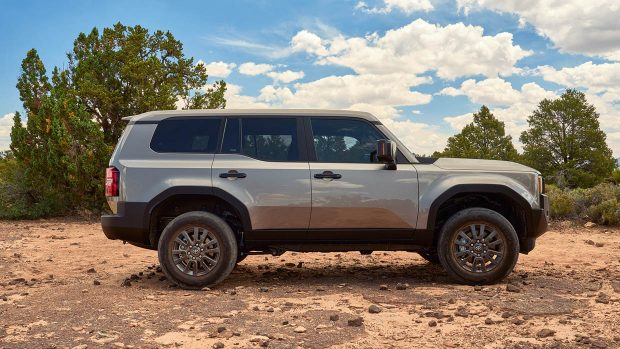 These abbreviated dimensions will make the new Cruiser more trail-friendly, while improved approach angle of 31 degrees and 25-degree breakover angle is more than respectable. The 22-degree departure, however, might be a bit limiting, as it is a 1.5-degree reduction on the outgoing Prado.
Any old-school off-roaders out there hoping for a return to live axles will be disappointed, but dual-wishbones up front and a multi-link rear suspension should provide a good blend of on-road comfort and off-road capability, aided by an optional electronically disconnecting front sway bar.
The biggest factor, though, will be drivetrain, and the new model looks to tick all the boxes there.
Every Land Cruiser features a two-speed transfer case in the middle and an electronic locking differential out back. That's all standard off-road fare. What's slightly less conventional is what'll be providing the power: a petrol-electric hybrid four cylinder.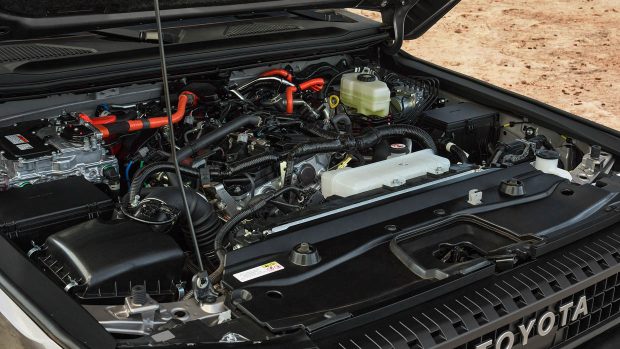 While the next Prado is expected to offer the option of turbo diesel power in Australia, for American buyers Toyota will fill the nose of the new model exclusively with a four-pot variation of its i-Force Max hybrid engine and eight-speed automatic transmission.
It's the same basic setup as in the American-spec Sequoia and Tundra, just down two cylinders and two gears. Honestly, though, it isn't giving up much in the way of performance, with power outputs of 243kW and 630Nm.
Toyota Australia is expected to offer the Prado with the i-Force Max powertrain locally and those outputs are considerably higher than the 150kW/500Nm produced by the current car's sole 2.8-litre turbo diesel four-cylinder option.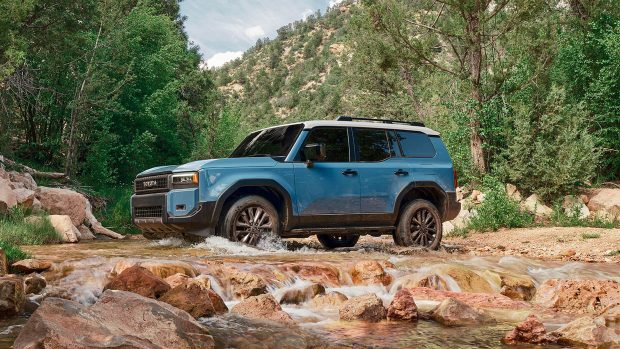 The new Land Cruiser's hybrid system is backed by a compact 1.87-kilowatt-hour battery pack. It's not intended to provide EV-like driving – instead, the hybrid system is meant to ensure good power delivery, providing extra torque while the turbocharger spins up.
Ultra-frugal fuel economy doesn't seem to be a major priority for the i-Force Max, which delivers around 10L/100km in the only car launched with the system in Australia so far – the Lexus RX500h. That figure is achievable in the current, diesel Prado.
Towing for the new American-market Land Cruiser with the petrol hybrid is set at 2721kg, which compares to 3000kg for the outgoing diesel Prado.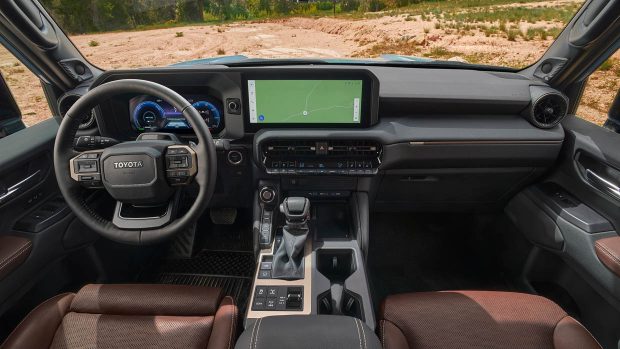 Helping further bolster the Land Cruiser's off-road chops is an improved version of Toyota's multi-terrain select system, which delivers bespoke driving modes for conditions like mud or sand. The Land Cruiser will also pick up crawl control – a sort of off-road focused cruise control.
On-road driver assistance will likewise be quite comprehensive, with all Land Cruisers including Toyota Sense 3.0. That means everything from blindspot monitoring to adaptive cruise control and lane-keeping assist. The system also has automatic emergency braking with pedestrian, cyclist, and motorcycle detection.
On the in-cabin tech side of things, the Land Cruiser will offer either an 8.0-inch or 12.3-inch touchscreen infotainment system depending on trim, with both Apple CarPlay and Android Auto support included. Americans will be offered an optional premium package with a 14-speaker JBL stereo.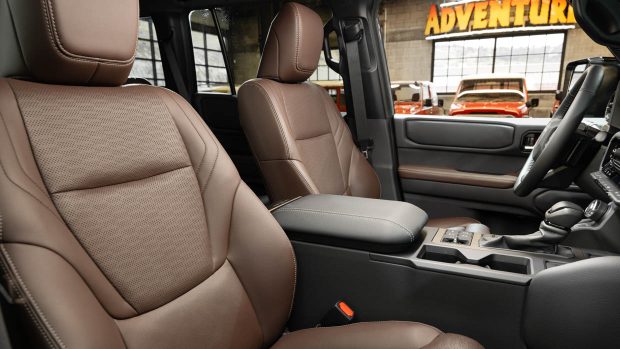 Toyota will, of course, let you throw a whole catalogue's worth of options at the thing, including steel skid plates and rock rails for those who plan to be hitting the trails every weekend — or at least want to look like they do. But, when it comes to trim levels, Toyota's keeping it simple with only three.
Top-shelf, at least initially, will be the First Edition model, limited to only 5000 units for the US – it features all the toys. Once the First Edition is sold out, there will be two ongoing trims in America. The Land Cruiser 1958 model will be the base, with the smaller infotainment screen, a simpler interior, and fewer off-road goodies.
The other option will simply be called Land Cruiser, which bolsters interior accoutrement and adds on goodies like the disconnecting front sway bar and a set of Rigid front fog lights said to be colour-changeable.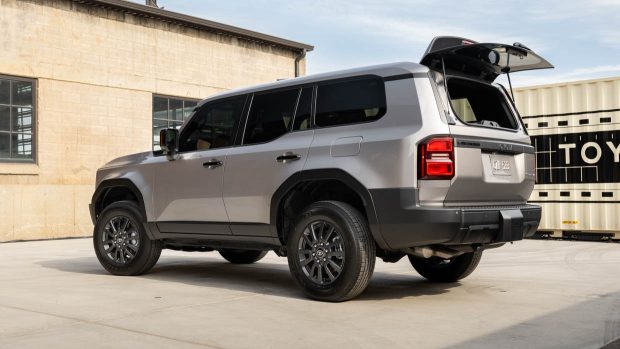 Toyota says this new US-market Land Cruiser will hit American dealerships with prices starting in the US$55,000 range, which is roughly AU$80,000. That's a whopping US$30,000 less than the 200 Series cost when it was last available.
Locally, the outgoing Prado is priced in a four-model lineup that takes in the GX ($62,380 before on-road costs), GXL ($69,530), VX ($76,848), and the flagship Kakadu ($87,468) – all in Australian dollars.
When it comes elsewhere in the world, Toyota USA isn't sharing any details on what's up for Land Cruiser in international markets. However, don't be surprised if the new Prado winds up looking a lot like this.