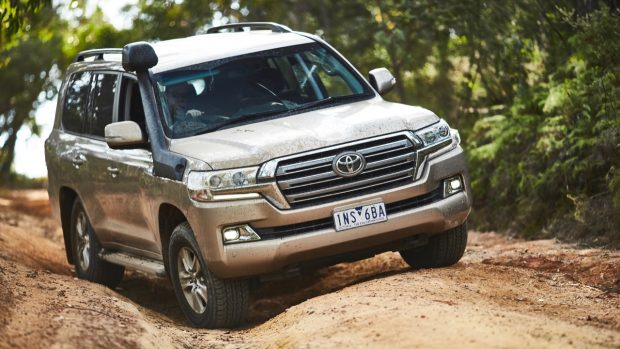 For well over a decade, Toyota has marketed their flagship Land Cruiser as "king off the road". While some off-roaders may dispute this, few would argue with the alternative proposition that the 2019 Toyota Land Cruiser 200 Series is the ultimate vehicle for long-distance touring on the Australian continent.
I've long remarked that when I drive across Australia, I'll be doing it in a 200 Series. The sheer commonality of the Land Cruiser out bush means parts for this vehicle are plentiful – and the durability that comes from Toyota's high-end engineering effort into the Land Cruiser product is the icing on the cake.
No wonder, then, that you see plenty of grey nomads heading out to circumnavigate this Great Southern Land in a brand new Land Cruiser, often costing well over $100,000. That is a lot of coin but the peace of mind it inspires is worthwhile for many.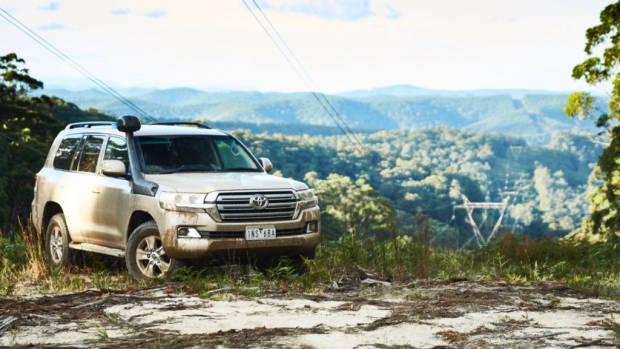 While the Land Cruiser lineup also includes the evergreen Prado, the 200 Series is the big boy of the lineup. The Prado is a hair longer but not only is the full-fat Land Cruiser ten centimetres wider and taller, it packs far bigger and more serious grunt, too. Unlike the Prado's wheezy 2.8-litre four-cylinder diesel, the 200 Series features two available V8 powertrains.
Ninety-five per cent of buyers here opt for a 4.5-litre twin-turbo diesel V8 for obvious reasons. It produces considerable (but under-stressed) outputs of 200kW/650Nm and, in our real-world testing, uses 14L/100km of fuel in town, 10L/100km on the highway, and 19L/100km when towing. That is pretty efficient for a large four-by-four.
Traditionalists will appreciate that you can still opt for a 4.6-litre naturally aspirated petrol V8 that makes 227kW/439Nm. You save over five grand by foregoing the efficient diesel, but you'll need to pocket all of that and more to service the petrol V8's drinking habits: the fuel use will be at least fifty per cent higher.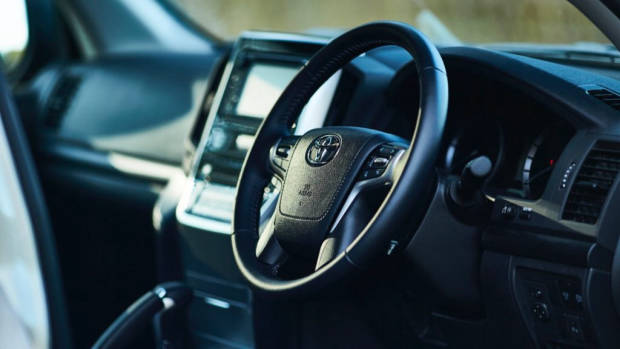 Available in four trim grades – broadly split into two basic grades and two luxury models – the 200 Series, as the eighth generation Land Cruiser, carries a hard-won reputation for being a comfortable way to cover long miles while traversing serious terrain.
While the luxo Land Cruiser VX ($99,990, $107,918 driveaway) and Sahara ($120,330, $129,273 driveaway) are common sights in Australian cities, the more basic GX ($78,190, $85,027 driveaway) and GXL ($89,580, $96,988 driveaway) are frequently seen in rural and regional Australia. All those prices are for the popular diesel.
On test here is the GXL, fitted with a popular option package that adds an Australian-developed suspension system called KDSS and a snorkel for an additional outlay of $3,250, taking the on-road price to $102,173 – hardly inexpensive!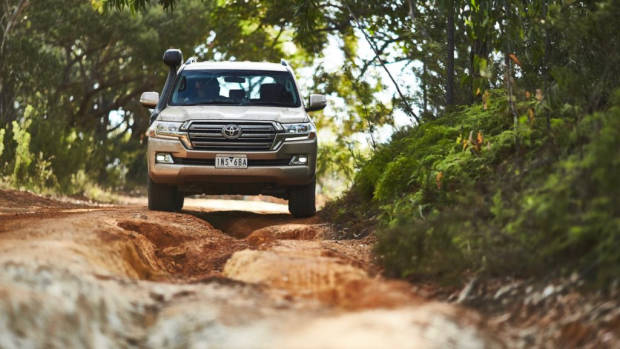 The Land Cruiser is nearly two metres high and it weighs 2,630kg, but KDSS works all kinds of magic to keep body roll in check on-road, while enhancing articulation on difficult tracks by altering the tension on the sway bars with hydraulic fluid. We wouldn't have a Cruiser without this tech – it ought to be standard on the 200 Series.
There are no complaints about the diesel V8, which delivers strong and smooth forward progress with noise only a problem in the cabin under full throttle. Even then, diesel rattle is almost non-existent once you have eight cylinders aboard.
The four-wheel-drive system is permanent, with torque sent to all wheels via a six-speed torque converter auto. It's a gearbox that would do well with better tuning. The software wants to shift down on hills, even when the vehicle is essentially unladen. There's 650Nm of torque, so sixth gear cruising is possible nearly all the time. As a remedy, there is the ability to lock the 'box into manual mode to stop it from kicking down unnecessarily.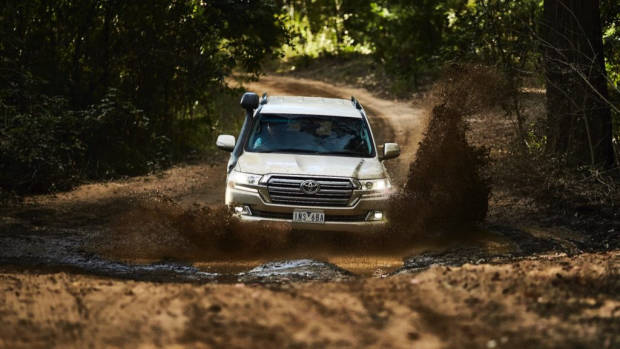 Remote steering does not surprise, but the Land Cruiser's bonnet goes where you point the tiller at. Some people will take time to get used to the very heavy steering weight, which can become tiring on a long day of errands in town, but on the highway, it rewards by staying true with no need to make constant corrections.
The GXL grade rolls on tiny 17-inch alloy wheels shod in enormous Dunlop Grandtrek all-terrain tyres. While the wheels look pedestrian, the huge amount of sidewall means that the urban ride quality of the Land Cruiser is spectacular; speedbumps, ruts and cats' eyes all barely penetrate the cabin. It is properly lush.
Despite the almost vertical windscreen, there is remarkably little wind noise (or tyre noise, for that matter) that enters the LC200's cabin – this is a hushed, refined vehicle that makes for refined long-distance cruising.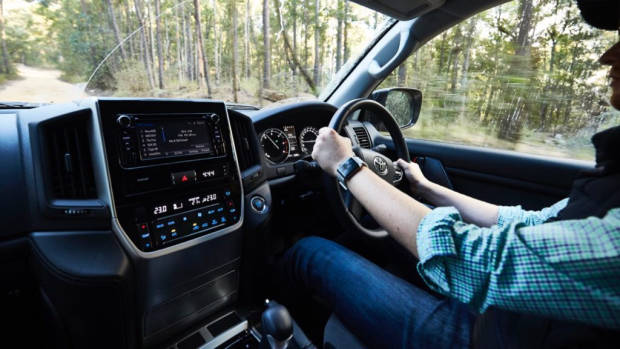 Off-road, the Land Cruiser 200 Series eats up moderately difficult trails with ease. Only when the going starts to get properly rutted does low range need to be engaged – an easy process with a dial on the transmission tunnel. Crawl control and a turning-circle tightener that locks the inside rear wheel are standard at this level.
Stepping up to the VX or Sahara brings additional luxuries but it also buys more off-roading tech, not the least of which is a 360-degree camera which radically improves outward visibility on steep climbs. There's also multi-terrain select on the up-spec cars. A wading depth of 700mm is common to all.
Aside from the fact that higher models step up to a modestly larger wheel (18 inches, compared to 17), all of these dynamic comments are common to the Land Cruiser range.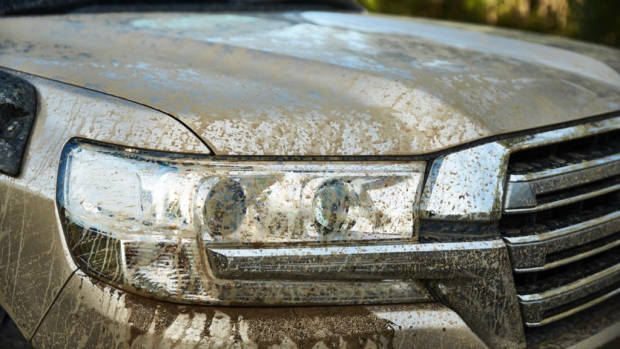 That's important, because for most people, the GXL is probably not the specification to buy. We'd best characterise the GXL as a fleet special for rural corporate buyers who need a vehicle with a few creature comforts, as the entry-level GX is very basic. That car doesn't even have a colour screen!
The GXL shares the GX's velour-esque fabric seats which are a smart choice for searing hot climates – they don't get hot, or cold. You get a leather steering wheel, which we appreciate. Plus, the GXL has a small colour touchscreen measuring six inches, which includes navigation, DAB/FM/AM radio, and Bluetooth streaming. It's basic but it is there.
However, given the GXL lists at $92,830 with the snorkel and KDSS package, we'd just step right up to the VX model which comes in at $99,990 list – a $7,160 upgrade.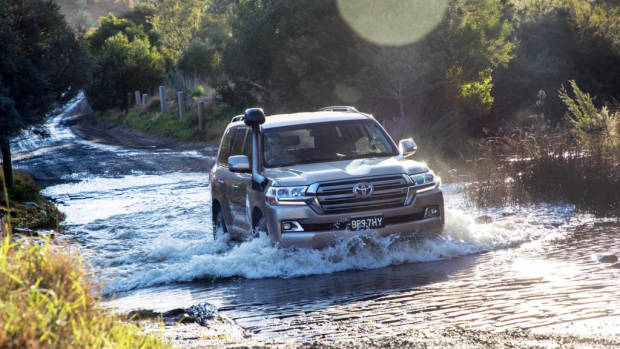 You lose the snorkel (but can add it to a VX for $500), but you gain standard KDSS, a leather interior with power adjustment for the first row, a larger nine inch touchscreen, quad-zone climate control, electrochromatic mirrors, nine speakers (up from six), a sunroof, and multi-terrain select for the 4WD system.
The 18-inch wheels outside look more handsome, too. The VX is a more complete specification we believe is more worthy of its $100k price than the GXL is of its $90k sticker.
By contrast, the top-spec Sahara requires splashing out another twenty grand again, which is ends up within $15,000 of a Lexus LX 450d ($134,129, $144,588 driveaway) – itself a 200 Series under the skin with a properly premium interior.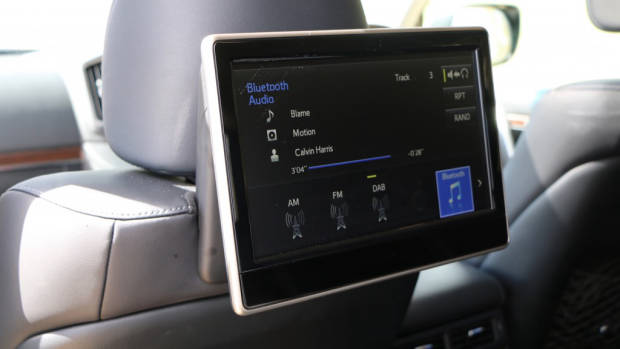 Top-spec Land Cruisers have near-Lexus levels of luxury. Pictured: Sahara.
For $120k list, the Sahara upgrades you memory seating for the driver, seat ventilation in the front row, plus heating for the first and second (outboard) rows, twin rear-seat entertainment screens, a small fridge, and a power tailgate.
Critically, the Sahara is the only Land Cruiser 200 Series grade to have adaptive safety technologies. The flagship variant gets pre-collision braking with pedestrian detection, lane departure warning, adaptive cruise control, and auto high-beam. The VX does get blind spot monitoring, but really – the whole lot needs to be standard across the range.
Anyway, lack of the safety suite aside, we'd grab a VX and be done with it.
The bones of the Land Cruiser's interior are good: this vehicle is an armchair on wheels, with big, plush seating and a commanding view out. The ergonomics are pretty decent, with a normal-sized wheel falling to hand and all the critical controls within reach.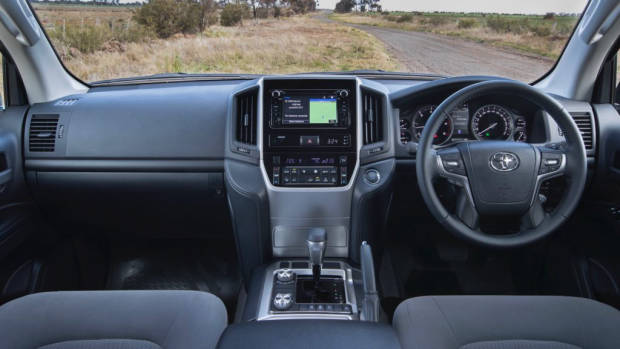 We think Toyota would do well to apply smartphone mirroring tech like Apple CarPlay across the range as the integrated software on their own touchscreens is very basic, no matter whether it is the GXL's six inch unit or the higher end nine incher.
Storage is plentiful up front, with a large central box – which the Sahara replaces with a fridge – plus huge door bins, big cupholders, and a generous glovebox.
In the second row, it's a little more cramped than expected given the size of the 200 Series. This vehicle was developed in the early 2000s, after all, and there has been great progress in interior packaging since then.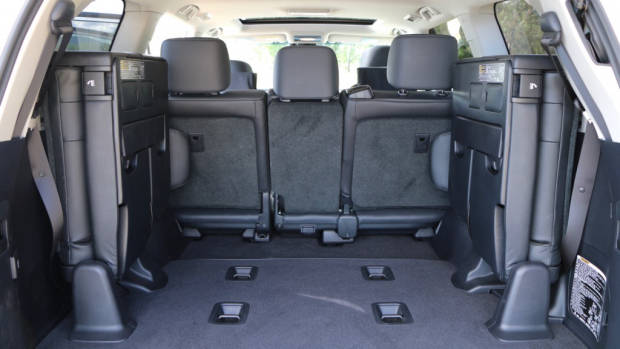 Mind the side-folding seats, which eat up considerable space even when stowed
It's hardly poky but legroom is only lineball with midsize crossovers, including Toyota's own, much smaller, RAV4. The second row does recline, however, and this is a genuine three-person bench with no hump in the floor.
Two additional seats fold down from the sides of the Land Cruiser's cargo area. These eat up valuable space because they don't fold underneath the floor like most seven-seaters, and if our YouTube commenters are anything to go by, many people rip them out. In fact, the Lexus version of this diesel Cruiser is five seat only.
When the seats are stowed against the sides of the vehicle, cargo room is certainly still capacious with 1,276L on offer. This is a large, practical vehicle with plenty of room for suitcases, camping gear and the like.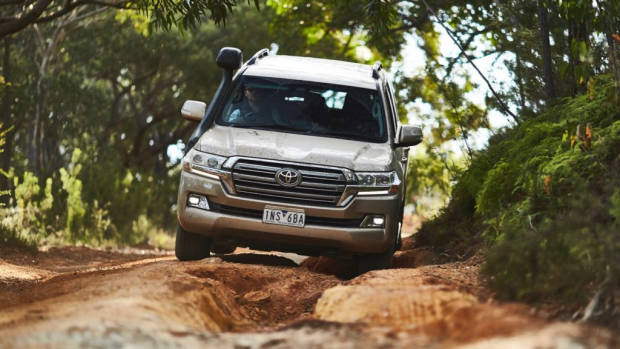 It's also worth noting that the big Cruiser can tow and haul a lot of stuff: while the braked towing capacity is 3,500kg, vehicle combination mass is a huge 6,850kg, allowing for 610kg of payload to be stashed in the Land Cruiser itself without breaking legal limits.
Ownership brings a little more peace of mind as of 2019, with the Land Cruiser 200 stepping up to a five-year warranty. If you register the vehicle for private use, mileage within that time frame is unlimited, though if the vehicle is bought for business purposes, you can only travel 160,000km within the five year warranty period.
However, if you service the Land Cruiser on time, and through Toyota dealers, the engine and transmission will be warranted to a seven years.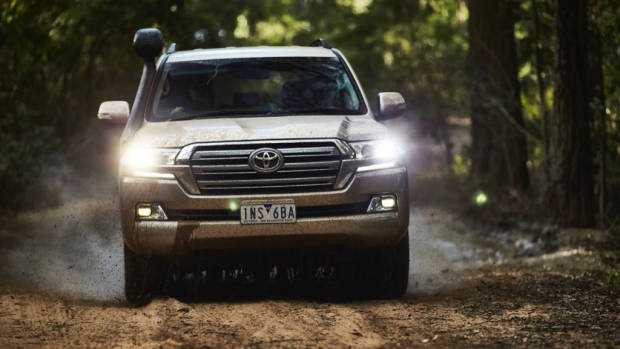 Servicing is required at annoyingly frequent intervals for a vehicle that is designed to travel great distances: to get the extra two years of warranty, you'll need to have the Land Cruiser serviced every six months or 10,000km.
The first six services – which cover three years or 60,000km – are priced modestly at $280 per service, before a huge step up to $775 for the seventh service (3.5 years/70,000km), $801 for the eighth service (4 years/80,000km), $491 for the ninth (4.5 years/90,000km) and $471 for the tenth (5 years/100,000km).
This is a complicated vehicle with a large engine and lots of expensive components – the inexpensive servicing for the first three years would never be able to last forever, so if you plan on keeping the Cruiser long-term, there will be some maintenance expenses.
While a crossover SUV will be more appropriate for most family buyers, the 2019 Toyota Land Cruiser 200 Series still offers a distinct set of abilities that carry broad appeal. Primarily, if you're looking for a superlative tow vehicle or a 4×4 wagon to drive around Australia, this is a vehicle that would have to be near the top of your consideration list.