Now that the original Volkswagen Beetle (1946-2003), India's Morris Oxford (the Hindustan Ambassador, 1958-2014) and Iran's Hillman Hunter (the Paykan, 1967-2015) have all been buried forever, there's conjecture as to what is truly the world's oldest living car. 
Some would rightly say the Morgan 4/4, seeing its DNA is post-war and its origins in the 1930s, yet it's a peripheral car with miniscule sales. And would you believe the Lada Niva (now called Lada 4×4) is still produced at the Togliatti factory in Russia, much like it was in 1977?
Which leaves the 70-series Toyota Land Cruiser where exactly? Somewhere towards the tail end of its 'Dirty Thirties' decade, waving its seniors' card and walking cane, celebrating the honour of being the oldest full-production vehicle still on sale in Australia.
Revealed in late 1984, the 70-series Land Cruiser replaced the legendary 40-series (1960-84) and ran concurrently alongside the 60-series Land Cruiser wagon (1980-90), which shared the same rigid-axle, leaf-sprung suspension and heavy-duty focus.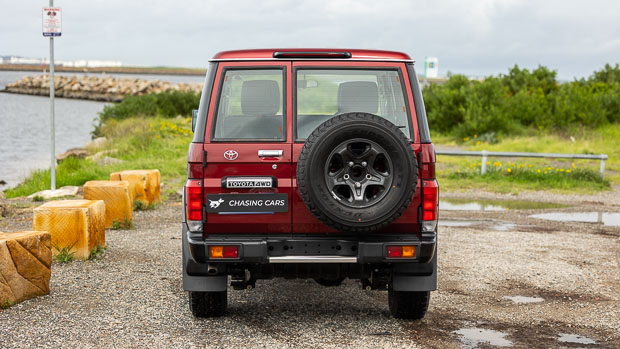 But as the 'Cruiser wagon became more sophisticated (four-wheel coil springs with the 80-series in 1990; double-wishbone independent front suspension with the 100-series in 1998), the hard-yakka 70-series soldiered on unchanged, apart from revisions to its model line-up.
Across its 37 years on the planet, the 70-series has received several noteworthy upgrades – among them front coil springs (1999), a wagon version and a turbo-diesel V8, plus a sizeable visual and mechanical makeover to accommodate the new engine (2007), twin front airbags (2009) and anti-lock brakes (2012).
The last serious re-jig occurred in 2016, though that mainly focused on upgrading the safety of the big-selling single-cab variant (which accounts for well over 50 percent of total volume in Oz) to keep the OH&S departments of big mining companies happy.
And now there's a 70th Anniversary special – celebrating seven decades of the Land Cruiser nameplate with a bunch of retro-inspired details, along with a few useful upgrades.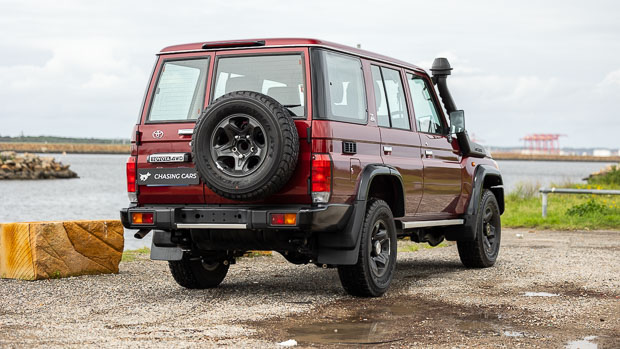 Based on the GXL grade and offered as an LC76 wagon (tested here) or LC79 cab-chassis ute, the 70th Anniversary went on sale in Australia in September 2021 with 600 examples coming here – 320 double cabs, 200 single cabs and 80 wagons – in three colours (French Vanilla, merlot Red, Sandy Taupe), while at the same time the company was launching the substantially more modern Land Cruiser 300 Series wagon.
Externally, the changes are quite easy to spot. The 70th edition gets a black heritage grille with 'TOYOTA' lettering, black front and rear bumpers, and black wheel-arch flares, as well as darkened 16-inch alloy wheels, dark-bezel headlamps, LED fog lights and LED daytime running lights – all of which make this LC76 wagon look much more tasteful than the standard unit.
There's also 'heritage' Land Cruiser badging on the front guards (inspired by '60s models) and '70th Anniversary' emblems on each C-pillar, as well as more retro badgework inside and a few refreshingly practical upgrades.
But the one thing that hasn't changed – for many years – is the way the LC76 wagon drives.
How does the 76 Series drive?
On the move, the overriding impression is just how much torque the engine has. Besides a Euro 5 emissions upgrade in 2016 (gaining piezo injectors and a particulate filter), Toyota's 4.5-litre turbo-diesel V8 is much the same as it ever was. That means a conservative state of tune – just 151kW at 3400rpm – but a continental shelf of torque (430Nm from 1200-3200rpm) for stunning tractability.
For all its lumbering Tonka toughness, the five-speed manual LC76 wagon is an incredibly easy beast to drive. Gearing alterations in 2016 improved its refinement – lengthening second gear and extending top gear by almost 15 percent – though they didn't go far enough to make the LC76 wagon an effortless cruiser.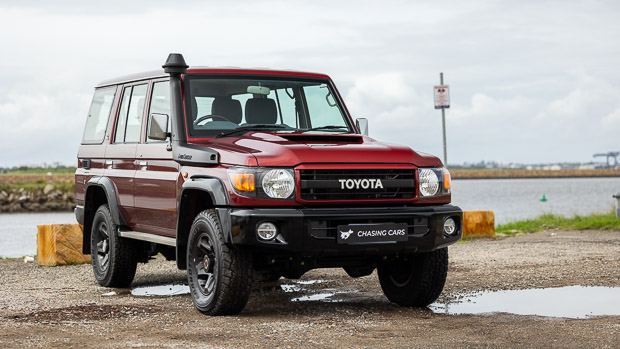 It feels toey, as you'd expect in a vehicle like this doing 2500rpm at an indicated 120km/h, but it's not the wafting torque monster it could be with a proper overdrive sixth. Instead, the LC76 bullies its way down freeways, fighting against wind resistance as its diesel V8 rumbles away like a caricature of coal-fired power. That said, its 3500kg braked towing capacity should barely raise a sweat.
With all that effortless muscle on hand, it's probably no surprise that the LC76 wagon can also punch along at a decent clip on country roads – providing they aren't too bumpy. Mid-corner lumps and a 70-series Land Cruiser aren't the best of friends, though Toyota's time capsule is easier to drive briskly in similar conditions than an old-generation Mercedes-Benz G-wagen, even though its low-geared steering (a laborious 4.4 turns lock-to-lock spanning a huge 12.6-metre turning circle) is a perpetual chore.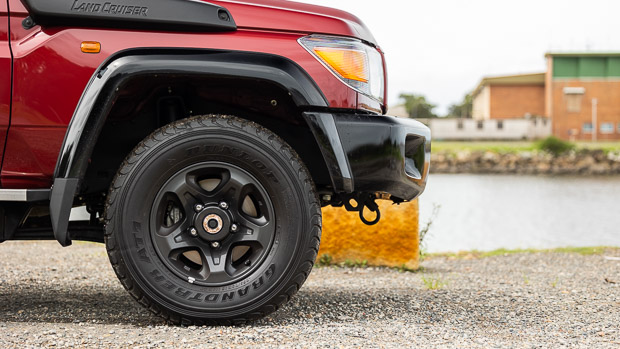 Guide it with deference to its height, weight and suspension limitations and Toyota's old stager corners with reasonable accuracy and surefootedness. But this isn't the sort of vehicle you want to be testing limits with – yours or its own – on the road.
Hardcore off-roading is an entirely different story (it features a low-range gear set, front and rear diff locks, and provides 230mm of ground clearance), however the point of this test is to discover what it's like to live with a $78,500 LC76 Land Cruiser 70th Anniversary wagon.
The last 70-series Land Cruiser I drove was a five-seat LC78 Troop Carrier in 2018 and I enjoyed it a lot. With its wheelbase stretched by an enormous 250mm over the LC76 wagon (2980mm versus 2730) and riding on laughably high-profile 265/95 16C tyres (compared to 265/70R16s on the alloy-wheeled 70th Anniversary), the Troopie offers a level of (relative) ride comfort and serenity that eludes the wagon.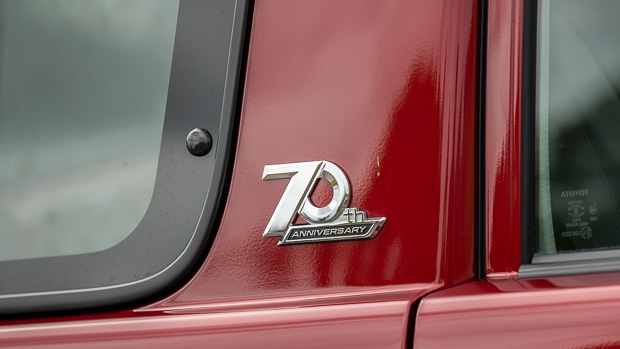 While a two-door five-seater might seem ludicrous in a 4WD as large as a 70-series Troop Carrier, it's a more honest Land Cruiser and a truer representation of what this vehicle means to Toyota's heritage rather than this bedazzled, two-tone beast attempting to offer a veneer of luxury.
As for active-safety features, well … there really aren't any. The last serious safety rejig occurred in 2016, introducing ESC (Electronic Stability Control), traction control, hill-start assist, brake assist, electronic brake-force distribution, auto-locking front wheel hubs, front seatbelt pretensioners and cruise control, but not the curtain airbags and driver's knee airbag fitted to the big-selling single-cab variant.
As for a rear camera, parking sensors or any kind of AEB, you'll need a 300 Series Land Cruiser for that. Or pretty much any other contemporary SUV.
How is the 76 Series's interior?
Despite attempts at modernising the 70-series, the LC76 Land Cruiser wagon is far from a spring chicken. And its standard equipment list still reads like a brochure from the '80s – central locking, power steering, power windows (auto-down for the driver), air-conditioning, a digital clock, an illuminated ashtray, a cigarette lighter, a leather-bound steering wheel and a carpeted floor.
You also get a double-DIN stereo with Bluetooth connectivity, a power aerial, factory navigation, and a CD slot but there's only four cheap speakers – the rear pair in the load area – and audio quality is terrible.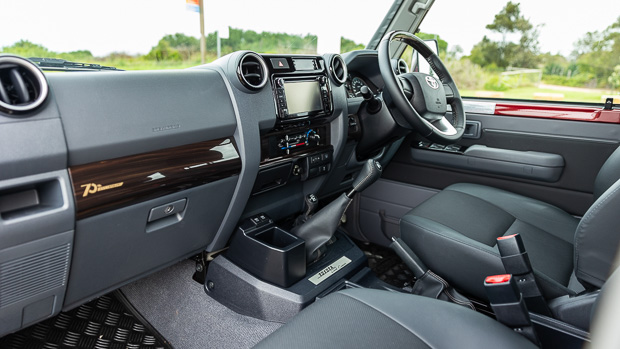 Uniquely, the 70th Anniversary introduces a much-needed centre console with an additional pair of cupholders (joining a single cupholder at the base of the centre stack), a small lined tray, a larger open bin and a pair of 2.1-amp USB ports (joining the single USB incorporated into the head unit).
The 70th also scores 'premium black upholstery' (vinyl with perforated inserts), as well as a rather cool 'Land Cruiser 70th Anniversary' brushed-metal plaque near the gear levers, silver-accented air vents and gloss-black window-switch panels. But it also gets glossy fake wood inserts on the dash, doors and steering wheel – none of which suit its station in life.
I'm not sure that 37 years' worth of updates have been kind to the cabin design either. The original 70-series dashboard was actually pretty interesting – eyeball air vents with exposed-screw details, classic Toyota dials, cool steering wheel, retro switchgear – and while some bits have closely carried over (like the HVAC panel), the rest traded its design quirks for functional austerity (and ease of conversion to left-hand drive) when it was forced to package two airbags.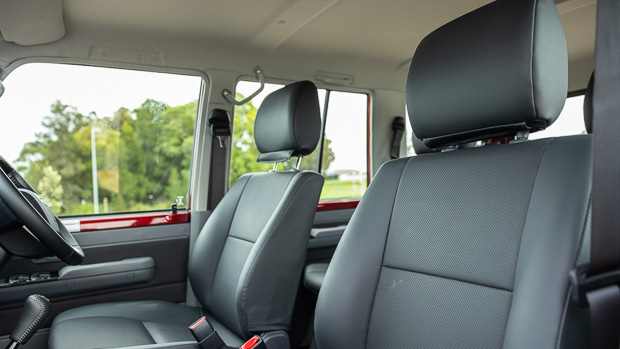 Like the outside, there's an antiquity to the LC76 wagon's cabin that is charmingly dated. In some instances it works brilliantly, like the ever-so-slightly-curved glass that affords expansive vision, even over the huge bonnet scoop feeding the intercooler.
In other areas like seating, it remains deeply rooted in the past. The bum-numbing seats are an unfortunate reminder of the comfort compromises demanded by many 1980s 4WDs, though the 70th edition's firmer upholstery (the regular GXL wagon has cloth trim) adds a degree of additional cushion support to the otherwise antiquated front seat design.
It's no surprise that a great deal of 70-series owners choose to fit aftermarket front seats, built by Recaro and other suppliers, in order to make the lap around Australia – or across it – far easier on the back and legs.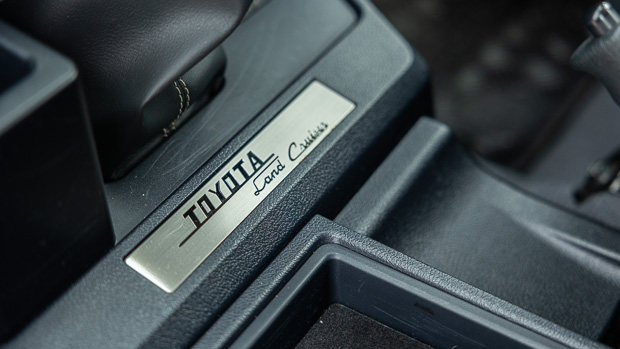 And the rear bench is just as compromised comfort-wise. When the prime seat in the house is the back middle, you know something's not quite right! And that position only gets a lap seatbelt.
The rear seat vaguely tumbles forward to reveal a vast luggage area (Toyota doesn't state the actual cargo volume), accessed by asymmetrically split barn doors, though it's all very yesteryear in terms of practicality. Because the 'Cruiser's floor is so high, seat-fold theatrics are limited in much the same fashion as adult seat comfort. And you'll need the B-pillar grab handles to haul yourself in through the small rear doors.
What are the 76 Series's running costs?
The combined ADR81/02 fuel consumption figure for the Land Cruiser 70th Anniversary wagon is 10.7L/100km which, given its low gearing and leggy height, isn't too bad. In reality, though, it chews through diesel at a considerable rate if you're driving quickly or using too many revs – the LC76 is all about torque – and often relies on the sheer volume of its 130-litre fuel tank.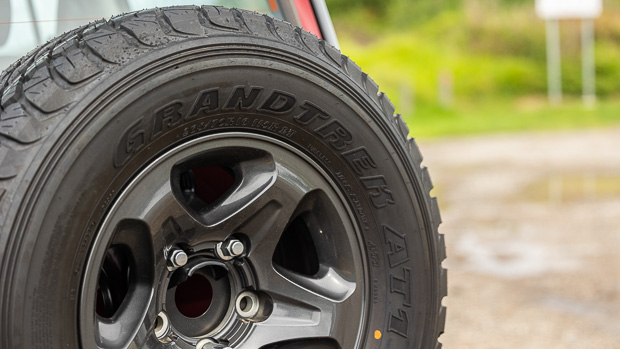 Recommended service intervals for the Land Cruiser 70th Anniversary wagon are every six months or 10,000km, with each service capped at $375 for a five-year/100,000km total of $3750. That matches the servicing intervals and capped-price cost of a Land Cruiser 300 series.
Toyota's warranty coverage is five years/unlimited kilometres, which is the industry standard for mainstream manufacturers, plus seven years/unlimited kilometres for rust/perforation.
Running costs scorecard
Consumption
Below average
The final verdict
Australia has accounted for one in five of the 70-series Land Cruiser's 1.3 million global sales over the last 37 years, though the LC76 wagon's contribution to that number is comparatively slim.
Used in its preferred environment, this antiquated Toyota is in its element – tough, reliable, faithful of service and legendarily long-lived. But as a city-based alternative to a bunch of other five-seat SUVs, you'd want to be challenging its 3.5-tonne towing capacity and rough-going robustness to justify the compromises it brings to everyday living, because they are considerable.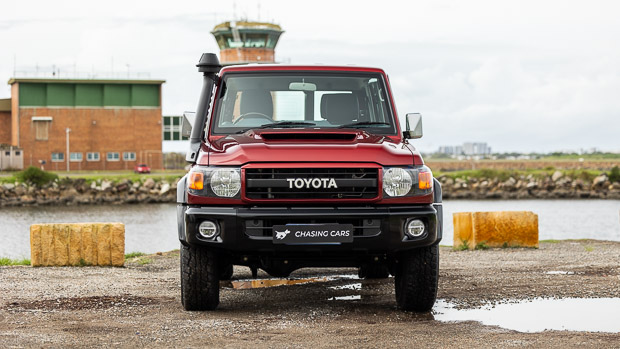 In 70-series wagon terms, the Troop Carrier is a much more genuine representation of what this vehicle type means to the Land Cruiser legacy. It's roomier, more comfortable, offers a 180-litre fuel tank and seems to achieve more without trying so hard.
Still, at least if you pay $80K for a 70th Anniversary Land Cruiser wagon and you're over it in three years' time, you'll get at least 75-80 percent of its asking price back in return!